The heart and soul of the Caribbean is teeming with opportunities for students to broaden their worldviews, absorb rich culture, and take in one-of-a-kind experiences they won't soon forget.
If a visit to Puerto Rico is on your radar, be sure to add these six activities to your itinerary.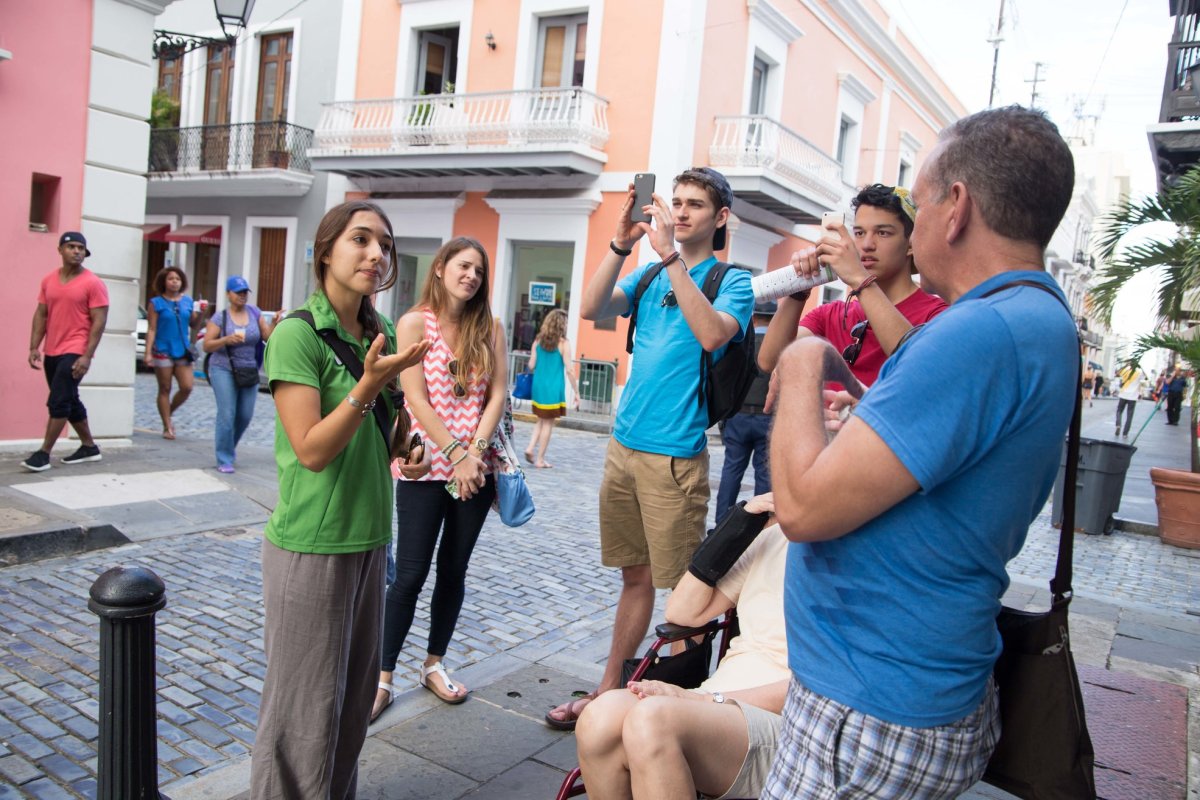 Walk the streets of Old San Juan
Students could travel back in time as they venture down the extremely walkable blue cobblestone streets of the second oldest city in America. A visit to picturesque Castillo San Cristóbal—the largest fortification built by the Spanish in the New World and a UNESCO World Heritage Site—provides a stunning view. Students might even imagine what it was like when this impressive fortress guarded the city from enemies. Don't forget to peruse the dozens of museums and art galleries, where students could admire or purchase artisan goods to take home.
Try the popular—and delicious—mofongo and other Afro-Caribbean dishes while exploring Piñones
Puerto Rican culture is heavily rooted in its food, so it's no surprise authentic Puerto Rican fare is a must-try. Mofongo—traditionally made from deep-fried green plantain pieces mashed with garlic and salt-cured pork, pork crackling, butter, or oil—can be served on the side or as a main dish, stuffed with meat, seafood, or vegetables. Walk down the road in laid-back Piñones and try something from each open-air eatery. Don't be surprised if students walk away with a new favorite food!
See the architecturally impressive sights, such as Parque de Bombas, in culturally rich Ponce
Diverse and historic, the charming southern city of Ponce offers a look at architecture, culture, and more. Located at Plaza Las Delicias, the popular public square flanked by large flowing fountains, is Parque de Bombas. The bold red and black striped building—Puerto Rico's first fire station—has been converted into a museum and is listed on the National Register of Historic Places. While visiting, students can learn about the building's historical and architectural significance to Puerto Rican culture.
Snap an Instagram-worthy selfie with friends at the colorful outdoor museum, Yaucromatic
Outdoor masterpieces abound in Yauco, thanks to a group of Puerto Rican artists led by Jonathan "Pito" Hernández. Visitors are surrounded by colorful murals that  transform building facades throughout the town—a perfect photo opportunity. Brisa Tropical ties together 19 homes and stairways, creating a visual masterpiece that shares the message that art is for all.
Marvel at the Cabo Rojo Salt Flats' "reddish water" and historic Los Morrillos Lighthouse
Ask your students if they've ever seen red water. When they look at you funny, take them to Cabo Rojo! This coastal town is a local favorite and due to the high concentration of salt in the water—thanks to the nearby Salt Flats—the water in some places has a red hue. Even better? It's a quick stop on the way to the stunning Los Morrillos Lighthouse, perched on a cliff overlooking the Caribbean Sea. Completed in 1877, it was the second lighthouse built under Spanish rule on the island and is on the National Register of Historic Places. Be sure to wear sturdy shoes for all the exploring you'll do!
Surround yourself in nature with a guided tour of El Yunque Rainforest
This enchanting diverse ecosystem is filled with trails, natural pools beneath waterfalls, unforgettable scenery, and hundreds of unique plant and animal species, including the island's famous coquí frog. Students may feel as though they're in another world as they try to identify birds flying overhead while making their way through the El Angelito trail. Cooling off is easy with a dip into its lagoon—and students who want a thrill could dive in using an exhilarating rope swing.
View Places Mentioned on a Map