If you're getting married in Puerto Rico because you feel a connection to the Island and its history, these wedding venues will allow you to celebrate that legacy as you celebrate your union. Whether you're planning an intimate elopement or an elaborate black-tie affair, there's a place for every kind of wedding in the old city. 
Because many of these sites are historic landmarks, they may require special permits and insurance. Consider working with a local wedding planner who can help you navigate paperwork and logistics and take the stress off your special day.
El Morro & Castillo San Cristóbal
In terms of unique wedding venues in San Juan, it's hard to beat a 16th-century Spanish fort overlooking the Atlantic Ocean at sunset! Castillo San Felipe del Morro — better known as El Morro — and Castillo San Cristóbal offer several outdoor plazas where you can hold a small-to-medium-sized ceremony with up to 100 guests. After you say "I do," you'll be able to get incredible photos featuring the iconic garitas (sentry boxes) with the Bay of San Juan as your backdrop. Note that no food and drink is allowed at the forts, so you'll need to hold your reception elsewhere (luckily, there are many options nearby).
Note: Both forts are managed by the U.S. National Park Service as the San Juan National Historic Site, so you'll need to contact NPS to arrange the details of your ceremony.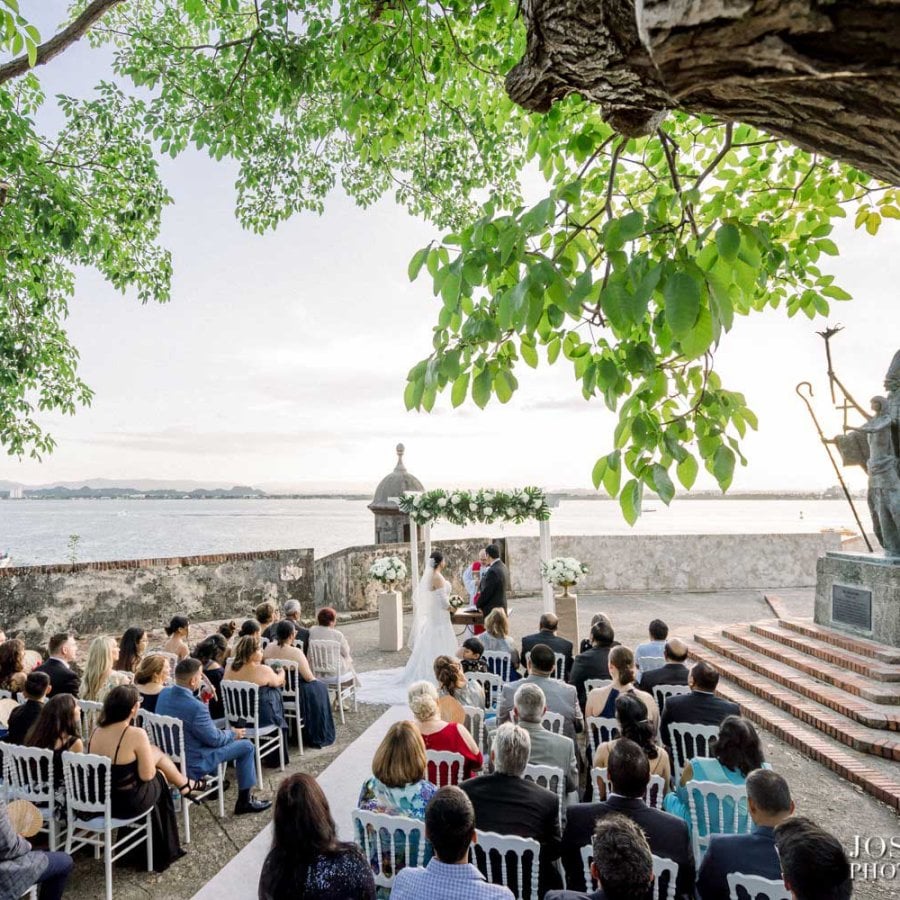 Plazuela de la Rogativa
When you get married at Plazuela de la Rogativa, the aisle is a blue cobblestone street and your altar is on the historic walls of Old San Juan. The statue that gives the plaza its name commemorates a 1797 women-led religious procession that inadvertently deterred a British invasion. This is one of the most picturesque locations in the old city and the perfect place for an outdoor microwedding. After your ceremony, you can walk up the street to Hotel El Convento for the reception.
The National Park Service manages this location, too, so the same permit requirements for El Morro and San Cristóbal apply here.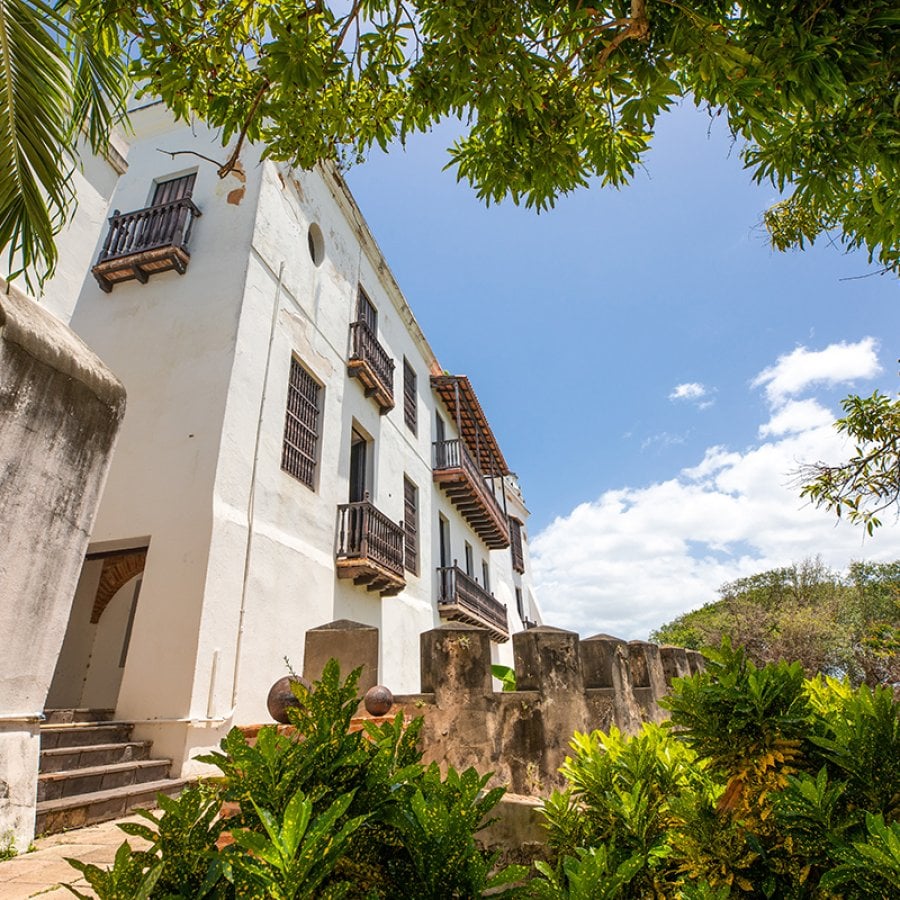 Museo Casa Blanca
Talk about "something old" — perched above the Paseo del Morro trail, Museo Casa Blanca is one of the most historic structures in Old San Juan. Built in 1521, this stunning mansion is the former residence of San Juan's first governor, Juan Ponce De León.
As a wedding venue, this space offers a mysterious, rustic aesthetic and is perfect for small ceremonies, microweddings, or elopements. The walled courtyard is a secret garden full of tropical plants and picturesque fountains with a view of the San Juan Bay. You can hold your ceremony and reception outdoors and use indoor areas for photos.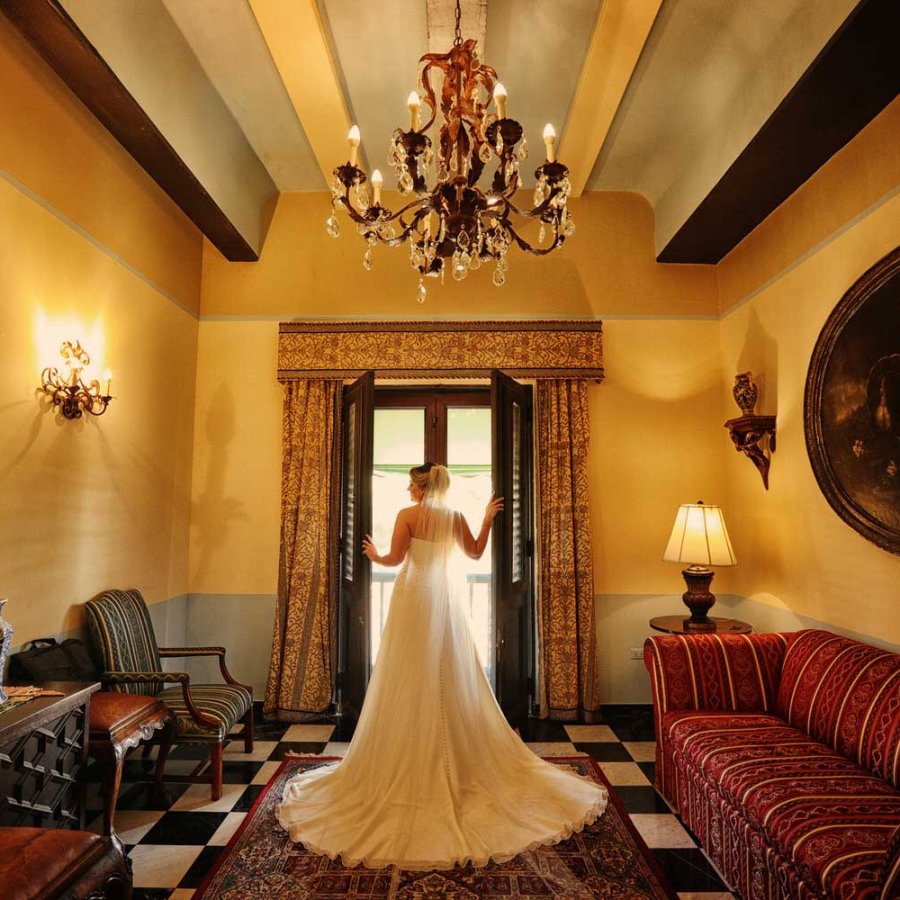 Hotel El Convento
Old San Juan is best known for its beautiful Spanish Colonial architecture, and few buildings are more emblematic of this style than Hotel El Convento. What began as a Carmelite convent over 350 years ago has been transformed into a luxurious hotel and wedding venue offering comprehensive wedding packages, top-tier catering services, and wedding specialists to help plan your event. El Convento also offers unique photo opportunities, from sweeping balconies with stunning views to elaborate, colorful murals that will take your breath away.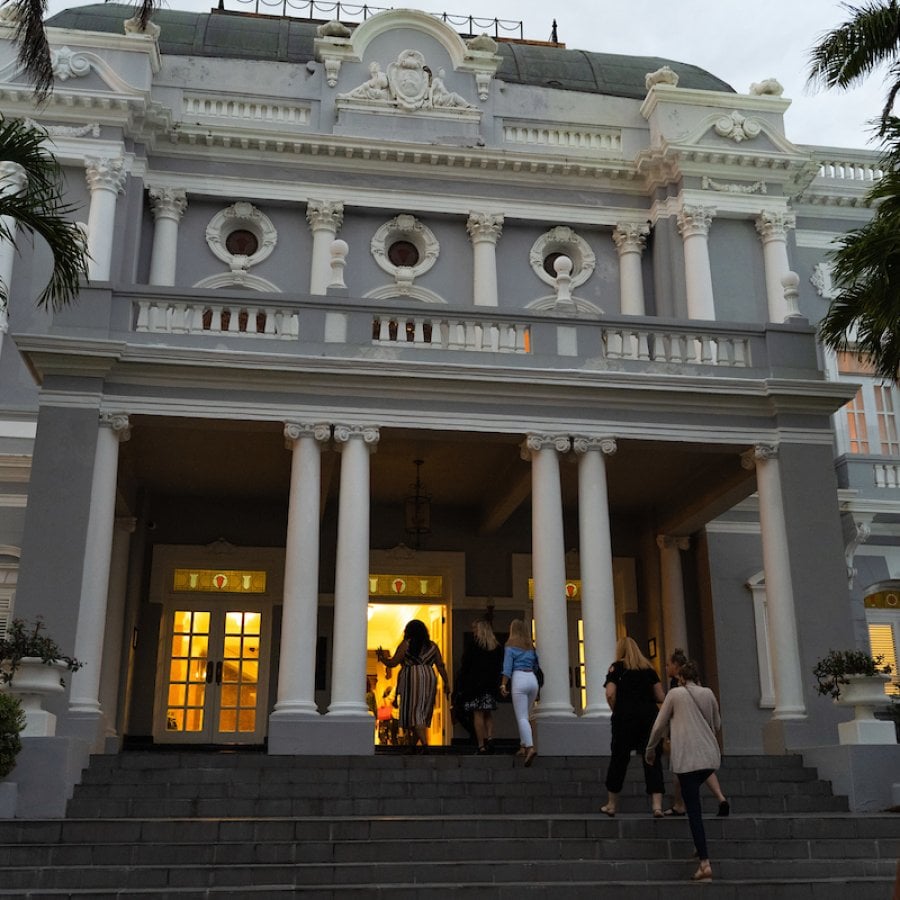 Antiguo Casino de Puerto Rico
Located at the entrance of Old San Juan, the Antiguo Casino de Puerto Rico embodies glamor and elegance. Built as a social club in 1913, the building's main attractions are the beautifully manicured patio used for outdoor ceremonies and the Grand Ballroom featuring high ceilings, intricate plasterwork, and showstopping chandeliers. This venue is perfect for black-tie events and has space for over 300 guests. The Antiguo Casino offers in-house catering and bar services, and their event-planning staff will assist you with coordinating the wedding.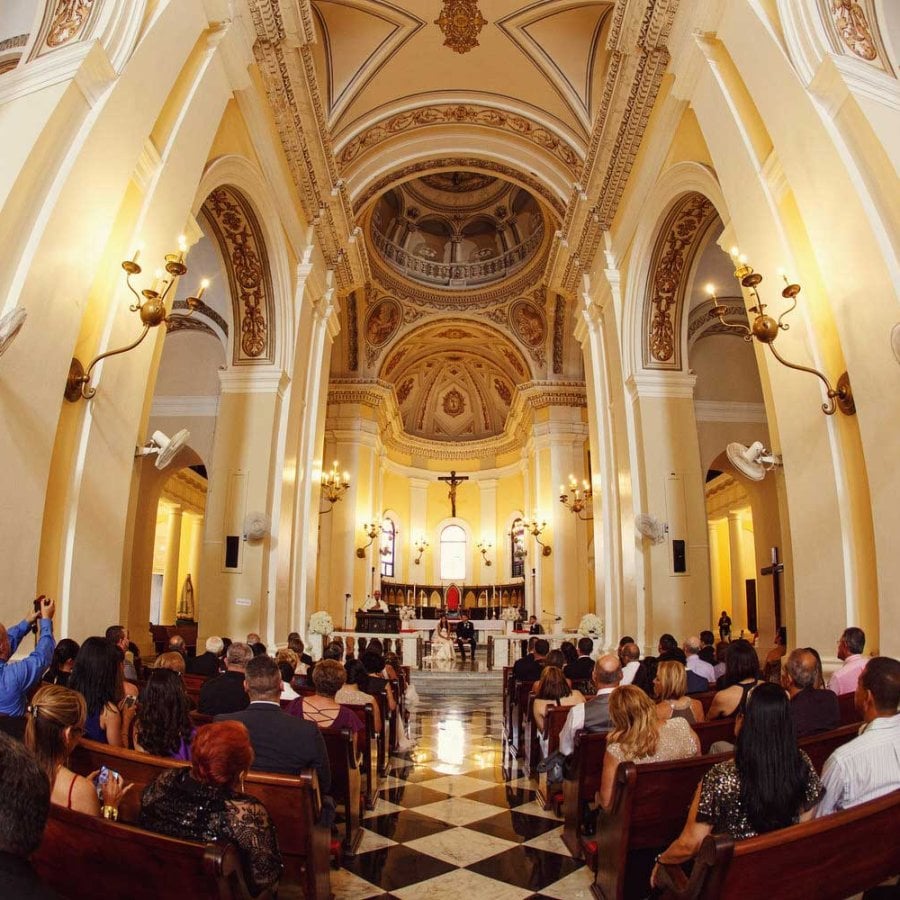 Catedral de San Juan Bautista
If you're having a Catholic ceremony, you can walk down the aisle at the Catedral de San Juan Bautista, a gorgeous Spanish cathedral built in 1541. This is the second-oldest church in the Americas, with a Gothic facade, sparkling stained-glass windows, and a classic black-and-white tile floor. Its location is also a huge plus since it's a short walk or drive from several equally stunning reception venues, such as Hotel El Convento across the street or the Antiguo Casino de Puerto Rico just a few blocks away.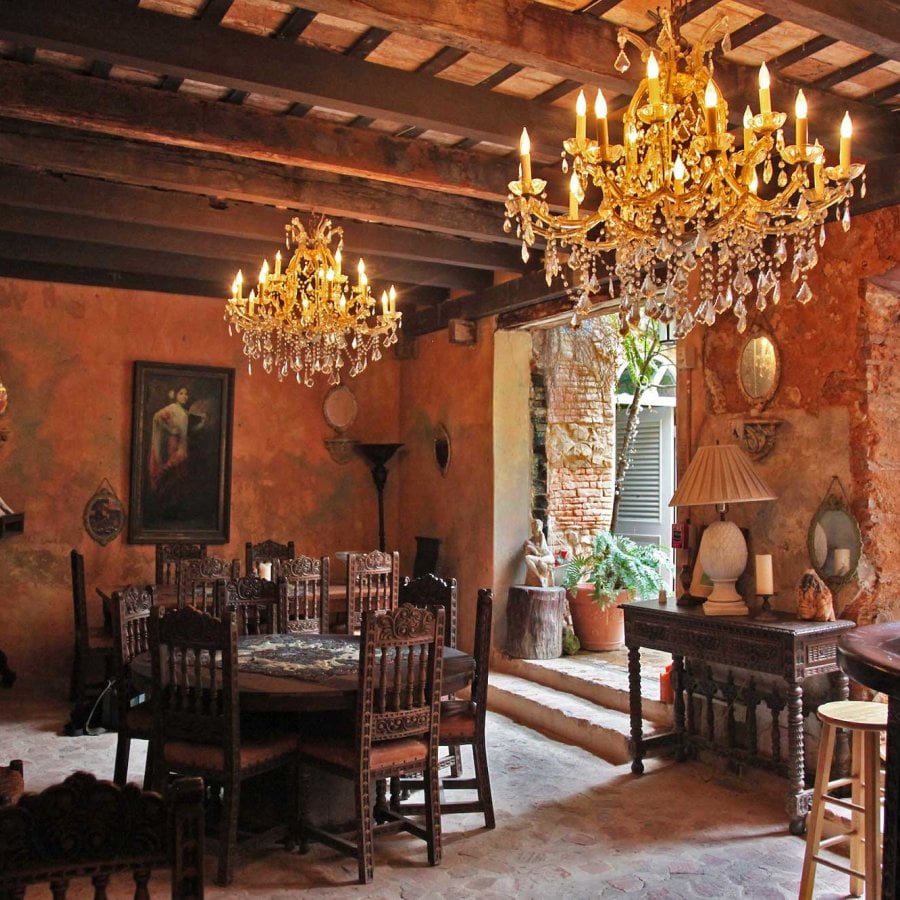 The Gallery Inn
The Gallery Inn is part hotel, art gallery, and event space. This ancient building maintains most of its rustic charm, while its interiors have been meticulously decorated and renovated. The aesthetic is a marriage of history, modernity, and an art lover's paradise. As a wedding venue, they offer several event spaces including the Sunken Wedding Garden, the Alamanda Gardens, and the Rooftop Wine Deck, which offers 360-degree views of Old San Juan and the Atlantic Ocean.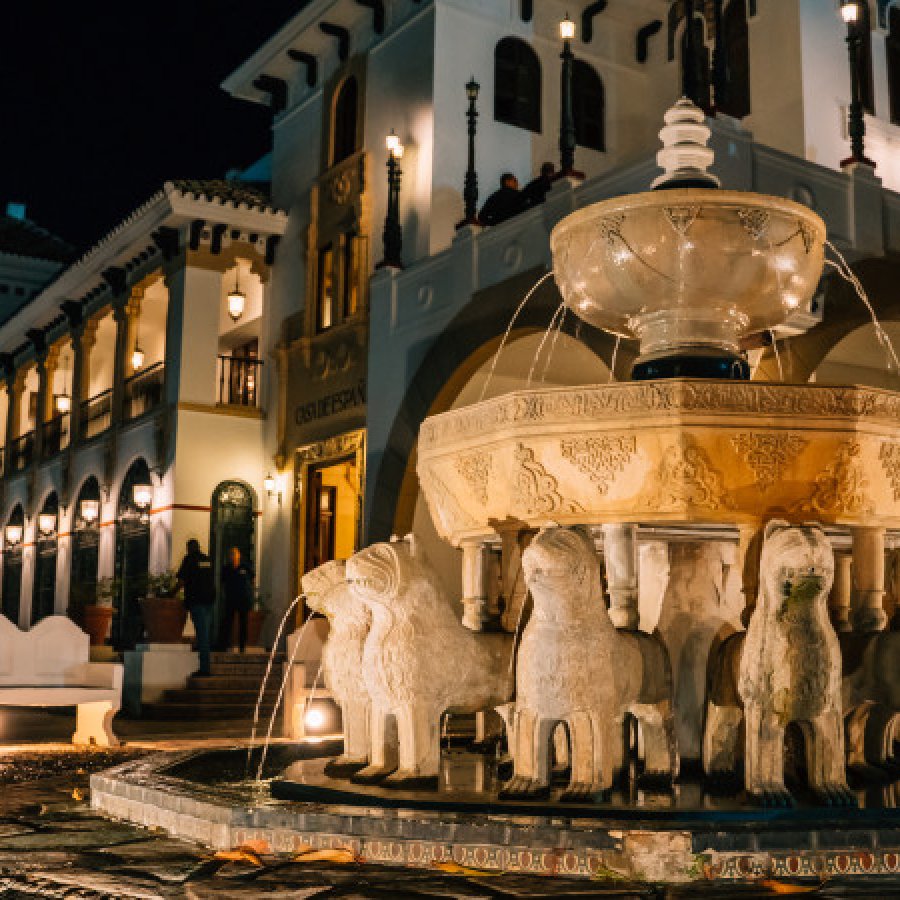 Casa de España
Built in 1934 in the Moorish Revival style, Casa de España is reminiscent of an Andalusian palace and honors the Spanish heritage of Puerto Rico. This wedding venue has an inner courtyard for the ceremony and an ornate ballroom for the reception that can accommodate up to 200 guests. While they offer amenities such as tables, chairs, and some staff, it's recommended to work with a wedding planner when using Casa de España (particularly if the couple does not speak Spanish) to ensure your special day goes just as you envision it.
View Places Mentioned on a Map
Tags
Weddings