Love the idea of a traditional church wedding? From San Juan to the southern coast, take a look at these stunningly beautiful and historically significant church wedding venues in Puerto Rico.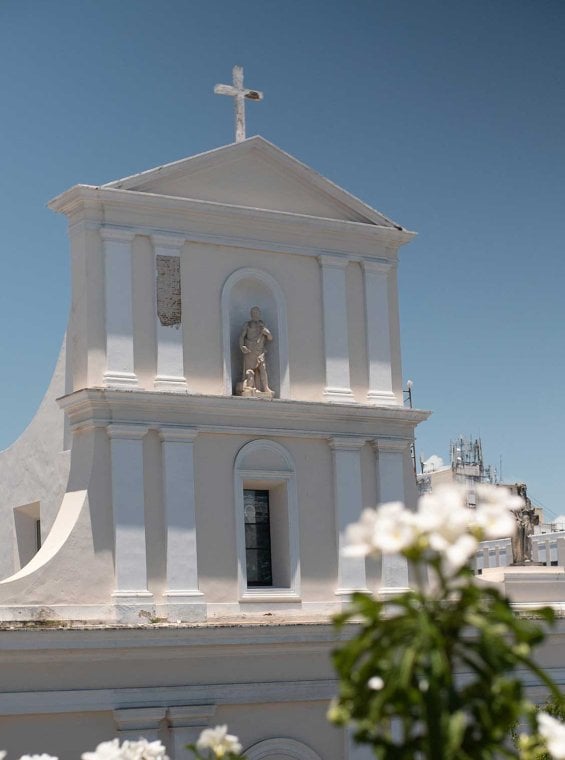 Catedral de San Juan Bautista
Stepping foot inside of Catedral de San Juan Bautista, it's easy to understand why this historic church is one of the most popular tourist attractions in Old San Juan. The venue is grand yet inviting, with a Gothic-style exterior, cream-colored walls, and domed ceilings. Wedding photographers particularly love capturing decorative details like the intricate wood carvings, stained glass windows, and black-and-white checkered floor that make this space so unique.
While the current structure dates back to 1540, the church was originally built in 1521, making it the oldest Roman Catholic cathedral in the United States. The site also serves as the final resting place of legendary explorer Juan Ponce de Leon, who served as Puerto Rico's first governor.
Iglesia San Germán de Auxerre
San Juan holds the title of the oldest city in Puerto Rico, but San Germán in the southwest of the Island ranks a close second. The town was established in 1511 and is home to two historic churches, one of which is available for weddings. Happy couples can say "I do" at Iglesia San Germán de Auxerre, which was first built in 1699 and is listed on the National Register of Historic Places. Located on the town's main plaza, the striking church includes photo-worthy touches like an exquisite, circa-1869 marble altar and a painting by Puerto Rican master artist Jose Campeche.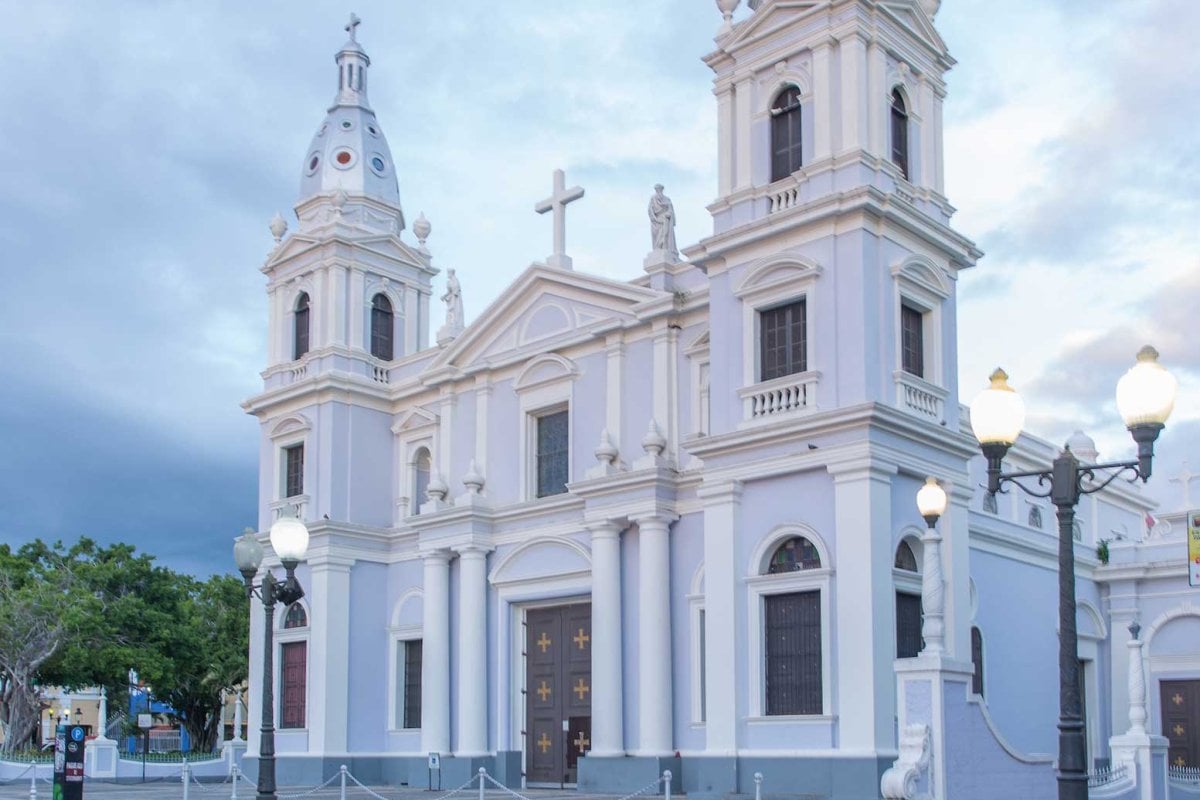 Catedral de Nuestra Señora de Guadalupe
Often called the "Pearl of the South," Ponce is the second most-populated city in Puerto Rico and home to one of the Island's four cathedrals. Dating back to 1670, Catedral de Nuestra Señora de Guadalupe is located in the center of town at Plaza Las Delicias, just steps from the famed Parque de Bombas (a former firehouse turned museum).
While the church's original structure was destroyed by an earthquake in 1918, it was rebuilt over the years and today features a neoclassical exterior and an unusual interior that blends Gothic and colonial styles. Colorful stained glass and a blue domed ceiling are among the eye-catching elements, but the church's most unique feature is its massive pipe organ, which was once played by famed danza musican Juan Morel Campos.
Iglesia Ortodoxa San Espiridion
The Greek Orthodox congregation of Iglesia Ortodoxa San Espiridion in Trujillo Alto is a charming alternative for memorable wedding ceremonies. In contrast to its cavernous counterparts, this cozy house of worship offers an intimate environment in which to tie the knot. The building's white and blue façade pays homage to the colors of the Greek flag, while the interior showcases a collection of elaborate metalwork and religious artwork in ornate frames.
Parroquia Stella Maris
Set in the upscale San Juan neighborhood of Condado, Parroquia Stella Maris offers an elegant venue for an unforgettable wedding ceremony. The church underwent a comprehensive renovation in 2017, resulting in a Roman Catholic house of worship that is contemporary, bright, and spacious.
Located across the street from Plaza Antonia Quinones, the hallowed building is easily identifiable by its striking Spanish tile roof and stained glass accents. Inside, vaulted ceilings, marble floors, and modern lighting create an ambience that is at once chic and inviting, appealing to fashionable couples with an affinity for design.
View Places Mentioned on a Map
Tags
Weddings
Discover Puerto Rico's E-Newsletter
Paradise for Your Inbox
Get travel inspiration, news, tips and more delivered monthly.