San Germán was officially established in 1573, making it the second-oldest city in Puerto Rico. In fact, at one point the entire Island was divided into two parts: San Juan and San Germán.
Today, the town preserves its nostalgic appeal with cobblestone streets, neoclassical architecture, and two meticulously maintained plazas. The entire historic district is listed on the National Register of Historic Places.
San Germán is a landlocked municipality on the southwest side of the Island. It shares a border with several other towns, including Mayagüez, Hormigueros, Lajas, and Sabana Grande. Getting to this charming, historic town takes a little time, but it's well worth it. Rafael Hernandez International Airport (BQN) in Aguadilla is an hour drive north, and San Juan is a scenic two-hour ride away.
Historic Churches
The San Germán historic district includes more than 100 significant buildings, and the most iconic is Porta Coeli, a convent and church built in 1609. The austere structure is accessible via a grand staircase that leads to what is now a religious art museum. Stop by to admire wood-carved saints, hand-painted tiles depicting biblical passages, and other items of Christian interest.
Overlooking Plaza Francisco Mariano Quiñones, Iglesia San Germán de Auxerre is a Roman Catholic church built in 1688. More ornate than Porta Coeli, the active house of worship features ornate details like a circa-1869 marble altar, 18th-century wood carvings, painted archways, and a painting by famed Puerto Rican artist José Campeche.
From Art to Apothecary Museums
Housed in a former savings and loan bank dating back to 1881, the Museo de la Historia de San Germán is a museum that encompasses a series of small galleries detailing the history and legacy of the municipality. Displays focus on aspects of the past and present, from rare Puerto Rican coins to a room dedicated to the town's love affair with basketball. While most of the exhibits are in Spanish, an English-language video explains how San Germán played a vital role in the development of Puerto Rico.
Across the street, the Domínguez Pharmacy Museum, or La Botica, occupies the ground floor of an exquisitely restored structure built in 1887. The museum recalls a typical 19th-century pharmacy with original details like an old-timey cash register, apothecary jars, a microscope, and a balance scale.
Museo de Arte y Casa Estudio, San Germán's art museum, tells the story of Puerto Rico through a collection of paintings, drawings, religious artifacts, and other relics.
Nearby at the Aurelio Tió Museum and Studio House, visitors can explore the recreated home of the Tió family, one of San Germán's most famous and accomplished families. Step back in time to find antique furniture and housewares, letters, and photographs. 
A Symbol of Liberty
Marvel at the beauty of the Ceiba de la Libertad (The Liberty Ceiba). This magnificent tree was planted on February 18, 1898, during a grand celebration to honor the 1897 Autonomous Charter. This charter was granted to Puerto Rico by the Spanish government and gave the Island the right to self-govern its local affairs.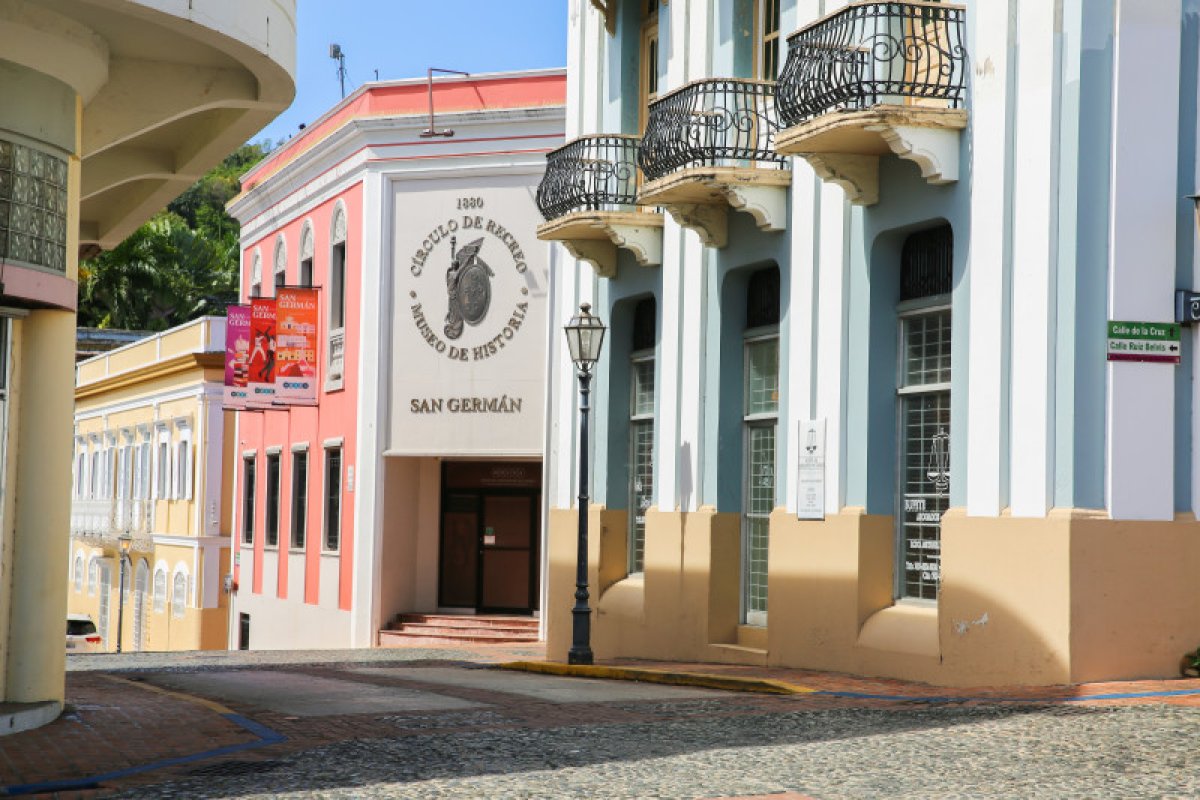 Outdoor Fun
San Germán beckons visitors with its diverse range of outdoor experiences — a delight for people of all ages. Families and kids can enjoy thrilling surf simulators and a wide range of activities at Surf 'N Fun, the largest water park in Puerto Rico.
Pachamama Nature Park offers a unique experience as the first park/ecological hotel in Puerto Rico, welcoming pets and families with dedicated trails and parks.
Eclectic Cuisine
The dining scene in San Germán offers a delicious mix of contemporary and international cuisine. Savor the authentic tastes of Puerto Rico and the rest of the Caribbean at Pórticos 1606, with scrumptious foods like lechón (roasted pork) and ropa vieja (shredded beef).
Visit Mike's Steak House, a renowned establishment serving the best skirt steak since 1978 and offering various types of meat to satisfy every palate.
Lupito's provides a warm and inviting atmosphere for chowing down on tacos, burritos, nachos, and other Mexican dishes, alongside stunning views of Porta Coeli from the outdoor patio.
If you're thirsty for a pre- or post-dinner cocktail, stop by El Cubujón, a chic lounge and tapas bar with live music.