When traveling with athletes, deciding where to eat is as crucial as making sure they have their gear and uniforms ready. It also means wherever you go needs to accommodate a large group — and even larger appetites. In Puerto Rico you'll find countless dining options that check all the boxes and will leave your team ready to perform at their best.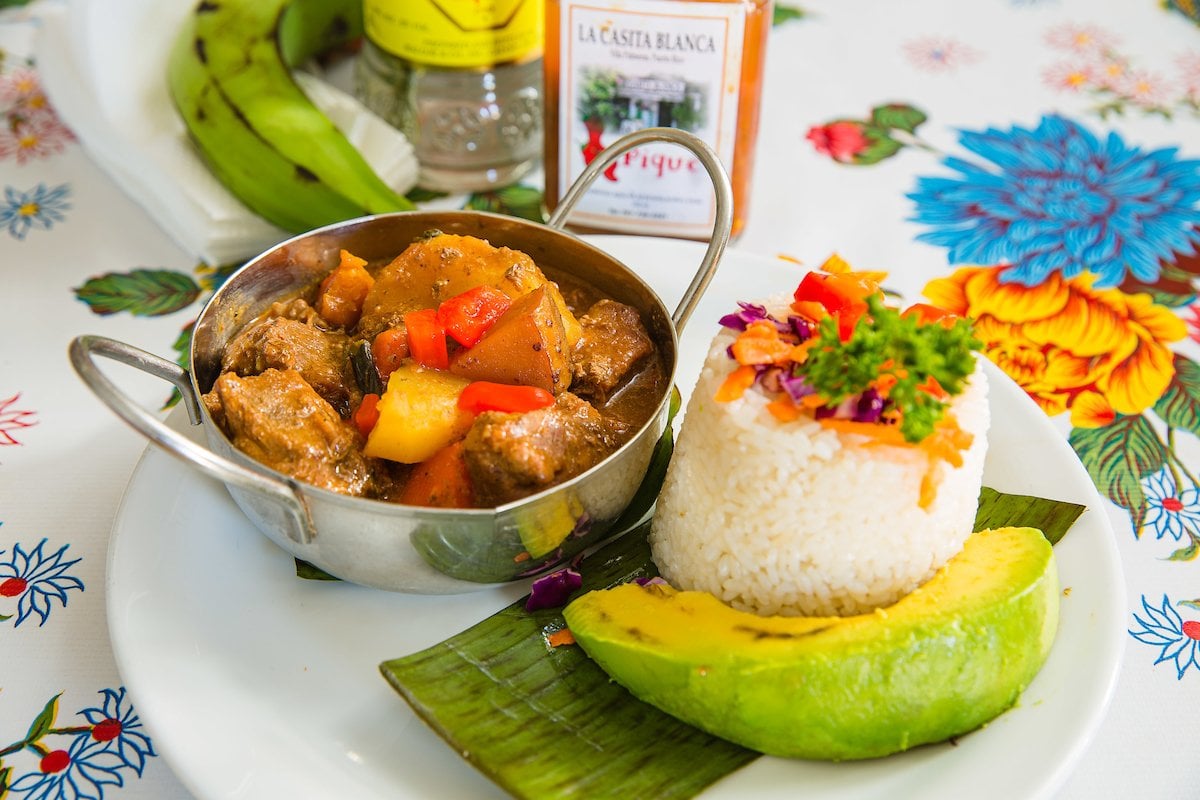 Taste Puerto Rico's Comida Criolla
Traditional Puerto Rican food, known as comida criolla, has been fueling local champions and professional athletes for generations. Some standout staples include savory rice and beans, bistec encebollado (thin-cut steak cooked with onions), roasted chicken, seafood salad, and every iteration of fried plantain. Plus, most criollo restaurants offer generous portions and can accommodate large groups. 
Local favorites El Platanal and Cayo Caribe both have several locations around the San Juan metro area. Other great options include Raíces, Mojito's, El Jibarito, Vaca Brava, and El Patio de Sam in Old San Juan; Cueva del Mar on Calle Loíza; and La Casita Blanca in Santurce.
For a Cuban twist on comida criolla, take your team to Ropa Vieja Grill in Condado or Metropol, a local chain with restaurants all around the Island. Or, if you're looking for Dominican flavors like mangú or their famous breakfast platters, visit Bebo's Café on Calle Loíza or Los Pinos in Miramar.
Breakfast of Champions
Many hotels offer an excellent breakfast menu, but if your team wants to venture out, they can feast like locals at a Spanish-style bakery. Places like SOBAO by Cidrines in Condado, Kasalta in Ocean Park, Panadería España in Isla Verde, and La Ceiba in Hato Rey — all located in the San Juan metro area — serve hearty sandwiches like the Cubano o Medianoche, decadent local pastries (quesitos are a must-try!), large plates of eggs and toast, and, of course, Puerto Rican coffee. If you'll be on Puerto Rico's west coast, look out for Ricomini Bakery which has several locations. 
While not strictly a bakery, another solid option for sandwiches, pastries, and coffee is El Mesón Sandwiches, a chain that can be found throughout the Island.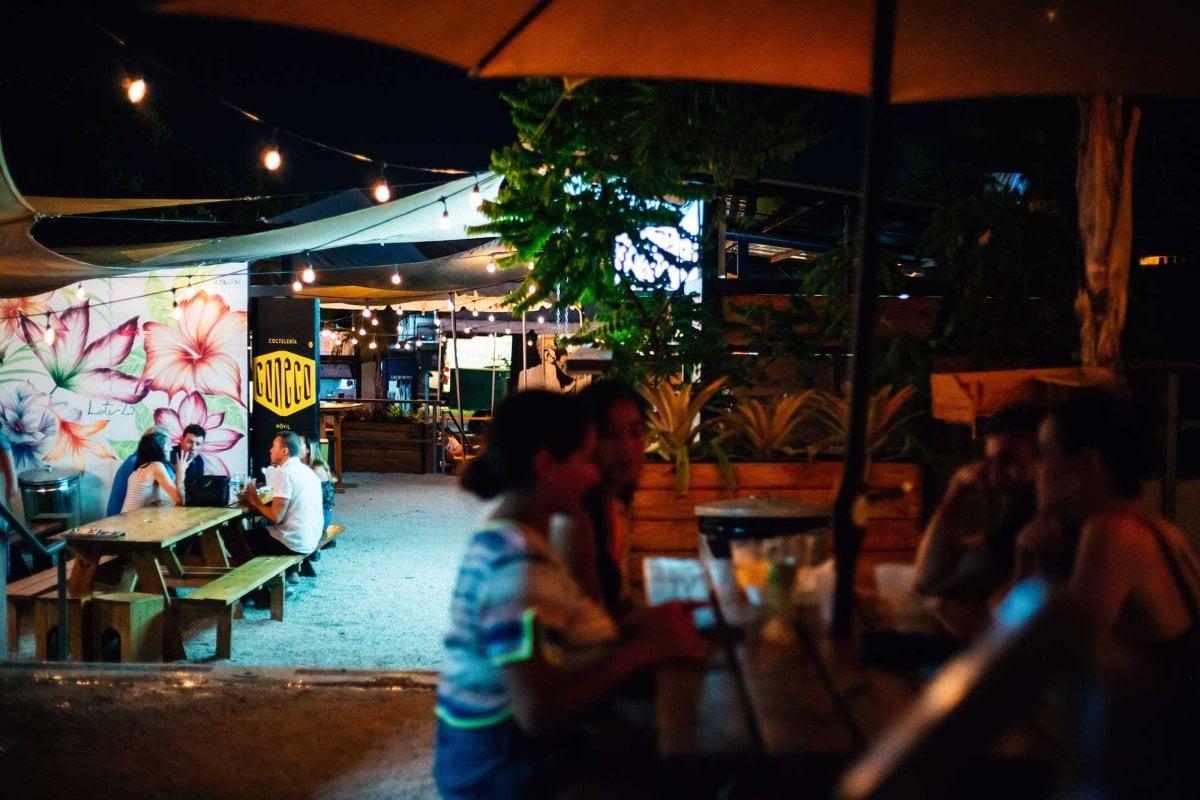 Food Truck Parks
If you have competing dietary requirements or tastes in your group, then your best bet is to get the team to a food truck park. 
In San Juan, the best known are Lote 23 and Miramar Food Truck Park, with culinary options ranging from pork sandwiches to stir-fry noodles and dumplings to Greek gyros. For an even larger selection, drop by the Guaynabo Food Truck Park (close to the Puerto Rico Sports Museum) where you'll find everything from pasta to sushi to lechón (slow-roasted pork). There is also a well-known standalone food truck called El Churry which has multiple locations and specializes in enormous sandwiches stuffed with chopped steak, chicken, or both. 
There are multiple food truck parks in the west and south regions of the Island as well, including the Aguadilla Food Truck Park, Gastropark@115 in Rincón, and the Ponce Food Truck Spot, to name a few.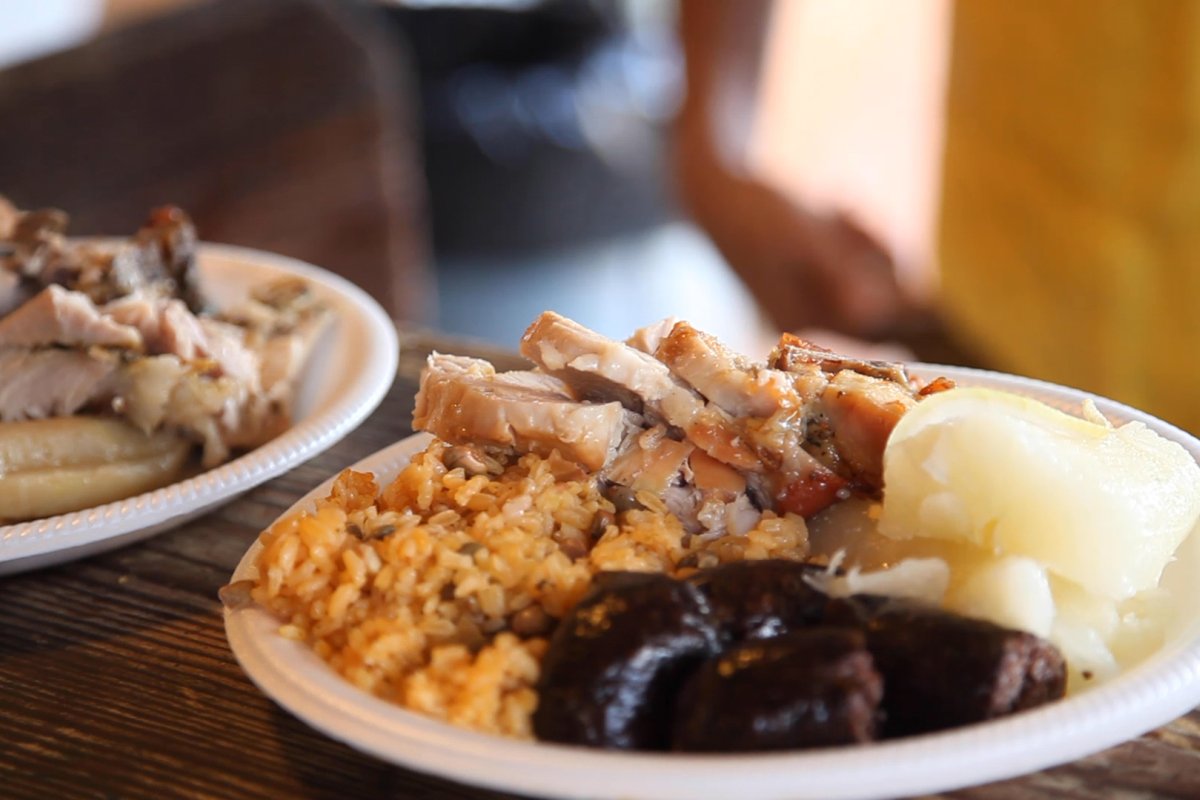 Explore Guavate, the "Pork Highway"
If your team has a day off or a little time to kill, treat them to a rib-sticking meal of slow-roasted pork (or chicken), rice and pigeon peas, yuca al mojo, mofongo, and other traditional Puerto Rican dishes at the famous "pork highway," Guavate. Located in the mountain town of Cayey along Route 184, you'll find restaurant after restaurant serving lechón asado (whole pork expertly seasoned and slow-roasted over a charcoal pit) with all the trimmings. These roadside eateries can easily accommodate large groups and portion their food by the pound.
To make the most of your day in Guavate, try to arrive before noon — especially on weekends. Among the many restaurants you'll encounter are Lechonera Los Amigos, El Mojito, Doctor Lechón, El Rancho Original, Lechonera Los Pinos, El Rancho Nuevo, and many more. Pro tip: The higher up the mountain, the more likely the restaurant will have a view of the Carite State Forest.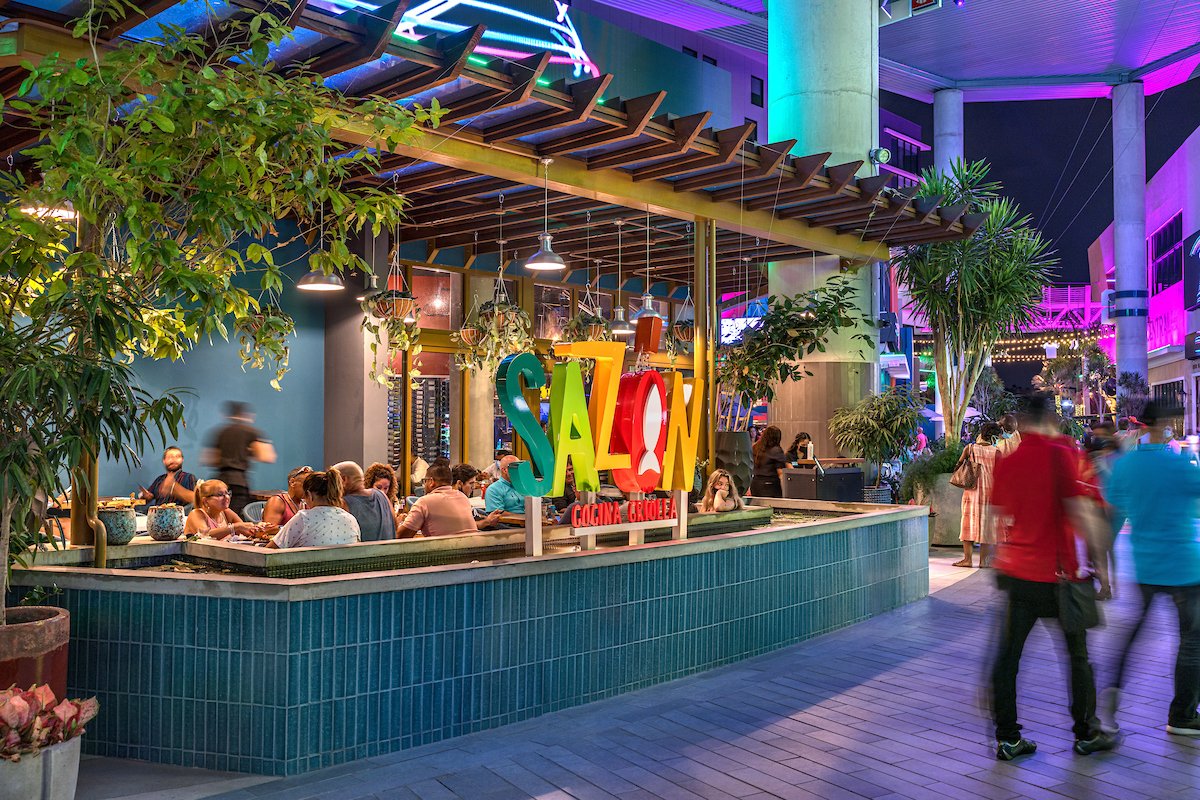 Distrito T-Mobile
Staying or playing in San Juan? Your one-stop shop for dining choices is Distrito T-Mobile in the Convention Center District. If some of your players can't get enough of authentic Puerto Rican food (and who can blame them?) they will love Sazón Cocina Criolla. In the mood for Mexican food? Lupe Reyes has you covered. Burger and a shake more your speed? La Burguesía's creative burger menu will blow you away. Craving sushi, dim sum, or Pad Thai? Denko Asian Eatery has a broad range of perfectly executed Asian dishes. For baseball fans (and players), head to Pudge's Pizza, established by Hall of Famer Iván "Pudge" Rodríguez. These are just some of the culinary options available in one convenient location.
Bonus: If you're looking for somewhere to celebrate a big win, there's no better place than Arena Medalla. This multilevel sports bar and restaurant-meets-gaming center celebrates Puerto Rico's sports legacy through colorful paintings and murals of accomplished local athletes — from boxers "Tito" Trinidad and Miguel Cotto to tennis champion and Olympic gold medalist Monica Puig (and many more). Don't forget to snap a selfie with the statue of MLB Hall of Famer Roberto Clemente at the entrance!
View Places Mentioned on a Map