Create an unforgettable, sun-soaked adventure for your VIP guests in Puerto Rico's capital for surf and sunsets.
The west region is the perfect destination for an incentive trip if you're looking to offer unique travel experiences with the beach as the main focus. You can try to cover the whole region, planning a trip that takes you not only out west but from north to south (or vice versa), stopping at different spots along the coast. This is ideal for groups that want to maximize the amount of activities you can cram into three or four days. The other option is to focus on a single section and explore neighboring towns. However you decide to organize your itinerary, you'll have plenty of options for gorgeous beaches, memorable tours and sightseeing, and delicious food, not to mention the best sunsets on the Island.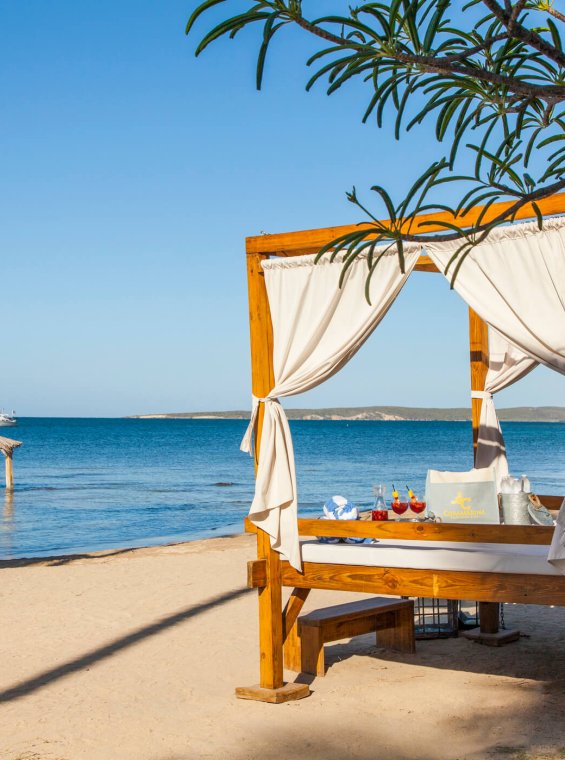 Day 1: Where to Stay
To reach western Puerto Rico, your group can comfortably fly into any of the three airports on the main Island. Luis Muñoz Marín International Airport near San Juan is a 2 to 2.5-hour drive from the west region. If you'd like a shorter commute and your group will be spending more time in the northwestern towns (such as Rincón, Aguadilla, Isabela), then the closest airport would be the Rafael Hernández International Airport in Aguadilla. On the other hand, if your group will be spending more time in the southwest coast (Guánica, Lajas, Cabo Rojo), then Aeropuerto Internacional Mercedita in Ponce is closest.
You'll also have plenty of options when booking a hotel (or hotels) for your incentive group. If you're looking for luxurious resorts, Copamarina Beach Resort in Guánica, Villa Montaña Beach Resort, and Royal Isabela, both in Isabela, offer numerous perks, suites with a view, and world-class dining. Other hotels in the area include Rincón Beach Resort in Añasco, Aquarius Vacation Club in Cabo Rojo, and for smaller groups Villas del Mar Hau in Isabela, Parador Guánica1929 in Guánica, and Villa Parguera Hotel in Lajas.
Once your group is settled in, bring everyone together for an outstanding welcome reception at one of the fine dining restaurants on offer, such as Jota in Royal Isabela, Eclipse in Villa Montaña, also in Isabela, or Alexandra in Copamarina. 
Day 2: Rincón, Aguadilla & Isabela

 
From Aguadilla to Isabela, you'll find the best surfing in the Caribbean. Book private surf lessons for your group with Rincón Surf School or Surf Lessons - Puerto Rico Adventure Company, both in Rincón.
If your group is feeling adventurous, book a private scuba or snorkeling expedition with Rincón Diving & Snorkeling or 413 Divers. Another dive company, Taíno Divers, also offers sunset cruises and afternoon charters. If you're looking for a one-stop shop, Aquatica Dive & Surf in Aguadilla offers scuba, surf, and stand up paddleboard lessons and tours.
For groups who prefer to stay on dry land, we recommend booking a horseback riding tour with Pintos "R" Us in Rincón or Tropical Trail Rides in Isabela. Golfers will also enjoy getting a few rounds at Royal Isabela's coastal cliff-facing course or challenge their skills at Punta Borinquen in Aguadilla. 
Wrap up the day with some casual dining right on the beach at Tamboo Bar and Seaside Grill in Rincón or ARTE (Aguadilla Rooftop Experience).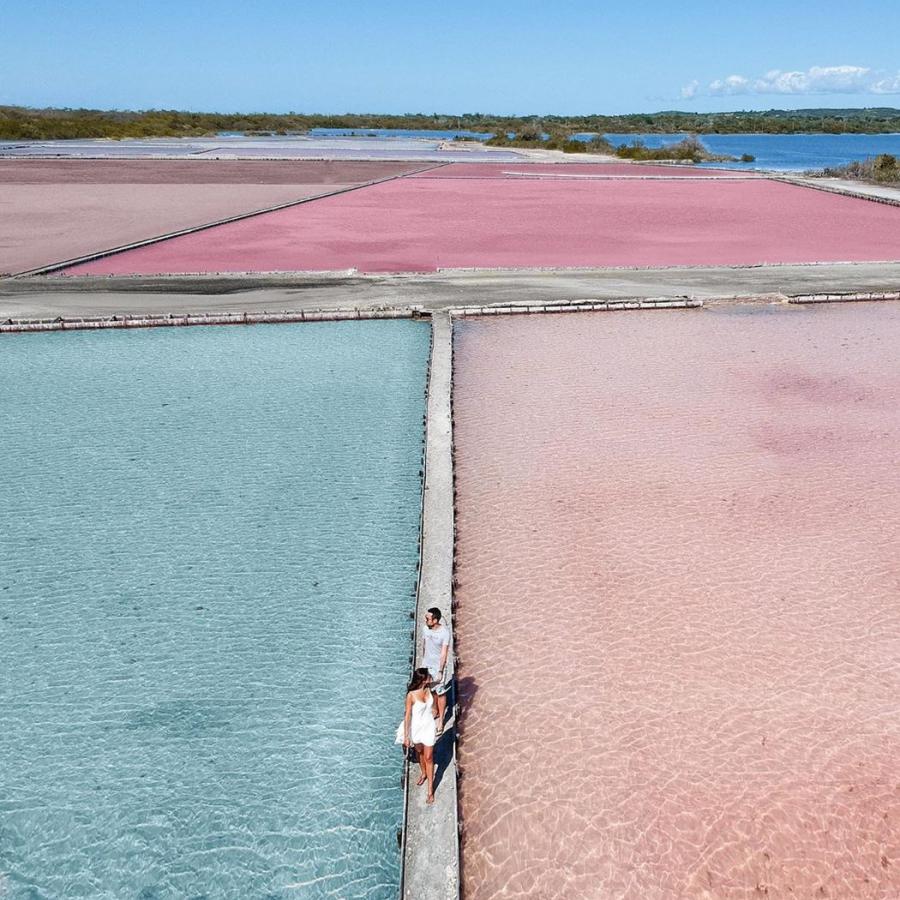 Day 3: Cabo Rojo
On day three, slow down and enjoy some laid back beach bumming in Cabo Rojo. Local favorites include La Playuela (also known as Playa Sucia), Balneario de Boquerón, and Combate Beach.
Make sure to also schedule a visit to the Cabo Rojo Salt Flats, where your guests can admire the beautiful pink and red tones of the water, contrasting with the deep blue of the Caribbean Sea. There is a visitor's center where you can schedule a guided tour. Just a short drive away is the Los Morrillos Lighthouse, which also offers incredible views of the coast, and is surrounded by hiking trails, one of which leads to the iconic stone bridge.
After a full day, your group can enjoy a stroll through El Poblado, a bustling fishing village in the Boquerón neighborhood. Here they can choose from a number of colorful restaurants serving local specialties, fun bars with tropical drinks and local beers on tap, and shop for souvenirs at the quaint local shops.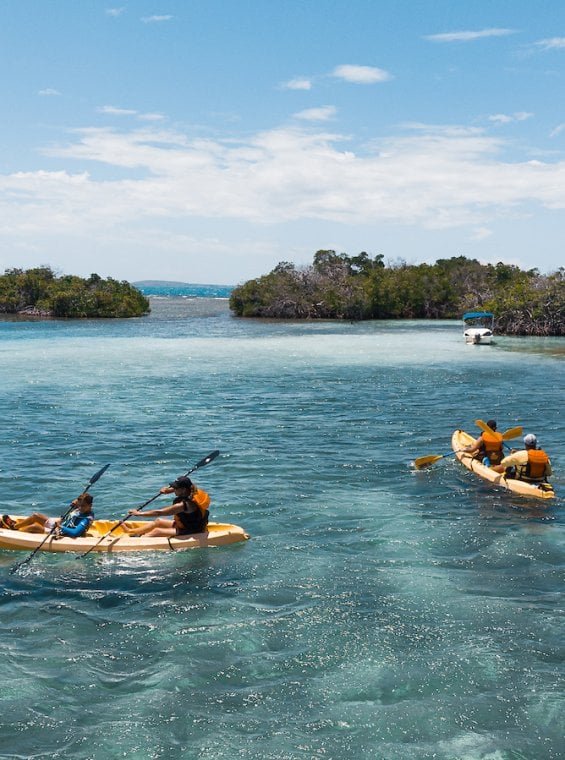 Day 4: Guánica and Lajas
The southwestern towns of Guánica and Lajas have a plethora of activities and attractions for your group to enjoy.
Laja's main attraction is La Parguera, a fishing village turned boardwalk-style waterfront promenade packed with restaurants, bars, food kiosks, and artisan vendors selling handmade crafts and souvenirs. From here you can book a boat tour to the nearby uninhabited keys, including Cayo Caracoles, Cayo Enrique, and Cayo Mata La Gata, where they will enjoy unspoiled, powdery white beaches and swim in the crystal-clear waters of the Caribbean Sea.
If your group enjoys scuba diving, they can "Dive the Wall" at La Parguera, a continental shelf that drops vertically from 60 to 130 feet and is covered with coral reefs teeming with tropical fish. Paradise Scuba and Snorkeling offers daytime and evening dives, which include a tour of the bioluminescent bay.
Neighboring Guánica is also full of little cays hiding beautiful beaches. The most famous is Cayo Aurora (also known as Gilligan's Island), a mangrove island with shallow turquoise waters, only accessible by ferry or kayak. The easiest way to get there is to charter a private boat. Another popular beach is Playa Santa, a sandy crescent where your guests can rent kayaks, jet skis, and more. For a relaxing escape, your group can visit secluded beaches like Tamarindo or Ballena, which can also be reached by hiking down the trails of the Guánica Dry Forest.
Finally, make a quick stop at Finca El Girasol, a sunflower farm in Guánica where your guests can walk among the rows of bright flowers that serve as the perfect backdrop to Insta-worthy photos.
Day 5: Departures
Gather your group for one last meal together before heading to the airport to catch their flights home. Pre-book a bus or other ground transportation to make your group's trip to the airport a smooth one. Puerto Rico also has several local Destination Management Companies (DMCs) that can secure transportation for you.
This is just one possibility for a group incentive trip, but the expert team at Discover Puerto Rico can help you craft an itinerary to fit the needs of your group.