Discover Puerto Rico's Indigenous culture and natural beauty in the mountains.
Covering an area of about 115 square miles, Utuado's name comes from the Taíno word otoao, which means "between mountains." This stretch of land, planted among dense vegetation, is the most mountainous area of Puerto Rico. Here, visitors will find a rich Indigenous history alongside numerous opportunities for outdoor activities.
Things to Do in Utuado
Indigenous Culture
Utuado is home to the important Caguana Indigenous Ceremonial Park, one of the Island's most precious Taíno legacies stretching back more than 800 years. The park has 10 ceremonial plazas, numerous well-preserved petroglyphs, a small museum that exhibits Taíno artifacts, and a botanical garden.
Explore the Taína Route and Indigenous Culture in Puerto Rico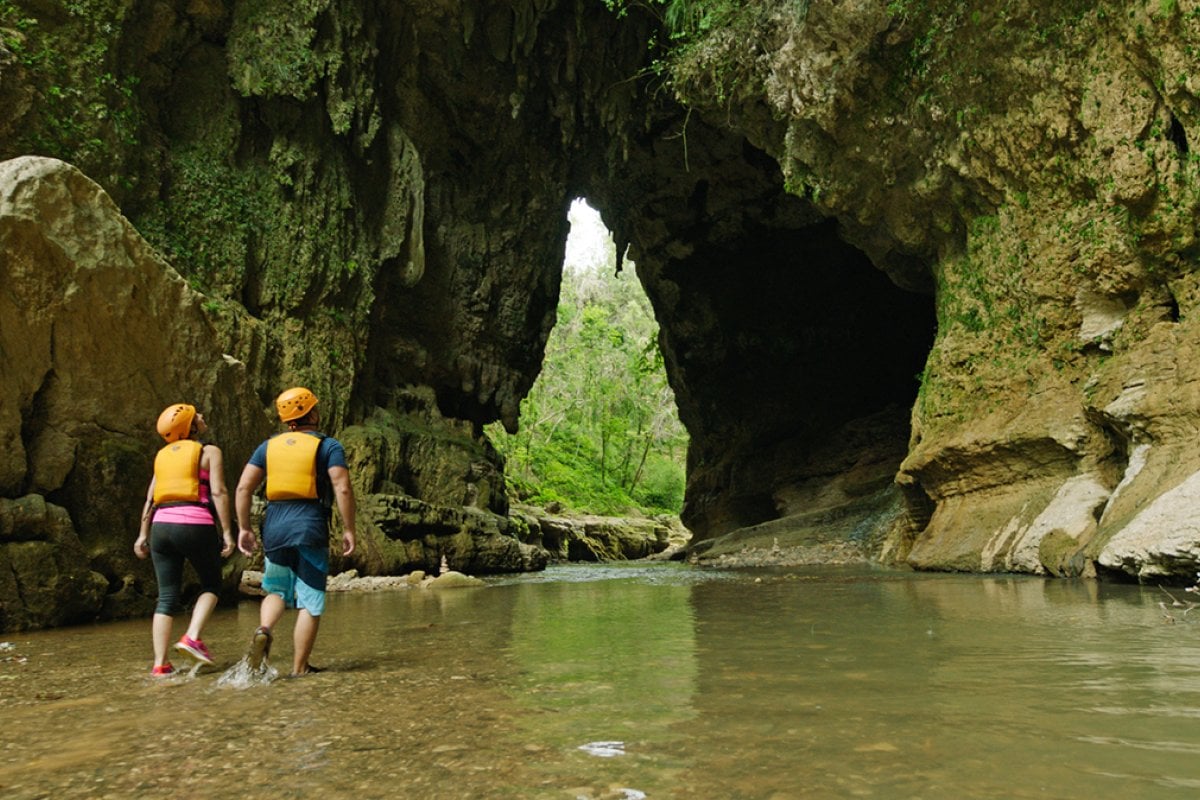 Outdoor Activities
Nestled in the Central Mountain Range, Utuado boasts caves, rivers, and streams that offer a variety of activities.
This town of about 35,000 inhabitants, also known as the Ciudad del Viví (a reference to one of the local rivers), is home to the Río Abajo State Forest, with elevations that reach up to 1,391 feet above sea level. This ecosystem is a popular destination for those who enjoy hiking, bird-watching, exploring caves, and camping.
Meanwhile, the Tanamá River National Forest is another popular attraction in Utuado, where you can enjoy hiking, rappelling, cave tubing on the river, waterfall jumping, ziplining, canyoneering, and kayaking. In the forest, tour operators offer challenging options for experienced adventurers, as well as easier options for first-timers and families with young children.
Coffee Farms
Utuado also has coffee farms that offer tours. The 100-acre eco-farm Hacienda Horizonte, which belongs to the popular Puerto Rican singer Draco Rosa, offers horseback riding tours through the property as well as the option of interpretative walks through the forest to learn about their organic crops. Another location coffee lovers shouldn't miss is the Hacienda Café Gran Batey, a beautiful place where you will learn about the growing and processing of coffee beans and enjoy tastings of authentic Puerto Rican coffee.
Where to Stay
Complement the area's connection to nature with distinctly local lodging options. There tend be more vacation rentals than hotels in Utuado, and services such as Airbnb and HomeAway have a portfolio of properties in the area where you can enjoy the local scenery.
You'll find a log cabin in the Río Abajo Forest that has a fully equipped kitchen swimming pool and historic brick chimney.
If you're traveling with family or a group of friends, consider a large house in the Hacienda Horizonte, which is a working coffee plantation next to a lake, and only a short walk from the Tanamá River. Or, enjoy glamping at Finca Viernes, where you'll find tents, bonfires, and stunning views of Lake Caonillas.
Discover Puerto Rico's E-Newsletter
Paradise for Your Inbox
Get travel inspiration, news, tips and more delivered monthly.