Juncos
Juncos, a tiny town in southeastern Puerto Rico, is locally known as "the city of the Valencian" or "the mules of the Valencian," which is also the name of their AA Baseball team.
These nicknames are a reference to the city's origin: In the 17th century, the region was known as the Valencian's Ranch (the owner came from the town of Valencia, Spain) which was then split into two smaller ranches, one of which was Hatillo de los Juncos (Small Ranch of the Reeds). This ranch became a village, and in 1797 was established as an official town.
Now Juncos is best known as a hub for business. Several large companies like Amgen, Medtronic, and Becton Dickinson Caribe have their manufacturing plants in Juncos, producing machinery, electrical equipment, scientific instruments, pharmaceuticals, and other products.
Monumento al Veterano
This monument has several names: Soldier's Plaza, the Monument to the Veteran, the Monument to the Fallen Soldier. In 2014 it was even given the name of Sgt. Félix Modesto Conde Falcón, a Juncos-born soldier that was posthumously awarded the Medal of Honor by President Barack Obama for acts of heroism during the Vietnam War. This small square is a tribute to the Puerto Rican soldiers that fought and died in both World Wars, the Korean War, and the Vietnam War.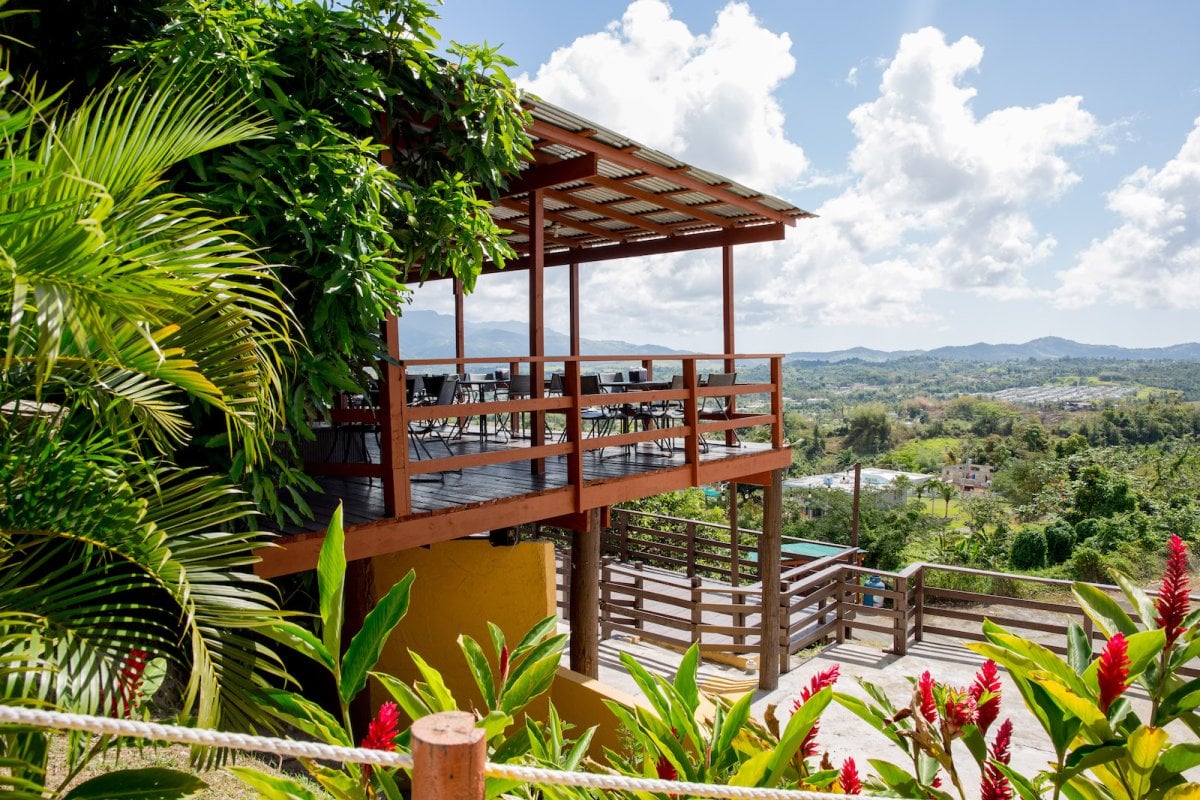 Modesto Carrión International Half Marathon and 10K
This race has been held every November in the town of Juncos since 1976 (with the exception of 2017) and is named after local running legend Modesto Carrión, a native of the town. It's an event that historically has attracted runners from around the world. Initially, it was only a half marathon but a few years ago a 10K distance was added.
Where to Eat
Juncos has several good restaurants worth visiting if you're in the area or looking to venture out of the metro area for a culinary adventure.
Open Mic Arthouse Café is a cozy little restaurant in the center of town that specializes in brunch (all day, every day) and serves some of the best coffee around. They have gorgeous fluffy pancakes with a side of fruit, scrambled eggs with ham and vegetables topped with cheese, or loaded sandwiches made with local bread.
For more substantial fare and a family-style vibe head up to Restaurante Casajú. From their terrace you can enjoy a view of the Luquillo mountain range while working your way through heaping portions of traditional Puerto Rican cuisine like mofongo, giant pork chops with fried plantains, whole fried fish, and the fried cheesecake is also a must-try. Don't go here if you're on a diet.
If you just want a hearty lunch to-go then food truck Asado de Juncos is the perfect stop. Their daily menu features typical Puerto Rican lunch specials like rotisserie-style roasted chicken, fried or smoke pork chops, and Puerto Rican-style lasagna (it's delicious!) with sides like yuca, guineos en escabeche (marinated savory bananas), arroz con gandules (rice with pigeon peas), and savory or sweet fried plantains.
Discover Puerto Rico's E-Newsletter
Paradise for Your Inbox
Get travel inspiration, news, tips and more delivered monthly.