Las Piedras is a small town in southeastern Puerto Rico and its name means "The Rocks," in reference to the gigantic rock formations of volcanic origin scattered throughout the area.
These rocks were used for religious ceremonies by the indigenous inhabitants of Puerto Rico, the Taínos.
The Taínos were an Arawak tribe that inhabited most of the Antilles when the Spanish arrived in the late 1400s, but they were quickly wiped out by the Europeans. Today our only connection to the pre-Columbian era is through petroglyphs found carved into rocks and caverns, as well as the remains of Taíno settlements found around the Island. Las Piedras has one of these among its most popular attractions.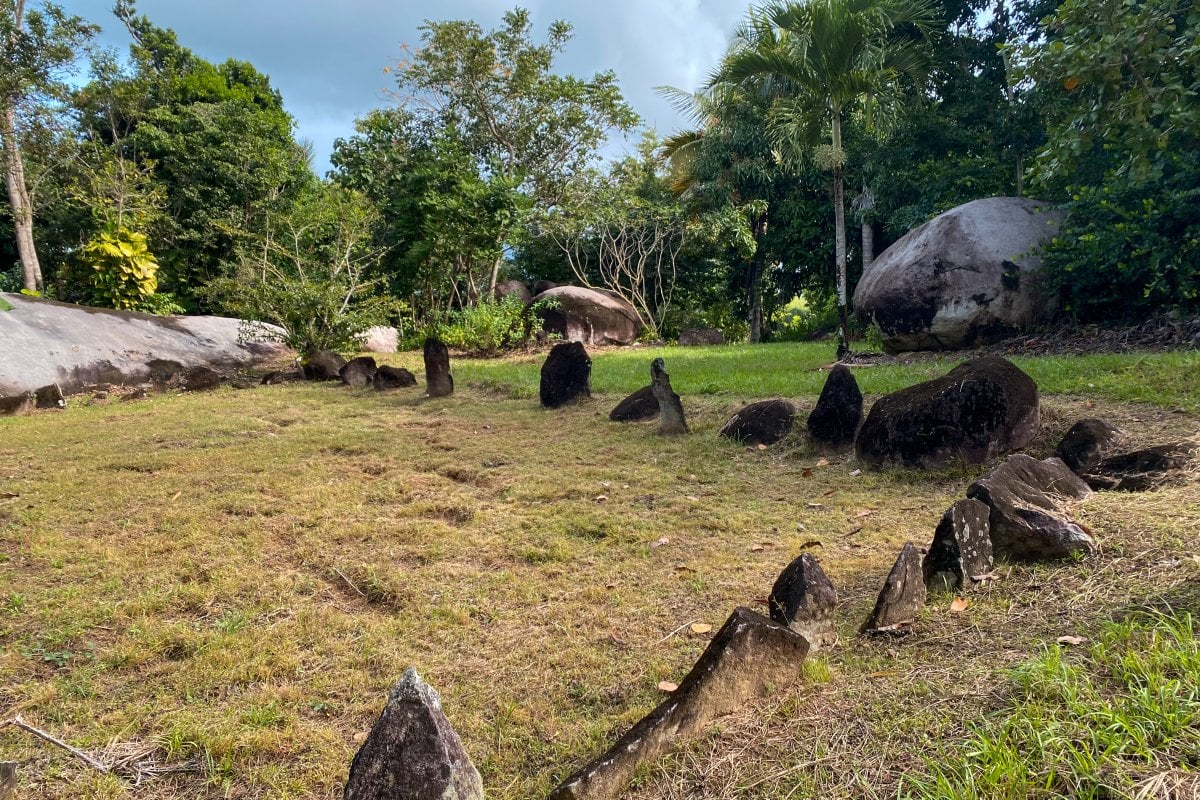 Located in a verdant area, the Cueva del Indio (Indian Cave) park contains not only a cave but also a batey, or ceremonial site, that was used by the Taíno tribe that lived in Las Piedras more than 500 years ago.
A series of standing stones with Taíno symbols carved into them are placed in the form of a rectangle to mark the batey. The grounds were used for ceremonies during certain times of the year, and also as a playing field for a ball game.
The cave itself is actually several enormous rocks leanings into each other creating an opening. The Taínos would smoke the bark of a tree with hallucinogenic properties and go into the cave to communicate with the gods. Whatever they saw in their vision they would carve into the stones. There are over 200 petroglyphs in just one area of this cave.
To visit the park you must make reservations with the municipal tourism office, 787-733-2160 ext. 2474. They offer a guided tour of the park and cave in Spanish or English.
Town of the Artisans
Las Piedras is also known as "the town of the artisans" and they hold a yearly artisan festival in September at Paseo de los Artesanos, a plaza designed as a tribute to the craftsmen of Puerto Rico. This square is decorated in festive colors and the entrance has a giant rock with Taíno symbols carved into it and a giant Taíno sun on top.
Other festivals held in Las Piedras include the Güiro Festival in March (güiro is a type of instrument made from a dried gourd with lines carved into the side that is scraped with a metallic comb), and the Festival del Lechón in November to celebrate the exquisite slow-roasted pork that's one of the most important culinary traditions of Puerto Rico.
Discover Puerto Rico's E-Newsletter
Paradise for Your Inbox
Get travel inspiration, news, tips and more delivered monthly.