San Juan has accommodations for every traveler, from stunning beachfront resorts to hotels immersed in culture and history.
Whether you are visiting the Island alone or with family, you can find a perfect fit from this list of places to stay in the capital city. The following list combines a variety of travelers' choices and value that TripAdvisor ranked by user ratings, confirmed availability, prices, popularity, and location.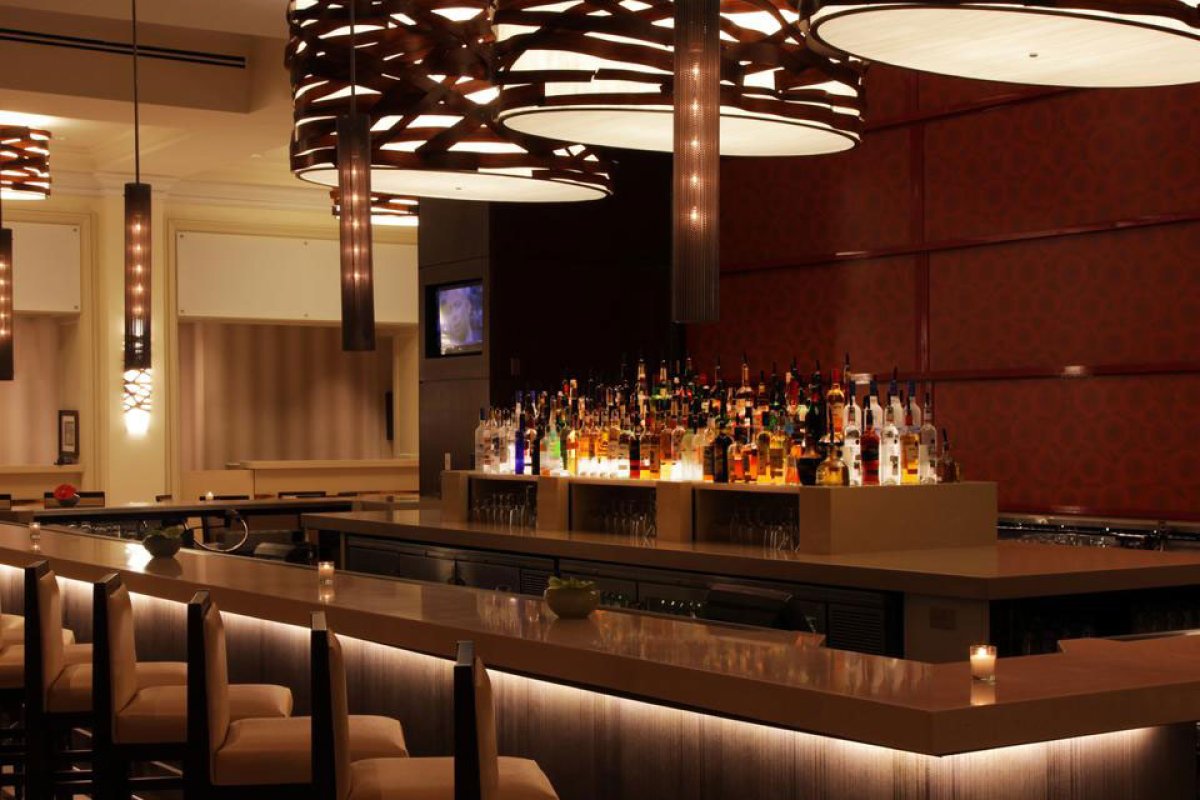 The San Juan Marriott Resort & Stellaris Casino
1309 Ashford Ave, San Juan
The San Juan Marriott Resort & Stellaris Casino is a AAA Four-Diamond oceanfront hotel that focuses on customer service and cultural experience. Located in the heart of Condado, the guests don't have to leave the premises to appreciate the beauties of the beach, situated a few feet away. Visitors have a variety of over 20 restaurants and stores to do some fine dining and shopping within walking distance.
Their top-of-the-line amenities –such as spacious rooms with soothing décor, a double helix slide for kids, fitness and wellness centers, and venues to hosts events– make this resort the perfect getaway for families and couples.
The Marriott highlights the tropical ambiance at their Red Coral Lounge and Casino, where every weekend they host live music and dancing for everyone around. This space provides the opportunity for the guests to venture into the culture by experiencing the sounds of Puerto Rico while mingling with locals that enjoy the facilities.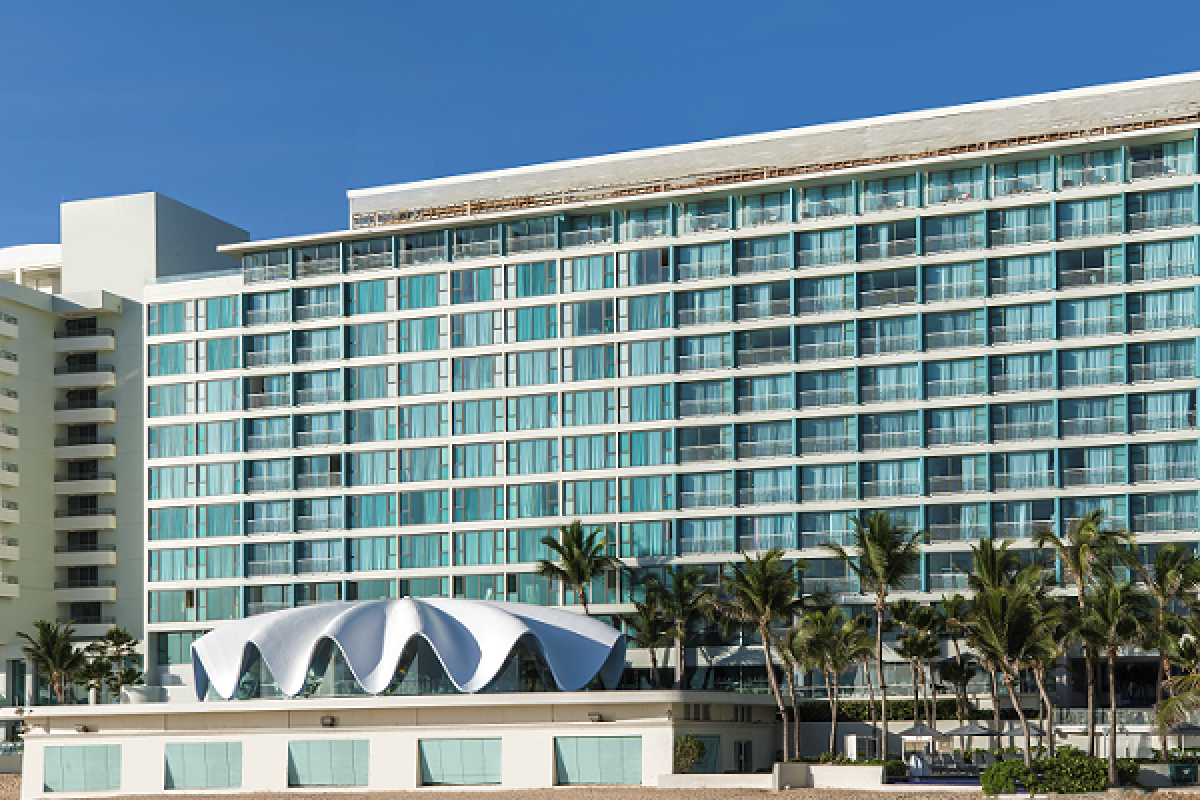 La Concha Renaissance San Juan Resort
1077 Ashford Ave, San Juan
La Concha Renaissance San Juan Resort is a AAA Four-Diamond lifestyle resort and nightlife destination. A retro urban showcase and architectural landmark in Condado, La Concha Resort was originally built in 1958 but has been completely reimagined for the 21st century. 
Perfect for a tropical getaway, this premier resort offers soulful hospitality in a stylish environment. It is a seaside architectural landmark that features 248 oceanfront rooms and a tower of 235 suites. The culinary experience includes eight restaurants, the trendsetting Lobby Bar, and room service. It also features the Caribbean's most novel casino. Guests and locals have access to select evening experiences including onsite live music performances, culinary demos, and performance art, so they discover something new and unusual with each visit.
Being a lifestyle resort, La Concha aspires to serve leisure groups and destination wedding guests, providing an experience that helps them connect with local culture while highlighting values and innovation.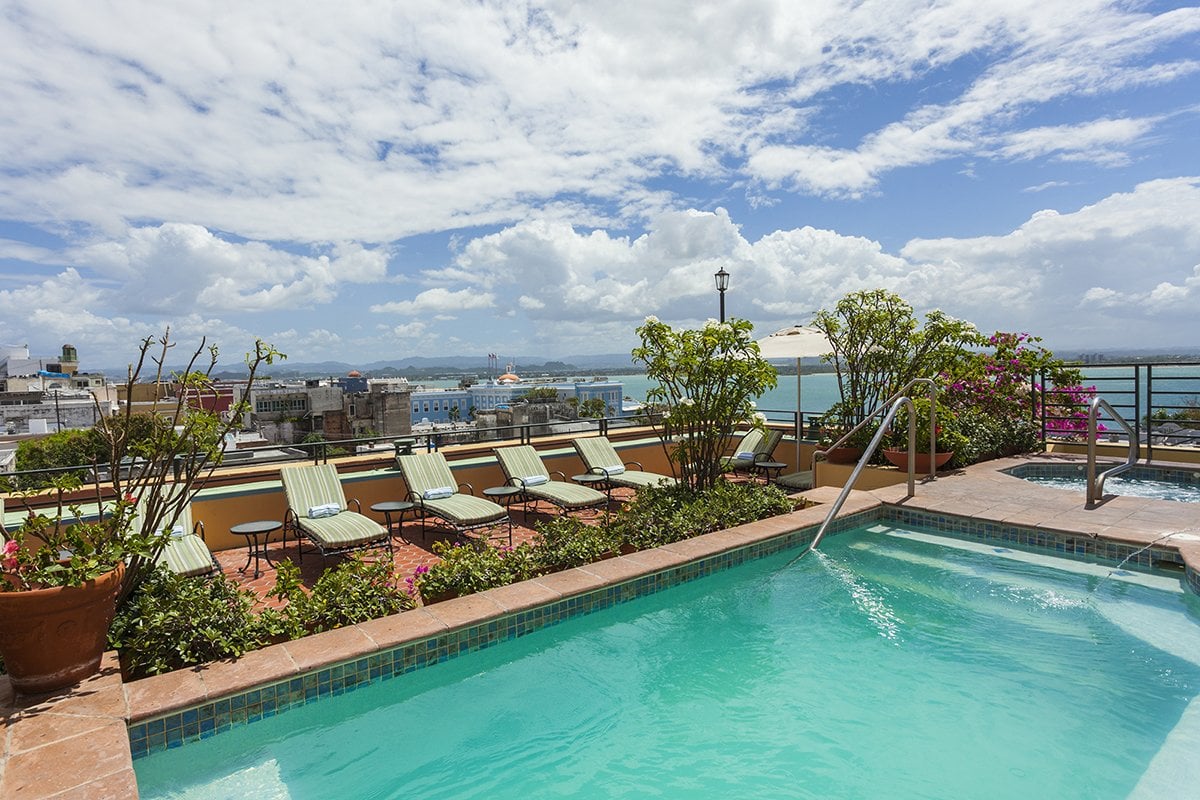 El Convento Hotel
100 Calle del Cristo, San Juan
Being the best kept oldest building in Old San Juan, El Convento Hotel serves as a unique colonial-style resort that showcases an Old-World aspect. Its authentic 1600's Spanish architecture gives the guests the illusion of stepping back in time, while still maintaining the commodities of the 21st century. 
This hotel is the only full-service resort located at the very heart of Old San Juan, which prompts it to focus on customer service and experiences. El Convento Hotel caters to every traveler, especially those couples looking for a timeless romantic getaway. 
As part of their all-service practice, the resort hosts a sunset complimentary wine reception where they pair a variety or in season red, white, and bubbly with a spread of cheeses. 
The Decanter Hotel
106 Calle San José, San Juan
The Decanter is a pet-friendly hotel located in the oldest part of Old San Juan. The hotel's atmosphere boasts a delightful blend of contemporary enhanced traditional architecture and a staff that provides warm and detail-oriented service. Because of its location, this hotel is perfect for those who want to dive into the history and rich culture of the Island. 
Their unique rooms carry the name of a grape and its décor is based on the colors and textures of the wine they represent. Most of the rooms and suites have their own private balcony overlooking the city. The hotel has a small wine cellar from which the guests can pick and choose their own wine. 
The Decanter highlights the quality of its staff, a team of people ready to assist and transmit their love, passion, and enthusiasm for the Island's culinary and cultural offer, as well as the exuberant nature. This hotel aims to please the couples and families that tend to visit, especially those going or getting out of a cruise.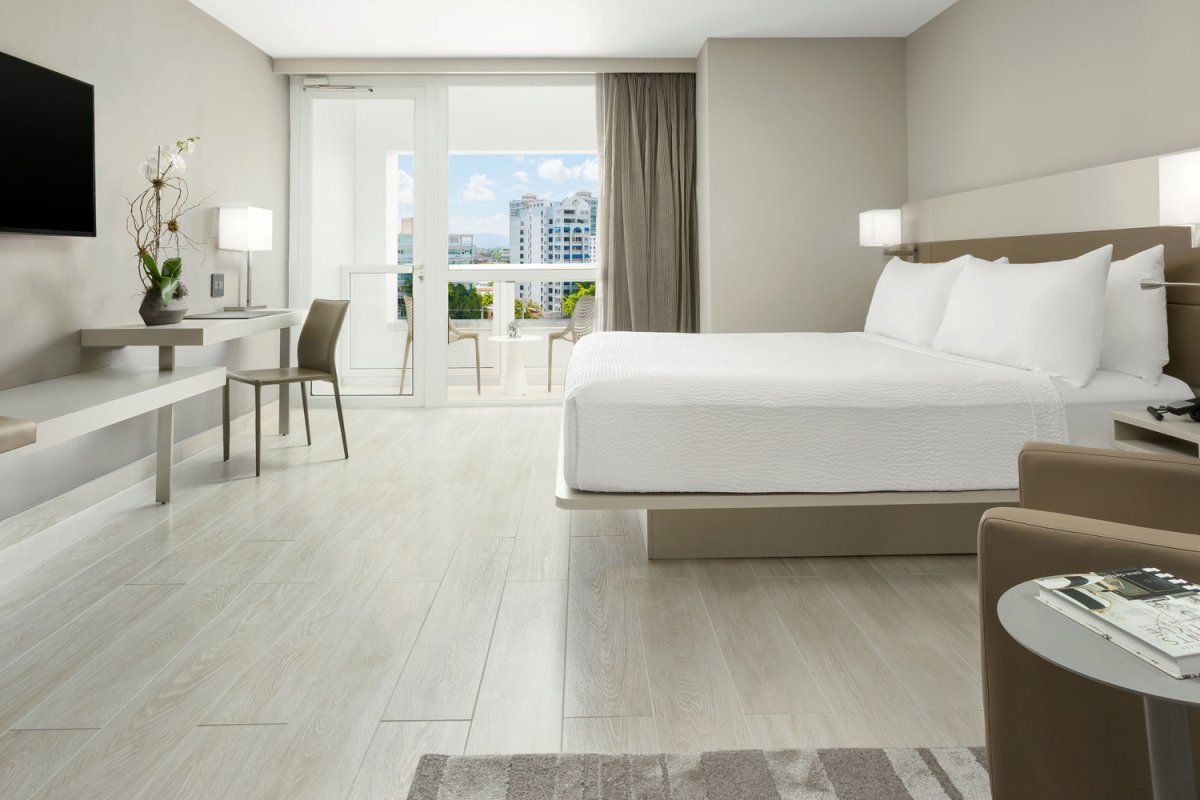 AC Hotel
1369 Ashford Ave, San Juan
AC is a modern European brand hotel that focuses on lifestyle and well-thought spaces to provide just the essentials. Their target is to highlight the elegance of design and minimalist experience. AC strives to create spaces where guests can come together in an environment that inspires creativity and stimulates inventiveness. 
Throughout the hotel, you will find pieces of art that inspire productivity. The minimalist surroundings are perfect for creative sessions and relaxation. AC is the only hotel in Condado that has a rooftop pool and bar overlooking the beach and metropolitan area. It is a great space to host social as well as corporate events. 
In addition, the AC Lounge provides the perfect setting for a night of cocktails and Spanish tapas in a terrace that overlooks the Ashford Avenue, where good music is played every night.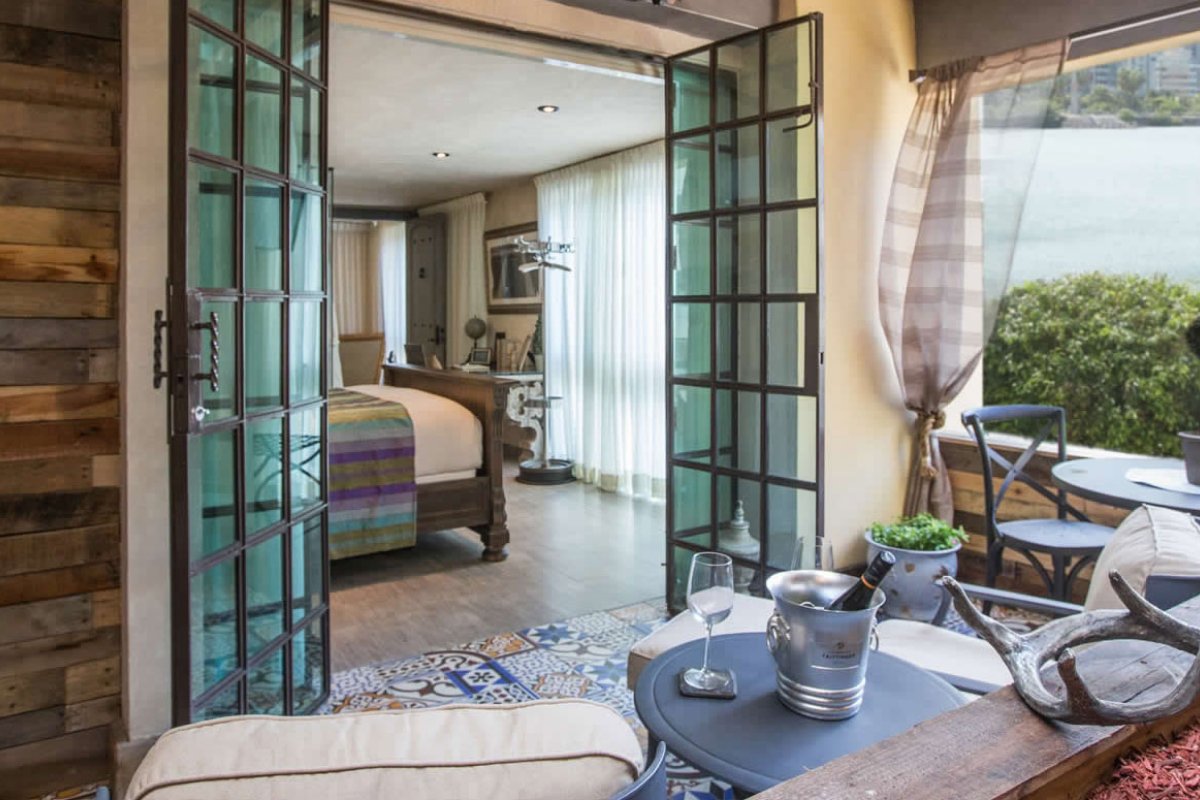 O:live Boutique Hotel
55 Calle Aguadilla, San Juan
Inspired by the "Art de Vivre" (the art of living), O:live Boutique is a luxury hotel in Condado that aims to elevate love and welcome those couples that want to get away. Every detail at this resort was influenced by the owner's travels to Morocco, Spain, Italy, and France. The design provides a relaxed and unique experience for each of its guests. 
All suites have a private veranda terrace and a hand-carved stone outdoor shower for couples to enjoy on their romantic escapade. All wood furniture is made from 100-year-old restored wood, purchased from curators around the world. O:live Boutique's rooftop is a gem that overlooks the lagoon. At the Sage Steak loft, guests can taste the dishes of world-renowned chef, Mario Pagán. 
O:live has won the Orbitz Awards for Best in Stay and Best Boutique.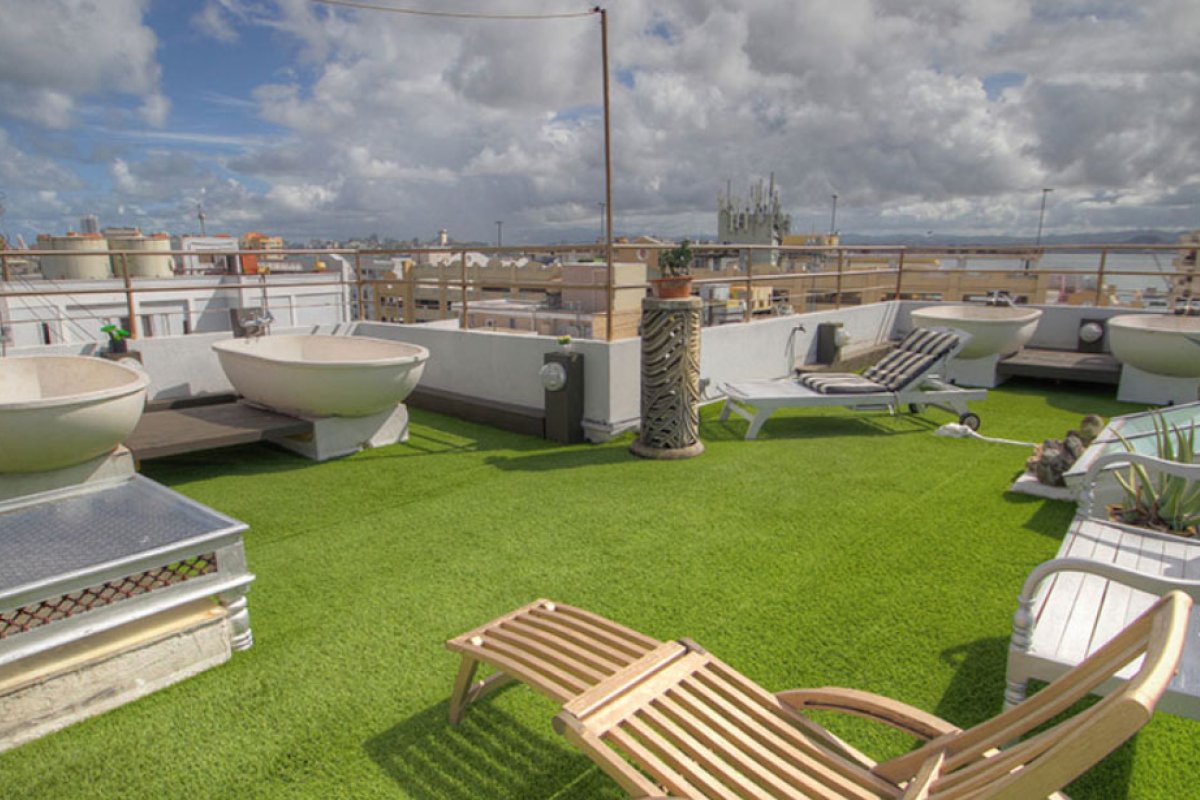 The CasaBlanca Hotel
 316 Calle Fortaleza, San Juan
The CasaBlanca Hotel is a romantic boutique-style hotel that was inspired by the 1942 movie of its namesake. It promises to captivate its visitors with vintage Moroccan vibes. Situated in Fortaleza street in Old San Juan, this hotel is perfect for those seeking to absorb all the history and culture of this ancient city. 
The hotel's rooftop provides a 360 view of the so-called walled city. It is a secluded and serene space that serves guests as a relaxation area. It is equipped with four-tone tubs where guests can refresh at any time of the day. The CasaBlanca hotel was the first in Puerto Rico to be certified as EPA Energy Efficient because of its energy sustainable systems that protect the environment. 
With an expansion on the horizon to cater to those planning a long stay in Puerto Rico, this hotel welcomes every type of traveler, being independent vacationers and history buffs its main target now.
View Places Mentioned on a Map
Discover Puerto Rico's E-Newsletter
Paradise for Your Inbox
Get travel inspiration, news, tips and more delivered monthly.