From taking piano lessons at a young age while growing up in Ponce to immersing himself in the world of house music and the local queer nightlife scene in San Juan, DJ and event organizer Ien Grave has always been driven by his passion for art and music.
Today Ien works as a freelance graphic designer and media strategist by day. But at night catch him spinning house music at local venues around the metro area and beyond. He also lends his voice to LGBTQIA+ issues, conveying a message of empowerment and inclusivity through music and dancing.
In this interview, Ien chats about the music scene in San Juan and the LGBTQ community on the island.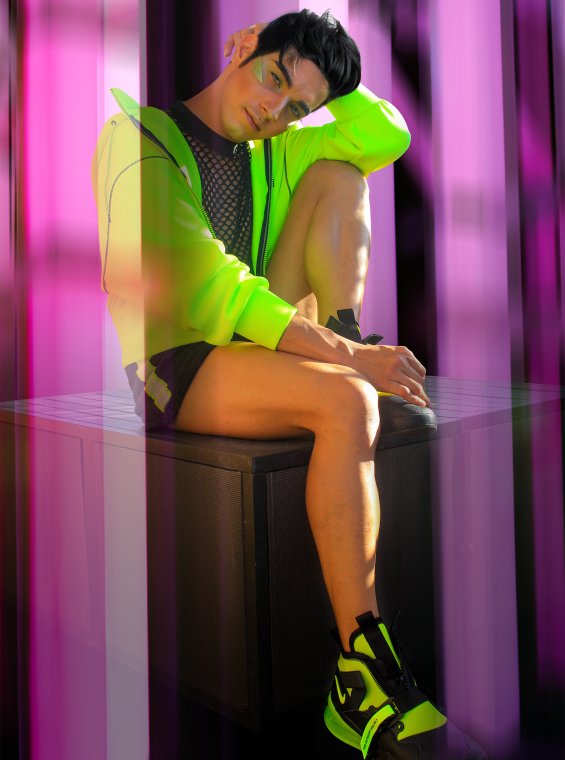 What's your take on the current LGBTQ+ nightlife scene in San Juan?
The LGBTQ+ scene in Puerto Rico is growing steady and healthy. It's more diversified and inclusive than ever before. I believe this is due to millennials in Puerto Rico growing up with social media and more information and education about gender expression and identity. So this has helped other generations understand the importance of acceptance and inclusion of other members of the LGBTQ+ community in spaces that were only catering to gay men.
I feel Puerto Rico has so much to offer the members of the community. We have queer bars and events for our community. There is a growing number of LGBTQ-centric spaces and venues that aren't necessarily LGBTQ+ owned but are very much welcoming to allies who host all kinds of thematic events and parties. It's no longer limited to gay circuit parties like before.
We have a great independent arts and performance dance scenes within the LGBTQ+ community, so it's not just about partying all the time. Sometimes micro festivals are held in different venues integrating these art forms that also include drag kings, queens, gender fluid and non-binary performers. These also include but are not limited to art expos, interpretive dancing, fashion designers, and even experimental events for queer people and allies, by queer people.  
I feel that there's more integration across all the members of the community, and while there's still work to be done to be truly inclusive, it's looking like it's going to have a very bright future.
What are your favorite places to dance in San Juan?
I love going to small and midsize alternative venues to dance. One of my favorite places to go to is El Local where I see that the queer community is more integrated. It's a small venue with a very alternative feel. It's mostly considered an after-party where I've also held countless events. Other places I love going to go include El Nie Bar, Club 77, La Respuesta, Santos Rooftop Bar, and Industry Club, but there's so much more to go around.
How do you envision the future of LGBTQ+ nightlife in San Juan?
I see it growing steady and strong. I'm currently seeing a lot of places that were strictly "gay" opening up to a more inclusive way of thinking and doing things. It's always been very binary and closed to "masc for masc" audiences, but I feel that over time there will be more integration and acceptance so that everyone feels welcomed in more spaces.
How has San Juan influenced you and your music?
I'm from the south part of the island, Ponce, which is traditionally very conservative, so I had very little connection to an LGBTQIA+ community. When I moved to San Juan for college to major in advertising and design, I became more exposed to different corners of the community. The circuit parties, some queer events, and gay bars.
My music interests expanded from new wave to pop, house, and vogue beats while attending these different events and venues in San Juan, and I realized I wanted to become a part of that music scene. Finally, I started DJing at Club 77 on a Madonna Tribute organized by Jhoni Jackson. Today, my music knowledge continues to expand with every event I organize; by integrating other DJs, Drag Queens, Drag Kings, and other performers, the cultural exchange becomes richer. I'm learning from everyone in the queer community as I grow as a DJ.
What are your favorite places in San Juan—hidden gems you share with visiting friends?
I love sharing with friends that are visiting for the first time a good mix of low-key bars and clubs. I absolutely love a cocktail happy hour at Mezzanine in Old San Juan. It's a small bar with top-shelf liquor and tapas at half price from 4:00 p.m. to  8:00 p.m. It's a cozy space with a balcony view. It's great for pregaming and grabbing a light bite.
I would also recommend on Mondays to go to La Respuesta for hip-hop, soul, R&B and dancehall, and on Fridays Santos Rooftop bar past midnight to dance to house music. If they'd like a place with a little more Latino queer flavor, I always recommend El Hangar in Santurce. I always do tell them to check out every venue's social media before heading out anywhere, though, to find out what's currently on the calendar.
How would you describe your style, and where do you shop in San Juan?
Monochromatic and futuristic, often with neon accents. I love referencing Versace editorials for inspiration because I love their bright neon, monochromatic looks. But truly I'm obsessed with crop tops, mesh shirts, running shorts and windbreakers paired with high tops or chunky sneakers, which I coordinate with a single pop of color and black. There aren't many shops in San Juan that have these specific things available, so I take a look at Zara, Forever 21, GUESS, and look for details online, or even design and sew my own pieces.
You've spoken at length on the importance of gender-neutral spaces. How does San Juan measure up?
While there has been an improvement over the last couple of years about being more conscious of respecting people's gender expression and gender identity in San Juan, we still have a long way to go. Like anywhere else, homophobia, transphobia and a general lack of understanding of how people should be respectful about other people's pronouns still exists. This is something that my peers and I reinforce at events (like through the use of inclusive language) to ensure everyone sees firsthand how to be more inclusive.
The wonderful thing about DJing and coordinating events in San Juan and other towns in Puerto Rico is that it's given me an opportunity to voice these issues that are of great importance to people that are not necessarily LGBTQ+, and they have been very receptive.
I feel that everywhere and almost everyone I've spoken to, including promoters, bar managers, and owners have been more conscious of making an effort in being more inclusive in their language and are open to hearing feedback from the community so they can do their part to make sure everyone feels not only respected but also welcomed.