Boricuas love a celebration, especially during the Holidays. 
It is the most wonderful time of the year, and Puerto Rico is full of festivals just for the occasion. Feel the warmth in paradise and experience the holiday season like a Boricua! Enjoy mouthwatering fritters, dance to live music, and even watch as Christmas comes to life with the lighting ceremonies in town squares across the Island.   
Stay in the know from north to south and east to west, and visit some of the best local holiday festivals and events celebrated. Get in the espíritu de la Navidad (Christmas spirit) and plan around these fun occurrences.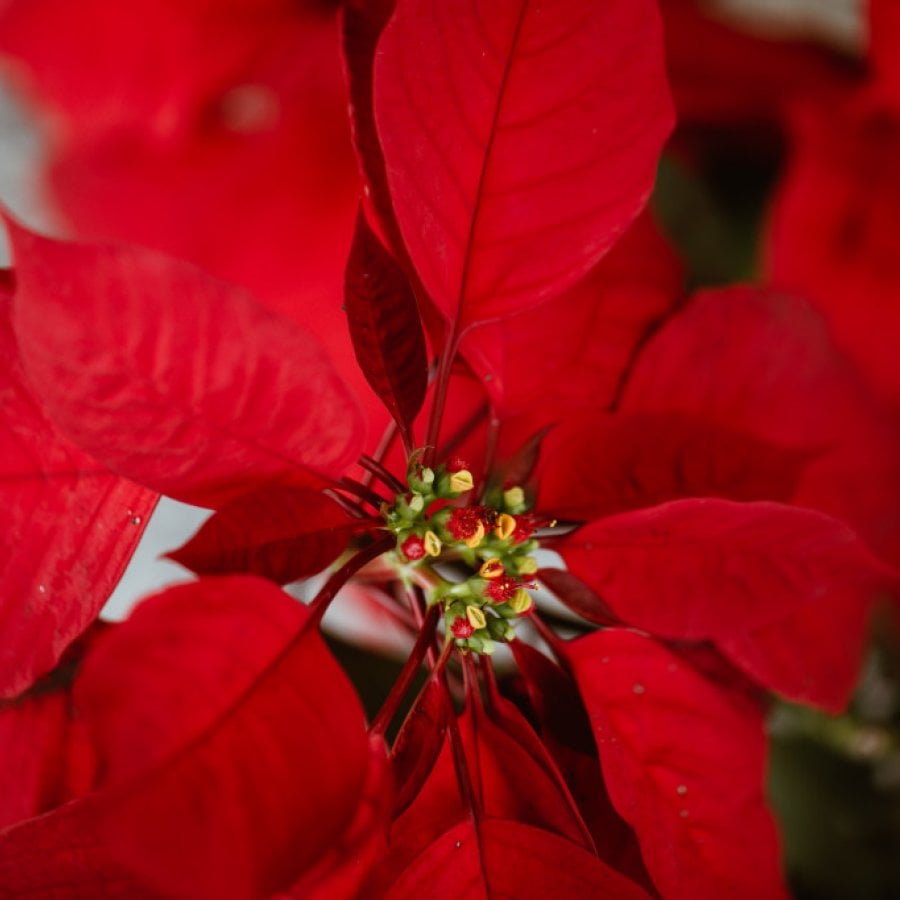 Festival de Pascuas  
November- San Juan  
Red, bright, and merry, Pascuas or Flor de Pascuas are literally the Christmas flower. To be honest, without pascuas, there is no Navidad! With that motto in mind, Puerto Rico celebrates the beginning of Christmas with the Festival Pascuas at the Paseo de la Princesa in Old San Juan every year. So, take a stroll to admire the variety of colors and sizes that pascuas are available in – although traditional ones are red and green – and learn more about this exotic flower from local agricultural producers. After, explore the fortress of the Castillo San Felipe del Morro, try the mofongo at Princesa Gastrobar, and finish the day dancing at Piso Viejo. And don't forget to take one home to enjoy Christmas like a true Puerto Rican, following the TSA guidelines of the airport you're flying into.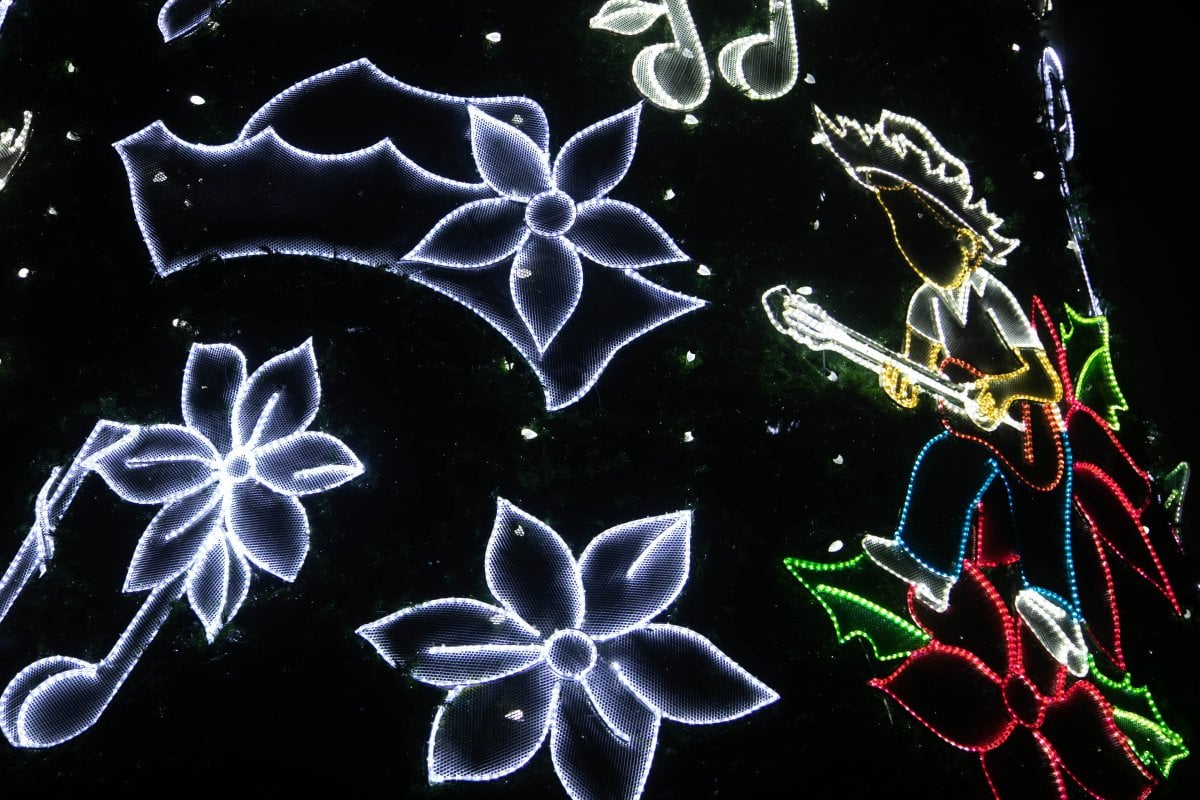 Encendido de Navidad  
December- Most municipalities across the Island  
Come the holiday season as magic invades town squares across the Island. Watch as they transform into dazzling Christmas havens with gigantic trees and hundreds of multicolored lights that shine and flicker through the warm nights. This is known as Encendido de Navidad or Encendido Navideño (Christmas lighting celebrations). Each town receives la Navidad with a big blowout where you can enjoy food vendors and live music as they light up all the decorations and bring the Christmas spirit to life. It's the perfect family-friendly way to celebrate Christmas. Every pueblo (town) does it in its own style and on different dates, so check their schedule for details.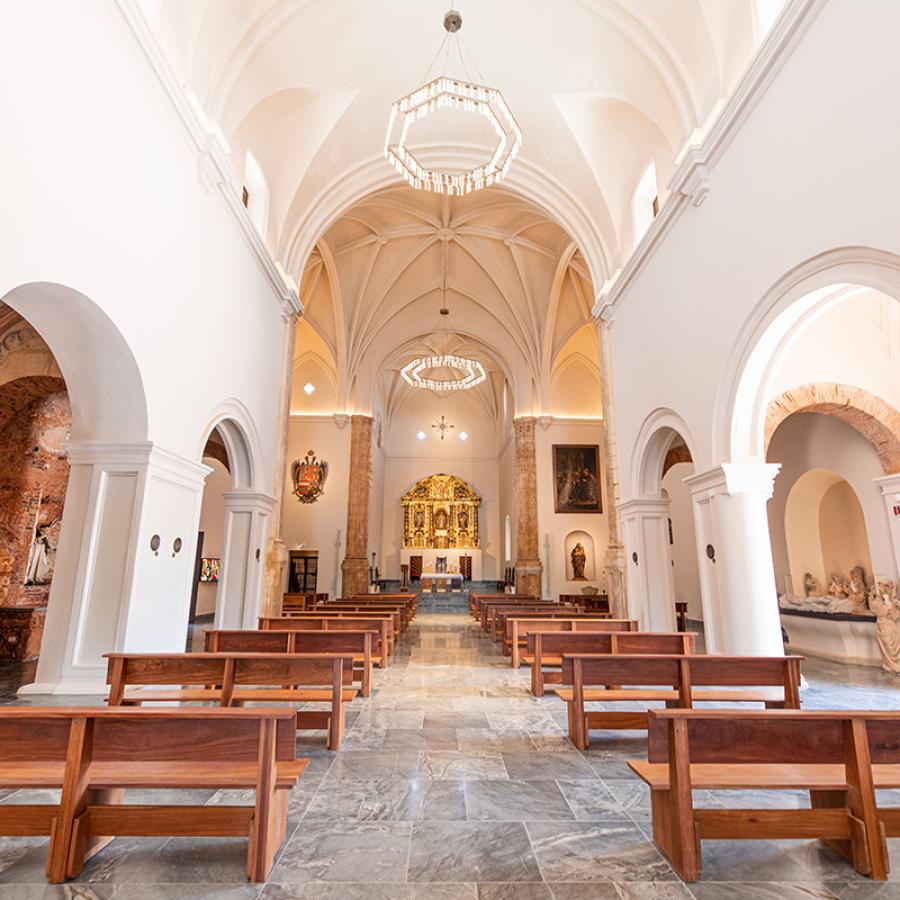 Misa de Aguinaldo and Misa de Gallo  
December 16-24- across the Island 
Misa de Aguinaldo is a popular religious tradition celebrated in all the Catholic churches of Puerto Rico during Navidad. Special masses are held at dawn nine days before Christmas Day, from December 16 to 24. The services are characterized by singing villancicos and aguinaldos, songs with lyrics alluding to the birth of Jesus, and playing traditional Puerto Rican musical instruments such as the cuatro (a Puerto Rican guitar), panderetas (tambourine), güiro (a small percussion instrument), and maracas. On Nochebuena (Christmas Eve), there's a more festive Misa de Aguinaldo held at midnight called the Misa de Gallo (Mass of the Rooster), which families traditionally attend to celebrate the Nativity. This mass usually features a nativity play with people dressed as different religious characters and many light candles.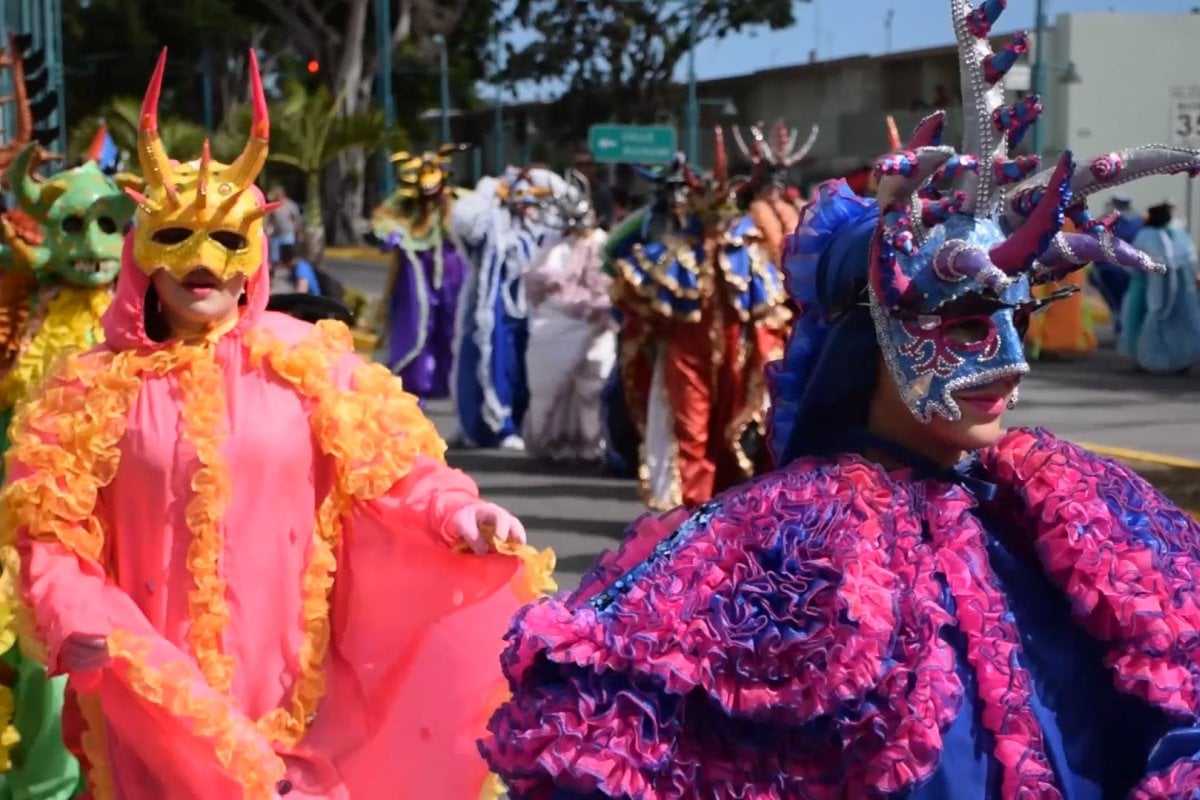 Festival de Máscaras de Hatillo   
December 28 – Hatillo 
Every year after Christmas and before New Year's, the Festival de Máscaras de Hatillo (Hatillo Mask Festival) commemorates the Día de los Santos Inocentes, the Puerto Rican version of April's Fools. It dates back to 1823 when settlers from the Spanish Canary Islands founded the municipality of Hatillo. On December 28, in this beautiful northern coast town, locals continue the holiday celebrations, leave behind their inhibitions, and dress up in colorful, elaborate costumes and, paper mache masks of different Puerto Rican themes. Enjoy the parade with equally extravagant floats that go through the town, listen to live local music, buy artisanal keepsakes, and enjoy a variety of traditional dishes.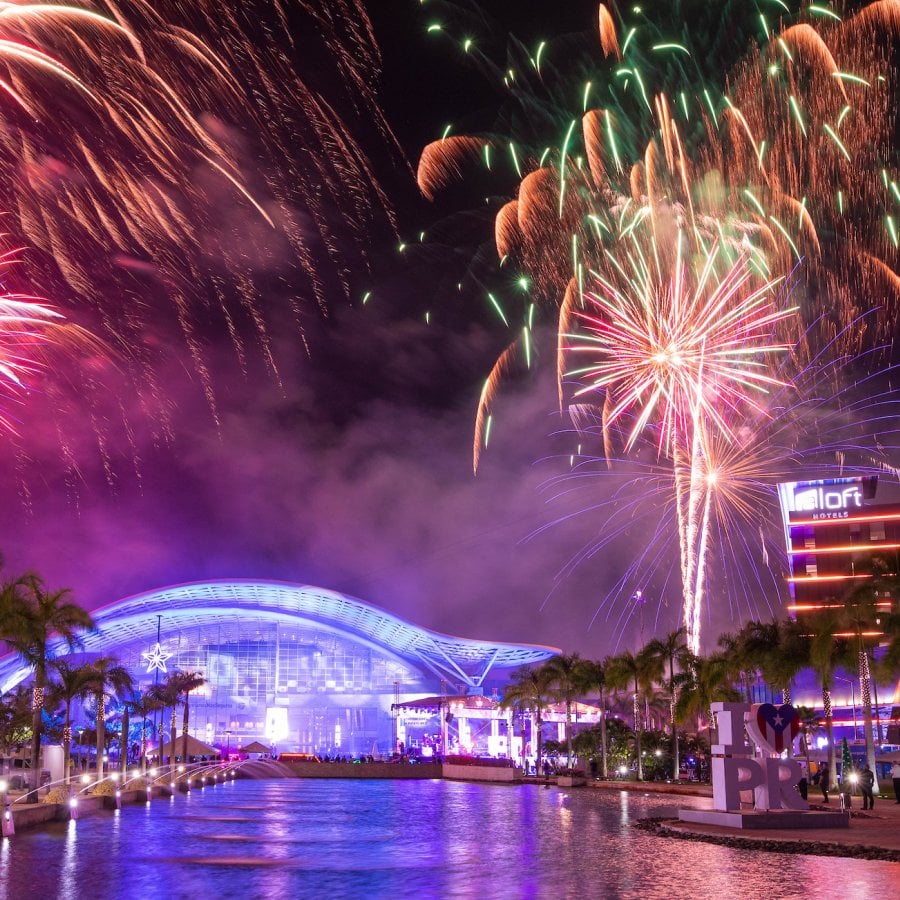 Víspera de Año Nuevo
December 31- Across the whole Island  
3, 2, 1… ring in the New Year in style! Many of the Island's top hotels, restaurants, and clubs host different Víspera de Año Nuevo (New Year's Eve) celebrations you can't miss. Some take place inside decadently beautiful ballrooms with ocean views, while others take advantage of the tropical weather and host it outside under the gleaming moon. But all the end-of-the-year events culminate in two things: a sip of a chilled drink and fireworks at midnight to celebrate the arrival of the New Year. And don't forget to partake in some of the most common rituals to welcome the New Year, like eating twelve grapes, going out at midnight with your suitcase, and even wearing new underwear.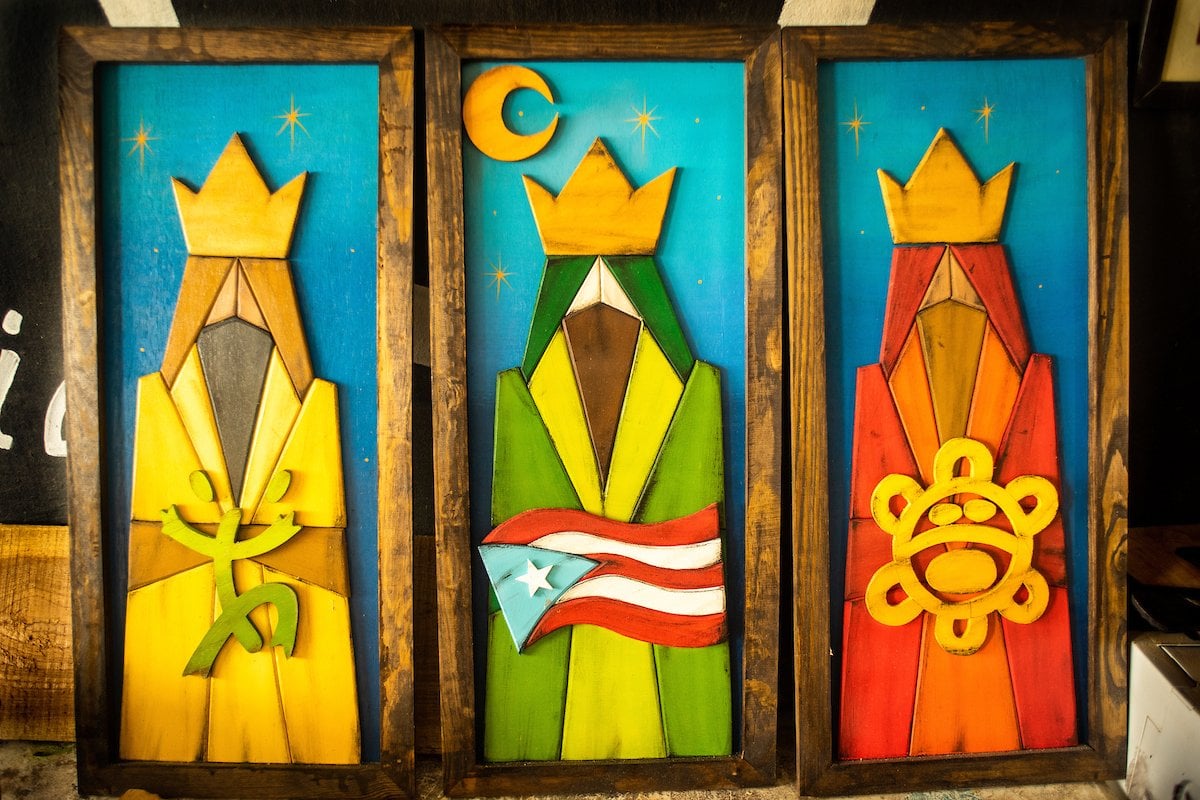 Fiesta de los Tres Reyes Magos   
January 6- Juana Díaz 
Puerto Ricans love Christmas Day, but Navidad is not over until we celebrate Día de los Tres Reyes Magos (Three Kings Day or Epiphany). Annually, on January 6, Boricuas and Latinos worldwide commemorate when the Three Wise Men visited baby Jesus in the manger to deliver gifts. On this day, towns across the Island throw festivals and parades featuring people dressed as the Three Wise Men and hand out presents to children called Fiesta de Tres Reyes Magos. But, the most famous fiesta by far takes place in Juana Díaz. The celebration dates to 1884, considered the oldest religious-cultural festival in Puerto Rico. It's one of the most colorful celebrations in Puerto Rico, and it is especially anticipated and beloved by kids. Enjoy a vibrant parade, live music, authentic local Christmas dishes, and fun games and activities for the whole family.  
Learn more about the Puerto Rican Tradition of Three Kings Day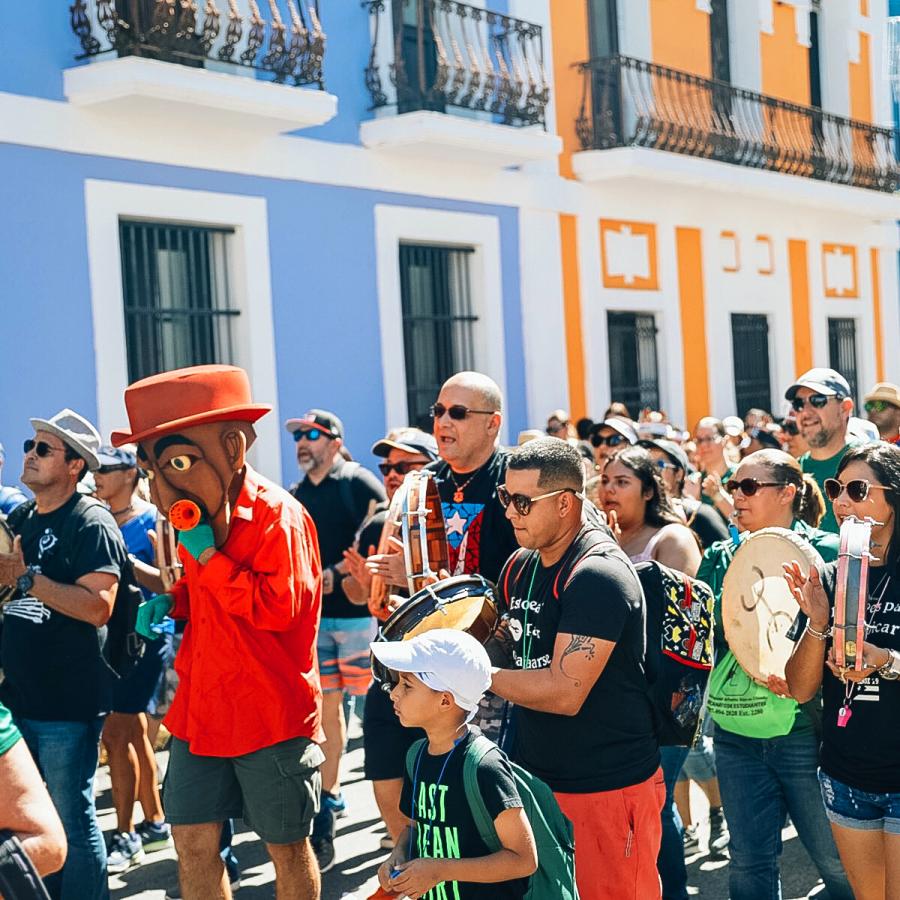 Fiesta de la Calle San Sebastián    
January– San Juan   
¡Voy subiendo, voy bajando! You'll hear this chant from locals as you immerse yourself and get lost in the jolgorio (party) of the Fiesta de la Calle San Sebastián. Also known as la SanSe, it is the largest and most popular festival in Puerto Rico, officially closing the holiday season and kicking off the New Year. During the day, this street in Old San Juan – and most of the so-called walled city, is filled with local artists and artisans showcasing their work. Vendors sell traditional fritters and drinks, local organizations host activities like crafts for kids, and there is a live performance around every corner. At night, the celebration continues with parties and concerts spread through platforms across OSJ that last all night long.  
Learn more things to do in San Juan