Experience the ultimate entertainment center in Puerto Rico.
"This is how we do it down in Puerto Rico." Luis Fonsi said it in his hit song "Despacito," and Distrito T-Mobile showed up to back him up! San Juan's new premier entertainment hub is everything you need – and more, to fulfill your urban vacation dreams. If you're looking for a place that has it all, then Distrito T-Mobile should be on your radar.
With over a dozen places to eat, an urban park, state-of-the-art technology, open spaces, and more, this trendy spot is ideal for experiencing Puerto Rican art, flavors, rum culture, music, dance, adventure, and overall vibrancy. The best part? It is all in one place and within walking distance. Think of it as the Caribbean Times Square under a roof.
Here's a breakdown of everything you need to know about Distrito T-Mobile: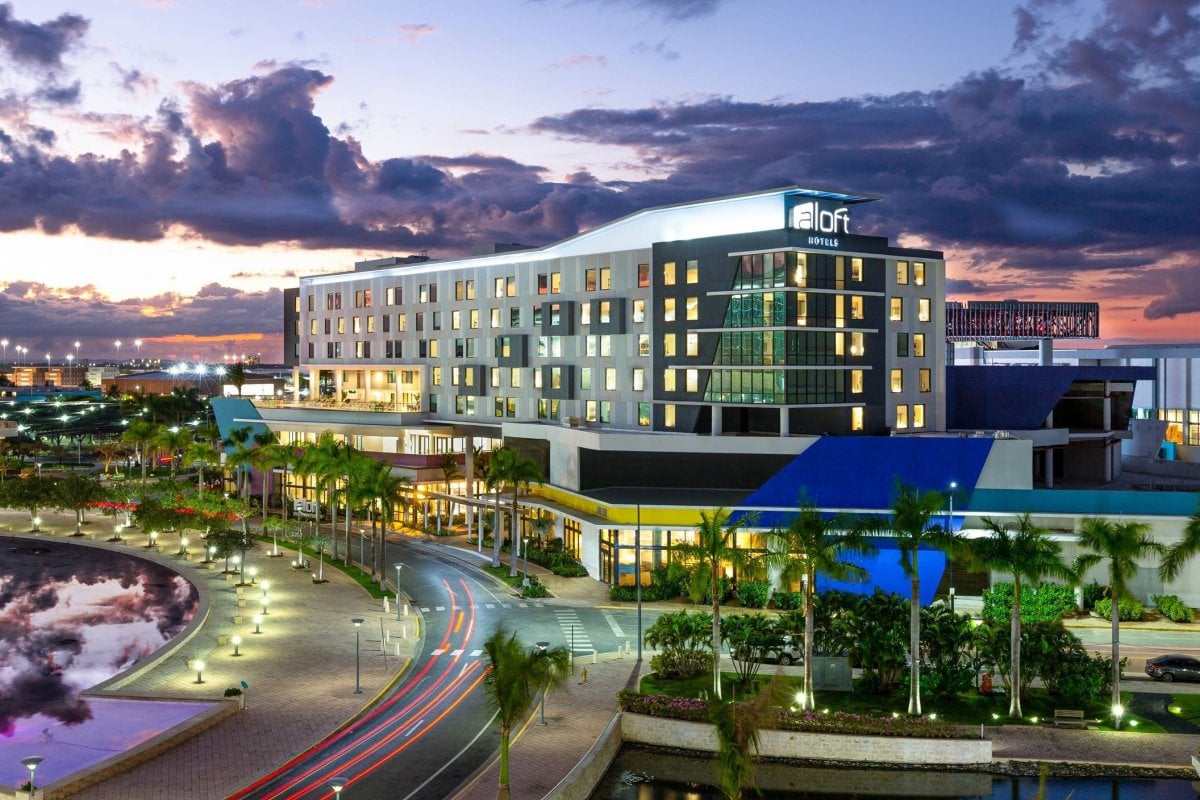 What to expect?
Art is present in all its mediums (even the bathrooms are art installations by local artists). So, from the moment you enter through the Galería Magenta tunnel, you'll be experiencing a neon version of the Island's yesteryears. Bright signs honor Puerto Rico's rhythms – especially bomba, with murals and 3D pieces designed to welcome you into Popular Plaza, the center of this epic adult (and family) playground.
Most of the spaces and experiences are sponsored by local brands, and Popular Plaza is the center of it all. The first thing you'll notice is the over 14,000 square feet of LED screens all over the atrium – even on the roof, showcasing mesmerizing landscapes and scenery around the Island. Distrito T-Mobile wants to bring you closer and connect you with Puerto Rico from the moment you walk in. The multisensory 50,000-square-foot plaza with a digitized stage system does just that. Walk around, sit in the artificial grass or sculptured benches, bring your kids or your pet and enjoy the open-space court while deciding where to go next.  
Rest is just a step away!
Distrito T-Mobile offers the most modern accommodations at a boutique hotel right there, where the fun is! The first of its brand in the Caribbean, the Aloft San Juan is ready to welcome you with a redefined contemporary design, so your room is only steps away from all the action. The 177 rooms take after a loft-style layout with decor inspired by music and technology. In addition, the pet-friendly hotel hosts the Wxyz bar with craft cocktails you won't find anywhere else. And, to top it off, Aloft San Juan features an infinity pool on the second floor, where you can relax and enjoy the sun while witnessing other visitors soar through the sky (more on that a few paragraphs below).
You can also stay at places just steps away from the Convention Center and Distrito T-Mobile like Hyatt Place San Juan and Hyatt House San Juan, where rooms come in a variety of styles - even including their own private kitchen.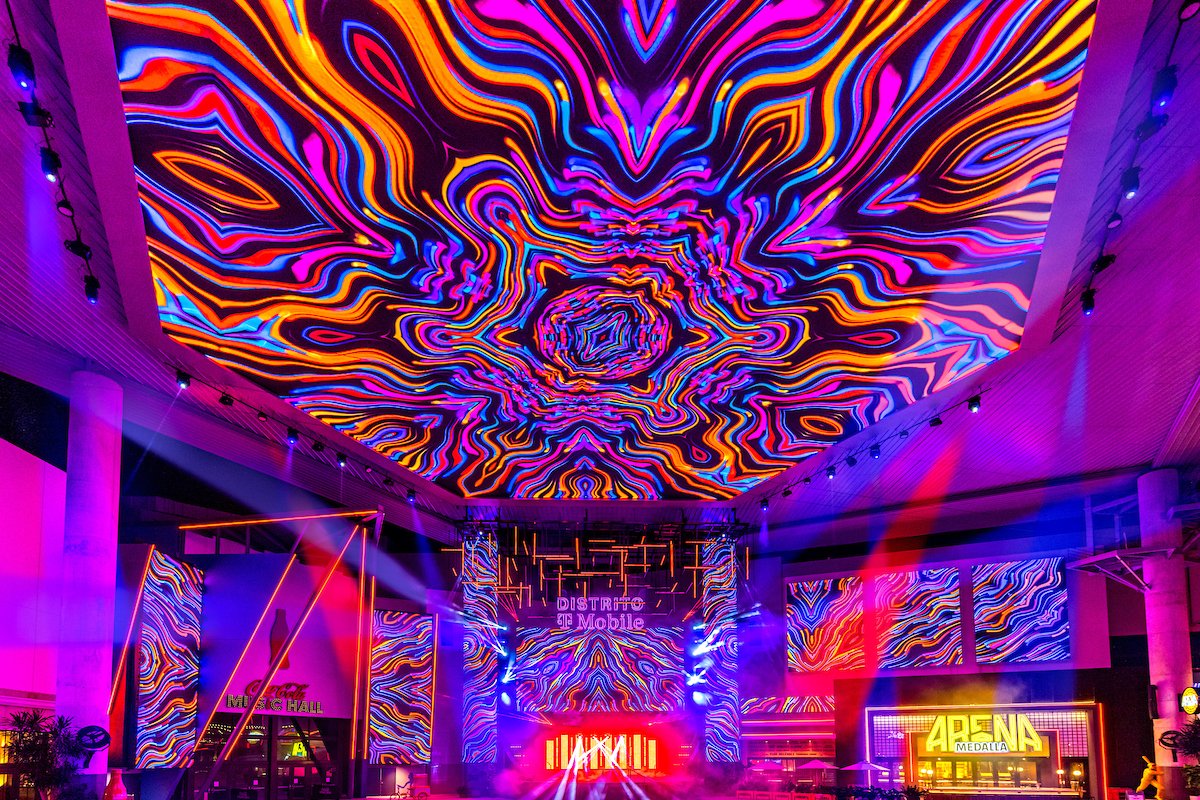 Fun for the whole family 
From concerts to movies and even ziplining, you'll never be bored at Distrito T-Mobile. Shows, sports events, meetings, and more take place weekly in the ultramodern Coca-Cola Music Hall. The multi-level venue is a shoutout to Puerto Rico's music history, showcasing murals by local artist Celso around all the walls and floor. The space has a capacity of 5,500 people, and each floor has a bar. The stage also has LED screens (just like in the Popular Plaza), and the seats in the arena area are removable for standing – or dancing events.
You also have the ultimate theater experience Puerto Rico has to offer… literally! Caribbean Cinemas VIP gives you a movie night (or day) like no other, with laser projectors, oversized luxury reclines, and a bar. The seats are very comfortable, so you might want to bring a blanket and make the experience even cozier! The movie theater is also the first in the world to present ScreenX, a multi-projection technology with a 270-degree panoramic screen. Isn't that wild? You can order food from Victor's Kitchen, like mozzarella sticks and quesadillas, or even tostones. 
Note: Not all rooms provide the 270-degree projectors for an immersive experience, so be sure to purchase your tickets in advance (you can even choose your seat).
There is Toro Verde Urban Park. Be ready to take in the astonishing views of San Juan! Toro Verde brings all the fun of the mountains of Orocovis to San Juan with indoor and outdoor adventures. The two-time Guinness Book Of World Records holder boasts two different zip lines that give you an aerial tour of Distrito T-Mobile and passes you by the iconic fountain in the middle of the Convention District before returning. But beware: you'll have to climb up 151 steps to get to the departure zipline! 
While soaring through the concrete jungle is fun, you also have indoor options to let your inner kid (or real-life kids) play around. First, make it through the Bull Maze, the most extensive aerial rope course in America, with 40 obstacles that include passages, bridges, climbs, and rope games. Then, whether you're a novice climber or an expert, scale your way up to Pico del Toro, the largest rock climbing in the Caribbean. And, if you still have energy, take advantage of the arcade, with classic machines and virtual reality experiences for the whole family.
And finally, get a taste of victory at Arena Medalla, which doubles as an entertainment center and restaurant. Go for a drink and stay for the fun at this sports bar that celebrates Puerto Rican athletes. From the moment you walk in, you'll feel like a true Boricua, sensing the pride and love the islanders have for sports. You'll find macromurals representing iconic sports figures like Tito Trinidad, Carlos Arroyo, Mónica Puig, and more, and picture-perfect signs with Puerto Rican lingo like wepa and échale. With LED screens in every corner, you can watch your favorite team while having fun at the arcade or singing karaoke in a private room without ever missing a play. At Arena Medalla, the party doesn't end when the game does. Some live bands and DJs will keep you dancing until the wee hours of the night. And, if you get hungry, have a snack from their tailgate-like menu (try the sliders or the quesadillas, you won't regret it) or order heavier entrees like burgers and stakes. Wash your dinner down with a fresh cold local beer from the two self-serving draft beer walls, or request a craft cocktail for a refreshing touch.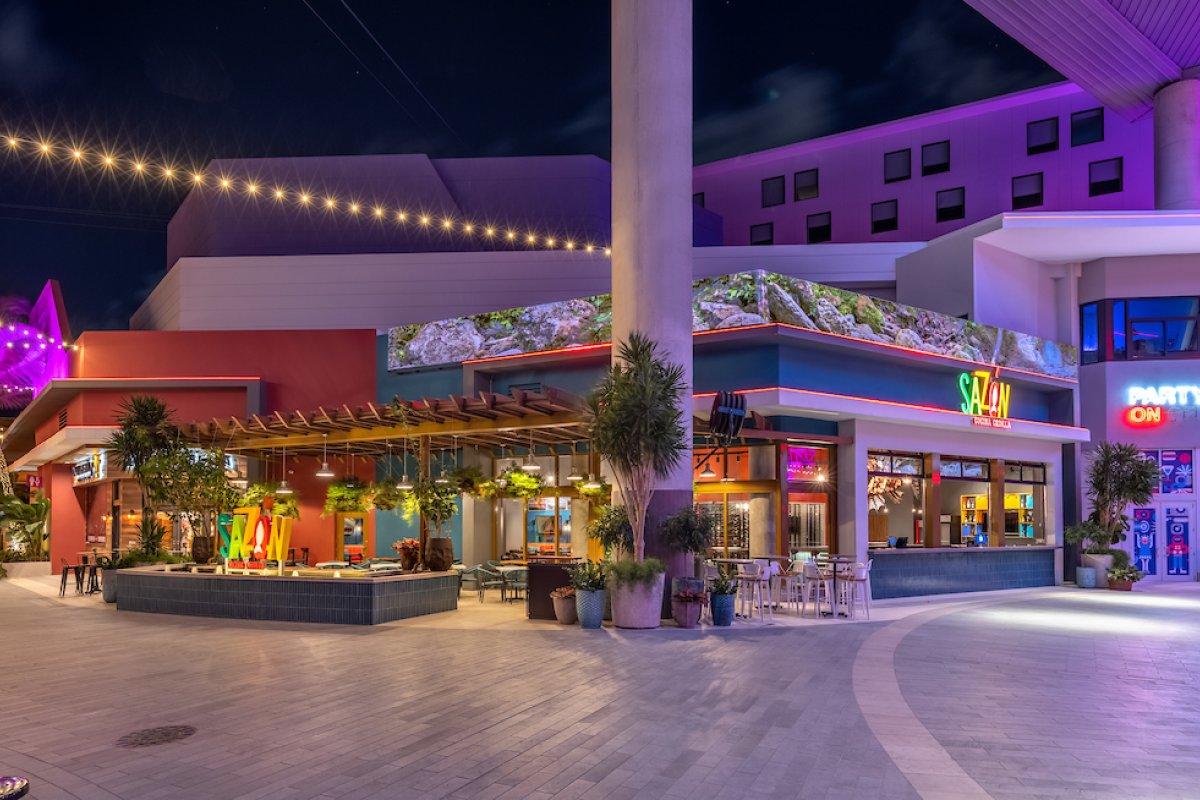 Breakfast, lunch, dinner, and dessert are served! 
And, a world-class entertainment center calls for a world-class cuisine offer! Distrito T-Mobile has from local to international gastronomy to delight your palate. All restaurants overlook the Popular Plaza, so you don't miss a minute of fun while eating.
Get a warm welcome into the rum capital of the world at La Barrita del Lado (which translates into The Bar Next Door) right outside the Aloft San Juan. This bar sits right across the open space of Popular Plaza and also serves tapas. Is there anything better than a barrita right where the fun is?
La Central by renowned chef Mario Pagán is the most exclusive restaurant at Distrito T-Mobile. It honors the Puerto Rican history of the jíbaro and sugar cane mills- the centerpiece of the bar is a conversation starter, as it emulates the traditional alembic. Be sure to make your reservation to try the fine-dining elevated dishes, which all go through the wooden fire. The chef uses locally sourced ingredients to create the most exquisite plates like sweet plantains in aged rum, rum teriyaki black sea bass, whole yellowtail, and more. In addition, you can book the cigar room for a private party.
You can try traditional and staple dishes at Sazón Cocina Criolla. In this restaurant, you'll find the most authentic plates that highlight Puerto Rico's true flavors. Expect dishes like local favorite mofongo to asopao and fried red snapper, chuletas kan kan seasoned to perfection, mamposteao with seafood and meats, and so much more. Be sure to order some finely crafted cocktails with local rums and spirits to complement your dish.
Travel to the cobblestone streets of Spain (just like in Old San Juan, a few minutes away) when you visit Barullo Taberna Española. This Spanish cuisine restaurant with different experiences available depending on the time of day. Enjoy a nice cafecito for breakfast, paired with a sandwich stuffed with prosciutto, chorizo cantimplano, and mortadella, or go for a classic Mallorca de jamón y queso. You can also opt for the tapas, ranging from charcuterie boards to pizzettas and croquettes stuffed with jamón serrano and queso Manchego, and more. For dinner, salads and paellas are in order with churros and budín for dessert. And, of course, you cannot celebrate Puerto Rico's Spanish heritage without wine, so help yourself to the self-serve Vino al Grifo wall, where you can pour and sample wines from all around the world. 
If you're in a mood for a burger – a revolutionized burger, that is, and a shake, look no further than La Burguesía. This is not your traditional burger joint, as you can find their homemade fresh blend of meat topped with fried jamón serrano and aioli or served with caramelized amarillos and truffled goat cheese, and even avocado and jalapeño. Of course, you can also make your own! Since no burger meal is complete without French fries, choose the Belgian cut of your preference (I'd go with the truffle and cheese). And, don't you dare leave without sharing a shake (yes, it is best if you order for two or more, as the food there is made for giants!) From dulce de leche shakes topped with a whole piece of cheesecake to cookies and cream greatness finished with an actual ice cream sandwich, you'll have a food coma when you're done.
A Latino fiesta is in order when you enter Lupe Reyes. This Mexican-inspired restaurant greets you with homemade tortillas and Mezcal, promising an authentic taqueria experience. Try classic al pastor tacos or delicious carnitas burritos, enchiladas, mole, and so much more. Lupe Reyes also features signature dishes inspired by local artists like Eladio Carrión and the Tor-Tata-Ahoga-Ta, a chochinita pibil sandwich served in a chili sauce and with queso fresco and avocado. Take a picture in front of their mural or at their swinging hammock (you'll surely make your friends back home jealous).
And, right next to Arena Medalla is Pudge's Pizza because there is no better or more dynamic duo than pizza and beer. This pizzeria is owned by Puerto Rican Hall of Fame Catcher Iván "Pudge" Rodríguez and is modeled after the one he opened in Texas. You can find baseball memorabilia around the walls and items reminiscent of the baller's hometown Vega Baja. You'll find that the portions are worthy of a true MVP!
And lastly, you have Dulcinea, the place where all sweet dreams are made of. An innovative and vibrant ice cream and churro shop, you'll find it just around the corner of Distrito T-Mobile. There, you create, they serve… isn't that fun? Pair handmade churros with ice cream and unique toppings; the combinations are endless. You can watch as the churros are made or snap a selfie in front of the bright neon signs (and the giant gummy bear wall) while you wait to enjoy this sweet treat with your family.
Discover Puerto Rico's E-Newsletter
Paradise for Your Inbox
Get travel inspiration, news, tips and more delivered monthly.