From small shops to centennial haciendas, you've never experienced a coffee culture like in Puerto Rico.
Puerto Rico produces some of the world's best coffee! It is not a flex, it's a fact (just check your history books and see how it was dubbed the coffee of kings and popes). By the late 1800s, the Island's main export was its gourmet coffee, and yes, some haciendas and places still have the receipts and letters to prove it. Dignitaries, presidents, governors, kings, and even the Pope requested the delicious coffee harvested in the hills of Puerto Rico – it was (and still is) that good!
So, if you're a coffee lover and want to take your knowledge of this popular drink and its history to the next level, a visit to Puerto Rico's central mountains region will check all your "perfect vacation" boxes. From steep hills to harvests near the river, mesmerizing views, and cozy experiences, check out this itinerary tailored to take you on a coffee journey like no other. This is not your typical beach trip, but an enticing adventure into the heart of paradise.
Pro Tips: Spend the night at an authentic coffee hacienda or a small inn near the river so you can have a full campesino experience and the best views on the Island. Places like Hacienda Pomarrosa, Hacienda Negrón, Hacienda Horizonte, Hacienda Gripiñas, and more are ready to welcome you to Puerto Rico's unspoiled terrain.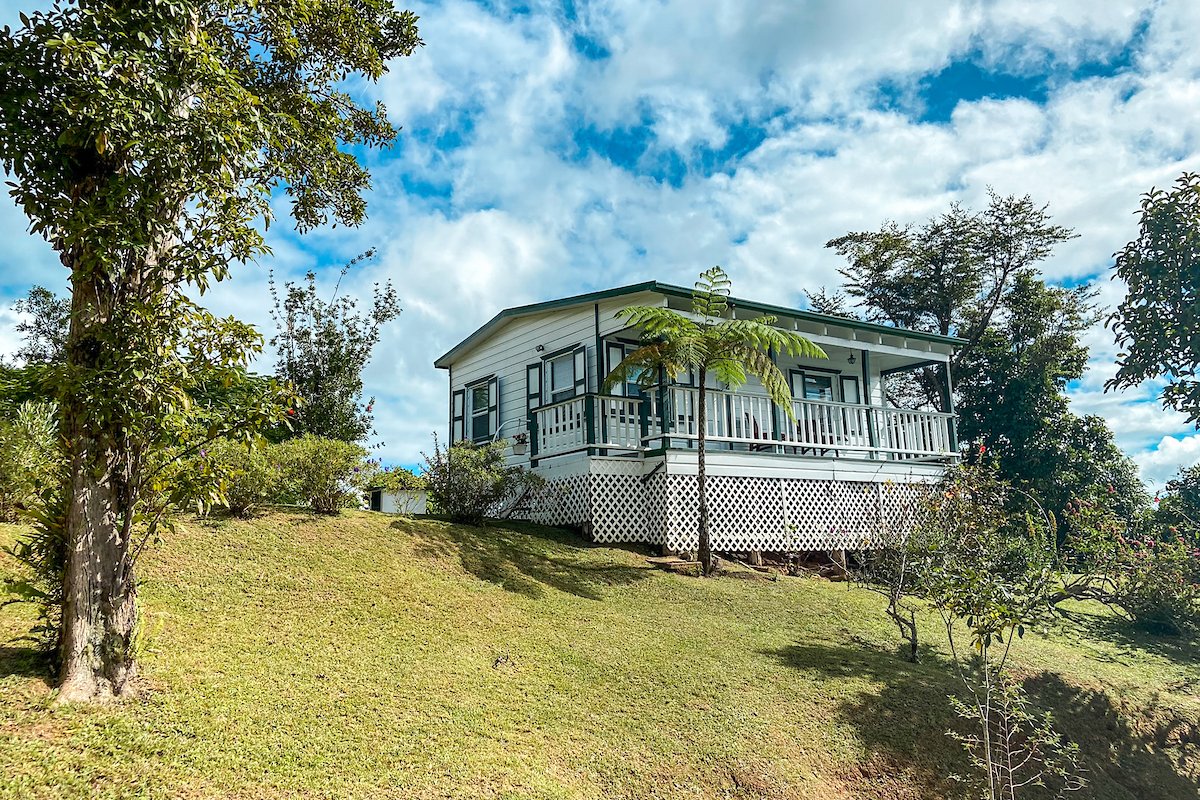 Day One: All roads lead to Ponce
Whether you flew in from SJU or directly into Ponce through La Mercedita airport, you made it to sweet Puerto Rico! Set your GPS to Hacienda Pomarrosa, your first stop on this immersive coffee journey. This coffee hacienda turned bed and breakfast is the perfect kick-off to your Island escapade. A hidden gem in the mountains of Ponce, the villas and estate are surrounded by nature and offer a unique tour of the coffee plantation, an overlook at the picking and milling process, as well as tasting the fruity notes of the delicious coffee served there.
The picturesque casitas give you a sense of Puerto Rico's yesteryear's farmers, back when coffee production was one of the Island's main exports, and people will live near the plantations to work the land. Staying at Pomarrosa will set the serene tone for the rest of your trip! Take some time to relish in the views of the highest peaks of Puerto Rico and the Caribbean Sea in the background. If you follow this itinerary, you will be closer to them soon as you explore the wonders that the mountains offer.
You'll have some days to come back and wander around the estate, so make your way to downtown Ponce where you can sip some delicious coffee while you take epic pictures for "the 'Gram" in trendy spots. Take some time to walk around the Plaza de las Delicias, where you'll notice some 1900's art deco that serve as the background of one of the most cultural towns in Puerto Rico. Next, walk over to The Fox Hotel and enjoy a cup of java at their indoor Coffee House, or make your way to Melao, the local bakery at the Ponce Plaza Hotel just across the street. Finally, stop by Café Don Bistro, a litter further south, for an eclectic coffee treat.
When you're done hopping around town seeking all the "cool spots" where you can enjoy the elixir of life, aka coffee, it's time to dive back into tradition and head out to Hacienda Buena Vista. In this once-plantation-now museum, you'll learn all about the history of coffee and how it has evolved. Tour the structures and witness the original machinery that has been preserved and restored, and some are still functional. There, you'll also learn how the farmers made the most of everything in their land and turned the waters of Río Cañas into the best source of energy for their hydraulic turbines. While at the plantation, a tour guide will also teach you about the farming culture in Puerto Rico since Buena Vista did not only grow coffee, but also grew bananas, cocoa, and other fruits.
Other coffee haciendas you can plan to visit – if time plays in your favor, are Hacienda Café Lucero in the mountains of Ponce or their coffee shop in an old warehouse near the beach.
Ponce is not short of restaurants- from fine dining to eclectic and creole- where you can have dinner. Places like Campioni offer an array of authentic Italian cuisine, while El Rastro fusions comida criolla with a creative take on Asian techniques. If you rather stay at a downtown hotel instead of having the mountainous escape, hotels like Aloft, Hilton Ponce Golf & Casino Resort, Holiday Inn, and Caribe Hotel will gladly accommodate you.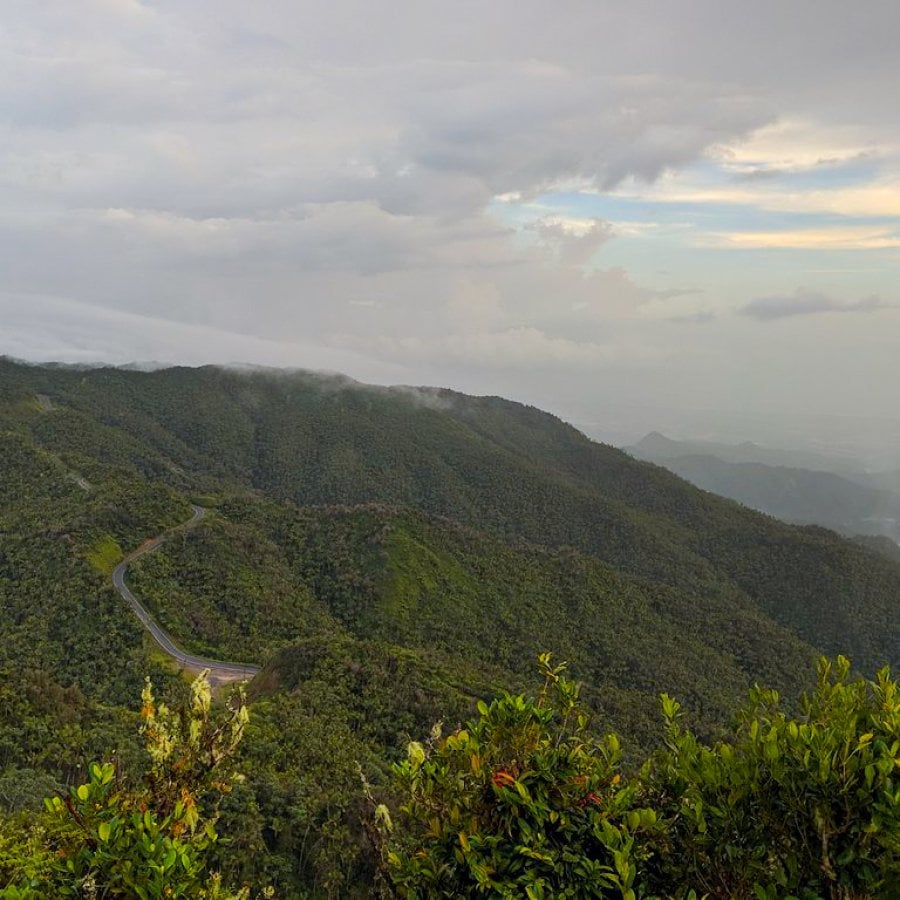 Day two: More cafecito in the mountains, please!
You'll soon learn that the magic of coffee is in the mountains, which is why you're heading to Jayuya, home to multiple coffee haciendas and one of the oldest brands of Puerto Rican coffee. For over 40 years, Hacienda Tres Picachos has been actively led by the same family, offering that traditional countryside feel. At the estate, where you can book a tour, you'll notice a huge water mill, antique furniture, and a small museum full of Taíno artifacts found at archeological spots in town. Yes, this is the perfect place to bring the family – or go on your own, to live an authentic rural experience.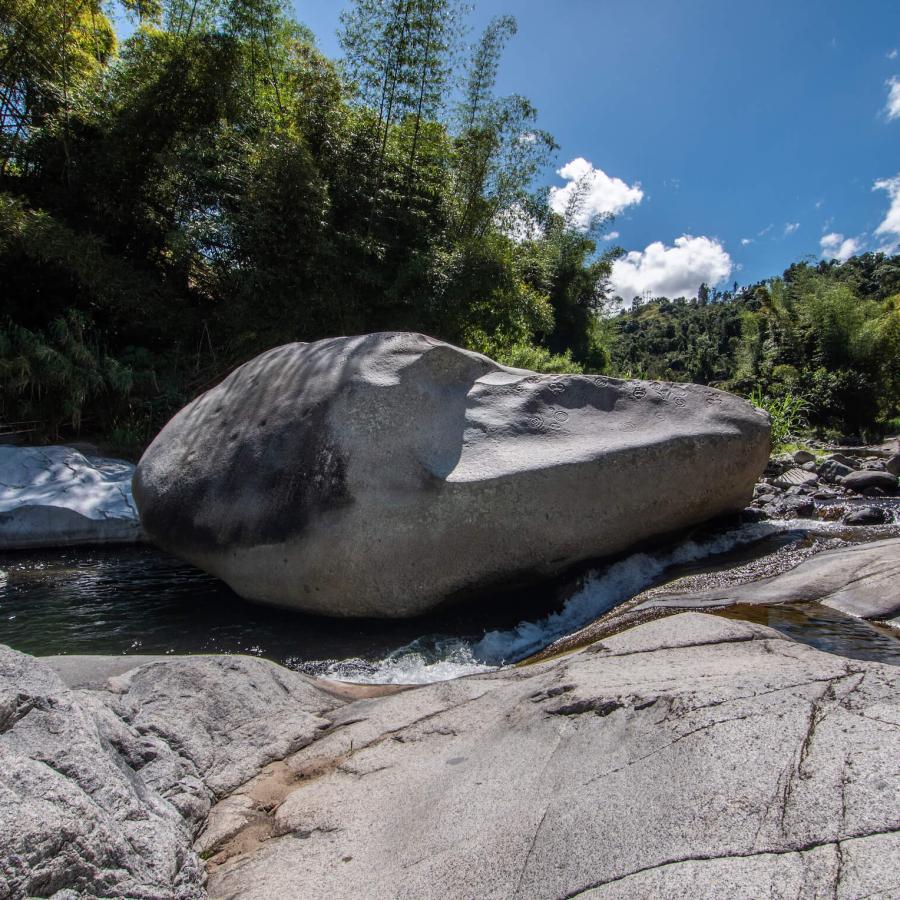 And while in Jayuya, you can't leave without passing by La Piedra Escrita, a recreational area with impressive Taíno petroglyphs. Stroll along the wooden walkway that leads to the river to reach this rock in el Río Saliente. You'll notice spirals, faces, and many other shapes of beings the Taíno used to worship. Dip your feet in the creek or admire its beauty, and if you're feeling adventurous, go for a swim. Don't miss the perfect opportunity for a video story on Instagram! Once you're done exploring the river, head back to the road and set your navigation system to Café Nativo, a unique coffee shop on top of a hill. There, you'll find some of the amplest and sophisticated coffee menus around.
For more coffee experiences, you can also visit other haciendas like Hacienda San Pedro, a historic fourth-generation family-owned estate that grows coffee and has some coffee shops around the Island.
If you need a little break from caffeine, you can tour Destilería Cruz, a rum distillery nestled in the mountains where you can sample their products like Ron Artesano and Bohique to spice up your trip.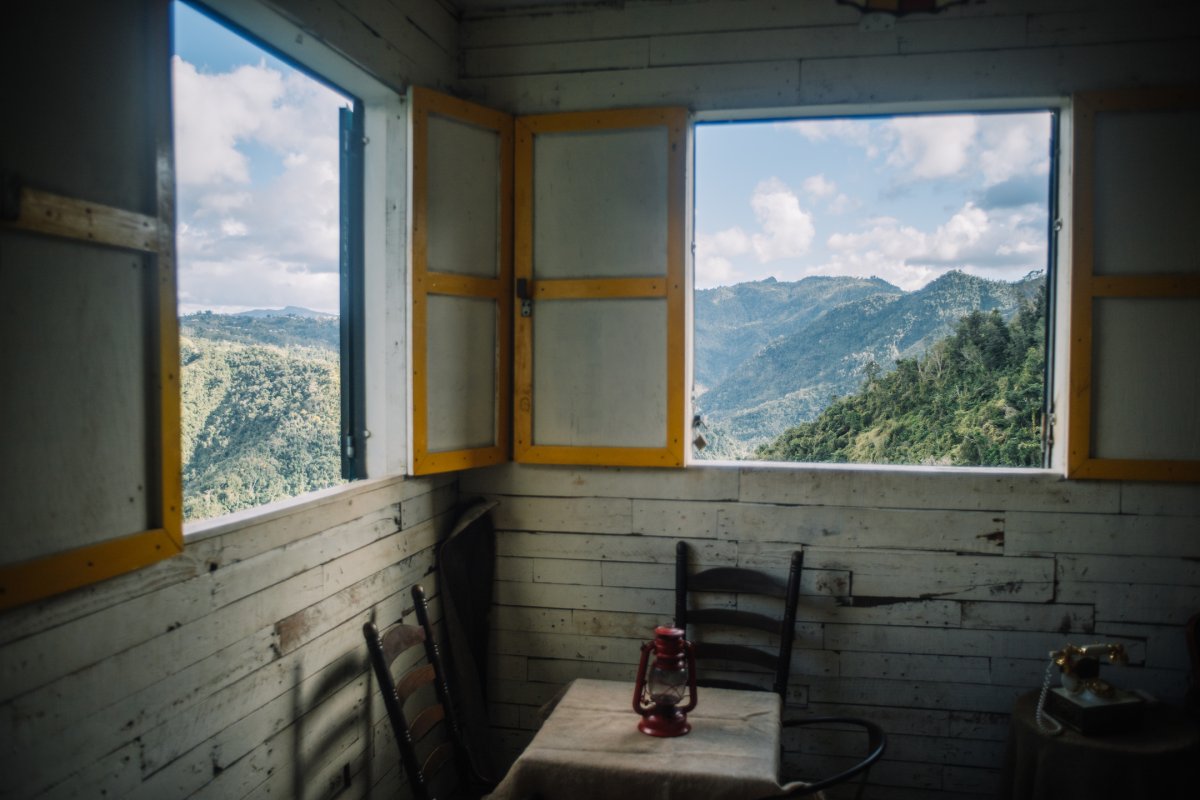 Day three: The real coffee of popes and kings
Puerto Rico has the receipts for royal coffee, and they are kept in Ciales. Start your day in at the Paseo Lineal, where you can enjoy the mesmerizing views of Río Grande de Manatí as you sip on a coffee at Aromas D' Café overlooking what was once a Taíno ceremonial plaza. Then, venture about the boardwalk to take stunning pictures at their giant chair and swing, and right next to the bust of Puerto Rican poet Juan Antonio Corretjer. Corretjer was a prominent writer, journalist, and political activist from Ciales and is well known for his poem Boricua en la Luna, which depicts the joy and pride of Puerto Ricans. Coffee and poetry... aren't you loving your day already? 
Once you're done with your coffee, move further into the town, where you'll pass by the church with the most glass windows in Puerto Rico. The place itself is a piece of art full of history and culture. And, right up the road from it is the Museo del Café, the place that holds the most authentic stories about Puerto Rico's coffee influence in the world. The small museum and coffee shops are the perfect combination of countryside life and modern-day shops. Tour the facilities as you see all the letters of kings and dignitaries requested, precisely the Island's coffee — you can even see the receipts from the Vatican when they purchased the "elixir of life." Then, finish your visit at the coffee shop and enjoy the farm life right there with donkeys, sheep, goats, chickens, bunnies, and more.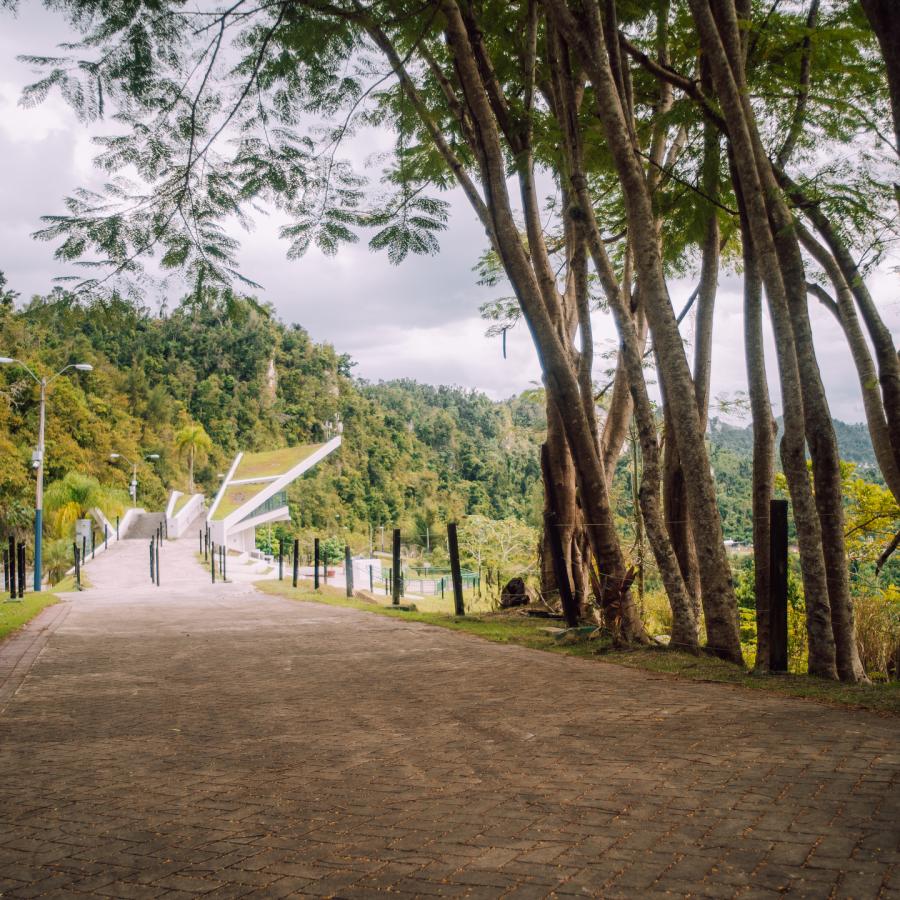 Your next stop has to be Café del Alba, a coffee beneficiary that roasts and flavors coffee beans for multiple coffee shops in the area. With over 13 flavor profiles for you to purchase (get the Coquito flavored coffee for a taste of Christmas in the Caribbean), this beneficiary gives you a firsthand look at the roasting and packaging process, so it makes that sip of coffee so much unique. 
For lunch and dinner options nearby, check out the pastel al caldero at Casa Vieja, a roadside restaurant that'll make you feel like you just got home after a long day. Relax and enjoy their famous pastel al caldero paired with a ginger mojito to refresh and recharge before leaving. You can also stop by Abolengo for some staple mofongo and chuletas cancan or a spicy crab taco.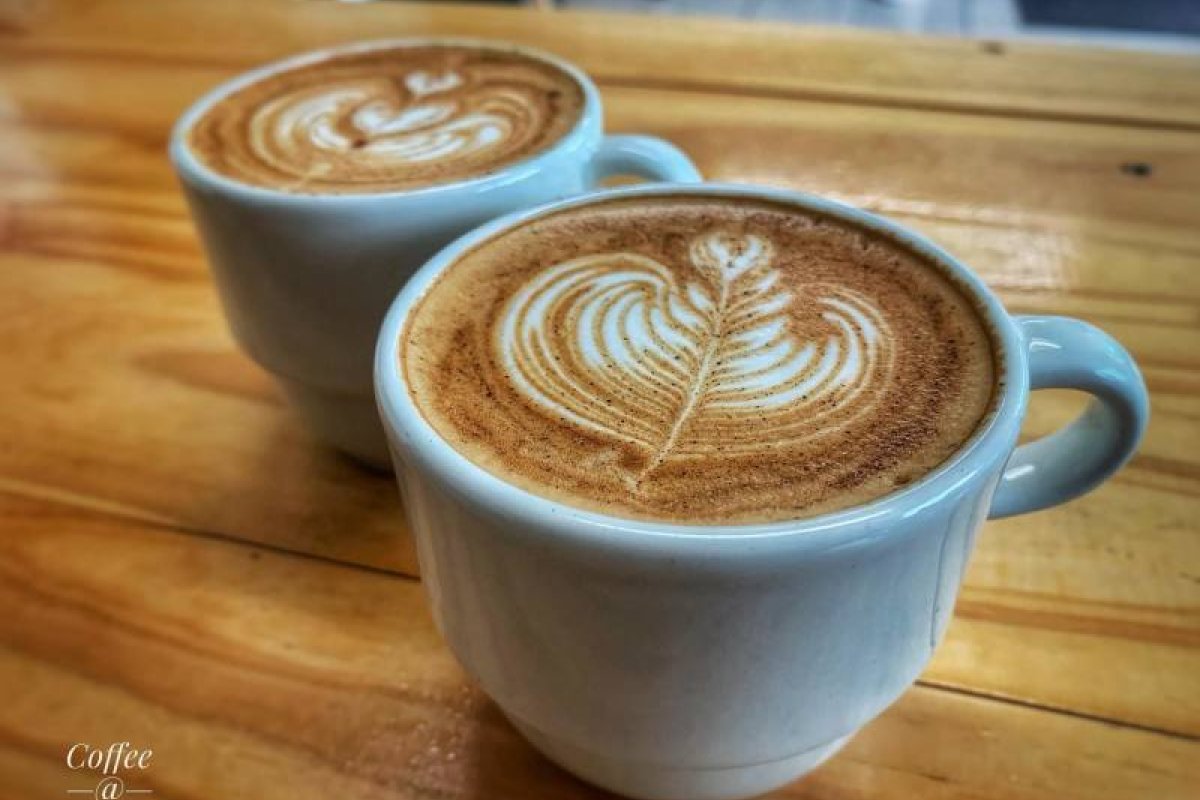 Day four: One last cup before leaving
We're sure your coffee immersion has left you even more in love with the drink, its history, and the Island! So, even if your trip is about to come to an end, your coffee immersion stops there.
Before departing through SJU, pass by Coffee at the View in Carolina or Loíza for another authentic cup of Coffee from the mountains to the city. Other stops before leaving include La Estación, Puerto Rico Café Colao, and Don Juan, where you can also purchase coffee beans to bring home and continue your caffeinated getaway. 
Most of the baristas at these shops are vast in the coffee culture in Puerto Rico, so be sure to ask them questions, recommendations, and even preferences about the Arabica beans cultivated on the Island. 
Harvesting and Processing Specialty Gourmet Coffee
Puerto Rican coffee goes through a meticulous process before it can be poured in a cup:
Once the coffee cherries are hand-picked from the plant, they are sorted, and the ones that are caritostados (sundried) are discarded.

The coffee cherries that are 100% ripe are thrown in a machine to be separated by color and size.

The freshly harvested cherries are passed through a pulping machine to separate the skin and pulp from the bean.  

The beans are dried out with one of two methods: they are either thrown in a net to sun-dry completely or tossed in a machine that simulates sunrays.

*Fun fact: The most commonly used coffee toasting machine was invented in Puerto Rico and perfected in Colombia. These machines dry up to three layers of the bean.

When the bean's humidity is down to 10%, the seeds are left to rest for up to three months. If they are processed immediately, the beans lose their unique properties.

Once again, the coffee beans are sorted by color, size, and weight. They go into a milling machine that removes the hulls. The milled beans are known as green coffee.

The exposed beans are examined for flaws or imperfections.

The coffee beans are roasted to a medium finish and sent to be packaged or ground for consumption.
Fun Facts about Specialty Gourmet Coffee
Puerto Rican coffee is primarily Arabica beans of the Limaní variety, which was developed on the Island.

To achieve the special properties of Puerto Rican coffee, the beans must be planted and sown in the Island's volcanic soil at an altitude of 1,800 to 3,500 feet above sea level and grown under lots of shade.

Specialty coffee is only roasted to a medium finish to make sure the bean preserves the fruity and nutty qualities that make it unique.

Puerto Rican coffee is sweet and creamy, and experts suggest it is better enjoyed black and without sugar.

The most common ways to drink coffee in Puerto Rico are pocillo (espresso), cortadito (espresso with a little steamed milk), and café con leche (latte).

It only takes 22 seconds to extract a shot of espresso.
Discover Puerto Rico's E-Newsletter
Paradise for Your Inbox
Get travel inspiration, news, tips and more delivered monthly.