You're in the rum capital of the world; it's time to have some fun. So, bartender, pour another one! Yes, Puerto Rico produces over 70% of the rum consumed across the United States alone, and that's a lot. This Caribbean gem is the chief in rum production, with over 80 types of rum sold worldwide.
And, while in Puerto Rico, you should discover the places that make this beautiful Island the leading exports in rum… by tasting them!
You can book rum tours in the metro region area with companies like Spoon or Flavors of San Juan, which will combine history with the best bars and lounges in the area. Places like Casita de Rones, La Factoría, Junglebird, La Penúltima, and more will be on the list of bars to visit. But, make a plan to venture out to the places that make the goods, book a visit to distilleries and breweries listed below for some fun away from crowds. Don't worry; we won't tell you'll be going on a liquid diet!
Pro Tip: Call in advance! Most of the places mentioned below don't require a reservation. However, it's best to let them know you're on your way for an altogether exceptional experience.  Also, the places listed below are suggestions for you to make an itinerary as you go. Be sure to eat a hearty breakfast – or lunch, before visiting these boozy places.
Note: This is a boozy trip for a reason. There will be many alcohol tasting and rum drinking, so if you have a rental car, be sure to take turns with your friends and assign a designated driver. We want you to have fun, but do the responsible thing and don't drink and drive!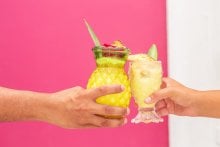 Which tropical drink are you based on these questions?
Find out if you are a sexy piña colada or a refreshed mojito!
Day one: Never a drop wasted in Caguas
Let's face it, you are on vacation, and that's a place the "drinking rules" don't apply. So, start your day toasting to paradise at El Grifo in Caguas. This vegan restaurant redefines the morning coffee and replaces mimosas with a drunken version of a java cup with their Desvelao' cocktail. Yes, this drink, which translates to "sleepless," is a cocktail for breakfast, perfect for kicking off your morning of spirited adventures. The creative drink mixes Puerto Rican coffee with local beer Señora de la Noche and rum, decorated with a sugar and coconut rim. Morning coffee has never been this fun! Of course, you can pair it nicely with anything — and the variety of flavors in this plant-based restaurant are endless; but you should definitely try the mushroom sliders or the exquisite pesto pizza. However, if you're not into coffee, at El Grifo, you can still find all sorts of local beers and rums to craft a unique morning (or afternoon) cocktail.
And when in Caguas, walk over to the Sangría Factory and try the fantastic variety Sangría los Hermanos offers. From their coffee sangria to their iconic passion fruit and guava flavors, you can buy a bottle to bring back home or enjoy at your next stop!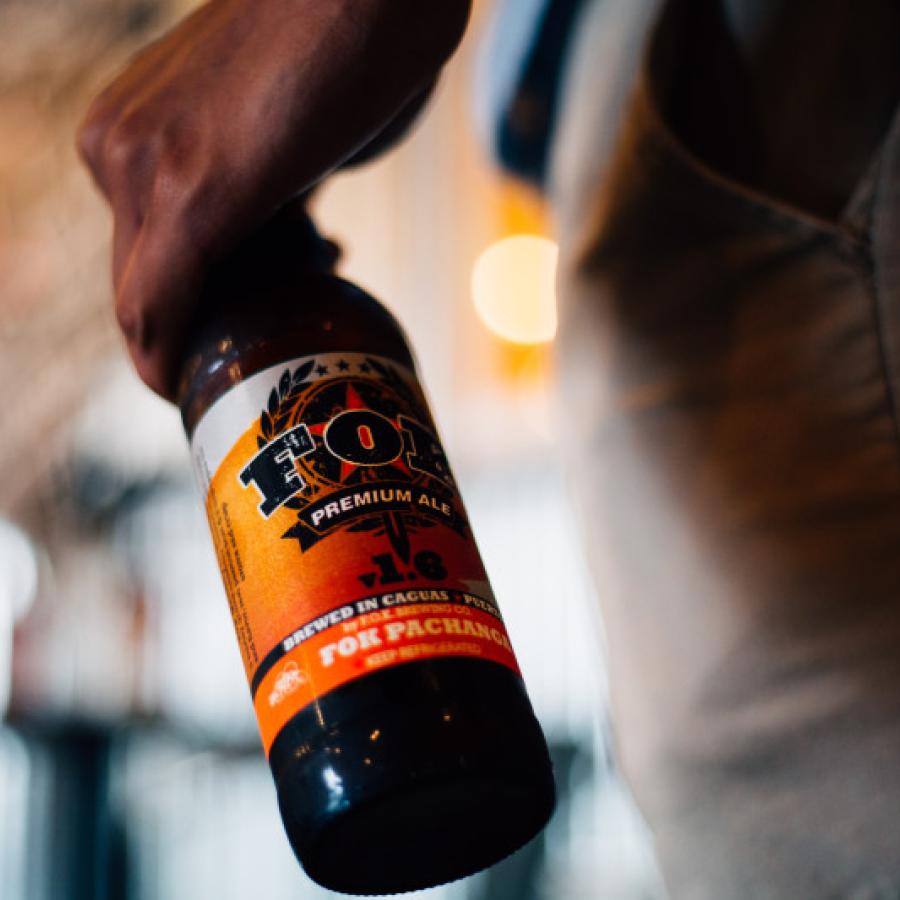 After getting your motors running, enjoy a pleasant stroll through the luscious trails of the Caguas Botanical Garden. Explore the 19th-century plantation that integrates culture, history,  and nature, and while you're there, take some of the most breathtaking pictures you could dream of! This mesmerizing place is a nice transition to explore archeological findings and centuries-old barracks before venturing to your next stop: FOK Brewery.
Lunch is ready to be served, with a side of locally brewed beer, that is! Of course, this boozy trip may be an adult-only vacation. Still, if you're traveling with children, this brewery can also accommodate them. FOK (which stands for Fresh of Keg) produces over 1,000 gallons of beer per week, and as a result, you get to enjoy over 27 beers – some are seasonal, in their open-spaced patio.
You can finish off your day in their drive-in cinema or venture off to see more of Caguas like the Tobacco Museum or hit the Casino Real. But, whatever you decide to do, plan for dinner at Funche restaurant. This upscale spot serves elevated versions of criollo cuisine. The chef pays tribute to traditional dishes that go from Deep-fried piononos stuffed with pulled pork to charcoaled-grilled octopus and a sweet pepper marmalade over parmesan cheese. And the cocktails… oh, the cocktails are to die for! The house mixologist uses Puerto Rican rum and various tropical natural juices that pair nicely with dinner to elevate your palate and your night to new heights.
 Find more things to do in Caguas
Tip: You can plan to stay at the Four Points by Sheraton in Caguas and make this hotel the starting point of all your tipsy adventures!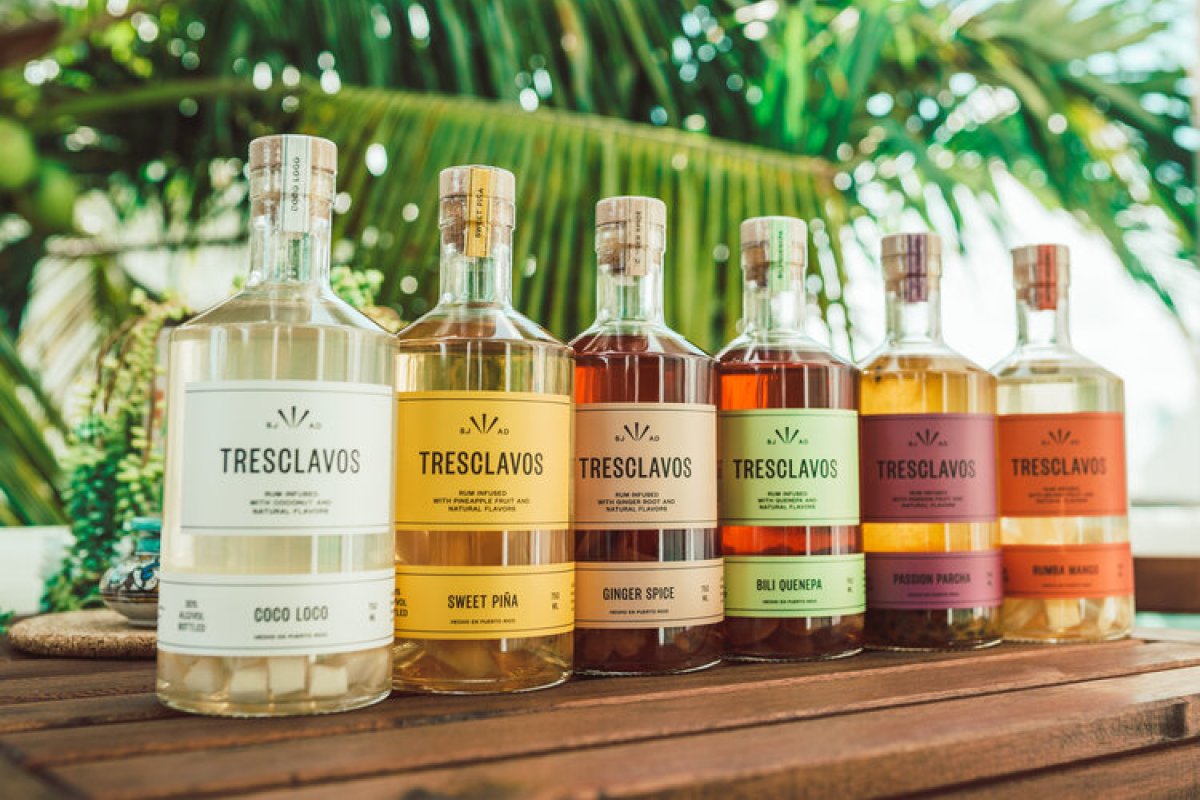 Day two: Pitorro in the mountains
Your next meeting with spirits will take place in the hills of Vega Alta, where San Juan Artisan Distillers is nestled. This place is a great hub to learn about ron caña– or in other words, Puerto Rican moonshine. First, Pepe, the distillery owner, will greet you at a small house at the entrance. This casita, decorated with yesteryear pictures that explain the history of milling in Puerto Rico, will make you feel like you're in abuelita's home. And just like in grandma's house, you're greeted with a treat, which in this case is a refreshing cocktail (you're in luck if it's the passion fruit one, it tastes incredible!) Then, Pepe himself, or a family member, will take you on a stroll around the factory and tell you all about the story of sugar cane production on the Island. This is important because sugar cane extraction or guarapo is used in this rum, not molasses. And the family-owned business grows their own sugar cane – you'll get to visit the farm too during your tour! As part of the tour, you'll learn all about the manufacturing process of Tresclavos rum, a handcrafted moonshine infused with fresh fruit from the Island. Find flavors like quenepas, pineapple, mango, passion fruit, coconut, and spice (yes, you get to taste them all here!) You'll also get to try the first ron agrícola in Puerto Rico: Ron Pepón, made directly from sugar cane cultivars and produced entirely on the estate.
Well, bottoms up, and all the tasting is done, which means it's time for lunch. Make your way down the rum-drenched hills of Vega Alta to the neighboring town of Vega Baja for lunch at Up Restaurant. At this very criollo eatery, you can find staple dishes like mofongo, deep-fried red snapper, skirt steaks, arroz mamposteao, and more.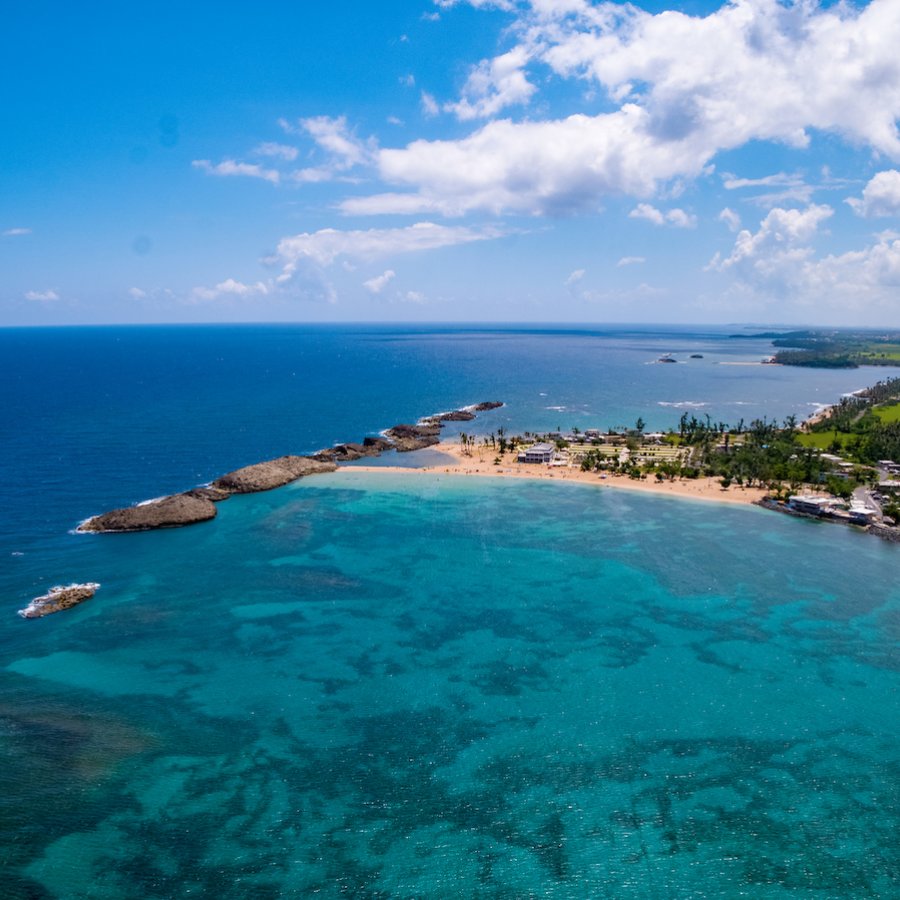 Spend the afternoon soaking in the sun at Mar Bella beach or Cerro Gordo beach. In these two beautiful seafronts, you can hop back and forth from the calm ocean waves to the kiosks ready to serve you more drinks and local street food like bacalaítos and alcapurrias.
Before returning to your hotel, pass by Ojo de Agua, a small community in Vega Baja with a fresh-water spring and a crystal-clear natural pool where you can cool off and wash away the saltwater. There's plenty of spots to take pictures, like a swing with a Puerto Rican flag and a bar packed with all the local rums you have tasted so far! You can also shop small crafts from local artisans that set tables around the stream.
If you stay until sundown, your drinks and dinner can be found at La Taberna, where the bartender crafts original cocktails just for you! Or, you can wander to the northwest and book a Spirits of Puerto Rico tour with Tour Guide Debbie in the town of San Sebastián.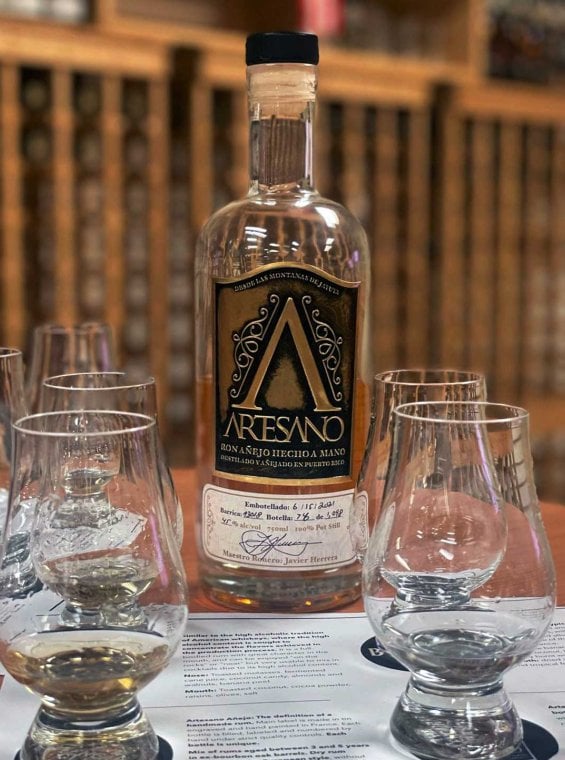 Day three: It's noon somewhere… right?
It's a new day, but all roads lead to more rum tasting, and you're in for a special treat when you venture into the mountains of Puerto Rico. In Jayuya, near Cerro Punta – the highest peak on the Island, you'll find verdant landscapes full of ferns, palm trees, flamboyanes, and Craft Spirit Distillery, home of PitoRico and Artesano rum. Feel like a true jíbaro (as they called the people from the countryside) when you breathe the fresh mountainous air and tour this cool and modern distillery. You'll find two very different types of rum there, one to compete with any whiskey or aged rum and another that pays homage to the traditional moonshine done in the rural parts of the Island.
Walk through the barrel chambers and into the machine room, where you can see all the processes to create these high-quality rums. The show's star will be Ron Artesano, a rum made by expert Javier Herrera, one of the world's most important rum consultants, and produced in a rainforest. Isn't that cool? They have carefully crafted a premium spirit, from the drink itself – made in small batches to the handmade, handpainted, and hand-stamped tin label crafted in France. And you get to taste the four flavors of Ron Artesano and some of PitoRico (fruit infused moonshine) at the end of the tour – which is free when you call and book it.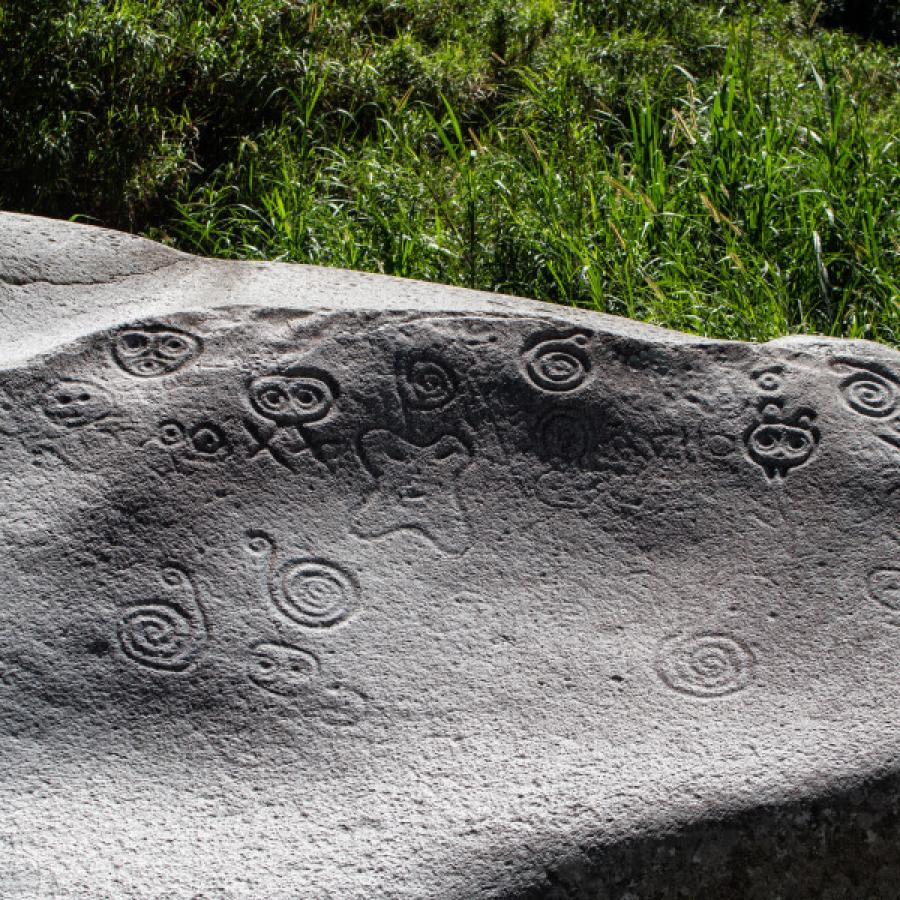 Once you're done tasting spirits, it's time to feel them! Connect with your inner Taíno at La Piedra Escrita (which translates to The Written Stone), a recreational area with rocks that contain various indigenous petroglyphs. Walk down the wooden walkway and near the river so that you can enjoy the mesmerizing views and the cooling waters of the Río Saliente.
If you have some time left before driving down the curves of the mountain, visit Casa Canales, the former home — and now museum of the Canales Family, and learn about the pivotal role they played in the freedom uprising of Puerto Rico back in the 1950s. Then, to get another window into the past of Puerto Rican culture, pass by El Cemi Museum, where Taíno artifacts and discoveries are showcased.
While you're making your way out of the mountains, you'll pass by the town of Ciales, where you can make a quick stop by El Museo del Café or grab lunch – or dinner at Asao Smokehouse, one of the best places to eat grilled and smoked meats in the Island. You can also visit Casa Vieja (the old house), a smaller place that serves traditional food like arroz con gandules, pasteles, and longaniza – a local Spanish-style sausage.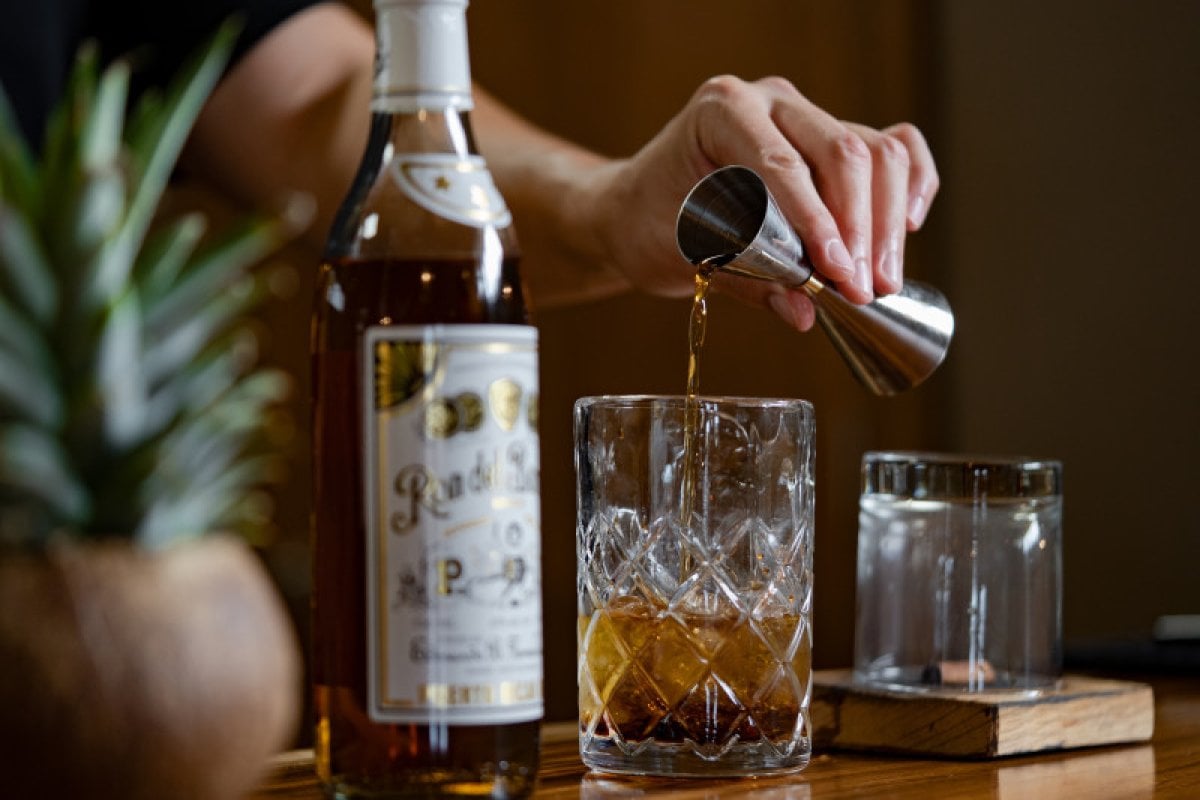 Day four: Rum o'clock in the metro region
Before departing the Island, you should visit Ron del Barrilito, one of the biggest distilleries in Puerto Rico. Centered in Bayamón,  Hacienda Santa Ana is the oldest rum distillery with the oldest rum in Puerto Rico. The spirit is praised as the best whiskey-like aged rum the Caribbean has to offer. They even have a barrel from 1952 waiting to be open to celebrate in the town's square if Puerto Rico's territory status changes.
Tour the barrel barracks, just from the smell of the aged rum; you'll be eager to go tasting! Learn where this extraordinary rum gets its name, which literally translates to Rum from the Little Barrel, tour the estate, and sip on all the rums available, from two stars to the $700 bottle of five-star rum. You can also book a mixology class at the Hacienda.
When you're done with the tour, the class, and the gift shop – where you can bottle your own rum and purchase it, you can hang out at the bar and drink specialty cocktails prepared by resident mixologists.
If there is some time left before departure, go directly to El Nido – a local artisan store turned bar and grill right across the train station in Bayamón. Eat high-quality burgers while drinking some of the best beers on Island, like Ocean Lab brews, FOK, Ales from Rincón Beer Company, and Boquerón Brewing Co. The concept store featuring artistas del patio is right next to the bar.
Follow this guide to rum tasting in Puerto Rico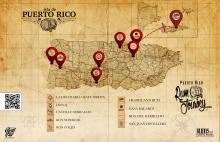 The Puerto Rico Rum Journey
Get your rum-soaked passport and follow your own path in the rum capital of the world.
Download the Puerto Rico Rum Journey App and use it as your guide through different distilleries across the Island. Create a route, book your walking and tasting tour, and even make a mixology class reservation (among other experiences) at: 
You can even enroll in their rewards program, buy items, and receive special notifications of promotions directly.
Discover Puerto Rico's E-Newsletter
Paradise for Your Inbox
Get travel inspiration, news, tips and more delivered monthly.