Home to one of the Island's favorite beaches and more.
Much like there's a North and South Dakota and a North and South Carolina, there's a Vega Alta (Upper) and a Vega Baja (Lower). While the names may be similar, the towns are quite distinct, and easy to access from San Juan (about a 45 minute drive).
Vega Alta was founded first, in 1775, and was originally named La Vega Alta de Espinosa. Vega Baja would be founded a year later and named La Vega Baja del Naranjal. The Upper and Lower denominations refer to what side of the Cibuco river each town was on, with one being slightly higher than the other.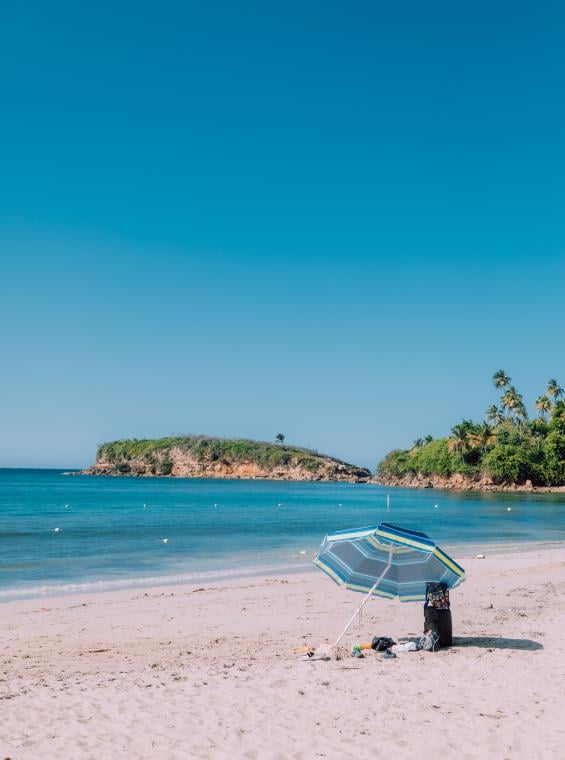 Cerro Gordo
For visitors to the area, the main touristic draw is Cerro Gordo Beach Park. This is a favorite among locals, with families often making a full-day excursion out of visiting Cerro Gordo.
There are a government-run parking lot and facilities including bathrooms and food and drink concessions. Vehicular access costs from $4-$5, depending on the size of the car.
The beach itself is a long crescent strip of delicate white sand, lined with palms and other trees that provide shade, as well as gazebos, picnic tables, and showers. The water is a bright blue with gentle waves and a sandy bottom, making it a perfect bathing beach, a rarity up in the Island's rough northern coast.
If you follow the road up the hill, you'll reach the campgrounds and eventually the mountain bike trails. This upper section of Cerro Gordo has spectacular views of craggy cliffs framed by the Atlantic's deep blue. Large waves break against impressive volcanic rock formations where swashes of green succulents grow along the jagged edges. It's precisely these cliffs that protect the beach from the usually violent surf, making it safe for swimming. 
There is a second parking lot in this part of the park because some people just come to Cerro Gordo to ride mountain bikes or do trail running and hiking. Inside a densely forested hill, there's a well-maintained single track that snakes up and down for around three miles, with another mile of trail making its way around the campgrounds.
Since Hurricane María, camping has been suspended at Cerro Gordo while they clear and fix the campsites and facilities.