Known as the "Center and Heart of Puerto Rico," Caguas takes pride in keeping the tradition alive and at the same time has developed an amazing variety of modern activities, attractions, things to do, and entertainment for all ages and interests.  
A vibrant city rich in culture and soul, you can choose to visit one of its many museums or stroll around its beautiful botanical garden, play golf, try your luck in the casino, dance all night, delight your palate with food and drinks, enjoy its festivals and theatrical productions, routes and walks, nature adventures and much more.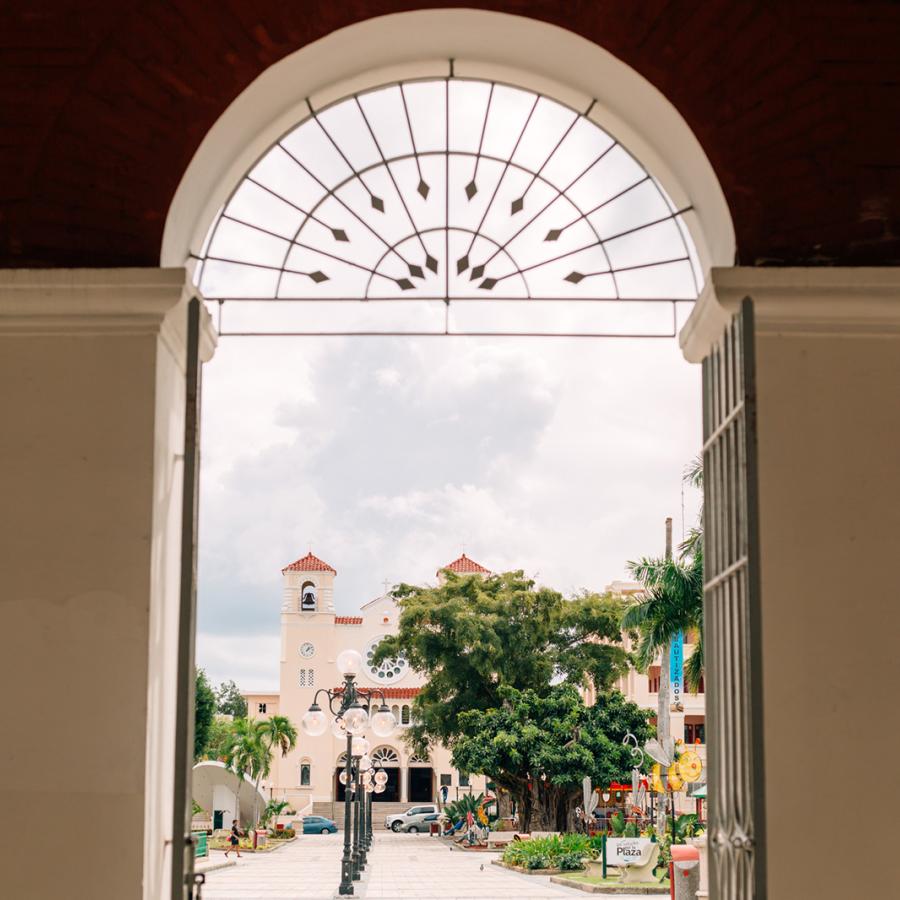 Caguas History Museum
A building that once served as the town's City Hall now hosts one of this municipality's most important museums. Due to its highly architectural importance, the building now belongs to the National Historic Sites of the United States. The place sets a mirror into the past as it narrates the uprising of Puerto Rican identity. The walls and the many rooms depict the Taíno settlement, the Spanish conquest, and the North American invasion that shaped the island to better understand the present Puerto Rican culture.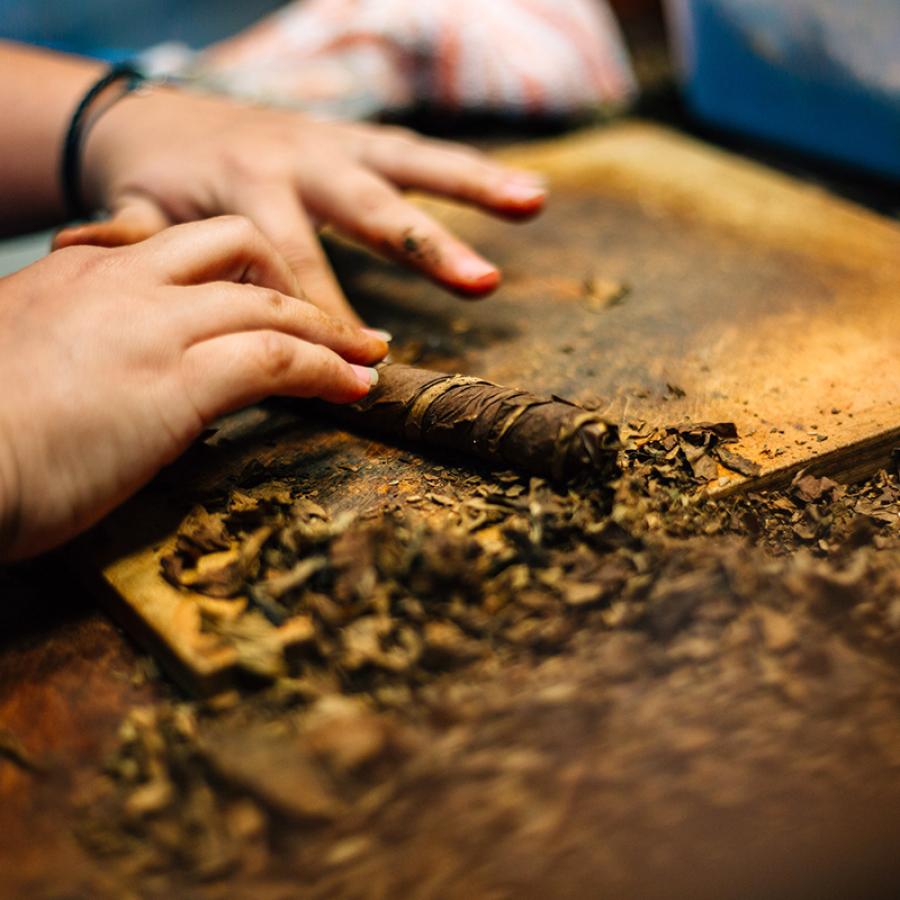 Tobacco Museum
The only establishment dedicated to the history of tobacco in Puerto Rico is situated in Caguas. Located in a neoclassical, colonial-era building, the museum showcases the development of a historic industry on the island. Please pay a visit and discover how Cubans used to buy the tobacco cultivated in Puerto Rico to blend with theirs. Learn about the industry and its meaning to Puerto Rico, and observe replicas of old tobacco ranches. Local artisans highlight the educational experience that craft artisanal cigars for visitors
Jardín Botánico y Cultural de Caguas William Miranda Marín
Caguas' real gem is the Jardín Botánico y Cultural de Caguas William Miranda Marín. A testament to history, this theme park is designed to educate the public and elevate the relationship between culture and nature in a tropical setting. Its 60 acres of land are made up of gardens and the remains of Hacienda San José — a 19th-century sugar plantation.
The garden offers guided tours, walking trails, and various specialized exhibits (like the African and Taíno Ancestral Grove, Forest Heritage, Riverside Corridor, and Tropical Wetlands) for you to wander. Explore the rich history of the ancient sugar mills of Caguas, the town's ecological significance, an in-depth look at the agriculture of Puerto Rico, and more. Learn about the indigenous archeological findings on-site, the century-old sugar mill ruins, and the centennial slave barracks. Take a closer look at the Puerto Rican creole identity roots to understand something deeper about the island.
The Drive-In Park is the newest activity at the Jardín Botánico of Caguas.  A cinema experience that you cannot miss The Drive-In Park is open from Thursday to Sunday, and the movie starts at 7:00 pm. The ticket is per car for a maximum of 5 people in each vehicle. 
Museo de las Artes Populares
Lovers of folk art, skilled artisans, and local culture should make this a stop to learn more about several of the island's prominent craftspeople. The museum pays homage to artists such as Zoilo Cajigas and Celestino Avilés, two woodcarvers dedicated to creating religious figures and saints and musical instruments. Some of their works are featured permanently at the museum. Elpidio Collazo and Emilio Rosado also have rooms dedicated to their craft, carved birds. Other artists that worked on leather, ceramic, and toys are showcased as well. A second showroom exhibits traditional figurines by a cagüeño teacher named Edwin Báez.  
Paseo de las Artes
One of Caguas's main attractions is the Paseo de las Artes or Arts Promenade, a space that turns into an outdoor festival highlighting local artists. Be ready to walk, eat and drink, dance, and appreciate the works of Puerto Rican and international makers that have made this space their workshop. Another event that takes place at the Paseo de las Artes is the Al Fresco Culinary show. This event gathers people to savor creole food and creative presentations of local and international fusions at different food stations, food trucks, and stands.
Two great and fun recurrent outdoor festivals are held monthly: The Paseo de los Artistas Festival and Al Fresco Music and Culinary Festival.
The Paseo de los Artistas Festival is held on the third Saturday of every month. The town organizes an art fair complete with music, food, and local artisans. It promotes diverse artistic elements such as live music performances, poetry declamation, theatrical performances, dance performances, and artistic installations, among others; a good local gastronomic proposal accompanies all this.
Al Fresco Music and Culinary Festival gathers people to savor "criollo" food and creative presentations of local and international fusions at different food stations, food trucks, and kiosks. It takes place on the last Friday of every month.
"El Salto" Waterfall - "Tornasol" Canyon Adventure
Adventurers looking for a challenging nature-adventure tour will love the "Tornasol" Canyon located in the Carite Rainforest vicinity. Activities such as river hiking, ziplining in 5 different ziplines, rock climbing, rappelling 80 feet down the crystalline waters of "El Salto" waterfall to the bottom of a canyon awaits you!
Caribbean Criollo Center for Science and Technology (C3TEC)
A space to live unforgettable moments around science and technology. The C3Tec is a unique place where science becomes a fascinating experience. An interactive space for the enjoyment of young and old. At the permanent exhibitions and scientific laboratories, visitors explore topics such as geology, global warming, or living organisms. The third level gives access to the rooftop and the green roof, an ecological space that promotes sustainable technologies through a vegetation cover. 
The C3Tec also has a cinema-theater where documentaries, short films, and films are regularly shown. They also have conference rooms, birthdays, and Cafétec for rent.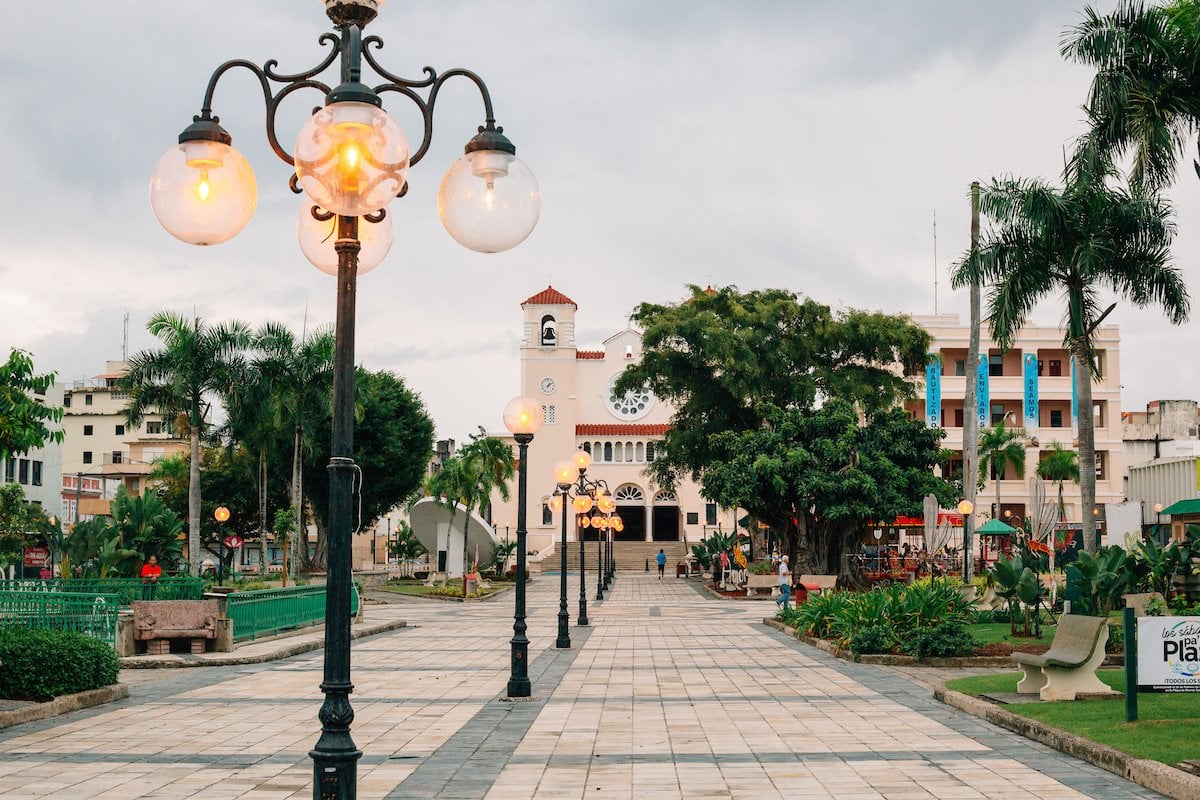 Discover our folk music. This museum was made to exalt peasant music, one of the most important musical genres in Puerto Rico. The singers who voice this folk music are known as trovadores (troubadours) and sing to the land they love through improvised décimas and trovas that express their traditions idiosyncrasies.
By displaying history of jíbaro music, as it is also known, the museum preserves and promotes the musical essence rural Puerto Rico. Musical instruments are presented in the rooms and the leading role of the Puerto Rican "cuatro" stands out. Also, a tribute is paid to the troubadours, teachers of the forced foot (improvisation theme).
Admission is free of charge and guided tours are offered.
A place to honor the first and only beatified Puerto Rican, Carlos Manuel Rodríguez. 
For some time, this residence became his home. Today, there is an exhibition in what used to be his room filled with memorabilia and informative graphics dedicated to his life and miracles.
Admission is free of charge and guided tours are offered.
Casino Real
The largest casino in Puerto Rico, located in Four Points Hotel by Sheraton, meets any player's expectations. It is an entertainment center set with the historical and cultural values of the region.
 At the Casino Real, you will be able to test your luck in the roulette, Mini-Baccarat, Blackjacks, and Three Card Poker. However, if slot machines are more your fancy, Casino Real has 454 slot machines such as the famous jackpot The Enchantment with a $30,000 prize.
The casino also offers live music from Wednesday to Sunday in varied schedules, free Zumba on Mondays, Wednesdays, and Fridays at 10:00 am. They have ample parking, security and the best entertainment.  
Caguas Real Golf & Country Club
Opened in 2002, Caguas Real Golf & Country Club is a golf course with 18 holes. Designed by John Sanford, it presents in a Parkland style with an abundance of tropical vegetation and various terrain. Much of the space is surrounded by mountains, and through the east side, a small river runs, creating great beautiful natural scenery.
The installations are open to the public throughout the entirety of the year, and it has a clubhouse, driving range, and a golf store.
The Sangría Factory
Learn about the history of Sangría Los Hermanos, made in Caguas. It is the first and only sangría tasting room in Caguas. Not only can you enjoy the best traditional sangría, but you can also taste 12 different exquisite types of sangría. Some of the flavors are passion fruit, tamarind, coconut, and guava.
You will discover why it is the most award-winning sangría in Puerto Rico and the Caribbean.
F.O.K. Brewing Company
A safe and cozy place for the fanatics of the first made beer in Caguas, the F.O.K. Beer. Besides the traditional flavors in the micro-brewery, you can taste 18 flavors, such as Bombs, Coffee IPA and RastaBerry. 
It is a must to attend on Fridays to their famous Food Truck Friday event, where you can taste a different Food Truck gastronomy each Friday, listen to live music and enjoy entertainment for the whole family. 
Tourism Routes, Trails, Walks, Nature Adventures, and Sightseeing Tours
You will find routes, trails, walks, and sightseeing unique to the Criollo City in Caguas. Choose your favorite either as a family or individually, savor the rich and varied cuisine we offer, and spend a great day in the Center and Heart of Puerto Rico: Caguas. 
The "Criollo" Heart Trail honors the criollísmo and includes eight museums and places of interest in the Centro Urbano (Urban Center). Each museum has a tour guide, and the entrance is free.
Monuments and Plazas Route, it also includes the three Portales de la Ciudad (City Portals).
Criollo Salsa Route, salsa music tour offered by CL Tours. Through the criollo salsa route, you can visit places where you can dance and listen to salsa, visit record stores and musical instruments stores, monuments, public art, and places frequented by famous salseros. 
Chinchorreo Route includes a great variety of gastronomic establishments with their respective local flavor specialties. Visitors and locals love to visit the chinchorros on weekends to have fun with friends and for drinks, food, play pool, dance to a jukebox or live music. 
Honor al Río Walk honors the Cagüitas River and includes the Biennial of Sculptures in Concrete.
 LA COSS Community Tour - San Salvador Neighborhood Ecological Garden. Visit or work as a volunteer in this beautiful Ecological Garden. It is located in Caguas´ countryside, not in its urban area. Discover and enjoy its tropical and endemic flora and fauna. See Taíno Indians petroglyphs and learn about its history.  Rivers and springs surround it. Enjoy and buy its fresh produce.
LA COSS Community Tour - San Salvador Neighborhood Hiking Tour. Hike and explore San Salvador´s mountains, located in Puerto Rico´s Central Mountain Range. The hike includes a fantastic panoramic view from the "Loma del Viento" (a windy hill) and a typical Puerto Rican lunch at the San Salvador Neighborhood Ecological Garden.
Community Tour Urbe Apié highlights the urban art and museums in the public spaces of the Urban Center.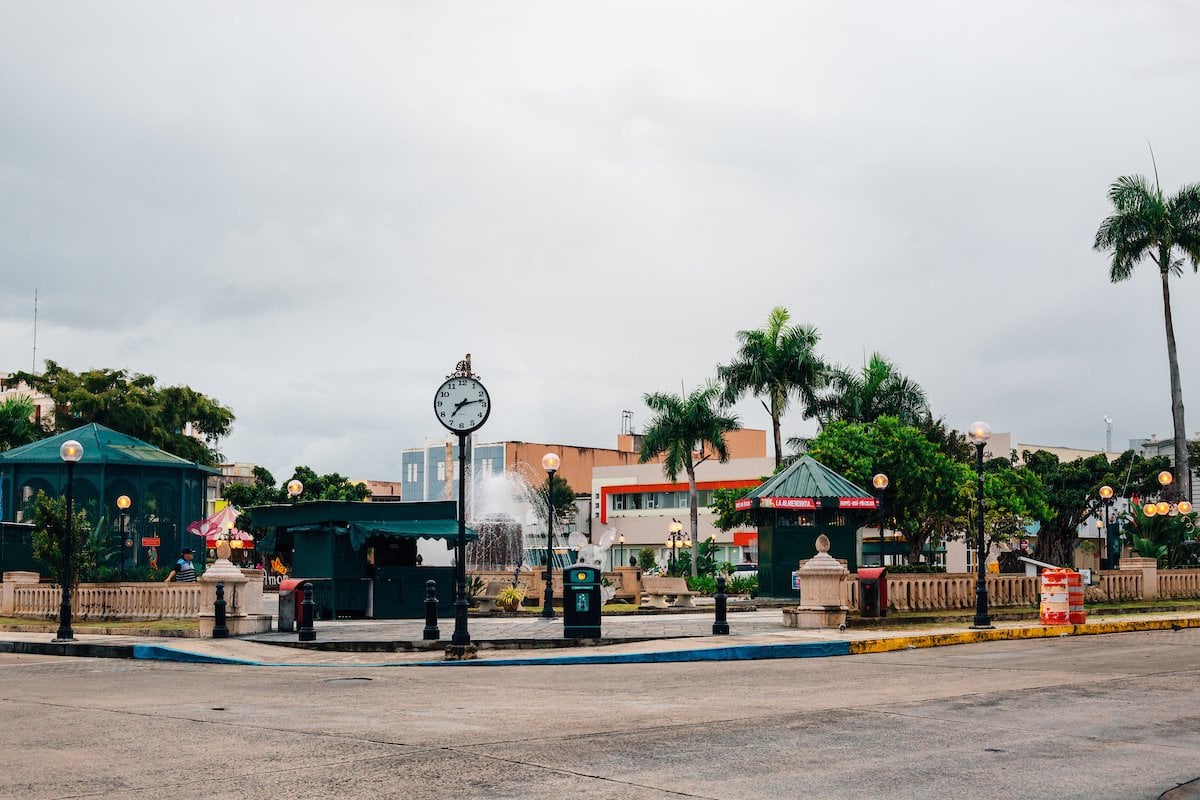 Plaza Santiago R. Palmer
A great place to visit with your family or by yourself. When visiting it, do not miss its fountains and sculptures. Walk along its sidewalks and visit the floral clock, pond, and the aviary, home of the macaws' Hortensia, Hugo, and José María that watch over this beautiful plaza.
Allow yourself to enjoy exquisite gourmet Puerto Rican coffee sitting in the shade of lush trees overlooking the Cathedral, or try the gastronomic dishes offered by the food carts installed on its premises such as local fritters, snacks, delightful local homemade candies, or ice cream, refreshing piña coladas, fruit frappes, and other types of refreshments. In its surroundings, there are many restaurants and museums.
 If you travel with children, do not forget the carousel, it is a delight for the little ones.
On Saturdays, "Los Sábados pa' la Plaza" is celebrated, an activity with live music, artisans, dance performances, games, and lots of entertainment from 4:00 pm.
Certainly, it is one of the most pleasant and beautiful recreational Plazas in Puerto Rico.
 The Plaza is located between Muñoz Rivera, Betances, Corchado and Ruiz Belvis streets. The carousel is a free attraction and operates from Friday to Sunday.​
Casita Verde Abelardo Díaz Alfaro
A tribute to the illustrious Puerto Rican writer Abelardo Díaz Alfaro.
La Casita Verde is a cultural project that honors the illustrious Puerto Rican writer Abelardo Díaz Alfaro. It has a set of memorabilia, informative graphics, and a documentary of the storyteller to showcase his life and inform visitors of his legacy as a native Cagüeño writer, representative of the Criollísimo. 
The place also functions as a literary center that offers conferences and workshops on literary creations. 
Son of Caguas, Don Abelardo, reflected in his work the intimate and unconditional love for the autochthonous from his Casita Verde. Thus, the Casita Verde is an integral element of all Cagüeños and Puerto Rico's historical-cultural heritage.