Sample Puerto Rico's history, rural culture, and locally grown coffee all in one trip.
Imagine breathing in the crisp morning air on a verdant mountainside as you wander through a centuries-old plantation house overlooking gorgeous scenery. Now picture the rays of the sun on your face as you inhale the sweet notes of freshly milled coffee.
If this sounds like your dream vacation, don't miss the opportunity to visit one of Puerto Rico's coffee haciendas. Make your way into the island's mountainous region for an unforgettable adventure that will feel like a trip to another era.
Take a tour and experience what it was like to be in Puerto Rico during the 1800s, when coffee was one of the island's most important agricultural products. Get a detailed lesson on coffee production, history, and – more importantly, how to taste coffee like an expert. You'll visit the fields where coffee plants are grown, walk through the coffee processing plant, learn about how the beans are roasted, then finish your day off sipping some of Puerto Rico's finest gourmet coffee.
If you're a serious coffee lover, this journey through a working coffee hacienda will be a highlight of your visit to Puerto Rico.
Wondering where to go? Here are a few haciendas worth the trek up the winding mountain roads:
 *Make your reservations in advance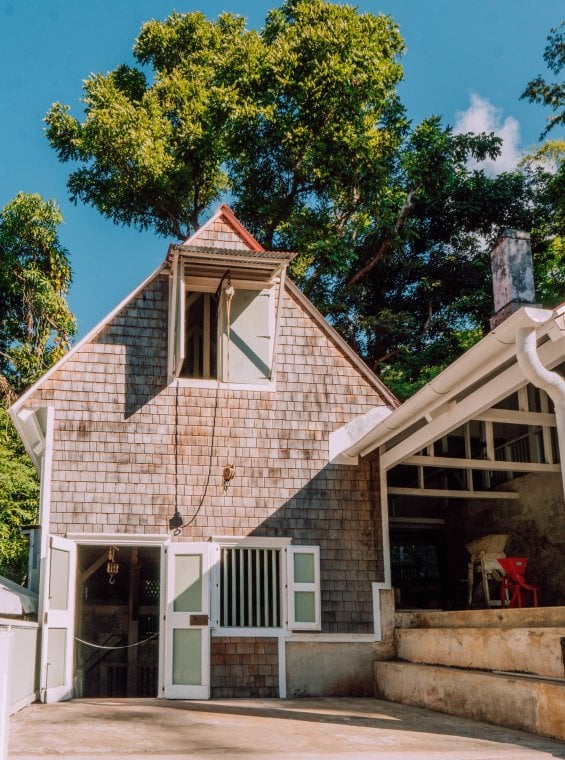 Once a fully-operating coffee hacienda, Buena Vista now functions as a museum managed by the conservation nonprofit Para la Naturaleza and Puerto Rico's Conservation Trust. The estate is one of the best-kept reminders of the glory days of Puerto Rican coffee and they also produce local cacao once a year. A visit to their information center can be paired with a tour of the property.
Tucked in the mountains of Lares, this is one of the longest-running coffee haciendas in Puerto Rico, dating back to when the Spanish ruled the island. Legend has it that the workers of this estate were part of the group that led the attempted revolution known as el Grito de Lares in 1868. The colonial estate is furnished with authentic furniture pieces from the 19th-century which add to the ambiance, so don't miss those Instagram-worthy photo opportunities.
Start your tour at the plantation, where you'll learn about the different types of coffee beans and how they are harvested and sorted for processing. The tour includes a visit to the processing plant where you'll get to see all the stages of production from drying and sorting to storage and roasting. Stop at the laboratory for a tasting before finishing off your day at the bistro, where you can enjoy a traditional Puerto Rican lunch or dinner.
This historic hacienda is a fourth-generation owned estate in the hills of Jayuya. Although you can find some Hacienda San Pedro coffee shops around the metropolitan area, nothing beats visiting the estate. Once there, you can take a tour which will take you around the facilities and natural areas where coffee is grown and processed. The charming coffee shop at the hacienda is the perfect place to hang out and relax.
Another place where you can experience coffee from harvest to cup is in Hacienda Tres Ángeles in Adjuntas. The island's first agro-tourism certified farm has an on-site coffee shop where you can enjoy their specialty coffee. Tours of the hacienda are offered on Saturdays by reservation, but you don't need a reservation to visit their restaurant through the weekend.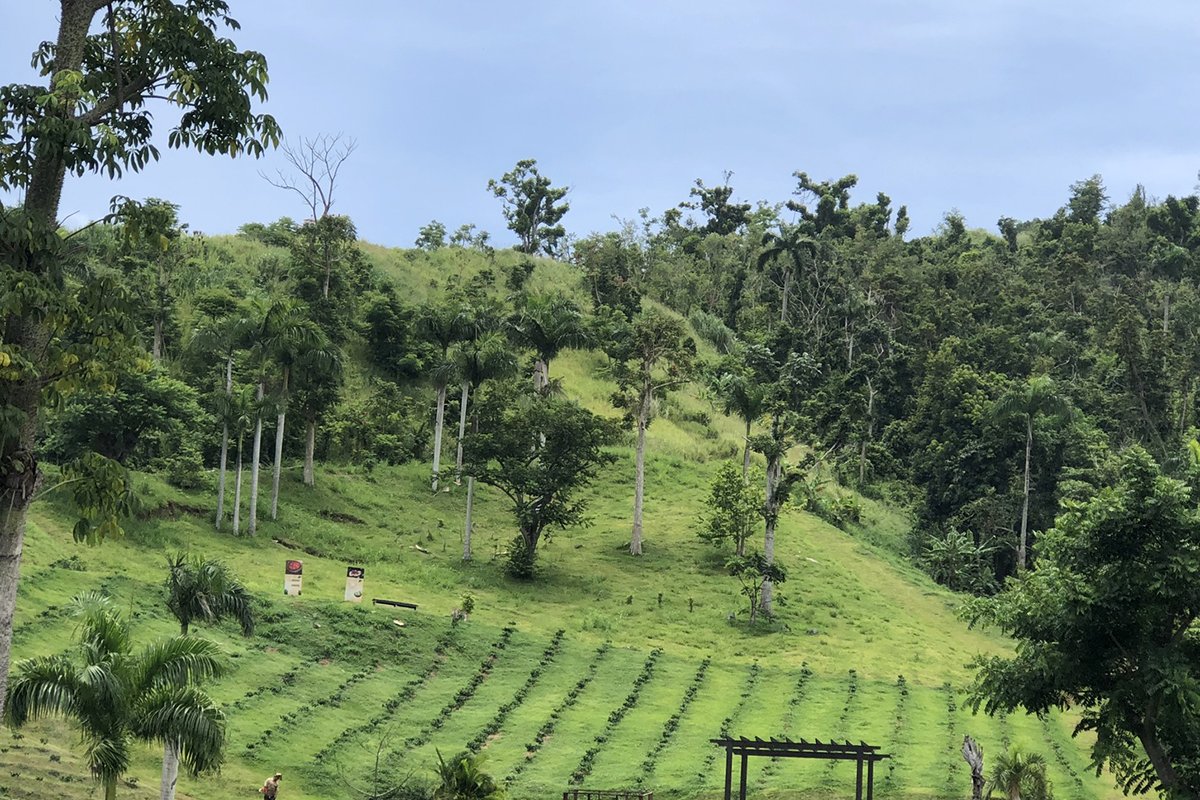 Hacienda Muñoz
One of the island's newest coffee haciendas is in San Lorenzo, just 30 minutes from San Juan. Hacienda Muñoz offers a nice escape from the metropolitan area without venturing deep into the mountains of Puerto Rico. Their walking tour includes a history lesson, while you enjoy the views of their small coffee plantation, and a snack overlooking the neat rows of coffee plants. Animals such as peacocks, turkeys, chickens, and even a donkey roam freely through the property.
Hacienda Tres Picachos
The same family has managed this hacienda for over 40 years. Nestled in Jayuya, it is an ideal place for a family daytrip. The estate has a traditional Casona, a water mill, a small museum with Taíno artifacts, and a river that crosses the property. At Tres Picachos, you'll get the full countryside experience, including animals roaming around the premises.
Sandra Farms
In this Adjuntas farm you will not only find a coffee plantation, but you can also appreciate the island's local chocolate production. The farm, named after one of the owners, immerses its visitors into the history and evolution of sustainable agriculture in Puerto Rico. Learn all about their environmentally-friendly farming techniques, which result in less water consumption. Every eco-friendly coffee and chocolate lover will be fascinated by their tour and, obviously, their samples.
Harvesting and Processing Specialty Gourmet Coffee
Puerto Rican coffee goes through a meticulous process before it can be poured in a cup:
Once the coffee cherries are hand-picked from the plant, they are sorted, and the ones that are caritostados (sundried) are discarded.

The coffee cherries that are 100% ripe are thrown in a machine to be separated by color and size.

The freshly harvested cherries are passed through a pulping machine to separate the skin and pulp from the bean.  

The beans are dried out with one of two methods: they are either thrown in a net to sun-dry completely or tossed in a machine that simulates sunrays.

*Fun fact: The most commonly used coffee toasting machine was invented in Puerto Rico and perfected in Colombia. These machines dry up to three layers of the bean.

When the bean's humidity is down to 10%, the seeds are left to rest for up to three months. If they are processed immediately, the beans lose their unique properties.

Once again, the coffee beans are sorted by color, size, and weight. They go into a milling machine that removes the hulls. The milled beans are known as green coffee.

The exposed beans are examined for flaws or imperfections.

The coffee beans are roasted to a medium finish and sent to be packaged or ground for consumption.
Fun Facts about Specialty Gourmet Coffee
Puerto Rican coffee is primarily Arabica beans of the Limaní variety, which was developed on the Island.

To achieve the special properties of Puerto Rican coffee, the beans must be planted and sown in the Island's volcanic soil at an altitude of 1,800 to 3,500 feet above sea level and grown under lots of shade.

Specialty coffee is only roasted to a medium finish to make sure the bean preserves the fruity and nutty qualities that make it unique.

Puerto Rican coffee is sweet and creamy, and experts suggest it is better enjoyed black and without sugar.

The most common ways to drink coffee in Puerto Rico are pocillo (espresso), cortadito (espresso with a little steamed milk), and café con leche (latte).

It only takes 22 seconds to extract a shot of espresso.