Local sausages and mountain views are highlights of the longaniza trail in Orocovis.
The town of Orocovis in the central mountain range is best known outside of the island for the Toro Verde Nature Adventure Park, which is home to the second-longest zip line in the world. But locals visit this municipality on weekends searching for one thing: longaniza, a popular local style of sausage. And lots of it.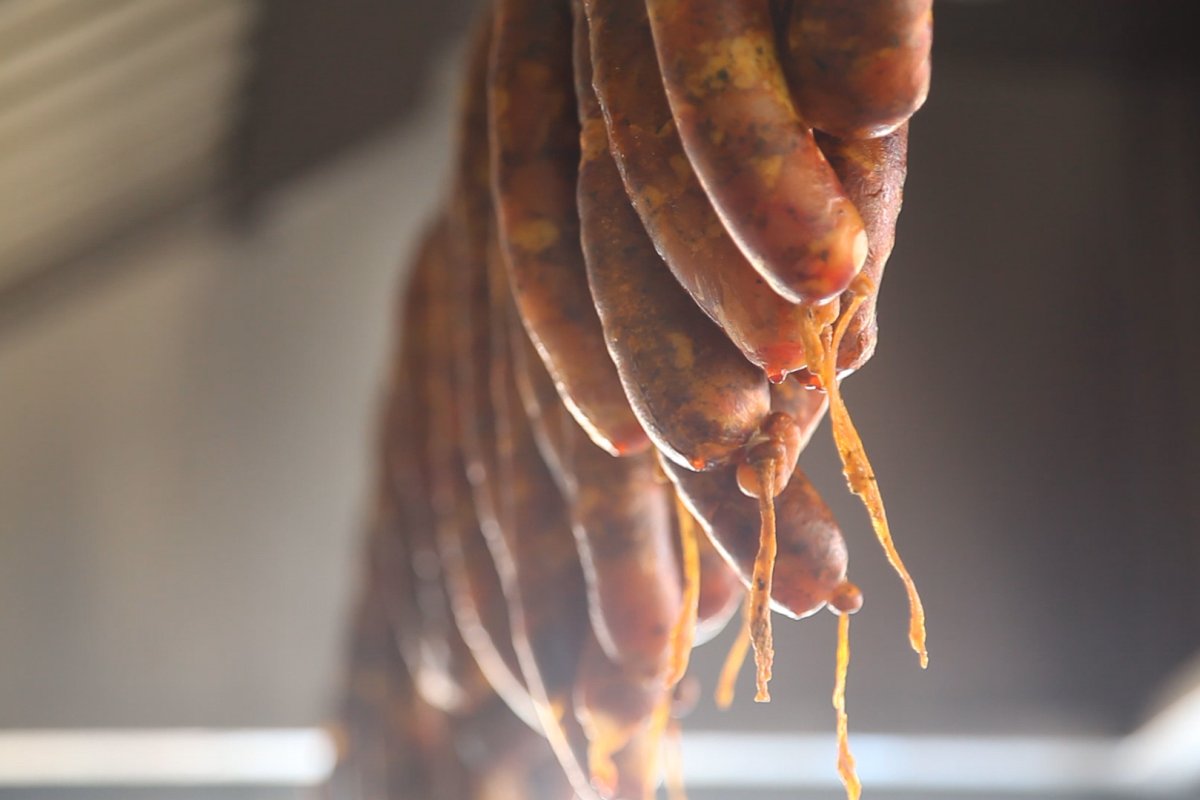 What is longaniza?
Longaniza is a sausage of Spanish origin, similar to chorizo but with some differences. Longaniza is long rather than divided into links. The meat is chopped rather than ground before being stuffed into the casing, giving it a chunky texture. While each restaurant has its seasoning, the base is salt, pepper, oregano, garlic, and annatto, which enhance the flavor of the meat. 
Pork or chicken is traditional, but some restaurants offer house specialties like the chicken and ham longaniza at Cafetín Los Amigos and the longaniza al vino (cooked in red wine with onions and peppers) or longaniza burger at El Ciclón. Likewise, the popular restaurant La Sombra serves tripleta (pork, beef, and ham), pavochón (turkey, pork, and bacon), and even fish longaniza. 
Most places only air dry the sausage for an hour or two before deep frying it whole, then chopping it into small pieces. This process gives the sausage a crispy exterior and juicy interior without being overly greasy. The longaniza is served either with tostones or other side dishes, stewed with rice and beans, or stuffed into a mofongo.
La ruta de la longaniza
As you drive along the winding PR-155 road, you're treated to gorgeous views of forested valleys dotted with lakes and farms, framed by the rolling hills of central Puerto Rico. At the entrance to Orocovis, you'll see a colorful sign reading: La ruta de la longaniza. The longaniza trail.
This route was established officially in 2014 as an initiative by the municipal government to draw more tourism to the town. Around 15 restaurants participated, and over the years, many of the original businesses remain, while new ones have cropped up. Most are concentrated along PR-155, but several others are found along PR-156, including La Sombra. 
On weekends, locals from around the island will visit this part of Orocovis for a chinchorreo tour, stopping at different bars and restaurants to enjoy a drink and something to eat, then moving on to the next stop. This popular activity has grown over the years, with some large groups hiring a party bus, making group t-shirts, and spending the whole day eating, drinking, and dancing in the mountains. On some weekends, you'll even see caravans of Jeeps rolling through the area.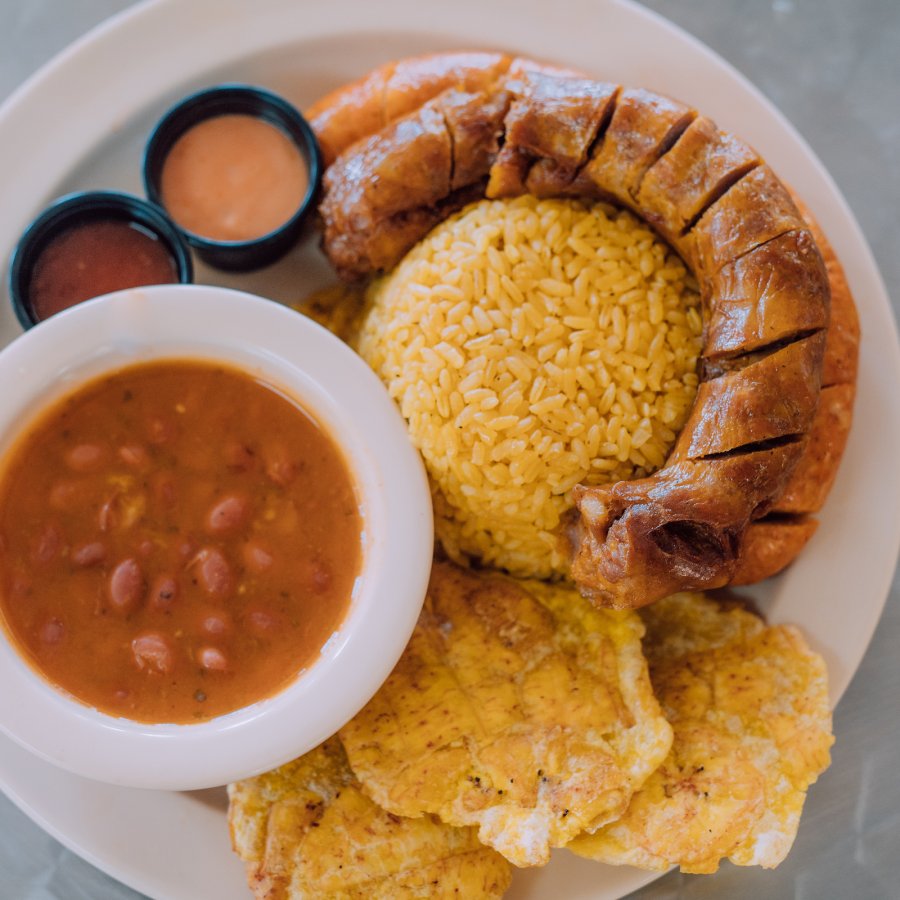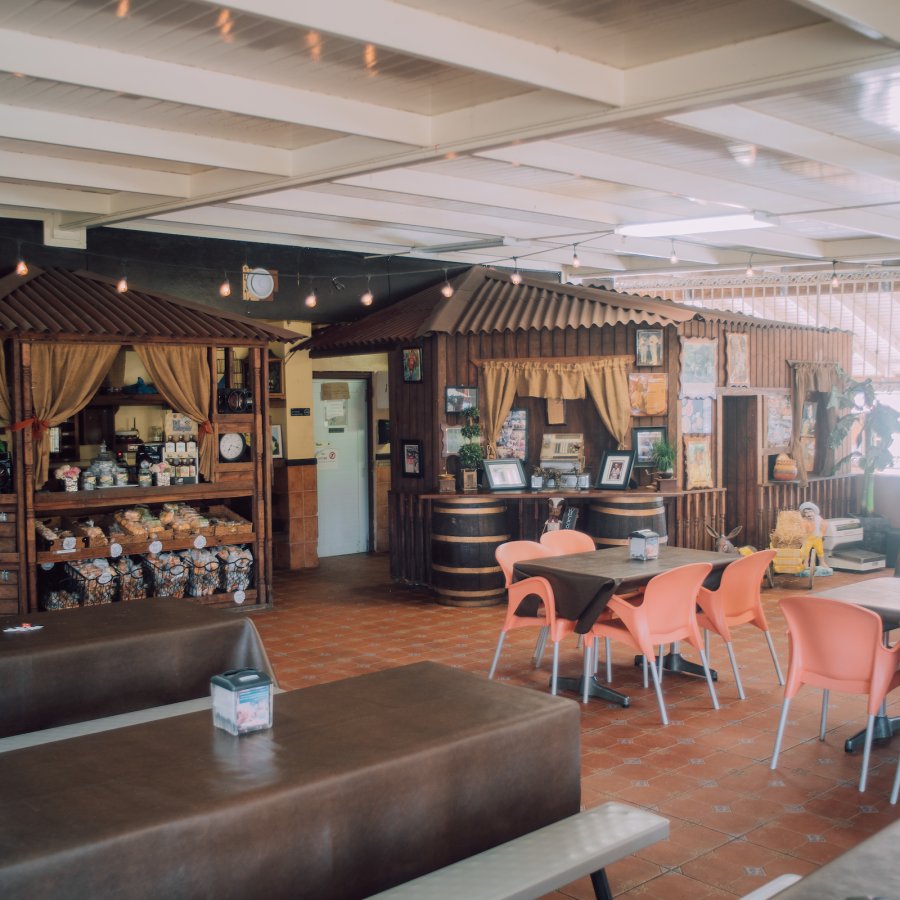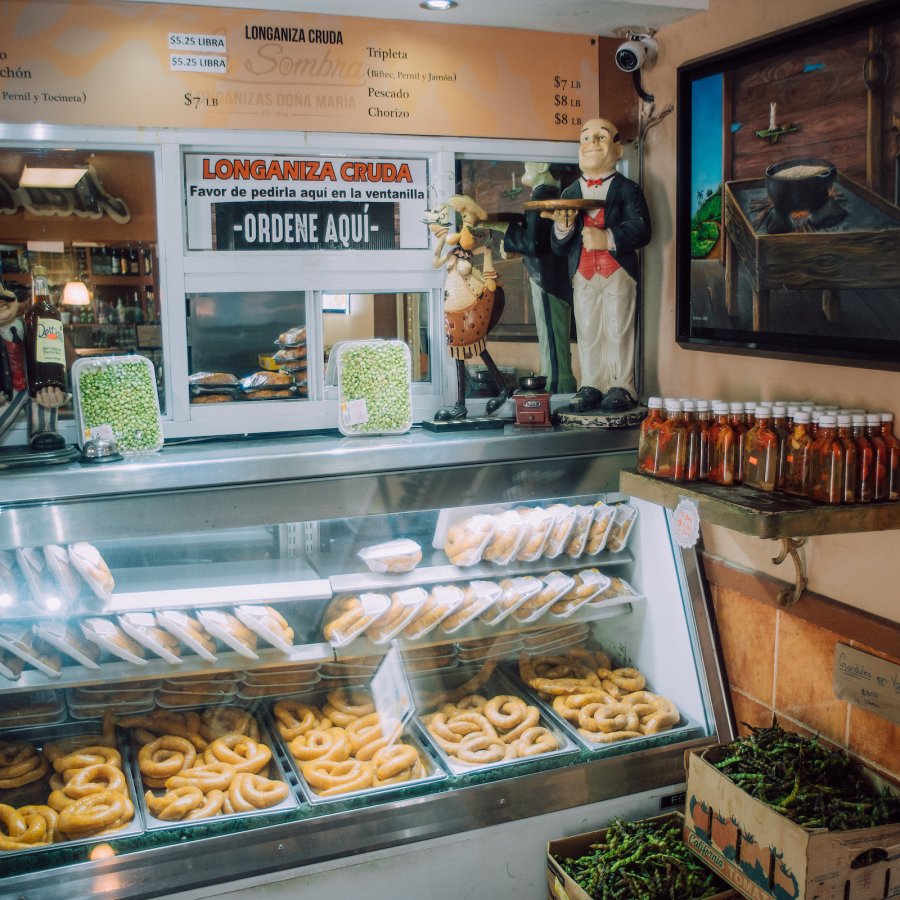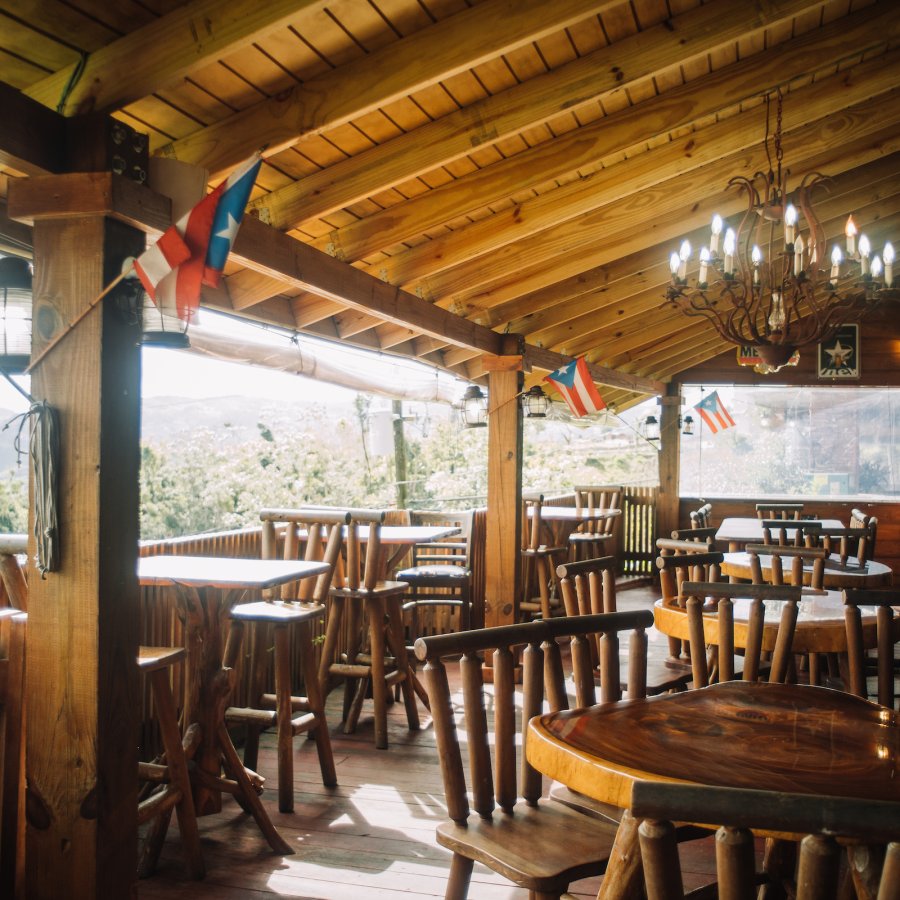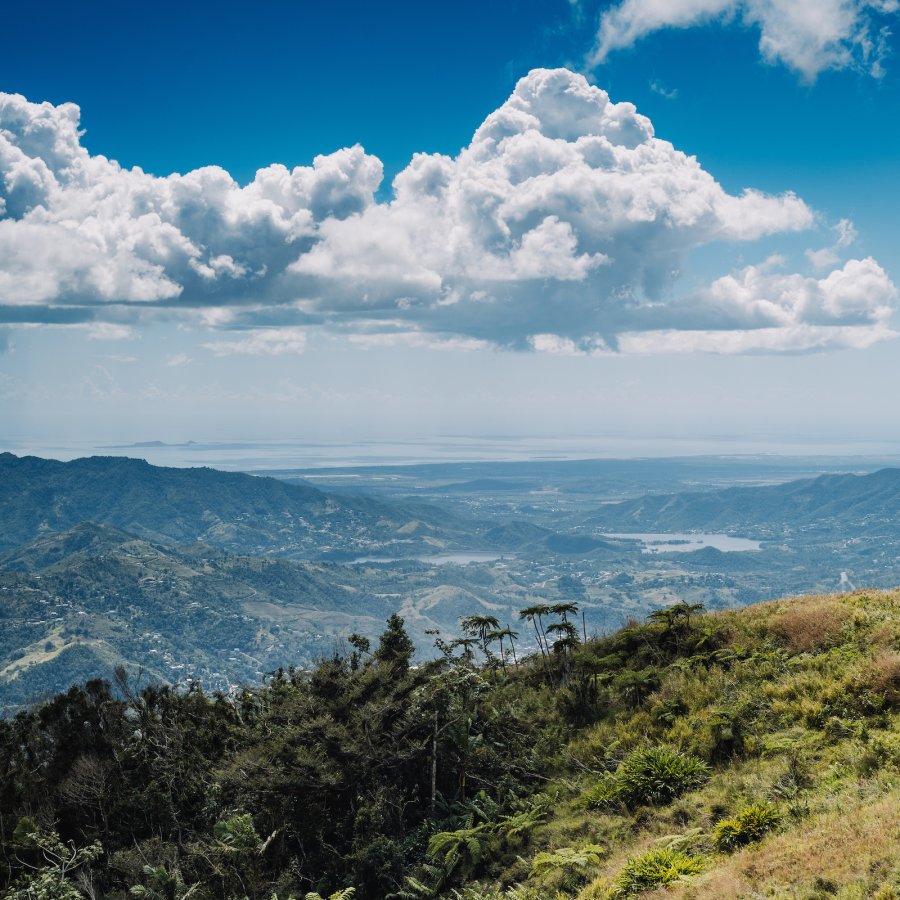 Where to Stop
Cafetín Los Amigos and Los Naranjos are the first restaurants you encounter if coming from San Juan. Los Amigos is more casual, cafeteria-style, with an impressive view of the valley below and some of the best longaniza on the route. Los Naranjos, which is up a side street from PR-155, is more of a sit-down restaurant, with many dishes beyond longaniza, as well as a selection of wines.
As you continue along the route, there are dozens of restaurants worth exploring like El Rincón de Paco y Lola, El Ciclón Sports Bar, Roka Dura, La Cobacha Criolla, Pikadera Smokehouse, Vagoneando, Ruly's Pizza, and La Sombra. 
This last one marks the end of the line of the longaniza route but it's actually where Puerto Rican longaniza originated back in 1934. Doña María, the wife of Pedro Ortiz -who owned Colmado La Sombra, would hand-make the pork and chicken sausages and her recipe was so popular it sustained the family for generations. La Sombra was eventually turned into a restaurant by one of Doña María's children and today is one of the most famous stops on the longaniza trail. 
Beyond longaniza
Along the way, you'll also find many bakeries and coffee shops if you'd like to cleanse your palate or recharge batteries. Café Licor, in front of Toro Verde Nature Adventure Park, is a charming coffee shop offering both hot and cold coffee beverages that can be spiked with spirits or flavored syrups and whipped cream. They also serve decadent brunch dishes, and there is a small souvenir shop inside. Another sweet spot worth the detour is Gustitos del Campo, where they serve Café Don Pello (a premium local coffee) along with ice cream and homemade cakes.
Another place that's not officially on the longaniza route but definitely worth the stop is Casa Bavaria, a German beer garden with both a Puerto Rican and German food menu (including longaniza as well as bratwurst and currywurst), variety of beers, homemade desserts, and a fantastic view.