Toast these luscious alcohol-free libations on your next trip to the Island.
Puerto Rico's illustrious food and drink culture — not to mention its unmatched love affair with rum — lends the Island an electric edge. Many visitors long to rest on the white-sand beaches of Vieques, its waves tossing between sea and shore. Often, this image includes a hurricane glass filled with sweet pineapple and rum or a highball glass filled with tart grenadine and orange juice.
For sober-curious travelers, though, zero-proof cocktails (or "mocktails," if you will) can be an empowering and equally delicious option to have on hand. Whatever your reason for skipping out on booze, Puerto Rico answers with a flavorful mocktail scene. ¡Salud!
Here are a few of our favorite places to imbibe alcohol-free — and what to order when you get there.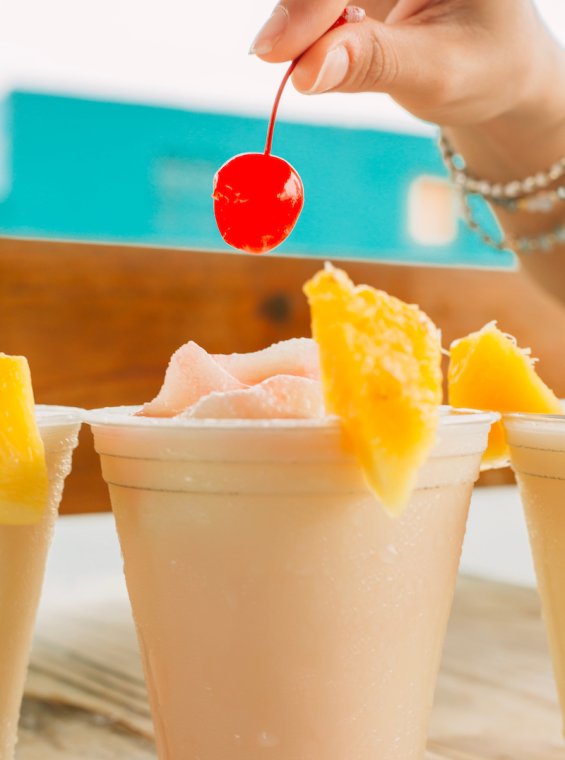 Timber & Blues
Visit downtown Aguadilla's Timber & Blues and you'll smell the smoky-sweet scent of cigars, coffee, and rum. Rich hues of navy and slate coat the speakeasy's coastal interior for an experience as gorgeous as it is intimate. Ask for a Spicy Gimlet with seltzer instead of gin — its cucumber's cool, earthy taste pairs well with fiery jalapeño and spicy ginger — then walk along Rompeolas Beach, just steps from the bar's front door.
 
Jungle Bird
Jungle Bird's Caribbean-inspired bar is as vibrant as the Island itself. This hotspot pairs elevated, tropical cocktails with funky, modern tapas (think corn and coconut fritters with a chili dipping sauce). Ask for a Piña Colada with a splash of lime in lieu of rum, and be sure to enjoy it on the lush and relaxing patio.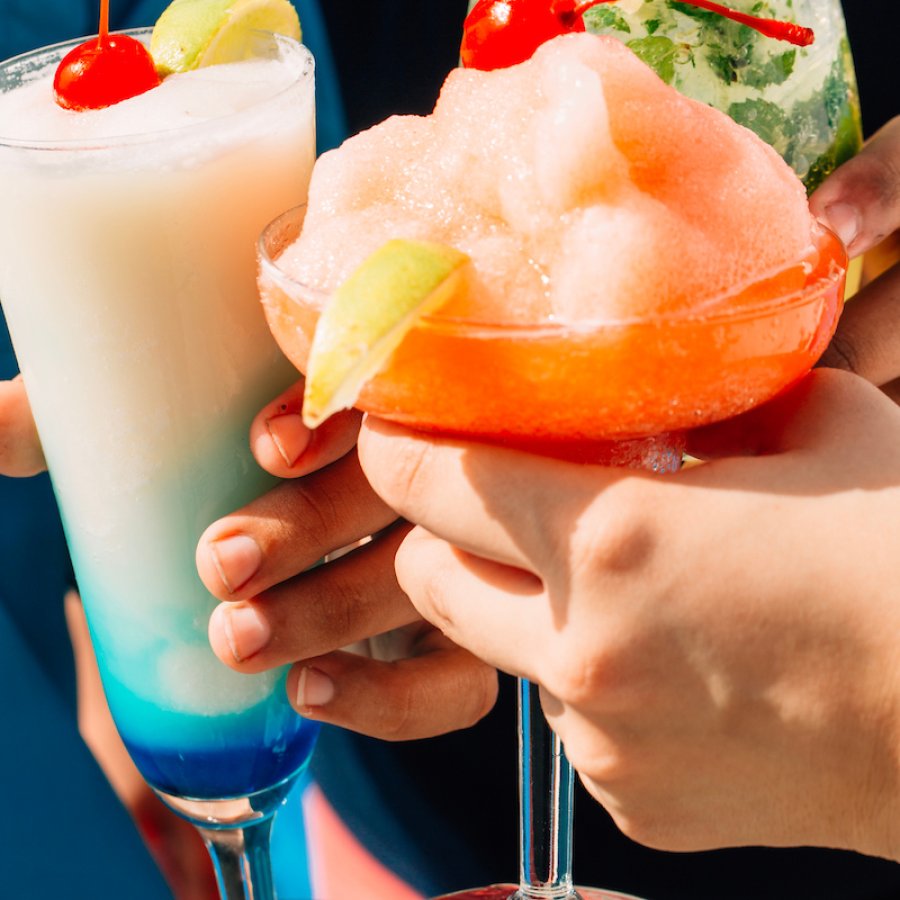 Buena Vibra Bar & Tapas
One look at Cabo Rojo's Buena Vibra Bar & Tapas is all it takes to appreciate its beachside charm. This bar and tapas restaurant elevates everyday seafood (coconut-breaded white fish and flaming lobster, for example), but they also serve a mean Sangría de Parcha, also called a passion fruit sangria. Ask to replace red wine with equal parts cranberry juice and seltzer for a flavorful drink that still has a little bite.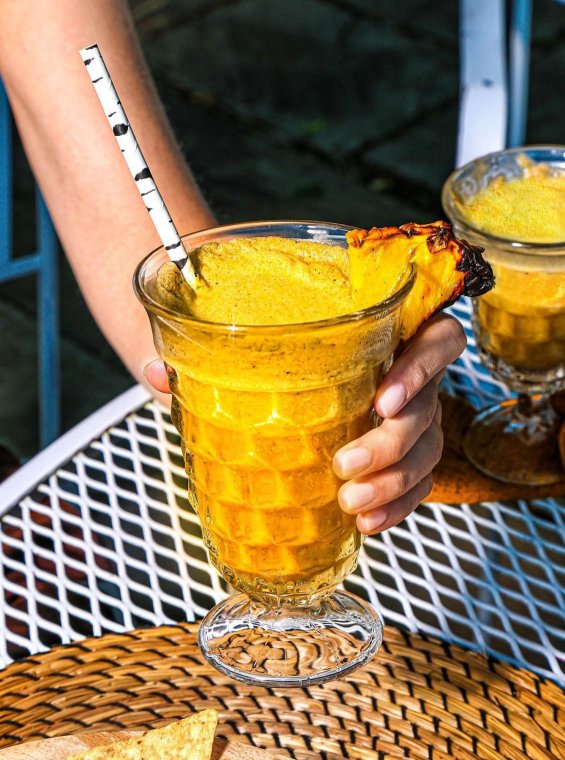 Velada Jazz Bar
Velada Jazz Bar's allure reflects the Island's 1920s history. From the speakeasy's Gatsby-esque interior design to its Ponce Creole architectural style, this bar is worth visiting for its beauty alone. While you're here, order an Atocha without Scotch. Lemon, apple, spiced syrup, and Spanish lime lend the drink nuance. If you ask nicely, the bartender may even smoke your glass to mimic the earthy notes Scotch would otherwise imbue.
El Batey
El Batey's graffiti-covered walls speak to Puerto Rico's relationship with urban art, particularly that of the 1970s. This acclaimed dive bar features a straightforward menu heavy on Angostura bitters and lime, lending complexity and depth to any mocktail. Order a Brown Derby Cocktail with seltzer instead of bourbon. You'll love the pucker-worthy grapefruit juice and ambered honey syrup!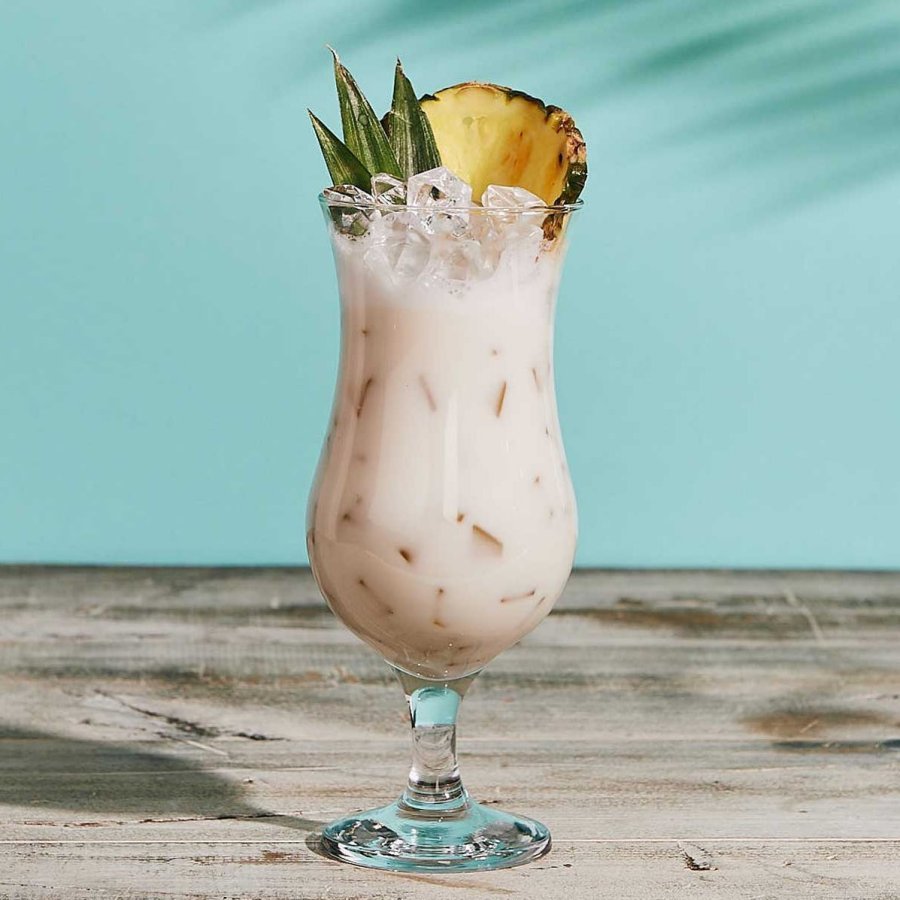 St. Germain Bistro
St. Germain Bistro, known as one of the best vegetarian restaurants in Old San Juan, offers eccentric, flaky pastries. (Hello, passion fruit quesitos!) But the bistro also mixes up some of the best craft cocktails in the city, including a Coco Mojito. The sweet woodiness of coconut replaces rum for a drink more refreshing than the beach.
Hielo de Luna
For a little adventure, scout out Hielo de Luna, a hidden cocktail bar in Rincón with a lively seasonal menu featuring fresh flavors. Order a Sango, which sings of ripe passion fruit, muddled lime, Parcha sugar, and sparkling water. Be sure to order it without Cachaça.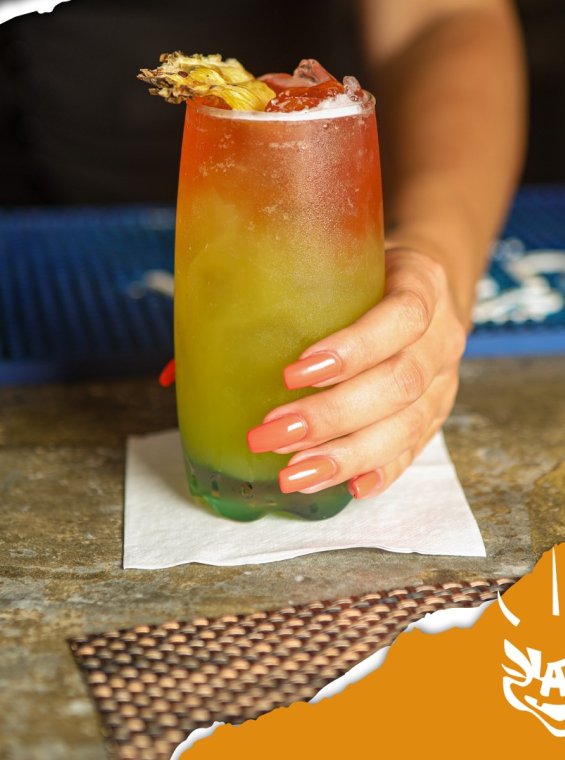 La Copa Llena at The Black Eagle
If you're in the mood for elegance, head straight for La Copa Llena at The Black Eagle. The menu is simple and bright, with vegetable-forward dishes, and the cocktails? They're just as refined. Ask for a Paloma sans tequila to enjoy a glass of fresh grapefruit juice with lemon-lime soda and a chili-salt rim that packs more than enough punch.
Saint Voodoo's Mar Azul
Saint Voodoo's Mar Azul may appear quaint, but it's one of the most celebrated bars on the Island. Before you kick back on the oceanfront patio and watch the sunset, order a classic Painkiller without rum. Pineapple, orange juice, and a whipped cream of coconut garnish feel more like a dessert smoothie anyway!
Mocktail Drink Recipe:
Spiced Coconut Colada
Inspired to enjoy a taste of the Island once you get back home? Sip this mellow zero-proof cocktail with a crisp, light, and refreshing spin on the classic Piña Colada.
Ingredients
1 can coconut milk, room temperature
½ cup coconut water, room temperature
½ tsp. turmeric powder
¼ tsp. chili powder
½ tsp. ginger powder
2 Tbsp. agave nectar
1 Tbsp. lime juice
1 tsp. lime zest
wedge of lime, for garnishing
ice
Directions
Add coconut milk, coconut water, turmeric, ginger, and agave to a saucepan over medium heat. Whisk thoroughly until emulsified, about 3-4 minutes.
Remove the pan from heat and allow the mixture to cool to room temperature. Squeeze in the juice of one lime and whisk again.
Fill a Hurricane or Collins glass with ice and pour mixture in. Sprinkle with lime zest and garnish with a lime wedge.
Serves: 1
Interested in more alcohol-free beverages? Check out Puerto Rico's best juice bars.