For over a century, La Plaza del Mercado de Santurce – locally known as La Placita – has served as the farmer's market of the Santurce neighborhood of San Juan. During the day, when the main building is open, stands overflow with fruits and vegetables. There's a tobacco kiosk (look up to see the longest cigar in the world hanging from the rafters), a butcher, and Puerto Rican restaurants serving lunch. The pace of life is slow, and older folks sit around the square playing dominos.
But when the sun goes down and the market shuts its doors, the streets around La Placita come to life. Locals and visitors arrive in droves and music starts to play around every corner. In just a few city blocks, you'll find high-end restaurants and bars next to chinchorros (inexpensive bar-restaurants), craft cocktails and Medalla beer, people dancing salsa in the streets, and so much more.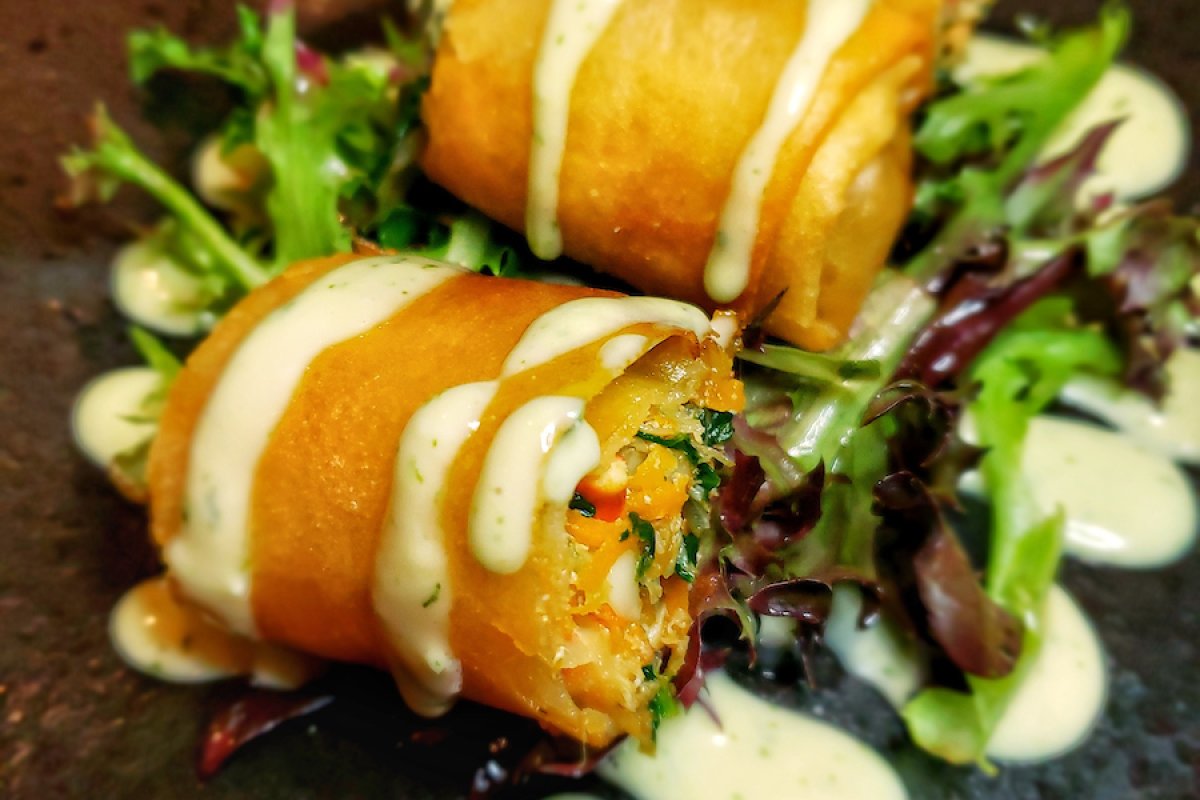 La Placita Restaurants
Your night out in La Placita should start with dinner, mostly because there are so many good restaurants to choose from – including some of San Juan's trendiest places.
Santealla
219 Calle Canals
If you're looking for something sophisticated with a tropical twist, you can't go wrong with Santaella. Chef José Santaella elevates local ingredients and comida criolla (creole cooking) to fine dining with creative touches and international flourishes. The cocktail bar is also worth a visit.
Fine Dining Experiences in Puerto Rico
Mai Pen Rai
303 Calle Canals
If you're looking for something radically different, a little further up the same street is Mai Pen Rai, an elegant Thai restaurant with a top-notch cocktail selection. The gin and tonic is particularly good.
Delavida Restobar
1361 Calle Iturriaga
Head in the opposite direction to Delavida Restobar, where you can sit on the wide covered deck and enjoy some authentic Puerto Rican food or decadent bar food like nachos and tacos. They also have daily lunch specials, brunch on Sundays, and salsa dancing on Thursday nights.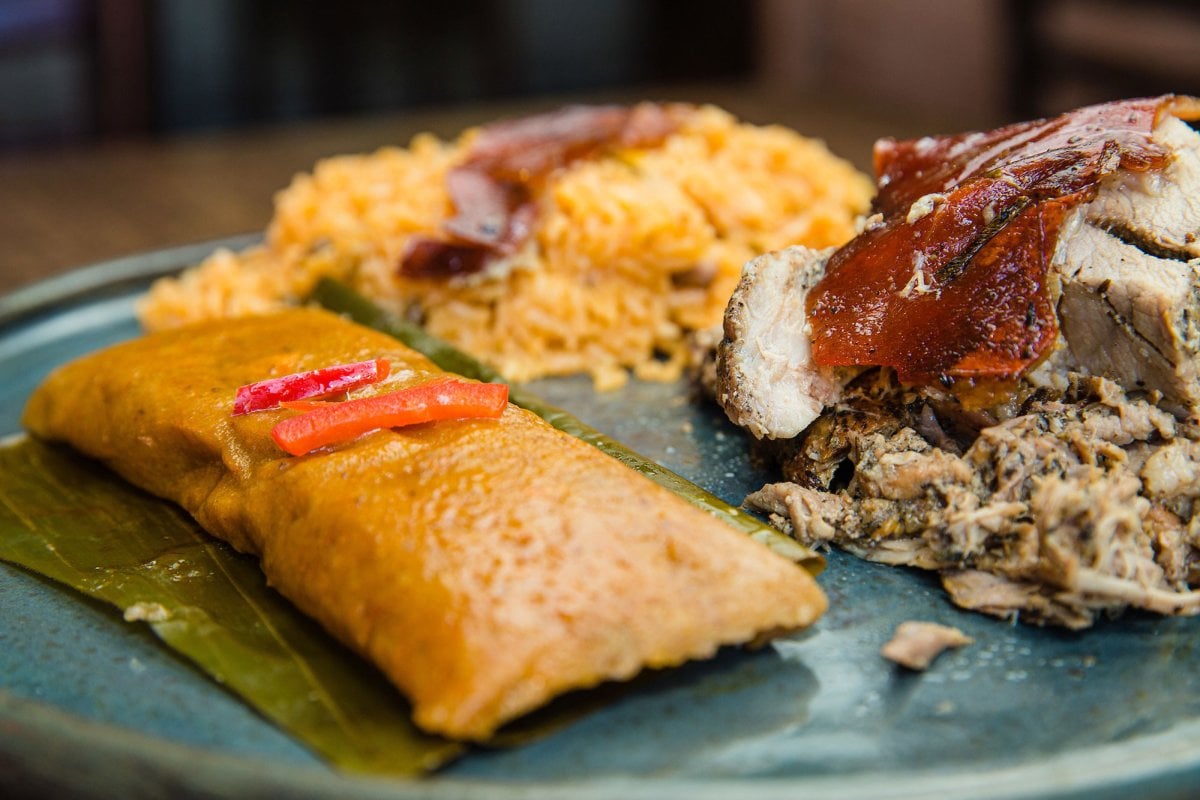 Asere Cubano Kitchen and Bar
180 Calle dos Hermanos
Around the corner is a two-story building called Asere Cubano Kitchen and Bar. The first floor is an elegant Cuban/Puerto Rican restaurant and the second floor is a cocktail bar called La Carnicería with a terrace overlooking La Placita.
La Alcapurria Quemá
251 Calle Duffaut
Just a block away you'll find La Alcapurria Quemá, a casual eatery serving fritters like alcapurrias and pastelillos, as well as heartier dishes like mofongo, carne frita (fried pork), serenata (salted cod with root vegetables), and other traditional dishes.
San Juan Smokehouse
255 Calle Orbeta
You'll even find authentic American barbecue at La Placita. San Juan Smokehouse serves up heaping portions of pulled pork, brisket, BBQ chicken, and Memphis-style dry rub ribs smoked in hickory.
More Authentic Puerto Rican Restaurants
As you walk into La Placita itself, you'll come across a number of Puerto Rican restaurants with different specialties. Chicharrón (176 Calle dos Hermanos) is among the most popular for classic Puerto Rican food, while next door La Tasca del Pescador (178 Calle dos Hermanos) offers criollo with an emphasis on fresh seafood and fish. Boronía En La Placita (100 Calle San Rafael) also specializes in criollo food and has live music several days a week including local jazz artists and acoustic duos
Must-Visit Bars in La Placita
Searching for a night out with unique cocktails, fine whiskey, or local craft beers? The La Placita nightlife district extends for blocks around the main market building, but here are a few can't-miss bars to put on your list.
La Penúltima
1359 Av. de la Constitución
As you enter Calle Canals from Ponce de León Avenue, on the corner you'll spot an orange house with a yard full of communal tables. This is La Penúltima, a cocktail bar also serving creative bar food. Keep an eye out for their pop-up events where they bring in guest bartenders and chefs preparing one-night-only food and drink specials.
Jungle Bird
254 Calle Canals
Keep going down Canals to Jungle Bird, a tiki bar established by the same partners that opened La Factoría in Old San Juan. The menu is divided into tiki-inspired and tropical cocktails, with some zero-proof options as well. The wildly colorful and eclectic decor reflects this mash-up beautifully. Don't miss the Asian-Puerto Rican bar bites by Chef Paxx Caraballo.
More Bars in La Placita
You can enjoy a cigar with aged rum or single-malt scotch neat at Don Rey Cigar (1348 C. Roberts). On the square, El Deportivo (Plaza Del Mercado de, 205) has local craft beers, and El Coco de Luis (1348 Calle José M. Raffucci Morales) offers tropical cocktails and a great whiskey selection (try one mixed with coconut water). There are also numerous casual bars serving cold Medalla beer and standard mixed drinks all around La Placita. Find one playing the music you like and head into that one.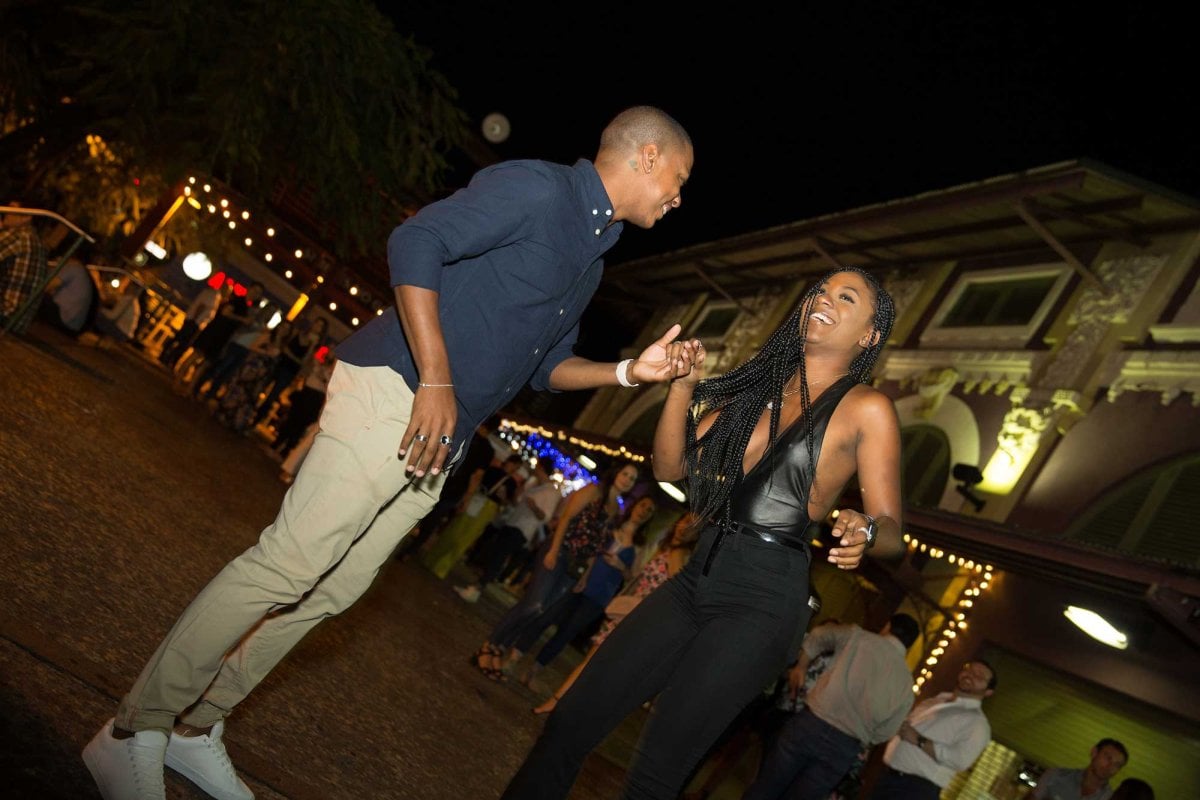 Nightlife and Salsa Dancing
La Placita is across the board one of the best places to go dancing in San Juan.
There are a few clubs, like Mijani The Club (256 Calle Dos Hermanos) with a house DJ, live salsa on Thursdays, and all-night happy hour. There's also Club Vibra (251 Calle Duffaut) which hosts all-night parties blasting reggaetón music, while also serving as a sports bar and hookah bar.
Most chinchorros, like Santurce Café, Trifongo Taíno, Taberna Los Vázquez, Garabatos, Aguardiente, La Bodeguita del Medio, and others, will have live bands or DJs several nights per week, and every night will play lively salsa, merengue, hip hop, or reggaetón music for people to dance to. These are typically small locales, so most of the dancing happens in the street, transforming La Placita into a giant block party.
Getting To & Around La Placita
La Placita de Santurce is about a 10-minute drive from Old San Juan and about 7 minutes from the Convention Center/El Distrito T-Mobile district. Because parking can be difficult in this popular nightlife area – and because you'll likely be sipping a cocktail or two – it is recommended you take a taxi or rideshare to La Placita. Be sure to tell your driver the restaurant or bar name you're going to – or, if you just want to bar-hop and have no specific destination in mind, ask the driver to drop you at La Plaza del Mercado de Santurce, which is the main market area and hub of nightlife. 
When Do Bars Open and Close in La Placita?
If you like late-night, you'll love La Placita! Opening and closing times at bars and clubs in La Placita vary, but many bars open around 9 or 10 p.m. and stay open until 5 a.m. Bars and clubs are typically open Wednesday or Thursday through Sunday, with most everything being closed on Monday and Tuesday.