Bring the taste of Navidad into your home. 
If you spend the Holiday Season in Puerto Rico, you'll notice that the menu is pretty similar across the Island: arroz con gandules and pernil with a variety of side dishes and desserts. It is such a staple during Christmas that even songs have become popular with the lyrics belting out the menú de Navidad. 
Even if you can't make it to the heart and soul of the Caribbean for winter, which will feel like an extended summer, you can still bring the flavors and aromas of a Puerto Rican feast right into your home. So, grab your apron and follow along with these amazing holiday recipes.
Learn More About Puerto Rico's Celebrations
How to Make a Puerto Rican Holiday Feast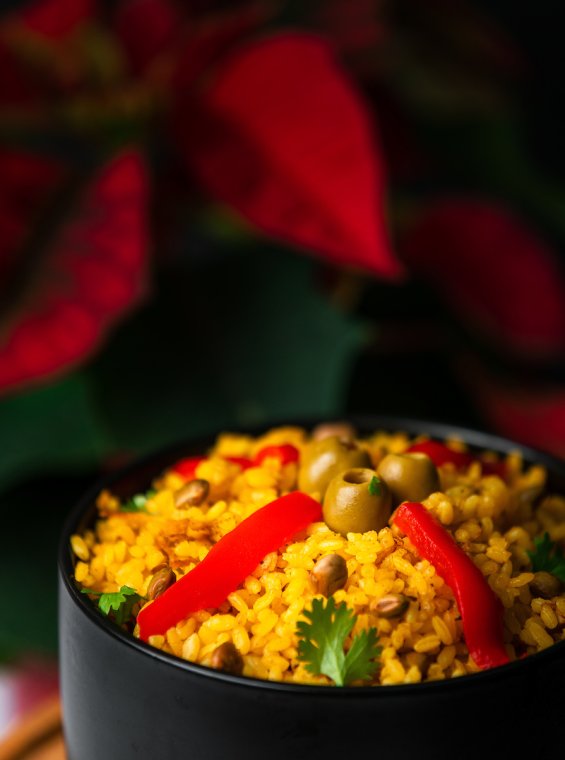 Arroz con gandules
The main event on your Puerto Rican Holiday plate will be arroz con gandules, a staple across the Island. Although it is consumed year-round, nothing screams Navidad louder than rice with pigeon peas.
There are many ways to prepare this dish; here's a simple version for first-timers:
Ingredients:
2 cups of medium or long white rice, rinsed
2 cups of water (1:1 to the amount of rice)
2 tablespoons of extra virgin olive oil
2 heaping tablespoons of sofrito 
½ cup country ham, cubed (you can make the dish vegan by skipping this ingredient)
2 tablespoons of sliced stuffed olives
1 jarred roasted red pepper, thinly sliced or chopped
1 large can (13 ounces) of pigeon peas
2 packets of sazón con achiote
Salt or adobo to taste
Fresh or thawed frozen banana leaves, washed and wiped for steaming (optional)
In a large pot or caldero, heat oil and sauté the sofrito stirring until sofrito is fragrant. Add the sazón, ham, peppers, and olives. Let it simmer for a minute or two until it browns a little. Stir in the pigeon peas and add the water. Taste and readjust seasonings, adding salt or adobo a little at a time. The broth should be heavily seasoned and on the salty side. Bring to a rapid boil, then add rice and stir. You may need to add more water to ensure rice is covered completely. Reduce heat to a soft boil or medium heat and let most of the liquid absorb and evaporate without covering the pot.
If you opted for using the banana leaves, cover the rice with them, and set the lid. If not, just cover the pot with a lid and cook on low heat for 22-25 minutes. Next, remove the lid, open the banana leaves, and gently fold the rice onto itself from the outside to form a mound in the center of the pot. It's ok if some rice burns at the bottom of the pot; that makes for great pegao. To serve, spoon rice atop a platter and garnish with remaining sliced roasted peppers.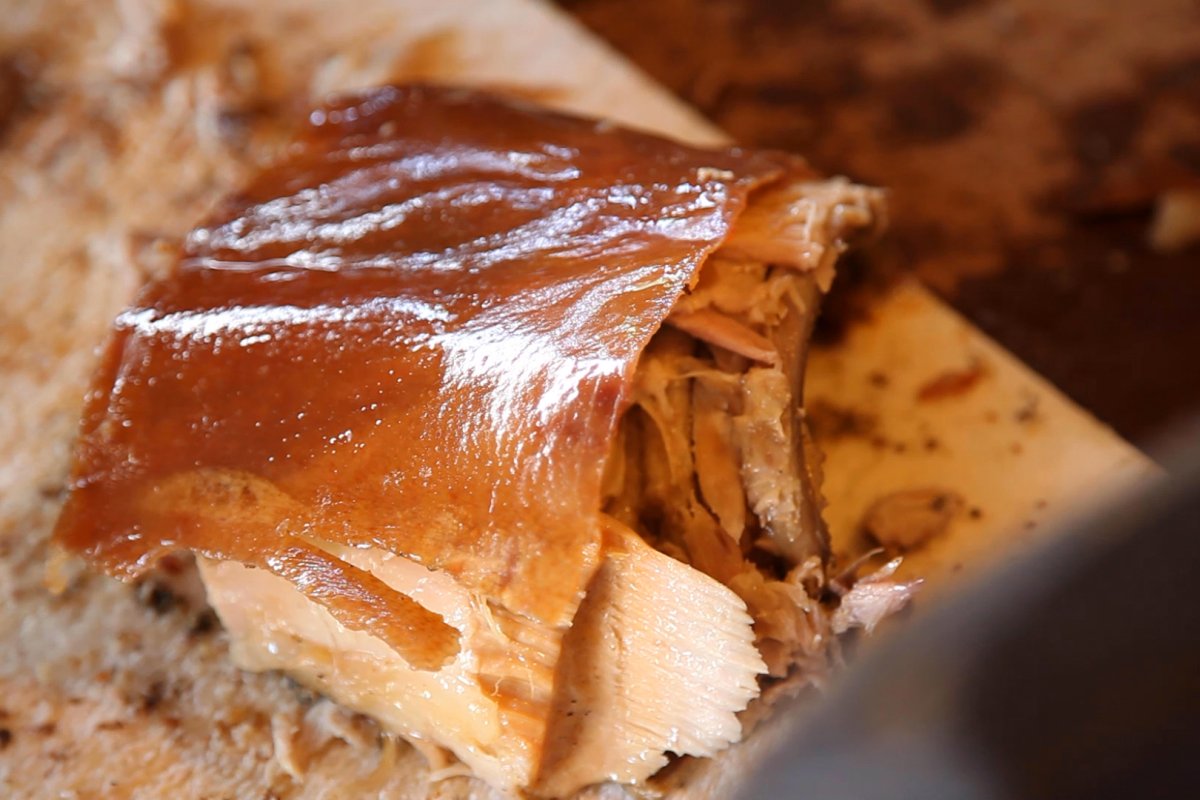 Pernil asado
Forget turkey or ham! Bring Guavate home this holiday when you surprise your family with a Puerto Rican gastronomic heritage and legacy: some roasted pork. Even though it was the Spaniards who brought pigs to the Island for the first time, they learned the technique of slow cooking it in the smoke of an open fire that we use nowadays from the Taínos. Lechón is the whole pig, while pernil refers to a leg or shoulder of the animal you can cook to perfection in your oven. Be patient; it takes a while! 
Ingredients: 
For the adobo (marinade) 
1 tablespoon peppercorns, crushed
1 tablespoon of oregano
4 cloves garlic, pressed
1 lime, squeezed (optional)
½ cup olive oil
Salt
For the meat:
8 lb. pork leg or shoulder (whole, with bone)
2 tablespoons of marinade
2 tablespoons garlic powder
7 garlic cloves
2 tablespoons of salt
Mix all the ingredients for the marinade in a blender and set aside. Place the pork shoulder or leg in a baking dish that can be refrigerated. Mix the garlic powder with the salt and season the pork. Add the garlic cloves on top of the meat and let it marinate for about three hours in the refrigerator. Using a sharp knife, remove the meat's fat by letting it stand on one edge and keeping it in one piece. Make deep cuts all over the meat and season with the marinade, ensuring it penetrates well into all the cuts. Put the fat on the meat to look the same as before cutting and sprinkle with salt. Cover the meat and let it marinate overnight (8 to 12 hours) in the fridge. Preheat the oven to 400°F as you allow the pork to come back to room temperature and place it in a deep dish with the fat side up. Bake for an hour and reduce the temperature to 300°F and cook covered for another three hours, then uncover and cook for an additional hour. Cooking time should add up to five hours. To make sure the meat is done, stick a fork and check if it falls from the bone. If the cuerito (the fat on top) is not crisp enough, cook for an additional 15 minutes or until crisp. To serve, let it rest for about 20-30 minutes and remove the cuerito before cutting. You can cut the cuerito and sprinkle it on the meat before serving or set it on the side.
Note: If using a meat thermometer, the pernil will be ready at 185° in the center.
Guineítos en escabeche
Have you ever tried pickled green bananas? Yes, you read that right. An escabeche refers to a food marinated in an acidic (usually white vinegar) mixture. This Puerto Rican delicacy tastes fantastic, and it pairs perfectly with some roasted pork.
Ingredients
2 pounds (about 10) of unripe, green bananas (the greener, the better)
2 large onions sliced into thin rings or chopped
½ cup of white vinegar (can be substituted for apple cider vinegar)
4 garlic cloves, crushed
8-10 Spanish olives (optional)
½ teaspoon of salt
½ teaspoon whole black peppercorns
3 -4 bay leaves
1 cup of olive oil
*Additional salt and pepper to taste
Cut the unripe banana tips and add them to your large pot with the skin still on. Add water to slightly covering the bananas. Add 1 to 2 tablespoons of salt and 2 teaspoons of oil to make them peel easier. Boil the bananas for approximately 20 minutes on medium-low heat. If you boil them too long, they will come apart. While the bananas cook, prepare the escabeche by heating a large size saucepan to medium heat. Pour in some olive oil for sautéing and add the rest of the ingredients. Stir them well and place on medium heat until the mixture gets hot. Then reduce the heat to low and let it simmer for approximately one hour. Peel off the skins of the bananas and cut them into 1-inch size rounds. Place them in a bowl and add the escabeche sauce. Stir and mix well. You can serve the guineítos hot or cold.
Holiday Traditions in Puerto Rico
Guanimes or Guanimos
Before pasteles there were guanimes, a corn-based patty that is representative of our Taíno heritage during Christmas. Guanimes can be traced back to the pre-Columbian and it's a common dish in Latin American culture, even though is called by other names, such as hallacas. They can be both sweet and savory, and they taste amazing! 
Ingredients: 
1 pound of yellow cornmeal
¼ cup of all-purpose flour
2 cups of milk
2 cinnamon sticks
1 teaspoon of salt
3 quarts of salted water
8-10 banana leaves or parchment paper
Butcher's twine (for wrapping)
Combine the dry ingredients in a large bowl. In a large saucepan, pour the milk, salt, and cinnamon sticks and bring to a boil. Remove the cinnamon sticks and add the milk slowly to the dry ingredients. Mix until the liquid is absorbed. Now, cut the plantain leaves in pieces so you can wrap about 1/4 cup of the mix in each square (approximately 8x8 inches). Place the mixture in the center of a leaf and fold up the sides and ends and tie with butcher's twine. In a large pot, bring the salted water to a boil, add the guanimes. Bring the heat down and let them cook for about an hour. To serve, simply unwrap the guanimes and place them on a plate.
Tembleque
Tembleque, which comes from the word "temblar" which means to shake or tremble, is a custard-like coconut dessert that will sweeten your festive feast. Although there are many variants of it across Latin America, this recipe originated in Puerto Rico and is now the crown jewel of the Island's holiday season.  
Ingredients: 
2 cans of coconut milk
¾ cups of sugar
¼ teaspoon of kosher salt
½ cup of cornstarch
1 pinch of ground cinnamon (for garnish)
Toasted coconut (for garnish)
In a saucepan, combine the coconut milk, sugar, cornstarch, and salt over medium heat, stirring to dissolve the cornstarch. Stir frequently and cook until the mixture comes to a boil, for about 5 minutes or until it thickens smoothly. Pour into 4 oz molds and cover with plastic wrap. Refrigerate until the custard becomes firm, for at least 4 hours. To serve, run a thin knife around the edge of the mold and place on a plate. Top it off with the toasted coconut and cinnamon, if desired. Pair it with a shot of coquito for an explosion of sweetness.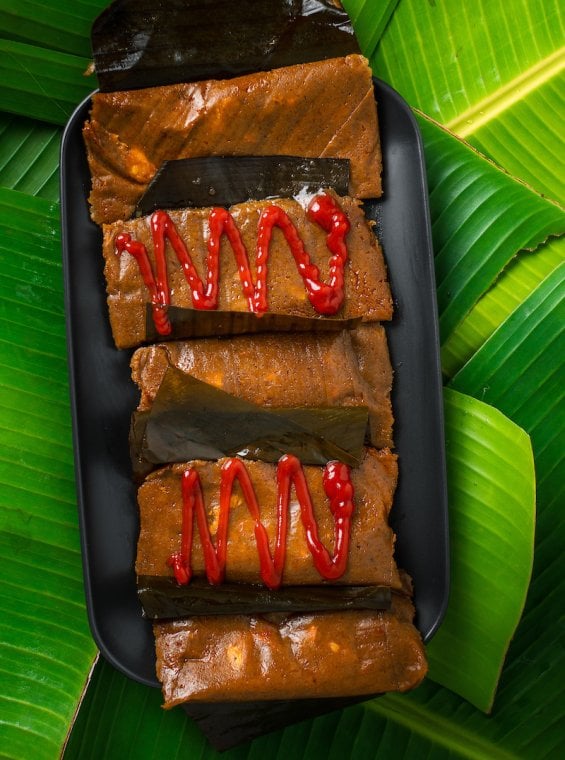 Pasteles 
Who doesn't like a Christmas gift in the form of food? Made from root vegetables and plantains, filled with delicious meat, this savory cake is folded like a present inside a banana leaf. They are a staple of our holiday cuisine and the direct result of the fusion of cultures and flavors of our Taíno, Spanish and African ancestors. Making them is often a holiday family event because it requires many hands and a lot of time. So gather your troops and make an assembly line to prepare pasteles. There is a lifelong debate whether pasteles should be eaten with or without ketchup... but only you can decide which side you are on! 
Ingredients for the dough: 
2 lbs. ground yautia 
1 lb. ground cassava 
1/2 lb. ground green banana 
1/2 lb. ground pumpkin 
2 tbsp. of salt 
1 tbsp. Achiote (annatto) oil 
Banana leaves cut into 2' x 2' 
Parchment paper to wrap the pasteles  
Thread to tie 
Ingredients for the meat: 
2 1/2 lbs. pork cut into small squares 
1 tbsp. of adobo 
1/4 cup of sofrito 
2 tbsp. achiote (annatto) oil 
2 tbsp. crushed garlic 
1 tsp. dried oregano 
2 1/2 cups chicken broth 
1/4 cup sliced ​​stuffed olives 
1/4 cup tomato sauce 
Procedure: For the meat, combine all the ingredients and boil for an hour until the meat is soft. Ground the yautia, cassava and green banana together to form a dough. To form the pastel, place the parchment paper and on it, the banana leaf. Pour in a tablespoon of achiote oil in the center of the sheet, half a cup of dough, and 1/4 cup of the meat. Fold the edges of the paper and wrap it several times to form a rectangle. Tie with thread and boil for an hour in water with a pinch of salt.