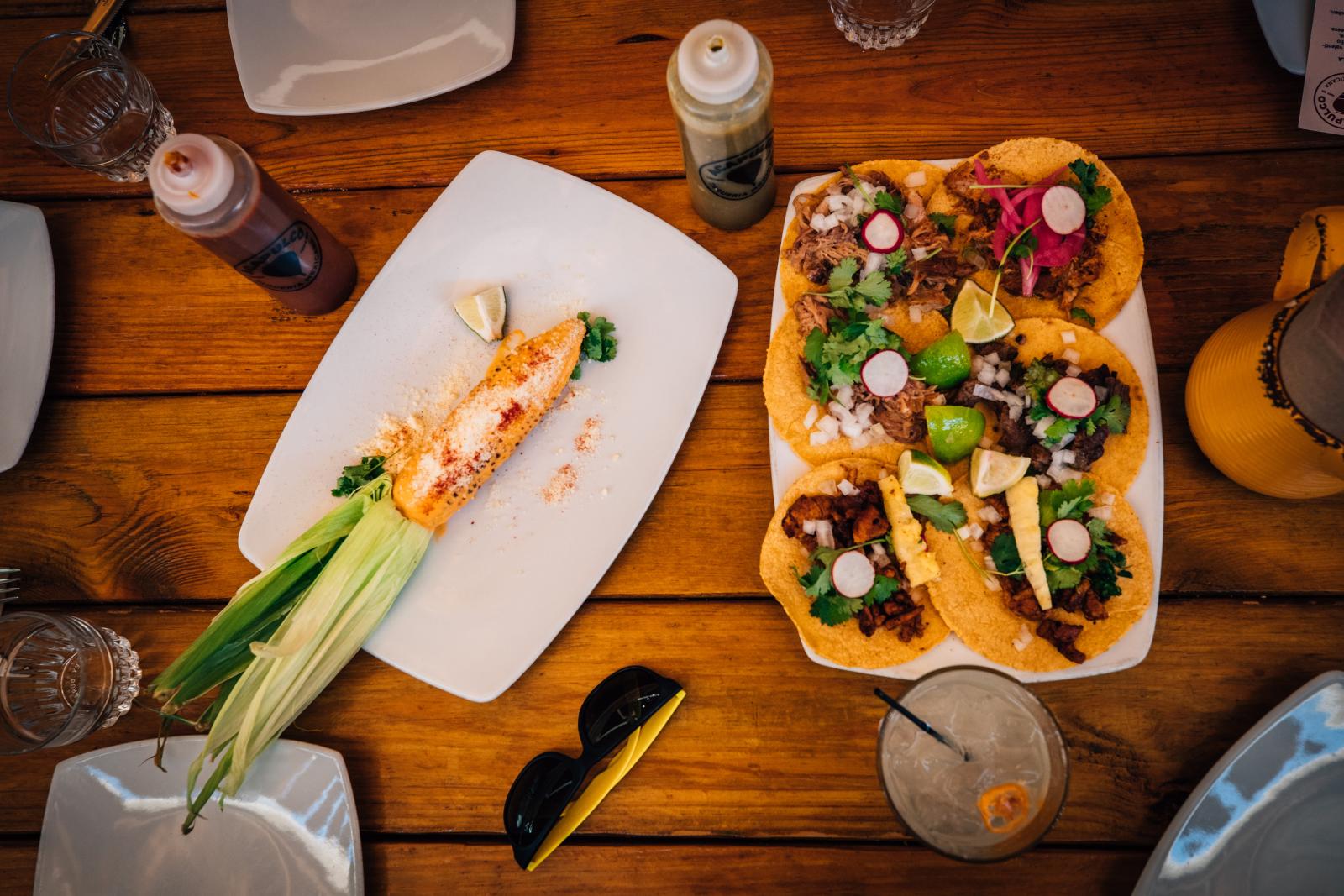 Where to Eat in Calle Loíza
Calle Loíza is a street that offers the opportunity for great dining at any time of the day.
Over the last few years, this former Dominican neighborhood has undergone a process of transformation into one of the top gastronomic destinations in San Juan. What makes it stand out is the sheer diversity and abundance of cuisines and styles of restaurant, spanning from classic Puerto Rican comida criolla to an authentic Mexican taquería to Korean BBQ to creative mac and cheese and much more.
The following list is just the tip of the iceberg of what's on offer along Calle Loíza, so your best bet is to go explore for yourself.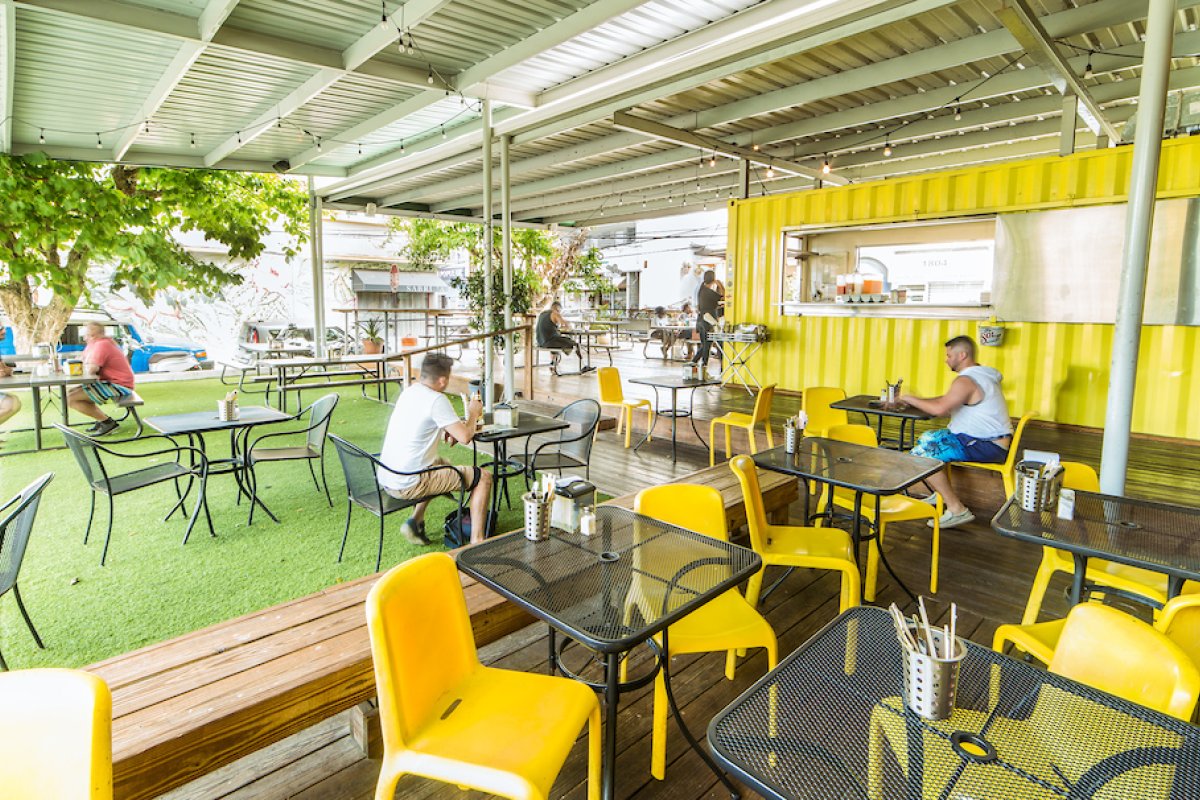 The Classics
Certain restaurants were the first to offer something radically different from the traditional lunch cafeterias and dive bars, ushering in a new era for Calle Loíza.
Café Tresbé is a shipping container turned open-air restaurant, with a wooden deck and communal tables, serving everything from sliders to tacos to sushi. The name is in reference to the three Bs everyone looks for in a restaurant: bueno, bonito, y barato (good, pretty, and cheap) and Café Tresbé fits the bill. The owner also opened Sabrina Brunch and Bistro Bar across the street and coffee shop Café con Cé.
For great Mexican food visit Acapulco Taquería Mexicana, where their corn tortillas are made fresh daily, the tacos al pastor and carnitas are perfection, and the margaritas are cold and refreshing. If you're looking for Tex-Mex head down to Panuchos or if you're a tequila and mezcal aficionado stop by Caravela Mexican Restaurant and Cantina.
Most of the pizzerias in this area are Argentinean and Italian hybrids. Si No Corro Me Pizza serves authentic Neapolitan rustic pizza as well as homemade pasta and risottos. Piola serves up its Argentinean side more explicitly, even naming each of their pizzas after barrios in Buenos Aires. Suddenly in the mood for Argentinean food? Next door is a bodegón argentino called El Viejo Almacén where you can indulge in a milanesa (the equivalent of a chicken parmigiana) topped with your choice of cheese, homemade pasta, or, of course, steak.
Another pizza place that does something slightly different is Loíza 2050, possibly one of the oldest restaurants on Calle Loíza, having been founded in 1986. They have a limited pizza menu which you can order on regular or coconut crust. Their craft beer and whisky selection is also extensive but be warned the place is very cozy.
The other restaurant that seems to have been on Calle Loíza forever is Fleria Greek Restaurant, serving traditional Greek food, wines, and liquors sourced straight from the old country.
Need a vegetarian option? Cocobana is a colorful vegan and vegetarian restaurant with daily lunch specials and fresh-pressed juices and smoothies made with local fruits and vegetables.
But maybe you're thinking, I came all this way to Puerto Rico and I want some really good rice and beans, bistec encebollado, and mofongo. Molinis Café has you covered. For the Dominican equivalent, Bebo's Café is an old standby. If you love seafood and want a Puerto Rican take on it, then Cueva del Mar is a great option which also has daily criollo specials.
Now for dessert. Double Cake is an independent bakery, specializing in cupcakes, pastries, and made-to-order cakes. For a healthier but just as delicious option, cupcake shop Fairy Cakes uses organic and natural ingredients and has both vegan and gluten-free options.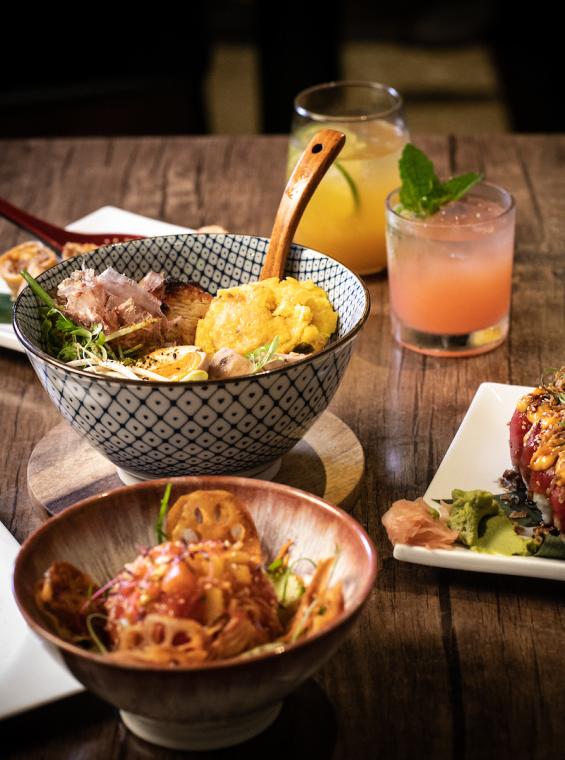 New Favorites
Alternatively, if you're an adventurous foodie, then Calle Loíza will also provide some interesting options for you to choose from. Mac'n Cheese specializes in, you guessed it, macaroni and cheese, loaded with toppings, smothered in cheese sauce, and finished in the oven. Next to it is Ujeong Korean BBQ, one of the few (possibly the only) Korean barbecue restaurants on the island. A few doors down is Shibo, an elegant restaurant fusing Latin and Asian flavors.
For a more American experience, head to Dude's Diner where the brunch menu features over-the-top items like chicken and waffles and the "Breakfast of Champions", buttermilk pancakes stuffed with eggs and bacon, served like tacos. If you want a great burger, then visit Burger and Mayo Lab where you can choose your meat, topping, and mayonnaise flavor. But if you're a fan of hot dogs, Prros Locos selection includes kosher beef frank, polish sausage, local longaniza sausage, or veggie italian or veggie frankfurt heaped with toppings like corned beef chili and sweet plantains. In the evenings, the same locale becomes Trigo Art Studio, offering wine and paint classes.
If you're looking for bars serving great drinks and bar food, they have those on Calle Loíza, too. El Tap is a craft beer bar that serves exclusively beers, wines, and sangria on tap and has a gourmet bar menu. One of the newest additions to Calle Loíza is Bottega, a wine bar where you can also get craft cocktails and decadent tapas.
And, believe it or not, there's still more to discover as new restaurants, bars, clubs, boutique shops, and more keep opening almost every month.