Get to know the Island through its cuisine.
Discover what makes Puerto Rico one of the Caribbean's premier culinary destinations.
Food is an integral part of Puerto Rican identity. It's the centerpiece of most celebrations, brings family and friends together, and is the ultimate expression of love. Traditional criollo cuisine reflects the Island's cultural and historical heritage. As the modern food scene evolves, it also reflects the changes in modern Puerto Rican society. With this itinerary, you'll use food and drinks as a road map to explore the Island.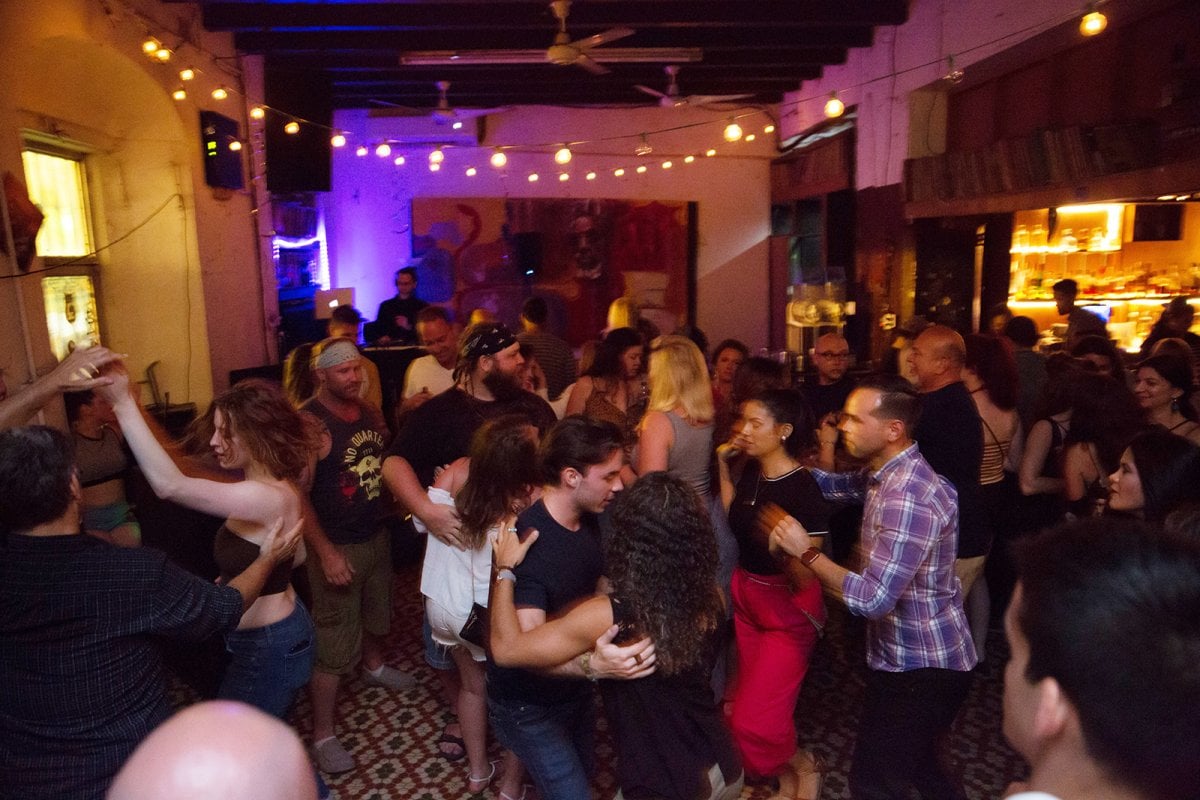 Day 1: Old San Juan Food Tour and Bar Hop
One of the best ways to get a crash course on Puerto Rican cuisine and explore Old San Juan at the same time is to take a food tour. A local guide takes you on a walk around the old city, stopping at different coffee shops, restaurants, and stores to sample local dishes while visiting key landmarks and covering the history and culture around them. Tour companies, including Flavors of San Juan, Spoon, and Get Shopped, offer morning and afternoon tours and evening cocktail tours. Be sure to ask the tour guide for recommendations of where to go after; they usually have great tips!
If you're still hungry, enjoy dinner at one of Old San Juan's gorgeous restaurants, offering both outstanding food and a great ambiance. Princesa Gastrobar on Paseo de la Princesa is great for large groups. Bari Handcrafted Pizza's dining room is a picturesque courtyard where they serve Argentinean-style pizzas and mofongo and other Puerto Rican dishes. Reserve a table at Carli's Fine Bistro and Piano for live jazz and fine dining
After dinner, explore Old San Juan's bar scene. Local favorites include La Factoría, voted one of the top 50 bars globally; La Cubanita, The Mezzanine, and Al Fresco Wine Bar, all in the same building; and La Taberna Lúpulo, featuring the largest selection of craft beer in the Caribbean. You can also go bar hopping along Calle San Sebastián, where you'll find many exciting dive bars with great deals and even better music.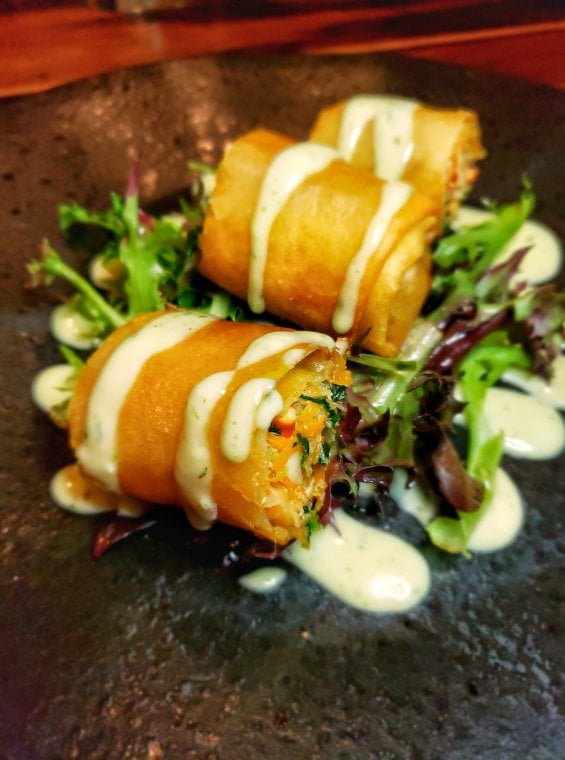 Day 2: Santurce Art and Food Crawl
Start your day at Café con Cé on Calle Loíza, where you can enjoy an expertly brewed cup of coffee with locally baked cookies and other pastries on the side. If it's the weekend, you may want to opt for nearby Musa or Tostado, sit-down restaurants offering creative brunch plates and cocktails. 
After breakfast, take a stroll along the blocks surrounding Calle Cerra and enjoy the many impressive murals created by local and international artists as part of the yearly urban art festival Santurce es Ley. From there, it's a 10-minute walk to the Museo de Arte y Diseño de Miramar (MADMi), just look for the large pink house. The interactive exhibits focus on contemporary art and design, decorative arts, and modern Caribbean architecture.
Across the street is La Hacienda Meat Center, where you can browse the selection of fine foods (especially good if you're planning to cook) or enjoy an expertly prepared latte from the in-store Hacienda San Pedro coffee kiosk. They also offer a daily lunch menu, salads, prepared foods to go, desserts, and wines by the bottle or glass that you can sip on the terrace.
If you decide to stay in Miramar and you're looking for great dining, there's a fantastic selection of restaurants all within a few blocks of each other on Ponce De León Avenue. Some of these are  Rare 125, Melanzana, Pizza e Birra, Puebla, Jamón Jamón, Innato, Pure, Gustos Café, and Comedor and Ariel Restaurant, both in the Courtyard by Mariott hotel. If you're having a late lunch or an early dinner, afterward you can catch a movie at Fine Arts Cinema or a concert at the Conservatorio de Música de Puerto Rico.
If you'd like to explore more museums, head further into Santurce, where you'll find the Museo de Arte Contemporáneo (MAC) and the Museo de Arte de Puerto Rico (MAPR).
Once the sun goes down, head over to La Placita de Santurce, a hub of restaurants, bars, and clubs where locals and tourists come to eat, drink, and dance. Choose from local restaurants serving traditional cuisine such as Chicharrón or La Tasca del Pescador, international cuisine like Thai food at Mai Pen Rai or American barbecue at San Juan Smokehouse, or Puerto Rican and Cuban-inspired fine dining at restaurants like Santaella or Asere Cubano Kitchen, both of which also have great cocktail bars. Several parking lots are available around La Placita, but taking an Uber tends to be the easiest option.
Another great dinner option is Prole Cocina & Barra. Chef José Esteban Rivero fusions international techniques and cuisine to create seasonal menus that showcase fresh ingredients at this contemporary restaurant and social bar.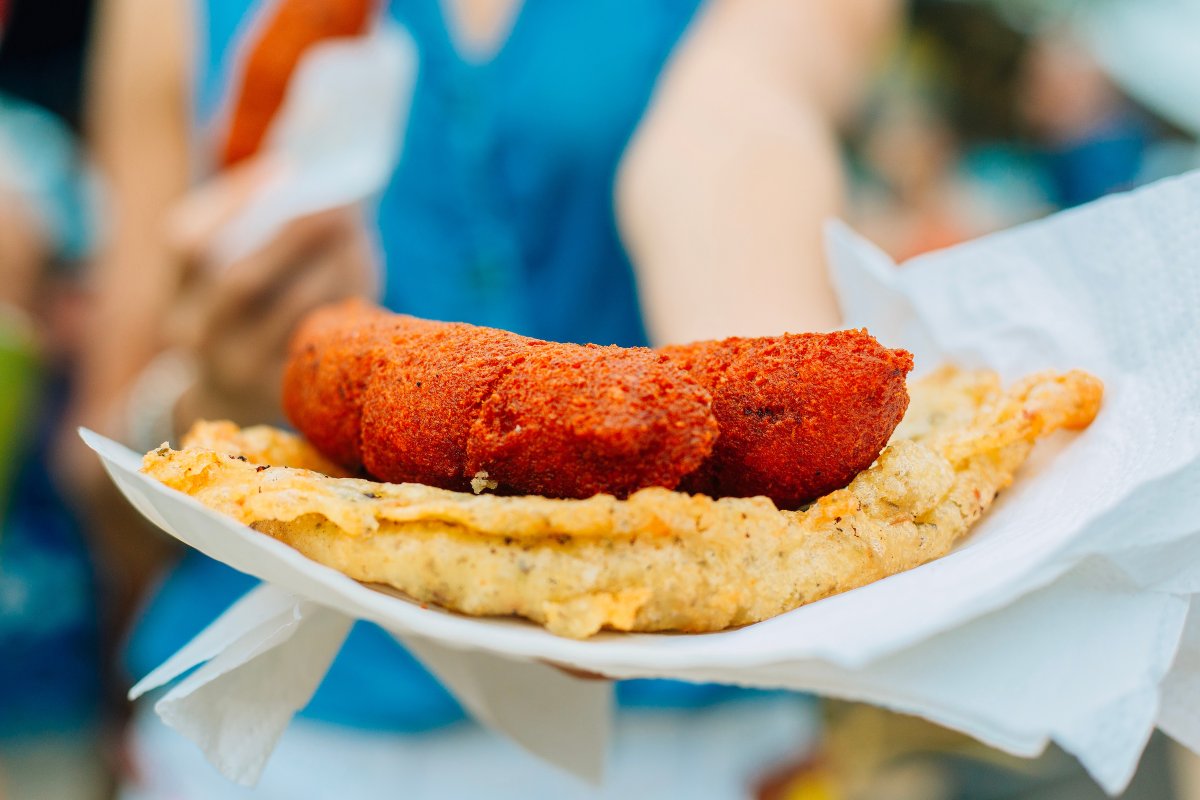 Day 3: Coastal Road Trip - Piñones to La Croabas
Head out of the metro area for a road trip along the northeastern coast of Puerto Rico, where you'll enjoy fried food, beaches, and many worthwhile detours.
Start in the Piñones neighborhood of the town of Loíza, where you'll find several miles of open-air restaurants serving local fritters known as frituras, fresh fruit frappe stands, and a handful of beachfront seafood restaurants. Try the alcapurrias, empanadillas (also known as pastelillos), and arepas which can be stuffed with ground beef, chicken, fish, or seafood. Save room for bacalaítos, a fried codfish dough, and piononos, ground beef wrapped in sweet plantain.
At Aviones beach, you can enjoy a swim in a naturally occurring tide pool if you feel like exercising, rent bikes, or walk along the boardwalk through the Piñones State Forest.
Continue on your journey to the town of Luquillo. On the way, you can take a detour to El Yunque rainforest for photos at the Yokahú Tower and La Coca Waterfall or plan a hike. Otherwise, continue down the highway to the Luquillo Kiosks, conveniently located next to one of the most beautiful beaches on the Island, Balneario La Monserrate (also known as Luquillo Beach). Many of the kiosks serve frituras and some Puerto Rican food, but there's also a wide variety of restaurants. Need a break from eating and drinking? Book an ATV or horseback riding tour at nearby Carabalí Rainforest Adventure Park.
From Luquillo, head to neighboring Fajardo, where you can visit Seven Seas beach or go straight to the third stop on the food road trip: La Croabas. Since this is a fishing community, the frituras will be more seafood-centric. Arepas stuffed with stewed crab meat or octopus are a specialty. Las Croabas is also where kayak tours for the bioluminescent bay depart. Once the sun sets, groups kayak into the mangroves leading to the Laguna Grande, where the water glows in the dark.
Still hungry? Visit one of the many restaurants in Fajardo, including La Estación, Pasión por el Fogón, Sal y Pimienta, or Cinco Nudos.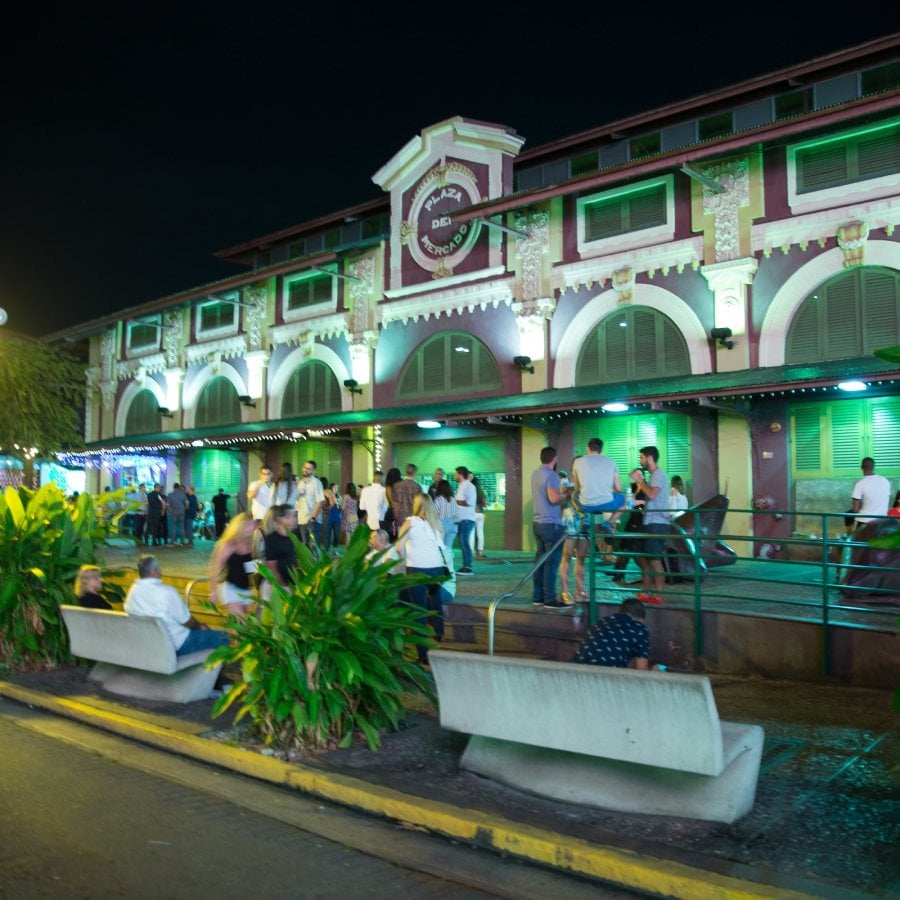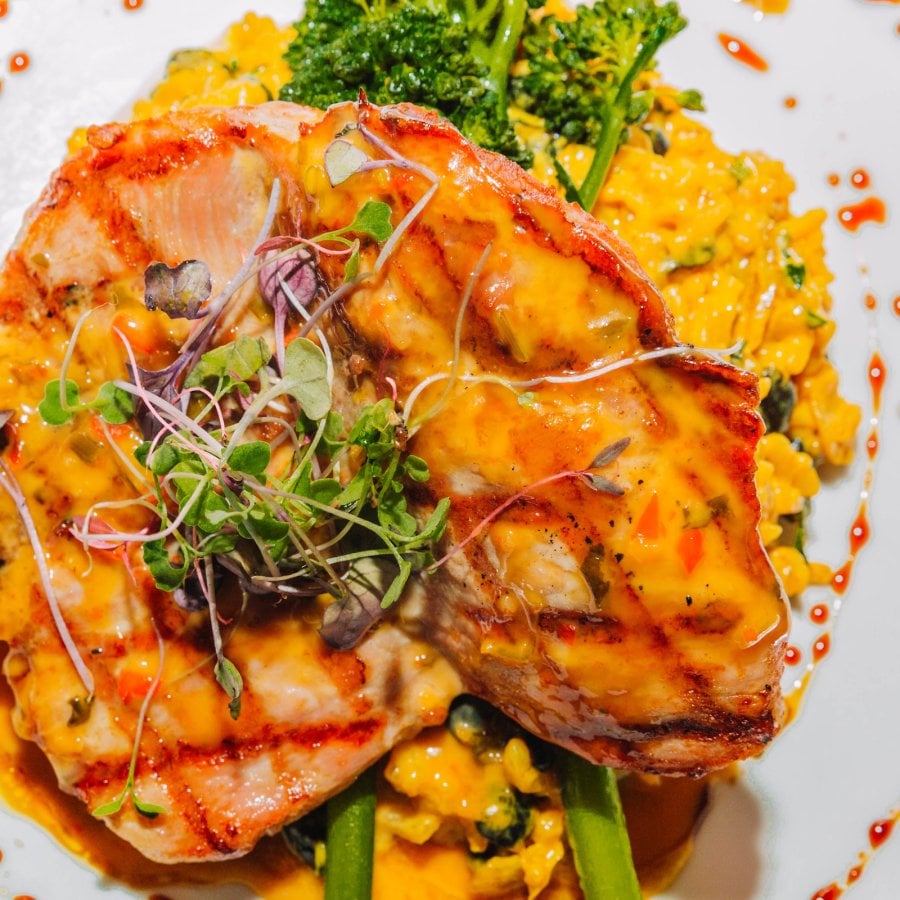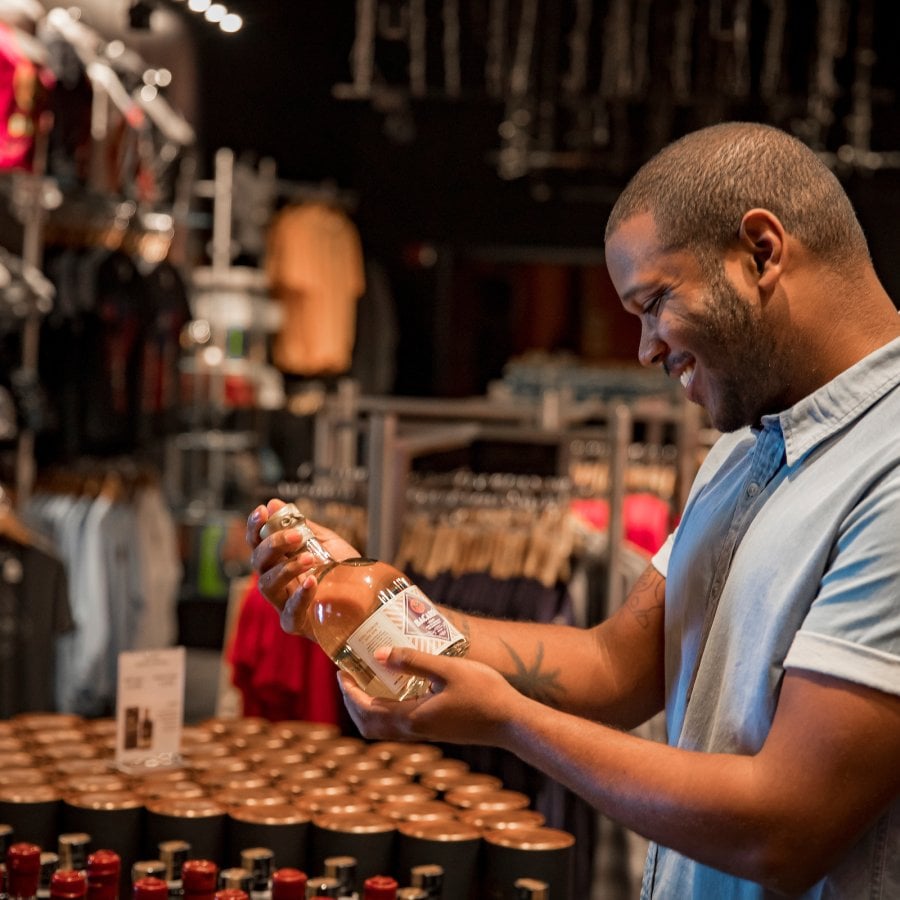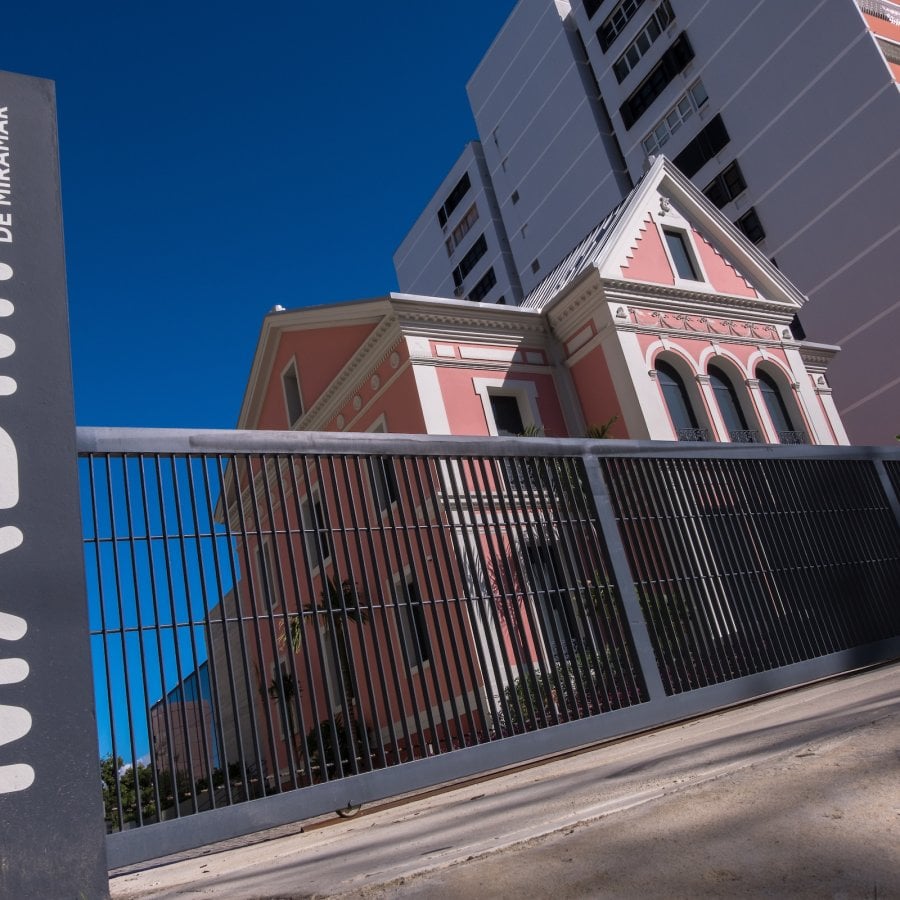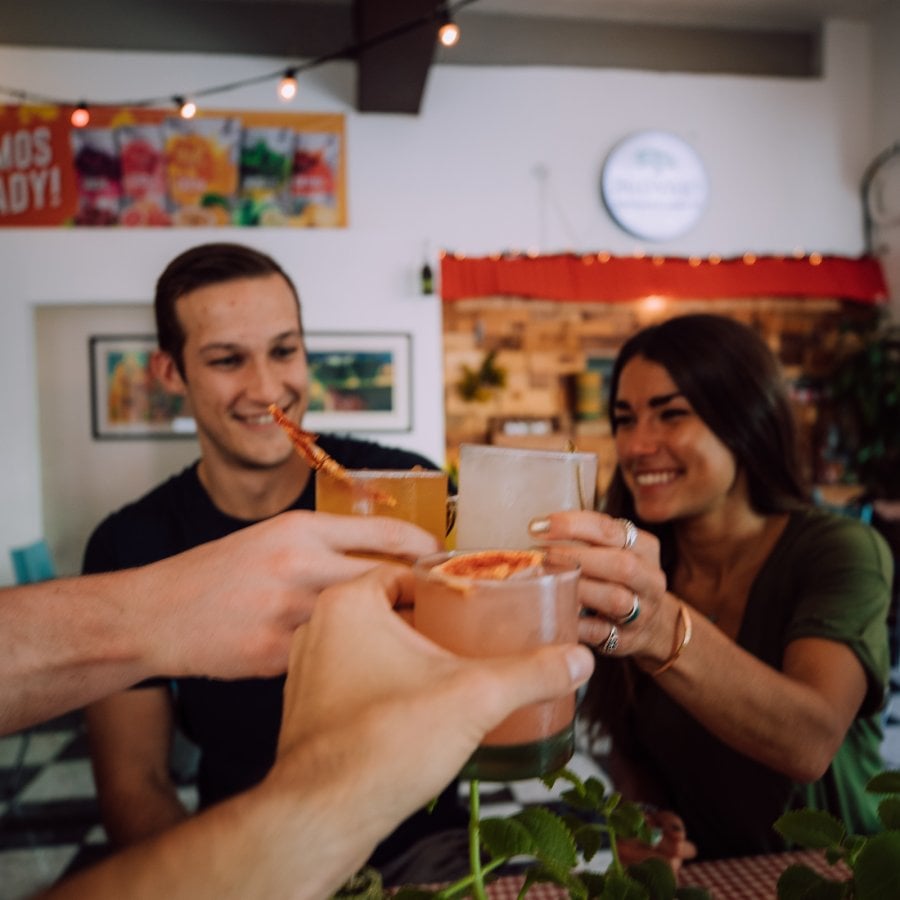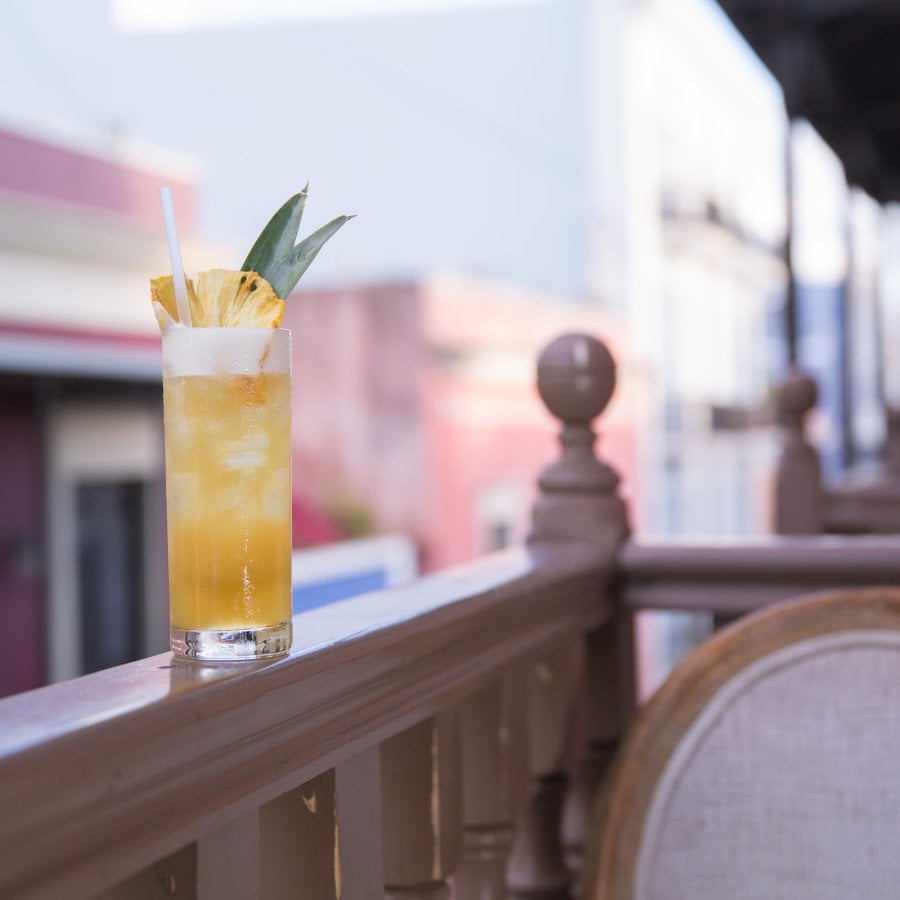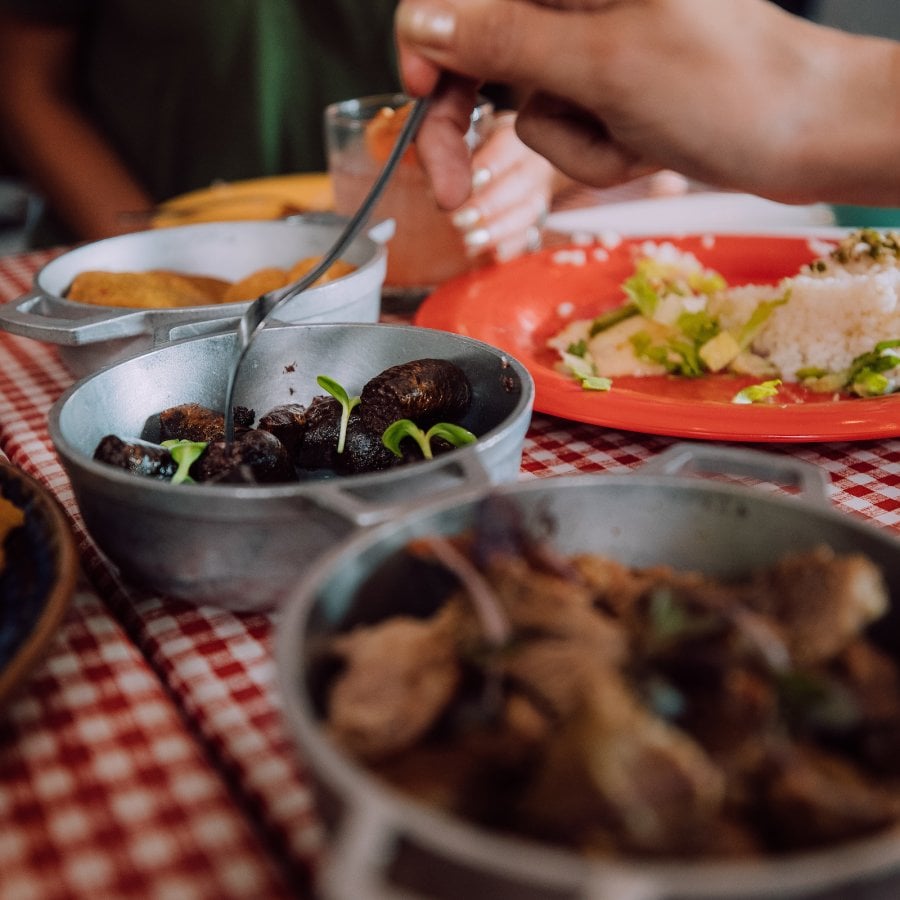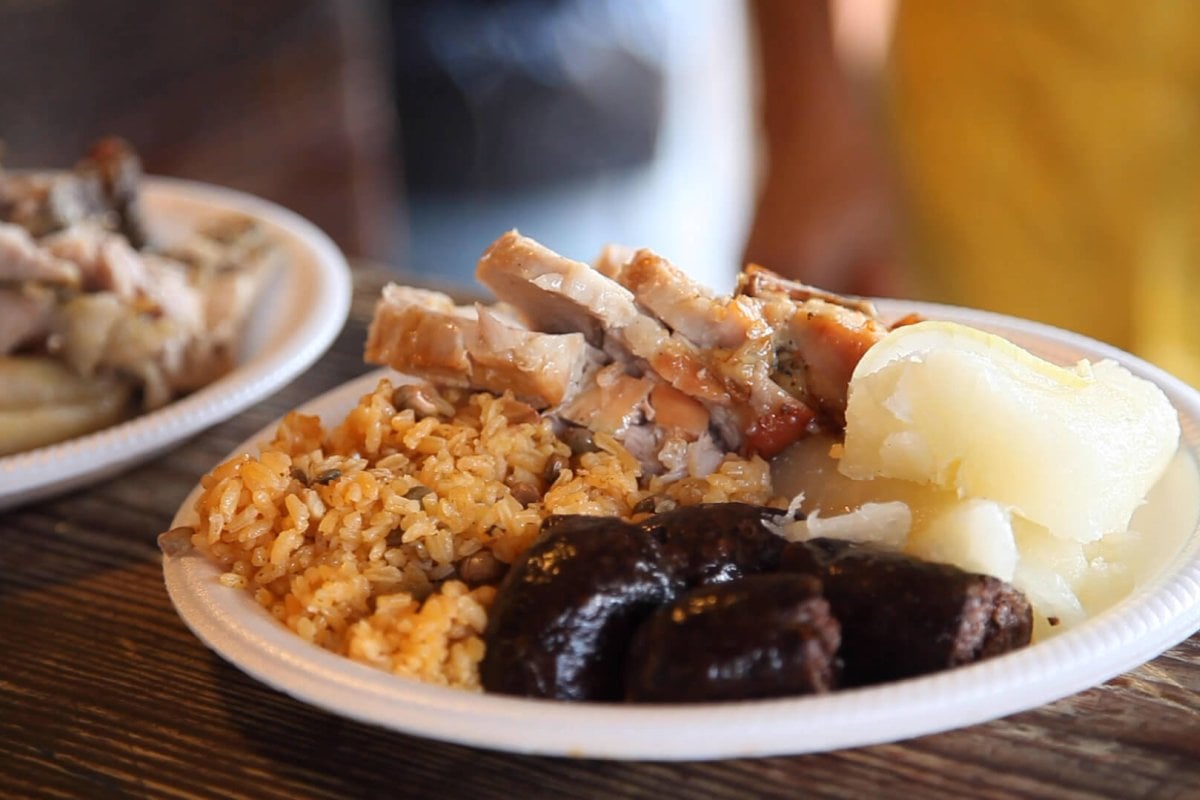 Day 4: Pork or Sausage highway?
One of the most iconic food destinations in Puerto Rico is Guavate in Cayey, also known as the "Pork Highway." Every weekend, hundreds of visitors come to enjoy traditional food, live music, and dancing along Route 184. The area is famous for its lechoneras, open-air, cafeteria-style restaurants serving slow-roasted whole pork — a Puerto Rican culinary legacy, heaping portions of rice and pigeon peas, yuca al mojo, mofongo, and other traditional Puerto Rican dishes.
To make the most of your day in Guavate, arrive before noon, especially on weekends, because traffic becomes gridlocked in the afternoon. Once you get off the highway, the first lechonera is Lechonera Los Amigos. Next door is Café Prieto, a charming coffee shop with a roofed terrace overlooking a stream. Head up the mountain, and you'll immediate come across many other lechoneras like El Mojito, Doctor Lechón, El Rancho Original, Lechonera Los Pinos, El Rancho Nuevo, and more. After your meal, you can get in on the dancing if there's a live band or take a walk around the roadside stands to see if any souvenirs catch your eye.
Another option that will take you along a different pork highway – into the mountains, that is, is la ruta gastronómica de Naranjito (or Naranjito's food trail). The town boasts lakes, rivers, lush mountains… a true oasis. On your way there, you'll find a fantastic array of restaurants and chinchorros, making this town a perfect place for foodies and nature lovers. 
You can start with a cup of coffee and a light breakfast in Calichi Gastro Bar restaurant at Hacienda Entre Ríos, where you can also tour the facilities, relax on the terrace, and spend some time breathing in the fresh air. For lunch, two fabulous restaurants highlight what cuisine in the mountains is all about: meat cuts! 
El Rancho de las Longanizas specializes in smoked longaniza, a Spanish sausage iconic to the central region of the Island (there's even a foodie trail dedicated to this sausage). Or you can opt for making a reservation at Asador San Miguel, where the neighborly-barbecue-style delicious dinner will only be complementary to the astonishing panoramic views of Puerto Rico's mountains and valleys. Finally, on your way down the mountain, you can stop at the Limbo chinchorro to keep your party going with a few beers and fritters. 
In the evening, if you're staying in the metropolitan region or the east coast, stop in Caguas. There you can grab a drink at Ojalá Speakeasy Bar or FOK Brewing, a microbrewery with a taproom and food trucks. And, while in Caguas, be sure to pass by Sangría Los Hermanos for some homemade fruity sangria or by Montadero Chocolates, a bean-to-bar chocolatier perfect for sampling sweet treats. 
Day 5: Visit a Coffee Hacienda
If you love coffee, don't miss the opportunity to visit a working coffee hacienda in the mountains of Puerto Rico. Of course, picking the right one for your trip depends on how far into the Cordillera Central you're willing to drive.
The hacienda closest to the metro area and most easily accessible is Hacienda Muñoz in San Lorenzo. You can take a walking tour of the plantation and learn about coffee production in Puerto Rico. Sample some fresh coffee at the coffee shop or enjoy a traditional Puerto Rican lunch at Yiya's Restaurant, both on-site. Deeper in the mountains you'll find historic Hacienda Lealtad in Lares; the popular Hacienda San Pedro and Café Tres Picachos, both in Jayuya; Hacienda Tres Ángeles and Sandra Farms in Adjuntas, to name a few. If you're a history buff, then you'll want to book a tour at Hacienda Buena Vista in Ponce, operated by conservation nonprofit Para La Naturaleza. You'll be transported to the 19th century and learn about the unique relationship between land, water, and slavery. You can also visit the Museo del Café (Coffee Museum) in Ciales and sample their locally produced Café Don Pello.
Most of these will be whole-day excursions, so check the Regions page to get an idea of restaurants and tourist attractions in the area. That way, you'll get the most out of your trip.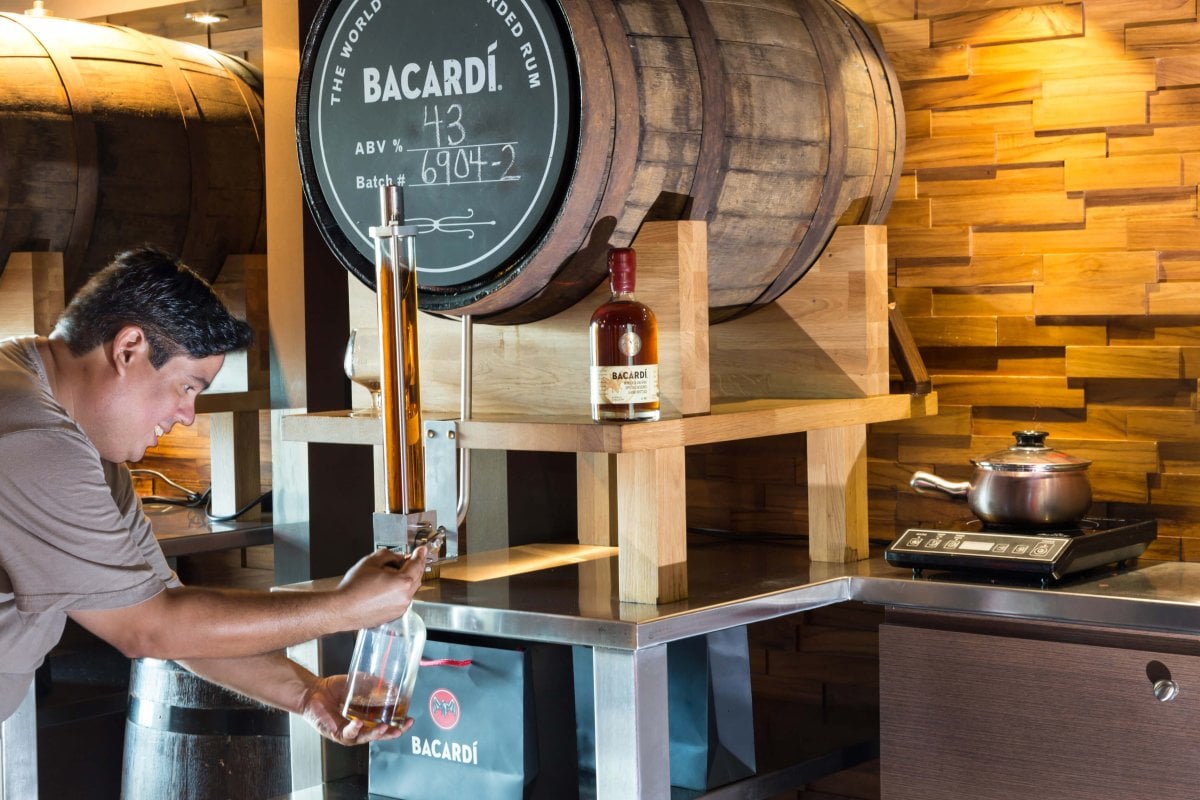 Day 6: Visit a Rum Distillery
Discover Puerto Rican rum at the source. Several rum distilleries are open to the public; the most famous ones are Casa Bacardí, where you'll learn about and sample the most popular rum in the world, and Hacienda Santa Ana, home of the iconic Ron del Barrilito.
At Casa Bacardí, you're greeted with a welcome drink in a souvenir glass at the Bat Bar Pavilion, where you can take in an impressive view of Old San Juan from the opposite side of the harbor. Then, choose from three different tours: The Historical Tour, Mixology Class, or Rum Tasting Tour. Enjoy interactive exhibits, spend time in tasting rooms preparing cocktails or sampling premium rums, then visit the gift shop, where you can fill your personalized bottle of Bacardí rum.
Hacienda Santa Ana in Bayamón has been making small-batch rum since 1880 but only recently opened to the public. Their tours consist of the Heritage Tour, where you learn about the history of Ron del Barrilito and their unique production method; the Mixology Tour, which includes a bartending class; and the Tasting Tour, where you can sample the full range of rums.
Looking for a rum-soaked vacation? Learn about Puerto Rico Distilleries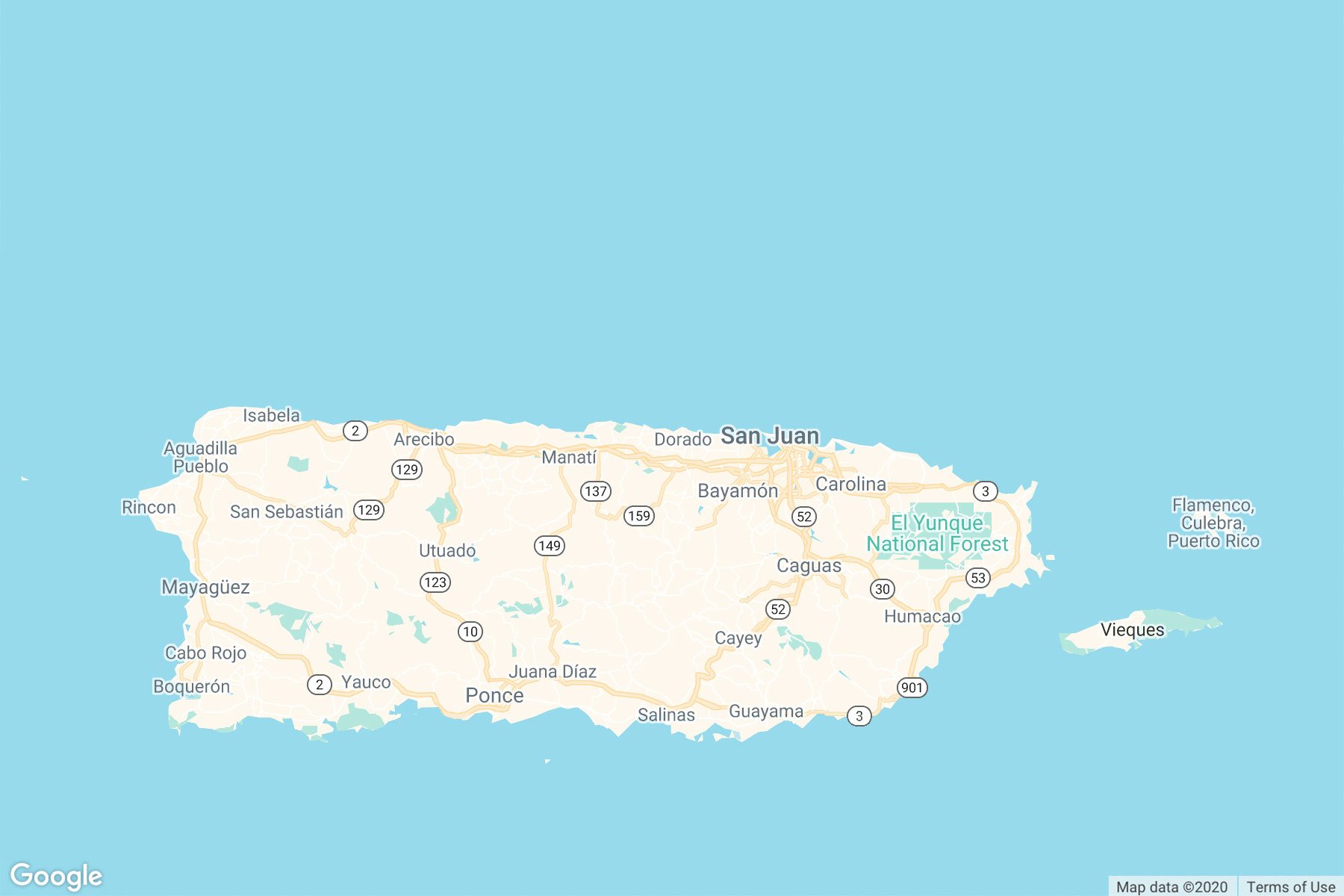 Discover Puerto Rico's E-Newsletter
Paradise for Your Inbox
Get travel inspiration, news, tips and more delivered monthly.