Recreate Puerto Rico's national drink in a fun and creative way!
Pineapple, coconut, and rum! Whether they're shaken or stirred, frozen or baked, those are the base ingredients for your own version of a piña colada.
Inspired by the national drink of Puerto Rico, chefs and mixologists around the island have created unique "out-of-the-box" variations to give this crowd-pleaser a fun twist (hint: not all the recipes are cocktails!). And, if you're sober-curious, check out some of the Island's finest mocktails.
Whether you're laying on the beach, enjoying the view of the mountains, or simply relaxing at home, here are some ideas to help you feel like you're already in Puerto Rico.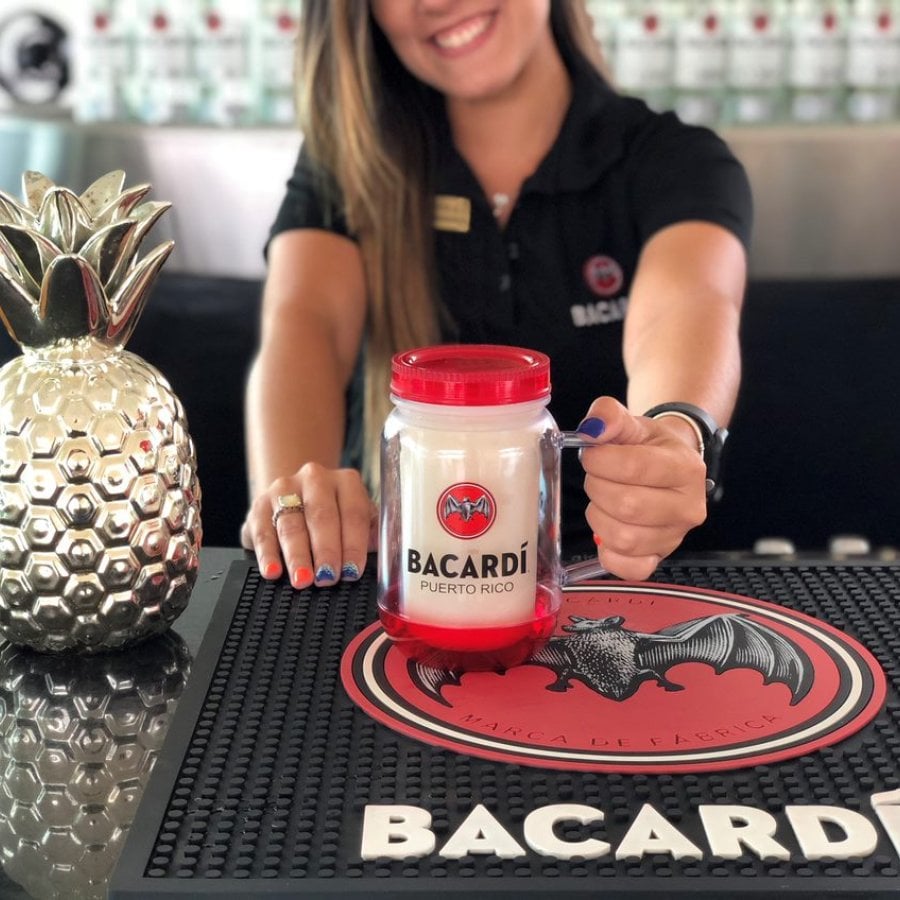 Bacardí's "shaken" take on a classic
Don't have a blender? That's OK, there's another way to enjoy a refreshing piña colada and Bacardí rum has just the recipe just for you.
Ingredients:
1 ½ ounces of Bacardí Superior Rum

¾ ounces of coconut water

½ ounce of fresh pineapple juice

3 or 4 pineapple slices – muddled

2 tablespoons of sugar

Ice – to liking
Note: If you're looking for an even sweeter flavor palate, switch to Bacardí Cartagena. For a premium "Ultimate Colada" use Bacardí Añejo 4.
Instructions:
In a shaker, muddle 3-4 chunks of fresh pineapple. Pour the pineapple juice and coconut water into the shaker and stir, then add your choice of Bacardí rum. Fill the shaker with ice, cover, and shake away for several seconds (maybe try some salsa moves while you're at it)! Fill a hurricane glass with crushed ice and strain the piña colada mix over the ice. Garnish with a pineapple wedge.
To take your drink to another level, infuse the pineapple chunks by marinating them in rum for a few days.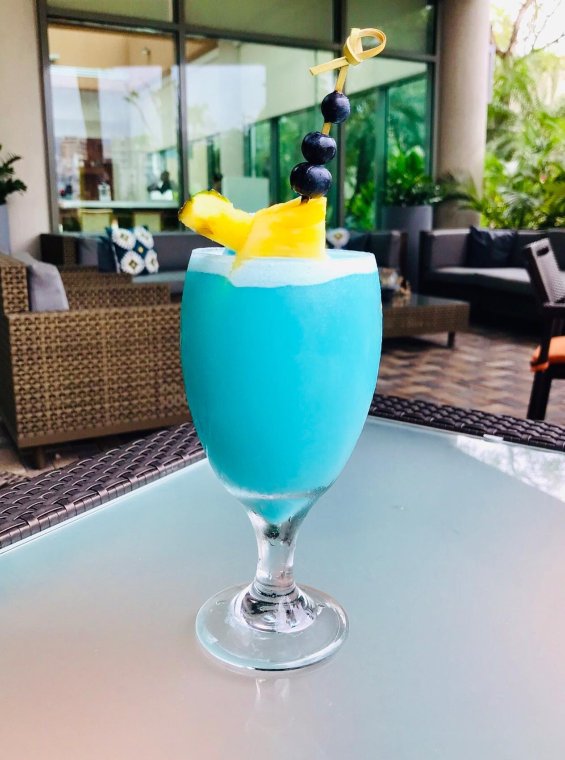 Try the Doubletree's Blue Colada
A piña colada overlooking the ocean? How about one that looks like the ocean? This slightly more refined version of the traditional cocktail was inspired by the azure shades of the Caribbean and perfected at the Doubletree Hotel in San Juan. Here's how you can recreate it.
Ingredients:
5 ounces of coconut cream

5 ounces of pineapple juice

1 ounce of white rum

1.5 ounces of Blue Curacao

1 cup of Ice
Instructions:
Mix all the ingredients in a blender and crush until smooth. For a fun and tropical presentation, pour into a chilled glass and garnish with two slices of pineapple and a few blueberries. Top everything off with a tiny umbrella.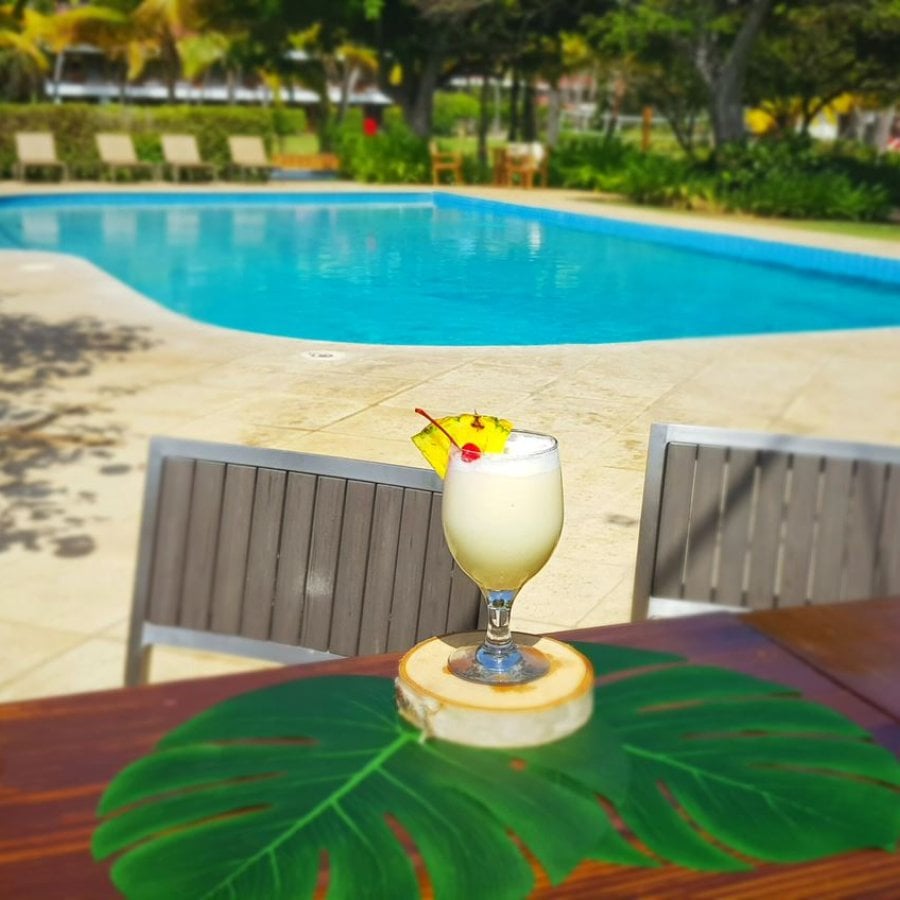 Make Copamarina's Colada Chichaíto
Chichaíto is a popular rum and anise liquor drink – typically served as a shot – that originated in the southern region of Puerto Rico. Locals are known to get creative and infuse chichaíto with fresh fruit juice and other flavors. Try this cocktail recipe by Copamarina Resort chef César N. González:
Ingredients:
1 ½ cup of ice cubes

4 ounces of pineapple juice

2 ounces of coconut cream

1 ½ oz white rum

3/4 ounce chichaíto (¼ ounce anise liquor and ½ ounce of dark rum)

Sliced pineapple and maraschino cherry– optional.
Instructions:
Place the pineapple juice, coconut cream, and white rum in a blender. Add the ice and blend until smooth. Serve in a hurricane glass and add the chichaíto shot as a topper. Garnish with a sliced pineapple wedge and maraschino cherry. Enjoy!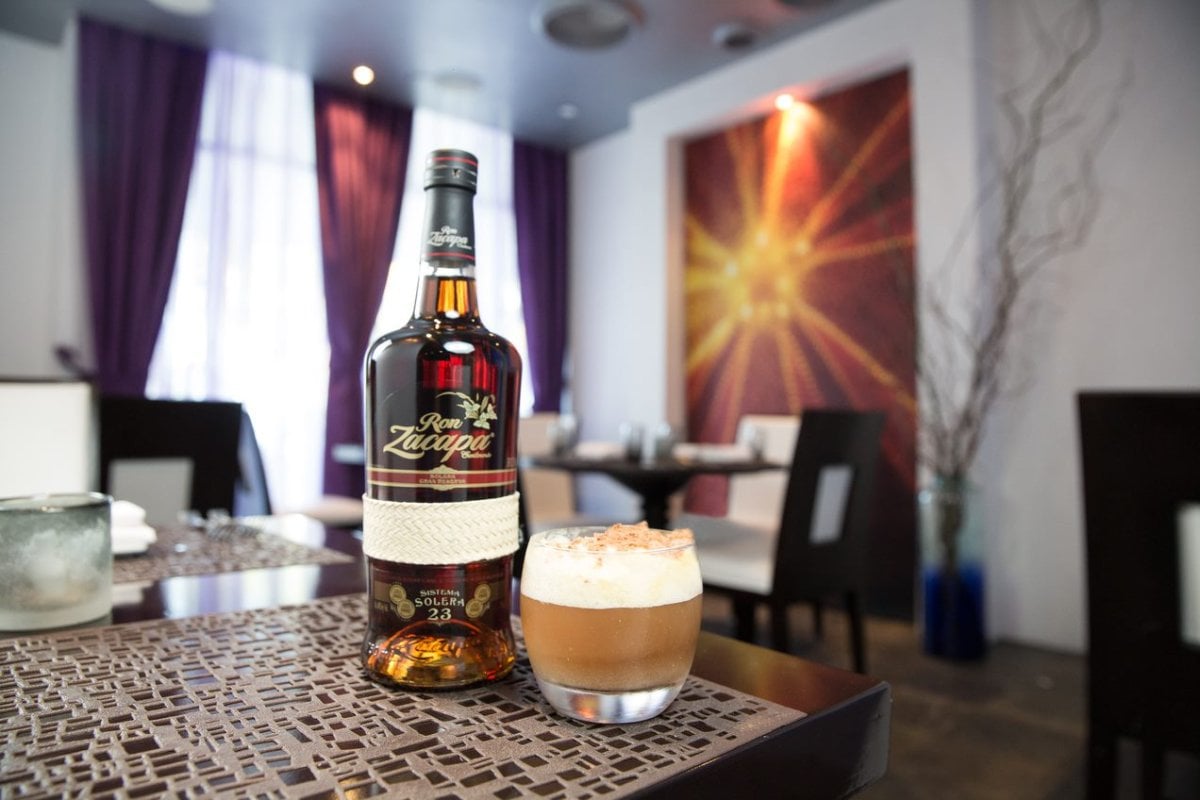 Try the San Juan Water Beach Club's Legacy
Two years ago, mixologist Iván Reyes from the San Juan Water Beach Club Hotel created a rum-based cocktail that fused two of his favorite drinks: the Old Fashioned and the piña colada. He combined elements from each cocktail in a unique way, naming his new creation Legacía: My Piña Colada. Are you ready to step up your cocktail game?
Ingredients:
1 ounce of Coconut Ciroc (coconut vodka)

2 dashes of cherry bitters 

1 ½ ounces of Zacapa 23 Rum

Coconut cream

Pineapple juice
Instructions:
Combine coconut cream and pineapple juice and pour the mix into a sphere-shaped ice mold. Freeze for 2-3 hours. When ready to serve, mix the coconut vodka, aged rum, and cherry bitters in a tall glass. Add regular ice and stir for a few seconds. Set the frozen coconut and pineapple juice sphere in an Old-Fashioned glass and pour the rum and vodka mix over it. Sip slowly, as the sphere melts the flavors evolve from the spirit-forward Old Fashioned to the more tropical piña colada. For added texture, top the cocktail off with some pineapple foam and grated coconut.
Take a trip to the Lower East Side
Inspired by the classic "East Side" cocktail – traditionally made with gin, cucumber, mint, and lime – mixologist Camille Price from the Condado Vanderbilt Hotel created her tropical take on the cocktail called the "Lower East Side." This drink not only highlights the ingredients of Puerto Rico's national drink, it also showcases local rum Barrilito Two Stars.
Ingredients:
4 pineapple chunks – muddled

1 cilantro sprig

3 cucumber slices

¾ ounce of lime juice

½ ounce of simple syrup

2 ounces of Barrilito Two Stars rum
Instructions:
Add the pineapple chunks, cucumber, and cilantro sprig into a shaker, along with the lime juice and simple syrup. Muddle those ingredients for a few seconds. Pour in the Barrilito Two Stars rum, add ice, and shake vigorously. Strain the cocktail into a rocks glass over a square ice block. Garnish with a pineapple slice and a cilantro sprig.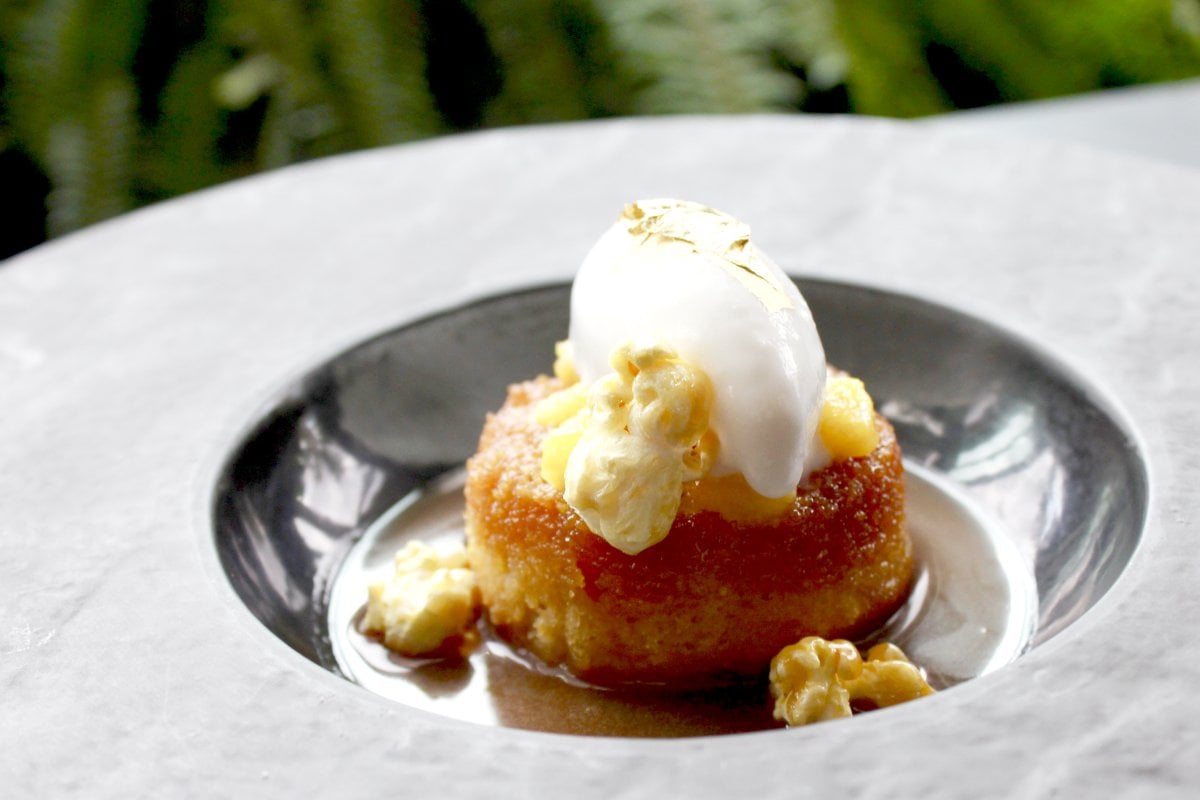 Upside-down at the Vanderbilt
The Condado Vanderbilt Hotel's 1919 restaurant's pastry chef Nasha Fondeur designed her own take on the traditional pineapple upside down cake inspired by the piña colada. Dare to bake it?
Ingredients:
7 ounces of sugar

8 ounces of flour

.5 ounces of baking powder

4 ounces of cornmeal 

Pinch of salt 

½ cup of eggs

1 cup of milk

½ cup of vegetable oil

Pineapple chunks

Caramel
Instructions:
Preheat the oven to 350 degrees Fahrenheit. Mix the dry and wet ingredients (minus the caramel and pineapple pieces) separately, and then combine to form the batter. In a round cake pan, prepare a caramel base (like one would prepare for a flan) and place the pineapple chunks in a single layer. The batter is then poured on top. Bake the cake for 35 minutes or until dark golden-brown and a cake tester comes out clean. The small cake is then turned over and served hot, with a spiced pineapple caramel sauce, caramel popcorn, and a side of coconut sorbet or ice cream.
Piña Colada Crème Brulee
Pastry chef Christian Cádez's piña colada creme brulee is an explosion of textures and flavors in every bite. The dessert's delicacy and richness will make you fall in love on the first taste. This simple, yet memorable dish fuses French and Puerto Rican cuisine for a well-balanced, tangy treat.
Ingredients:
1 quart heavy cream

7 egg yolks

1 egg

6 ounces of coconut cream

½ cup granulated sugar

1 teaspoon vanilla extract

1 tablespoon pineapple emulsion

1 tablespoon coconut emulsion
Instructions:
In medium saucepan, combine the heavy cream, coconut cream, vanilla extract, and both emulsions over medium heat. Bring to a gentle boil, whisking constantly. Then, in a small mixing bowl, whisk the egg yolks and 1/2 cup of sugar. Vigorously whisk about 2 cups of the hot cream mixture into the egg yolk mixture (do it rapidly to avoid lumps). Slowly pour this mixture into the hot cream in the saucepan, whisk for 2 minutes, and remove from the heat. Strain the mixture through a fine-mesh sieve into a clean container. 
Preheat the oven to 300 degrees Fahrenheit and fill greased ceramic or aluminum ramekins with equal portions of the mixture (fill each about halfway). Place the cups in a baking dish and fill with enough water to come halfway up the sides of the cups. Bake in the lower third of the oven for about 45 minutes or until it sets. Remove from the oven and remove the ramekins from the water. Let them cool and refrigerate overnight. 
To finish, sprinkle each creme brulee with a teaspoon of sugar. Using a kitchen blowtorch, scorch the sugar until it crystallizes, do one cup at a time. Serve immediately.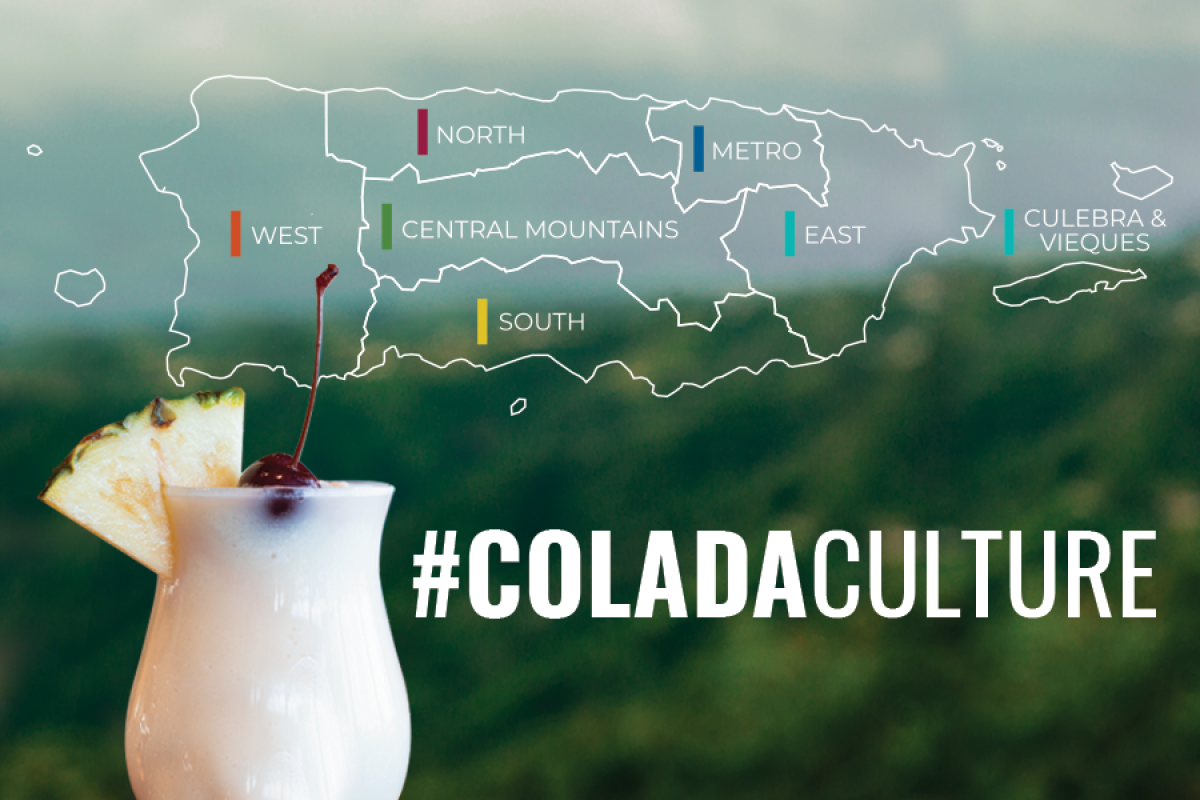 Want to live the Colada Culture?
Puerto Rico's national drink was created with simple Caribbean ingredients, but it's much more than just a cocktail… it's passion. Boricuas put their hearts in everything, and you can't rush the heart. Enjoying a piña colada in Puerto Rico, the birthplace of this iconic drink goes beyond savoring the mix of pineapple juice, coconut cream, and rum. It's basking in sunsets, cool breezes, colorful sights, and warm sand. It's letting go of worries and making new friends. 
Discover Puerto Rico's E-Newsletter
Paradise for Your Inbox
Get travel inspiration, news, tips and more delivered monthly.