Outdoor experiences in Puerto Rico are suited for all types of travelers.
Scenic rainforest hikes, enchanted kayak trips, and more.
Whether you want to spend some time in nature to relax and clear your mind or get your adrenaline pumping, there are outdoor experiences in Puerto Rico suited for all types of travelers. Here are a few of the places you need to add to your bucket list, and some of the tour companies that can help you simplify the planning.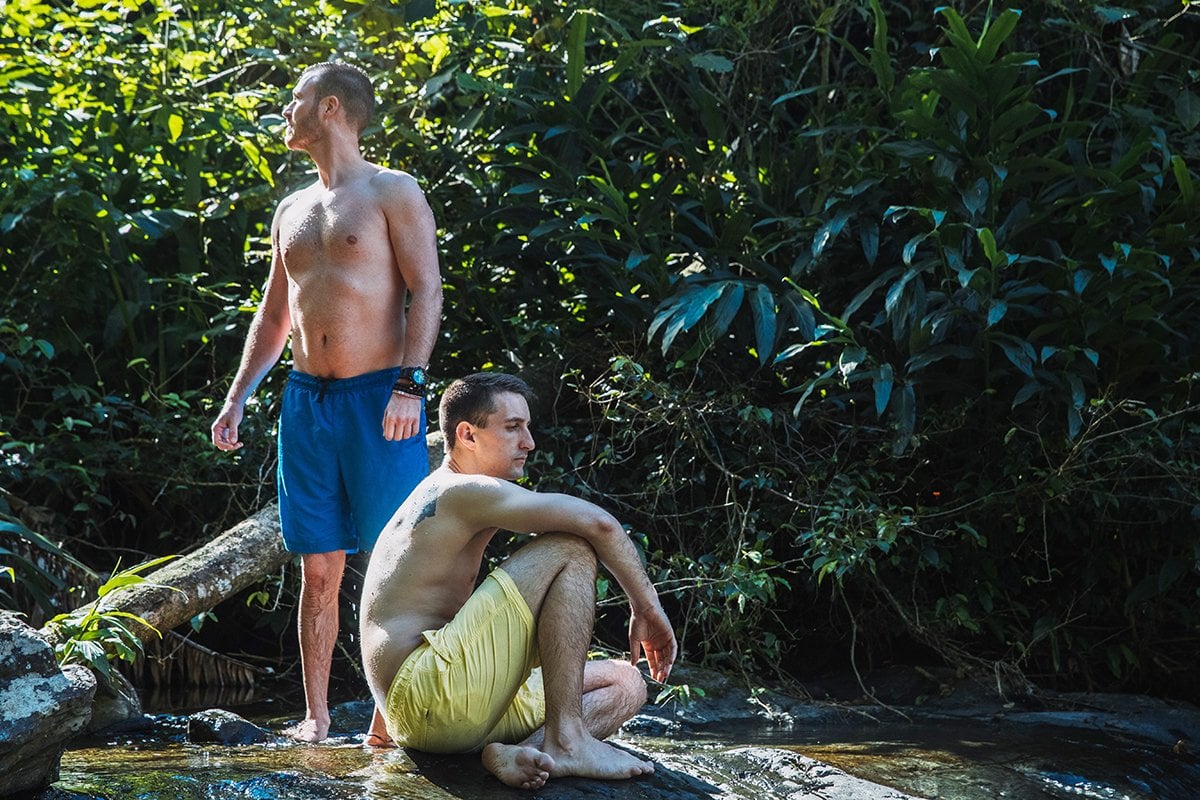 El Yunque Rainforest
Spend a day (or half-day, if you prefer) in the only tropical rainforest in the United States National Forest System. Located in Río Grande, about 45 minutes from San Juan, you'll find hiking trails, scenic views, waterfalls, and petroglyphs made by Taínos (the island's indigenous people) carved in stone.
Depending on the tour, you'll learn about the history and biology of the area, including the more than 240 species of plants, such as tree orchids, giant ferns and wildflowers, and animals that thrive in the habitat, especially the native coquí frog. Tours usually include several stops at picture-perfect spots as well as a chance to try authentic Puerto Rican cuisine.
Tour companies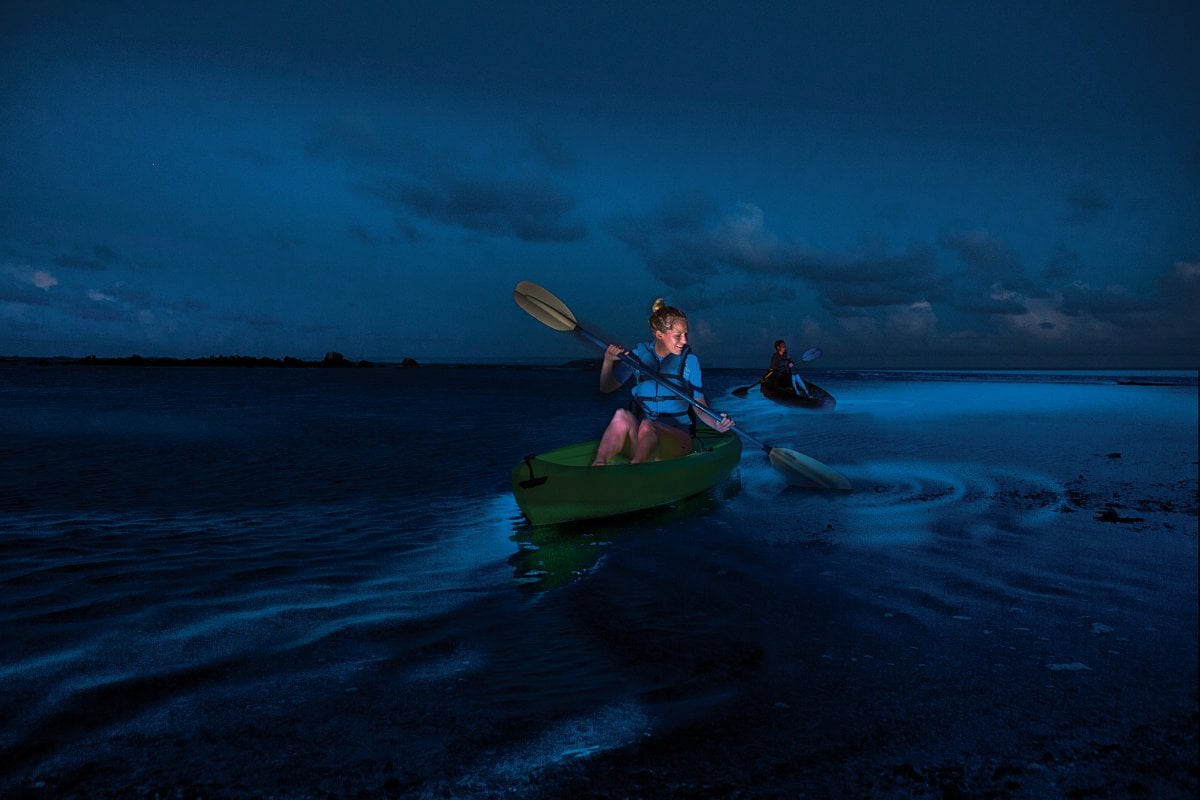 Bioluminescent Bay: Laguna Grande
Explore one of the most wonderful nighttime nature experiences kayaking through the bioluminescent bay in the Natural Reserve at Laguna Grande in Fajardo, located on the east side of the island, an hour drive from San Juan.
Paddle through dense mangrove forest channels under the stars in a two-person clear bottom kayak and learn about the fragile and unique eco-system where the microscopic sea plankton pyrodinium bahamense can produce fluorescent light when disturbed. Although you'll be able to play with the water and watch the interaction with the organism, in an effort to protect their habitat, swimming is not allowed. You'll be picked up and dropped off at your hotel for what is about a five-hour excursion. There are two other bioluminescent bays located around Puerto Rico that are also worth checking out.
Tour companies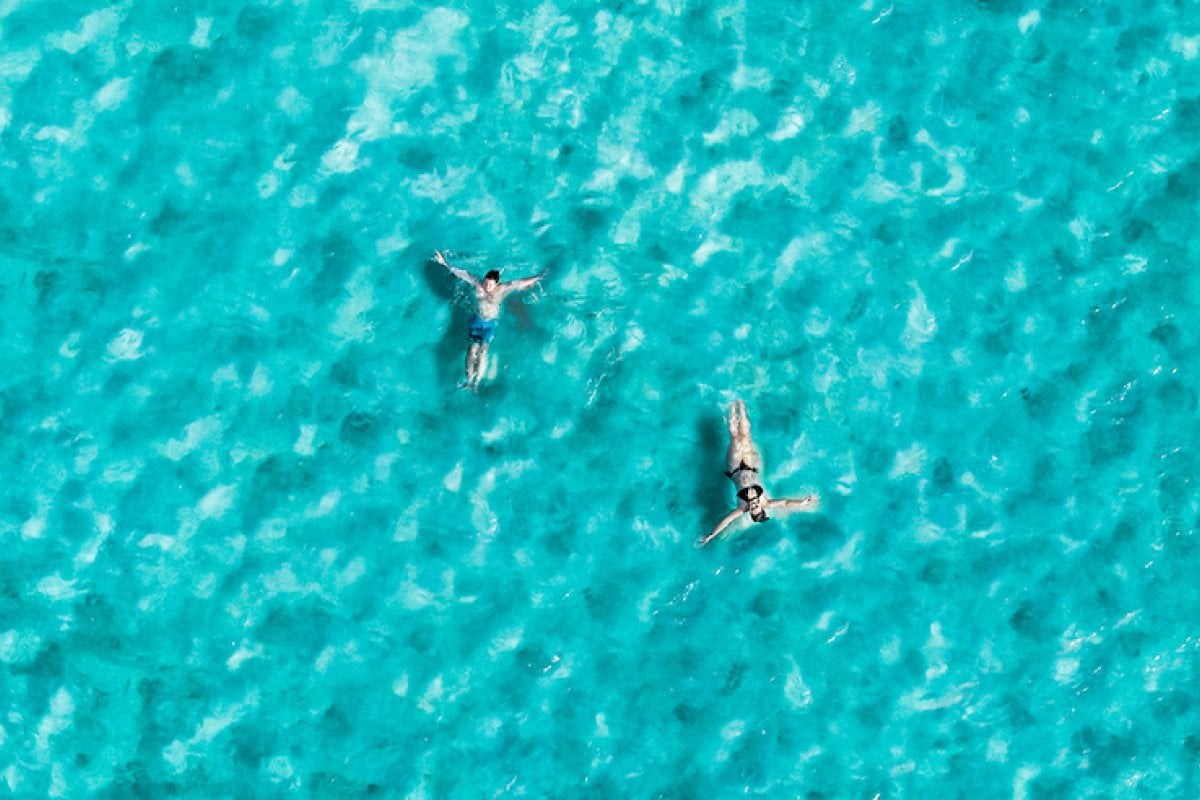 La Parguera
If you love water adventures, La Parguera fishing village is the perfect option for you. Located in the south coastal town of Lajas, two hours from San Juan, this swim and snorkeling tour lets you discover the bioluminescent phenomenon in a different way than the others. Home to a particular species of small dinoflagellates, water organisms that emit a small white or blue sparkle that can be seen in the dark, the bay is one of only five of its kind in the world, and the only one in the island where swimming is allowed.
During the six-to-eight hour guided tour (depending on the package you choose) you'll take a 25-minute ride through the mangrove swamps, learn about the natural ecosystem, put on your snorkel and spend 45 minutes swimming. Transportation is included and you'll be provided with snorkel gear and a light dinner.
Tour companies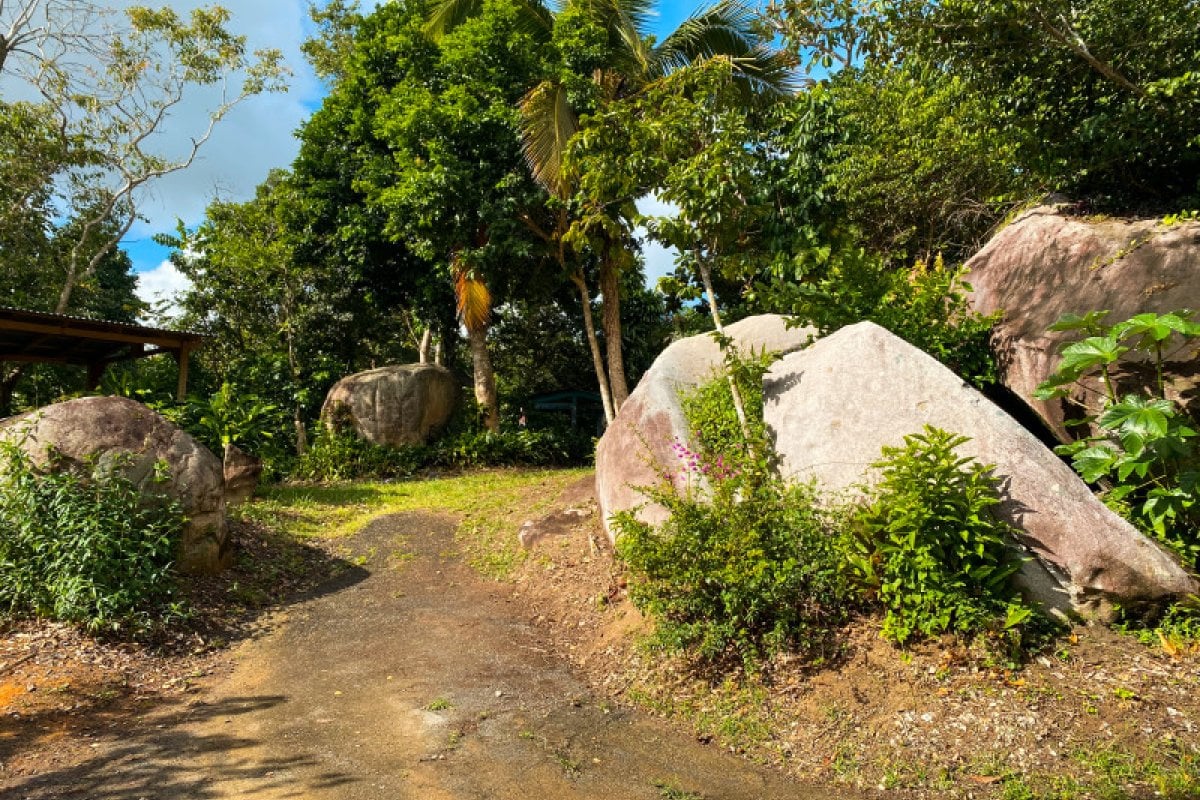 Cueva del Indio Tour
Enjoy a day full of close encounters with wildlife while exploring one of Puerto Rico's most scenic caves: Cueva del Indio. Located in the northside town of Arecibo, 45 minutes from San Juan, this day trip takes you into the caves and shows you their diverse ecosystems and the formation of the stalagmites and stalactites found in the caves.
Situated on top of a limestone cliff, Cueva del Indio offers an ocean-front location and ancient Taíno wall carvings.
Some tours also offer add-on options for hiking and other nearby activities, depending on the length of trip you want to take. The round-trip hotel transportation, admission fees, light refreshments, and necessary equipment are included.
Tour companies
PR4Less Adventures
Natural Wonders PR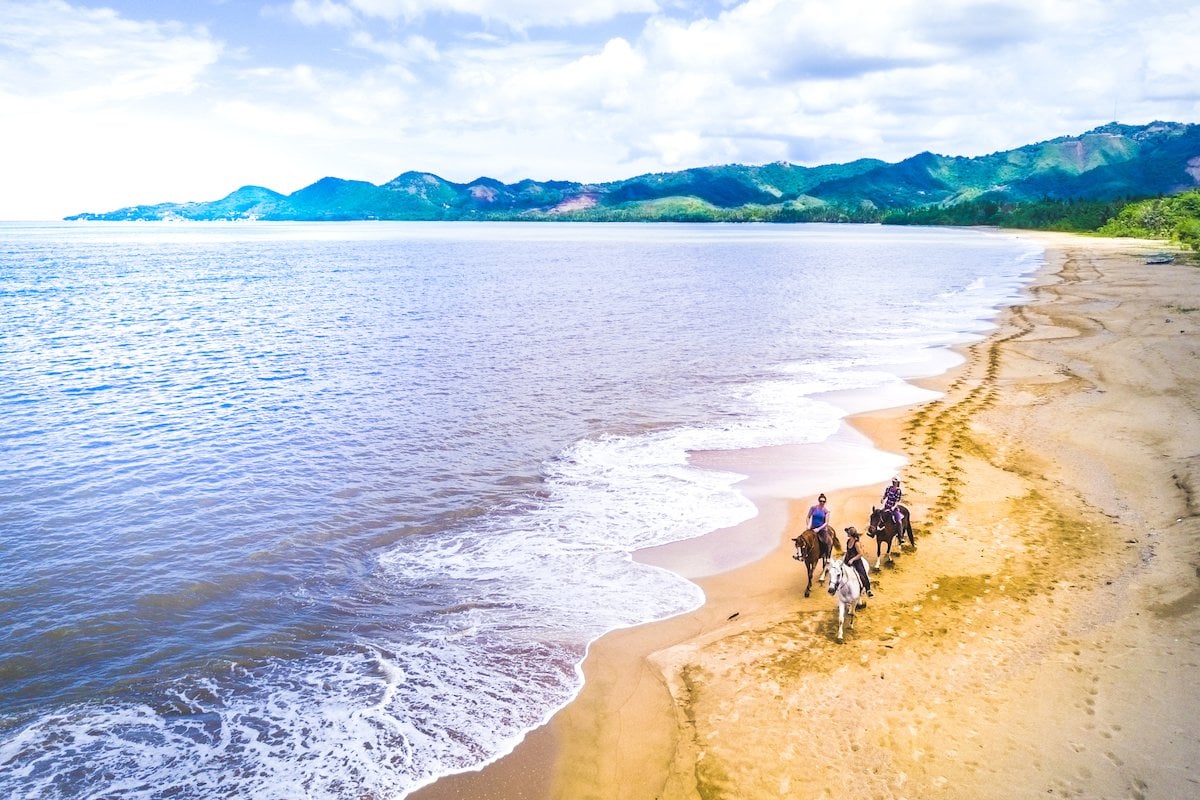 Luquillo Beach Horse Ride
For nature lovers who enjoy beautiful views and memorable experiences, this is an ideal way to explore the countryside of Puerto Rico (as well as some of its beautiful beaches). Start your trip in the morning, leaving on horseback from Luquillo and ride the countryside, passing through the forest and Mameyes River, until reaching the Luquillo beach, where you will have time for swimming, sunbathing, relaxing, and have a drink at a local bar.
This 2 to 3-hour tour is suitable for all experience level riders, and hotel pick up is available.
Tour companies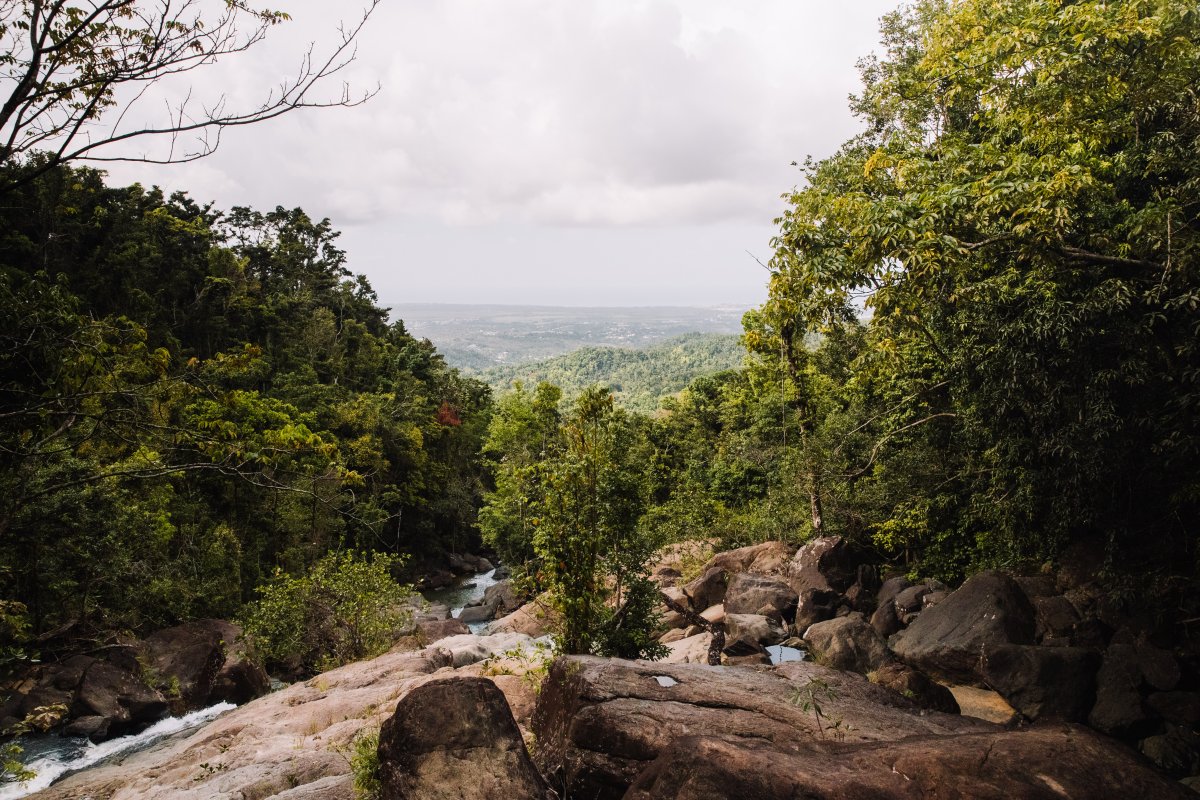 Boat ride on El Rio Espíritu Santo
Experience an adventure along Puerto Rico's only navigable river - El Rio Espíritu Santo in Río Grande. Join La Paseadora del Río Espíritu Santo for a boat ride to discover the area's rich flora, fauna, myths, and legends. Journey approximately 9 kilometers from the Yunque mountain to the sea, immersing yourself in nature reserves and the unique blend of fresh and saltwater in this captivating aquatic ecosystem.
Discover Puerto Rico's Outdoors E-Newsletter
Your Guide to Outdoor Adventures
Get outdoor inspiration, updates, and other Island news delivered right to your inbox.
Apiary tours
Experience the sweet world of beekeeping in Puerto Rico by visiting local apiaries. Get up close to buzzing hives and learn about the fascinating process of honey production, discover the vital role bees play in the Island's ecosystem while enjoying a unique and educational adventure in Apiturismo PR and Apiarios Caraballo in Yauco or Apiario Guare in San Lorenzo.