For a surreal, eco-friendly experience, include a bioluminescent bay on your trip to Puerto Rico. But what is a bioluminescent bay or bio bay?
These rare ecosystems happen when microscopic, single-celled organisms called dinoflagellates grow in quantities big enough to produce a "glow-in-the-dark" effect when stimulated by movement. When you paddle or splash the water, these organisms light up in a neon blue-green color, and so does everything they come in contact with, giving a star-like reflection to the water.
Dinoflagellates can be found throughout the ocean; however, it is very rare for them to be in concentrations high enough to be noticeable. To put this in perspective, there must be thousands and thousands of dinoflagellates to make a gallon of water light up. There are only five ecosystems in the world where the concentration of these planktons is high enough to be considered bioluminescent bays, and Puerto Rico is home to three of them.
Mosquito Bay
Recognized in 2006 by Guinness World Records as the brightest bioluminescent bay in the world, Mosquito Bay in Vieques captivates with its beauty and pristine setting. The bay's mesmerizing brightness is due to the large concentration of dinoflagellates – a quantity that was inexplicably doubled after Hurricane María – ranging from an average of 1,000,000 to 2,100,000 per gallon of water. The lack of light pollution surrounding the Natural Reserve of Mosquito Bay and the mangrove swamps that feed the plankton make this natural spectacle one of Puerto Rico's true wonders.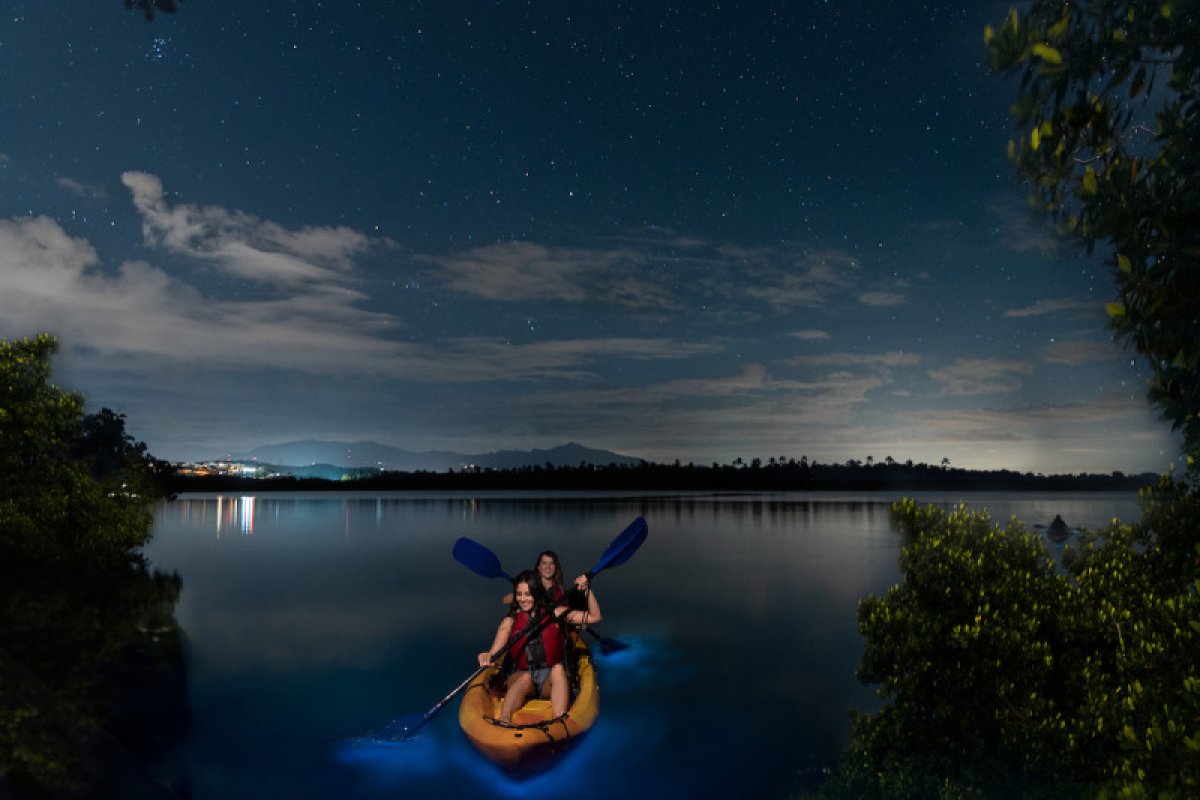 Laguna Grande
Out of the three bio bays in Puerto Rico, Laguna Grande in Fajardo is the only one that's not technically a bay. The narrow and long canal that leads to the dazzling "glow-in-the-dark" water makes this unique waterbody a lagoon. It is the most visited bio bay in Puerto Rico due to its proximity to San Juan.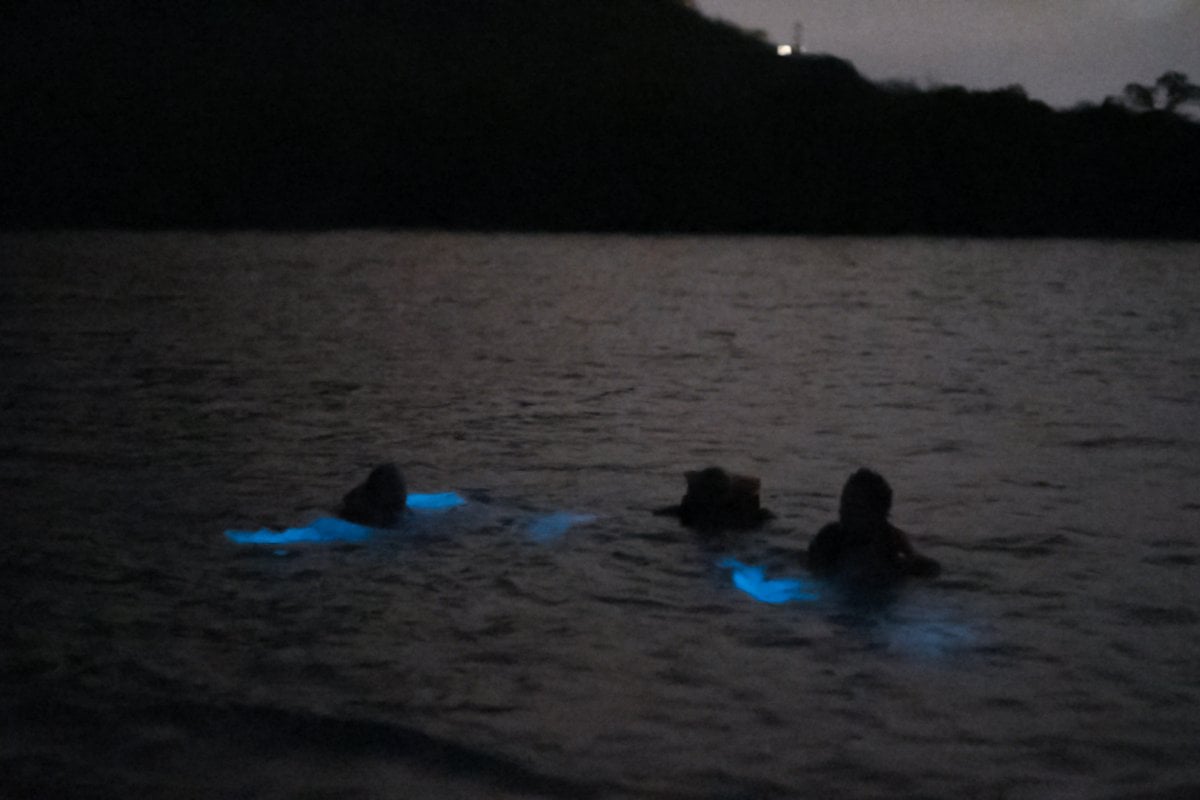 La Parguera
The bioluminescent bay at La Parguera, located in Lajas at the southwestern corner of Puerto Rico, is the only one where motorboats can come in and out. Some guided tours provide you with equipment so that you can dive in and swim after dark. You can also take a glass-bottom boat ride and spend the night contemplating the organisms that make the bay glow.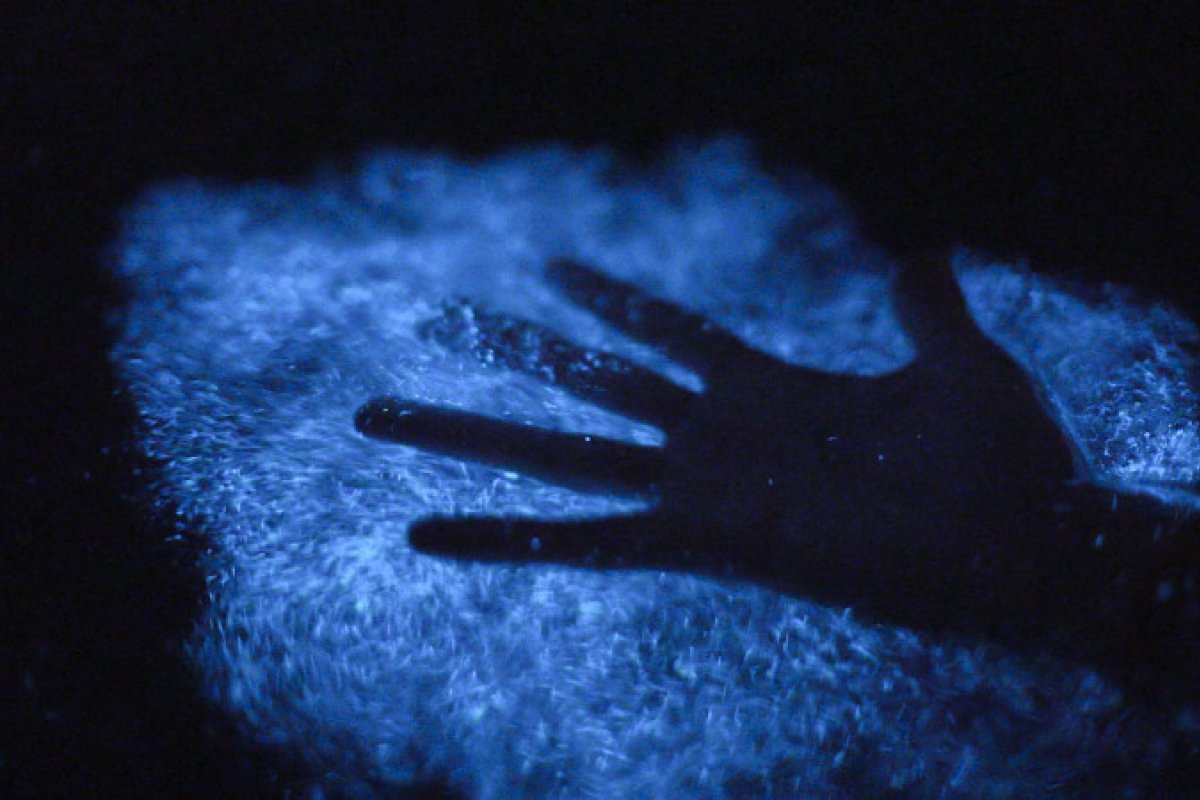 How to Best Enjoy a Tour (and What to Avoid)
While bio bays worldwide are seasonal, the bioluminescence in Puerto Rico is year-round, but there are a few things to keep in mind when planning your trip.
The less light, the better. To best enjoy the luminescence, try to avoid full moon nights. Note that if it is a full moon, the water will still glow, but the darker it is, the more you'll witness the effect that movement has on these single-celled organisms.
Tides and water temperatures affect the brightness of the bays as well. Call a day or two in advance to confirm that the bay's brightness has been above 30% in the days before your tour. 
Most of these eco-adventures are made in kayaks, so wear comfortable clothing for paddling. For conservation purposes, swimming at the bay and lagoon is not allowed (with the exception of La Parguera).
Avoid using hand creams, bug repellant, and any other lotions that can harm the organisms. 
Motorboats are strictly prohibited. 
Prices vary depending on the Bay Tour Operator (BTO), but range from $48 to $76 per person, taxes included. The Department of Natural Resources has a list of over 13 tour operators authorized to carry on guided tours. 
Tour operators typically offer two trips per day: around sunset, and a later one after 7:30 p.m. The earlier tour gives you the chance to see the mangroves and absorb the environment as you kayak toward nightfall. Later trips fully guarantee the darkness needed to see the dinoflagellates glow throughout your adventure. 
Taking your camera is unnecessary—it won't capture the glow as you see it. Instead, immerse yourself in the experience, don't risk getting electronics wet, and enjoy the moment.
Discover Puerto Rico's E-Newsletter
Paradise for Your Inbox
Get travel inspiration, news, tips and more delivered monthly. 
View Places Mentioned on a Map