Exploring the "Pork Highways" in Puerto Rico
There is a route for everything in Puerto Rico, and la ruta del lechón should be the top to visit. There are, in fact, three different pork highways you should consider when planning a getaway to Puerto Rico, especially around the holidays.
Why? These routes (which you'll very soon learn the reason people dubbed them the "pork highway") showcase one of Puerto Rico's culinary delicacies and gastronomic heritage: spit-roasted pork. And, although you can find lechón all year round, it is an intricate part of the traditional Christmas menu. 
Traditionally, lechón is a whole pig roasted over coals for several hours until it's juicy and crispy. Keep in mind that this meat has been marinating in adobo for hours - sometimes days, to make the pork all flavorful and mouthwatering. The locally acclaimed dish emerged from the jíbaro's menu in fiestas and evolved into the cultural delicacy that it is today. 
From the whole pig (lechón) to a smaller, simpler version of the dish (pernil), spit-roasted pork is iconic during the holiday celebrations. 
The towns of Naranjito, Trujillo Alto, and Cayey are known for having a bountiful of businesses lined up up the road with a great Christmas menu all year round.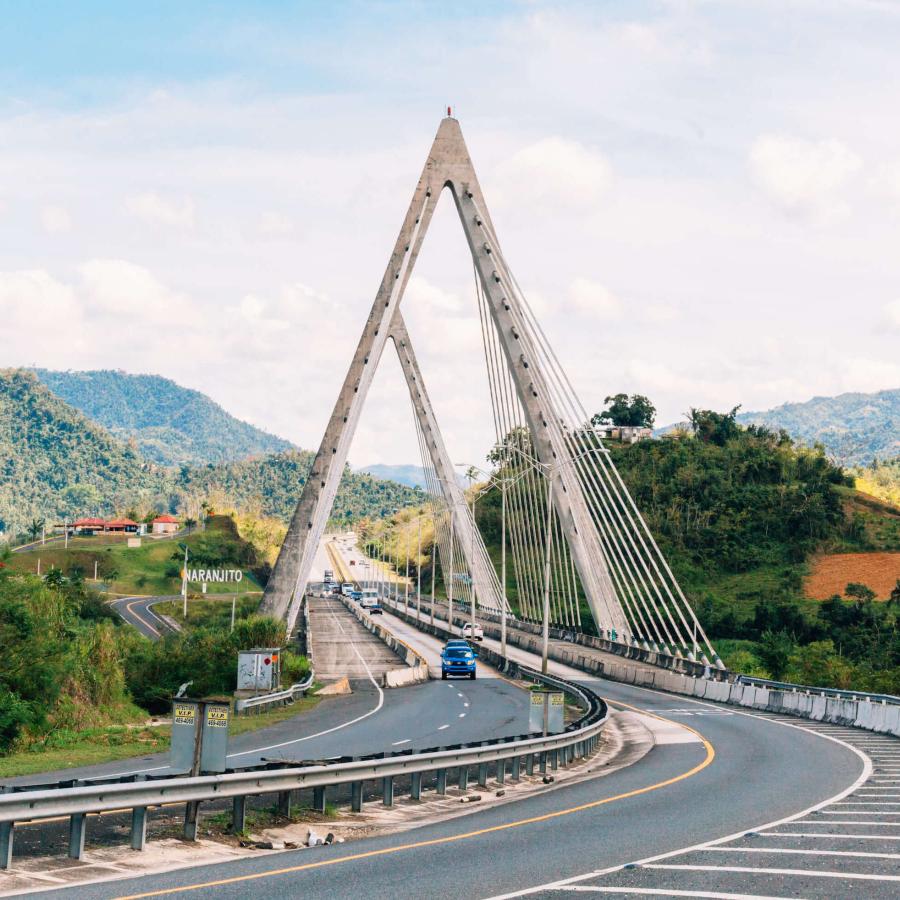 The Pork Routes in Puerto Rico
Naranjito awaits
Naranjito is known for its natural beauty. You can breathe the fresh air while relishing in mesmerizing sights with lush treetops and verdant mountains. Although it is only a 40-minute drive from the SJU airport, you'll feel like stepping into Puerto Rico's Navidad Campesina, or countryside Christmas. You'll find food trucks like La Criolla, Lechonera Otero, and Lechonera Naranjito's menu include arroz con gandules (rice with pigeon peas), morcilla (blood sausage), guineos en escabeche (pickled green bananas), yuca al mojo (garlic cassava), sweet plantains, tostones, and in some cases roasted turkey. Other businesses lined up the hills of Naranjito with this type of menu and a festive ambiance are La Nueva Casita de Hiram, Lechonera Cedro Abajo, Tongo's BBQ, Café Rústico & Asado.
Before or after tasting all the exquisite food in the lechoneras of Naranjito, take some time to visit a river or a river trail. Relax by a natural pool like Charco del Cura, which legend states will make you fall in love with the town and never want to leave. Other places to visit are Lago La Plata, where you can swim and kayak or picnic around. 
And, if crossing bridges is your thing, be sure to pass by the first cable-stayed bridge in the Caribbean, the Puente Atirantado de Naranjito, which connects the town to Bayamón.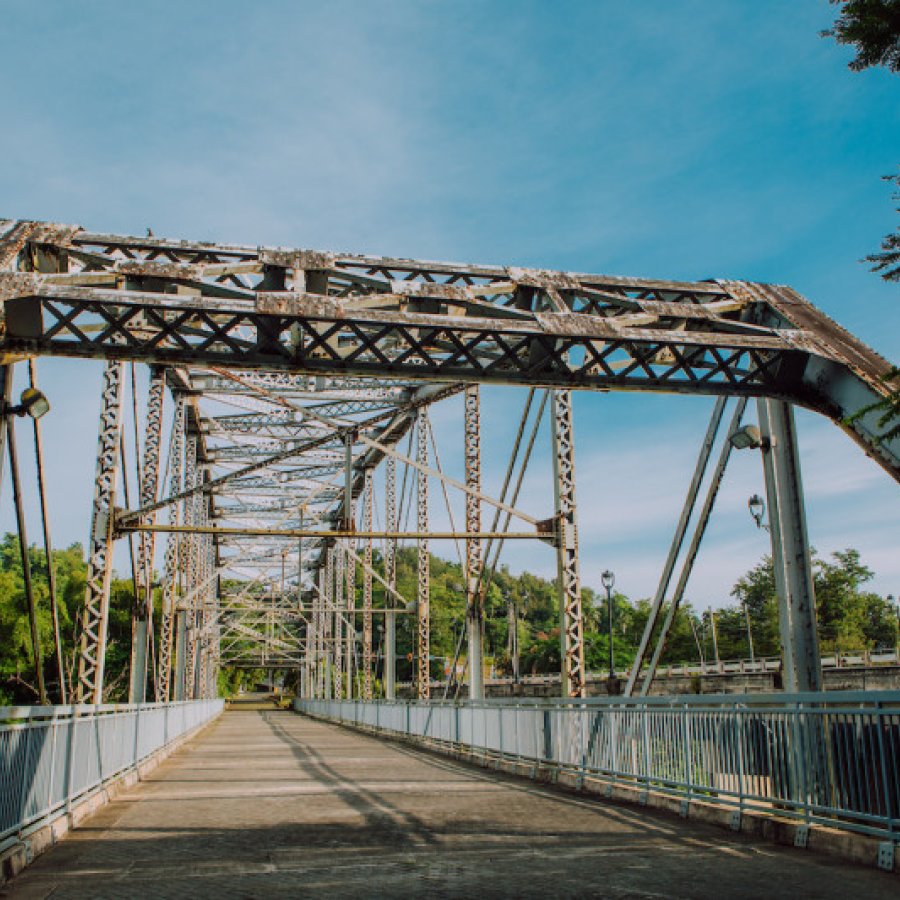 Trujillo Alto brings the pork highway to the city
And, you can find Puerto Rico's metropolitan ruta del lechón in Trujillo Alto, a cultural town known for its culinary experiences and fun festivals. There are a series of lechoneras lined up along the PR-175 in barrio Carraízo which provide a nice ambiance for both locals and visitors. If you're a food lover, then a stop by Lechonera El Lago, Lechonera Angelito's Place, and Lechonera La Casita de David are a must to try this Puerto Rican delicacy.
Turn your visit to a lechonera in Trujillo Alto into a chinchorreo experience hoping from one place to another to listen to live music, trovadores competitions, artisan shopping, and more. Extend your cultural visit to la Plaza del Recreo, an open-spaced plaza that highlights beautiful landscapes and the town's historic essence. If you enjoy history in all its forms, pass by the Puente de Trujillo across the Río Grande de Loíza, one of the two Pennsylvania Tuss bridges from the 1900s still in use on the Island. The bridge, which was replaced by a modern structure in 2004, was declared a historical monument, so get your camera ready and let history be the setting for some instagrammable moments. You can also visit an equestrian park for countryside-like entertainment with horse shows, live music, and food.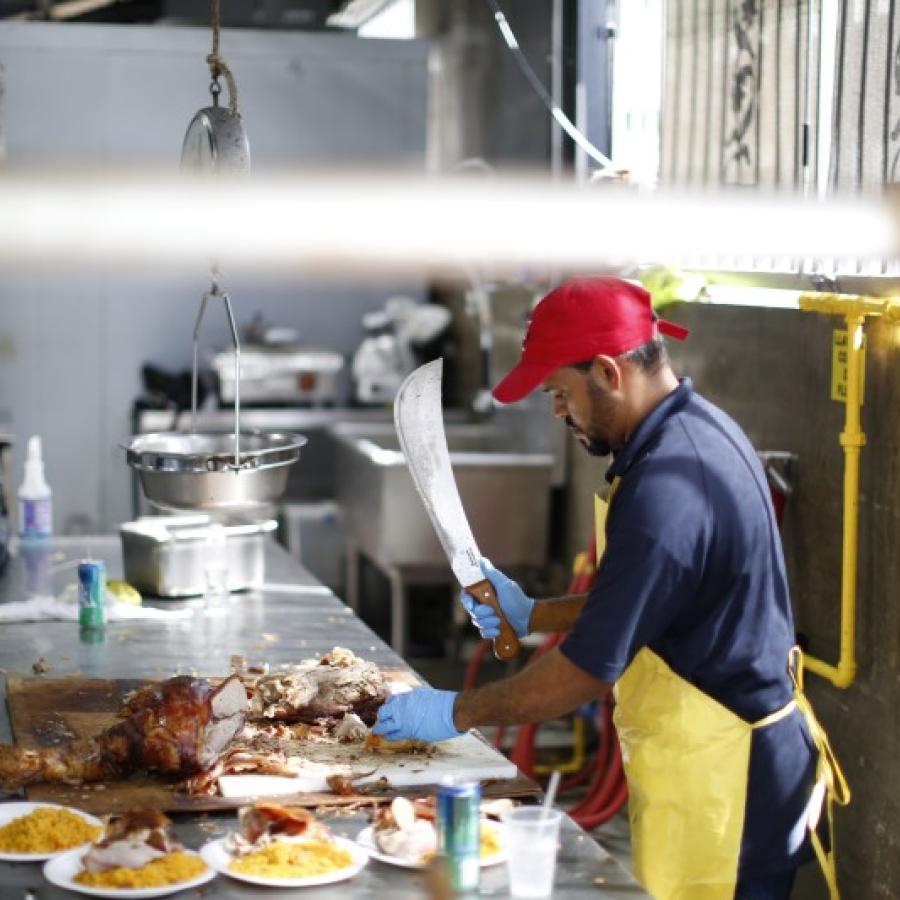 Heritage and culture await in Cayey
Last but not least, there is Cayey, the most famous route for this gastronomic heritage. Have you ever heard talk of Guavate? There is a myriad of roadside eateries lined up a mile-long street. You'll see the whole pigs roasting in skewers and the owners ready to serve you, machete in hand. Visit Lechonera Los Amigos or Café Prieto, Lechonera de Bruny, El Mojito, Doctor Lechón and both El Rancho Original and El Nuevo Rancho, as well as Lechonera los Pinos and many more. 
The ruta del lechón in Cayey is an all-day chinchorreo experience in itself, but if you find yourself staying some extra time, one of the must-go-to-places is Bosque Estatal de Carite. The protected reserve is home to the beloved Charco Azul, a deep-blue swimming hole inside the forest. There, you can relish in Puerto Rico's natural wonders as you keep daydreaming about the crispy cuerito you just enjoyed. Other landmarks nearby, like the Monumento al Jíbaro (a monument that celebrates the legacy of the Island's field workers and how it shaped part of Puerto Rico's cultural identity), Loma de los Tres Reyes (another sculpture that represents the traditional Three Kings Day celebration), and Monumento al Veterano (a sculpture that pays homage to the heroic veterans that hail from Cayey.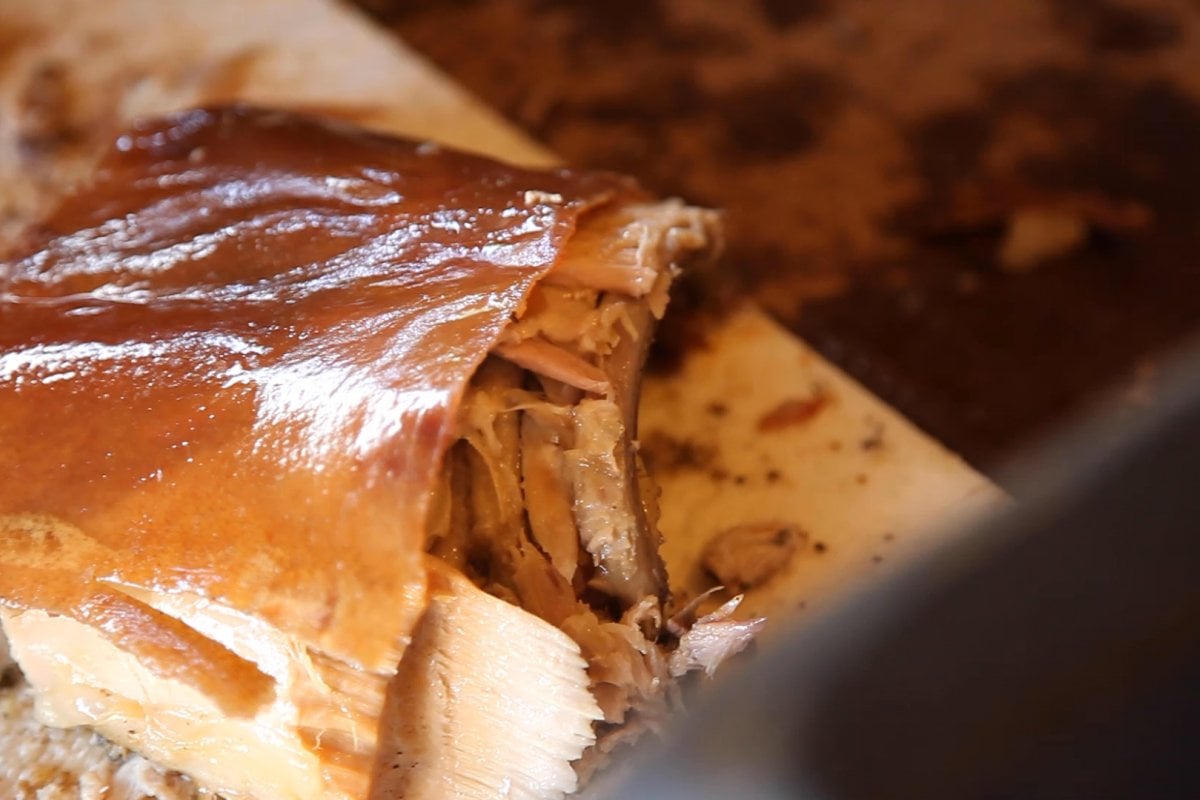 Learn how to make pernil
There is a reason that spit-roasted pork is so popular it was declared a Puerto Rican gastronomic heritage, and you can learn how to make it at home.
Believe us, once you try this way to prepare your holiday menu, you'll forget all about turkey and ham! There are two ways to make it: lechón or pernil. While the first one refers to the whole pig a la vara (on a metal skewer) cooked slowly rotating constantly over a fire spit outside, the latter refers to the leg or shoulder of the animal, which you can cook in your oven.
So, to make things easier for you – here's a recipe for pernil asado you can make at home.  
Better start early, it takes a while to cook!
Prep time: 1 hour
Cook time: 5 hours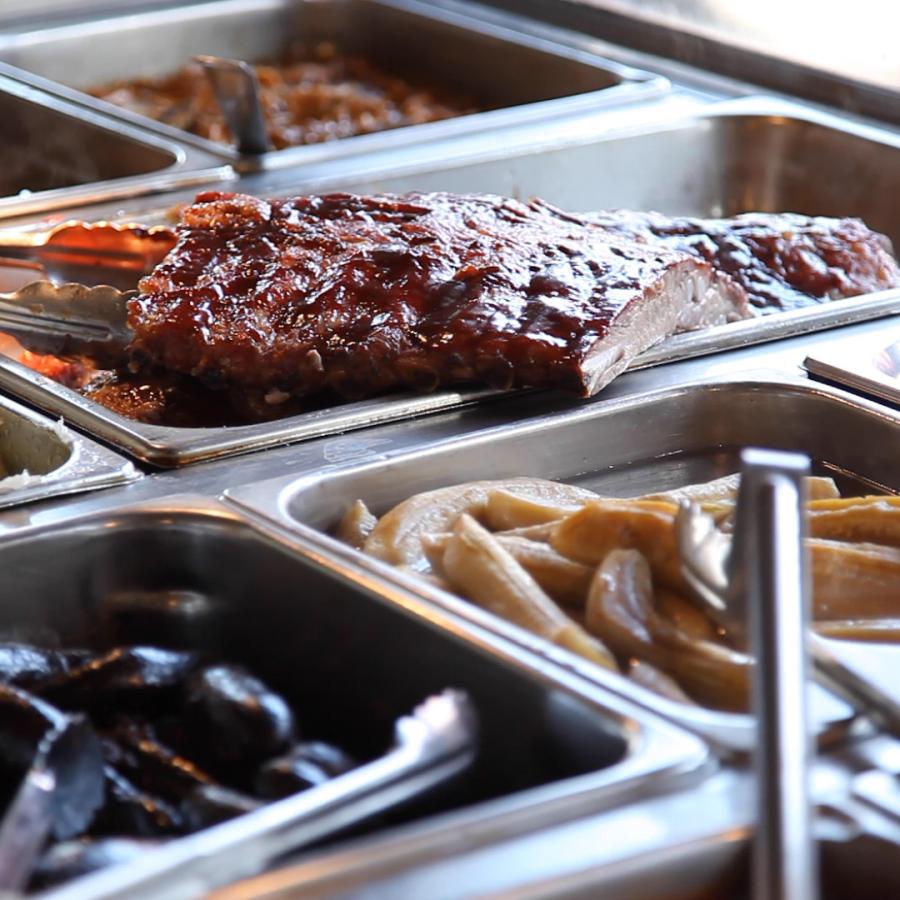 Ingredients:
8 -10 lb. pork leg or shoulder (whole, with bone)
For marinade:
1 tablespoon of peppercorns, crushed

1 tablespoon of oregano

4 cloves of garlic, pressed

1-2 lime, squeezed (optional)

½ cup olive oil

Salt to taste
For meat:
2 tablespoons of salt

2 tablespoons of garlic powder

7-8 garlic cloves
Cooking Instructions
Mix all the ingredients for the marinade in a blender and set aside. Add more salt to taste.
Place the pork leg or shoulder on a baking dish that can be refrigerated (and fits in your fridge). Mix the garlic powder with the salt and season the pork. Add the garlic cloves on top of the meat and let it marinate for about three hours in the fridge. Using a very sharp knife, carefully remove the meat's fat by letting it stand on one edge. Be sure to keep the fat in one piece. Carefully make deep cuts all over the meat and season with the marinade (about two tablespoons) ensuring it penetrates well into all the cuts. This is a very important step! Put the fat on the meat to look the same as before cutting and sprinkle with salt. Cover the meat and let it marinate overnight (8 to 12 hours) in the fridge.
As you allow the pork leg or shoulder to come back to room temperature, preheat your oven to 400°F. Place it in a deep dish with the fat side up and bake for an hour. Then, reduce the temperature to 300°F and cook covered for another three hours. Uncover the pork and let it cook for another hour. Cooking time should add up to five hours or so. To make sure the meat is done, poke a fork in it and check if it falls off the bone.
The cuerito might not be done (you'll know because it is supposed to be crisp), so cook for an additional 15 to 20 minutes. Let it rest for about half an hour before serving. Some people cut the cuerito into squares and sprinkle it on top of the meat before serving. Others set it aside and let people "sample" on it before dinner.
Note: If using a meat thermometer, the pernil will be ready at 185° in the center.
LEARN HOW TO MAKE COQUITO
No, it's not like eggnog… it's better!