Discover breathtaking expressions of nature and Puerto Rico's winningest sports team.
Nestled among the magnificent lakes, rivers, and dense vegetation that make up Puerto Rico's Central Mountains region, Naranjito is a peaceful oasis named for the naranjo tree. The municipality, which covers 28 square miles (73 square kilometers), is nestled between Toa Alta to the north, Bayamón to the east, and Corozal to the west. While Naranjito feels far removed from the hectic pace of urban life, it's only about a 40-minute drive from Luis Muñoz Marín International Airport (SJU).
If you're in town when Los Changos, the municipality's men's volleyball team, are playing, you're in for a treat. The team is a point of pride for naranjiteños and has earned the distinction of being the most successful sports franchise in Puerto Rican history. Pack something orange to wear to the game and you'll fit right in with the rest of the cheering crowd.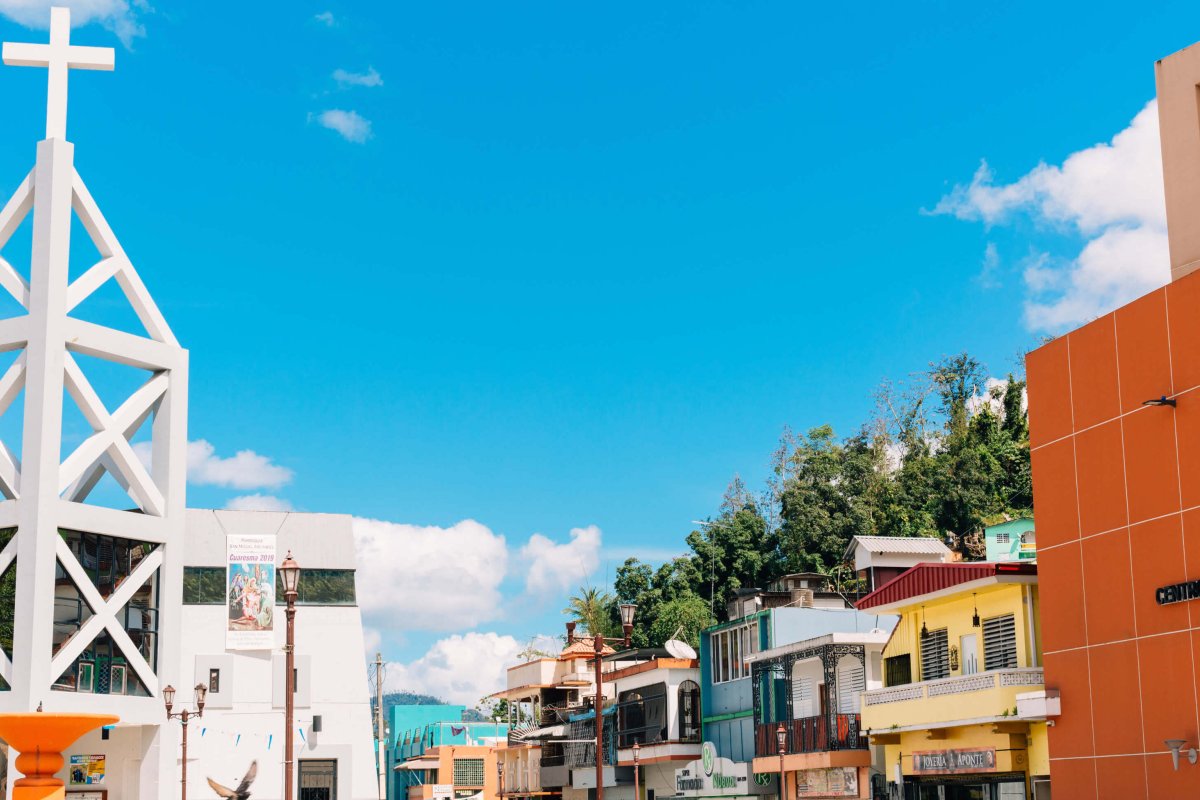 An Abundance of Natural Beauty
The Guadiana, La Pruda, and Abarca are among the many rivers that traverse the municipality of Naranjito. These free-flowing bodies of water create tranquil pools that are perfect places to relax, like the beautiful Charco del Cura. Legend has it that anyone who drinks water from La Pruda and bathes in Charco del Cura will never leave Naranjito. But after spending time in these extraordinary surroundings, it's Naranjito that will never leave you.
Lago La Plata (Silver Lake) offers another popular venue where you can unwind and unplug with recreational activities like swimming, fishing, and kayaking. An expansive park along the lake's shore features shade-laden gazebos for picnicking, while Restaurante Lagolandia is a great spot to enjoy authentic Puerto Rican eats and ice-cold beer along with photo-worthy views. Or grab a bite nearby at Restaurante Las Cataratas, which looks out onto Las Lágrimas waterfall.
A Feat of Engineering
Naranjito is home to an architectural marvel unique to this region of the world. Inaugurated in 2008, Jesús Izcoa Moure Bridge is the first cable-stayed bridge in the Caribbean. Easily recognizable by the cables that fan out from two towers, the bridge connects Naranjito with neighboring Toa Alta over Río La Plata. The structure spans just over 2,300 feet (703 meters).
Plata Bridge is also worth visiting while you're here. Built in 1908, this passageway connects Naranjito to Bayamón across Río La Plata. While it has since been replaced with a more modern construction, the bridge remains intact and is listed on the National Register of Historic Places.