A peaceful spot to enjoy Puerto Rico's natural beauty.
Nestled in the hills at the base of the central mountain range, Corozal is a tranquil hamlet in central Puerto Rico about an hour's drive from SJU airport. The municipality sits between Vega Alta and Toa Alta to the north, Orocovis and Barranquitas to the south, Naranjito to the east, and Morovis to the west.
The land that encompasses Corozal has seen many iterations over the years. Stone petroglyphs offer evidence that Taíno Indians, the Island's original inhabitants, resided here. During the Spanish occupation, Corozal was mined for gold. The municipality was also once a major producer of plantains, a legacy that is still celebrated today during the annual Festival Nacional del Plátano.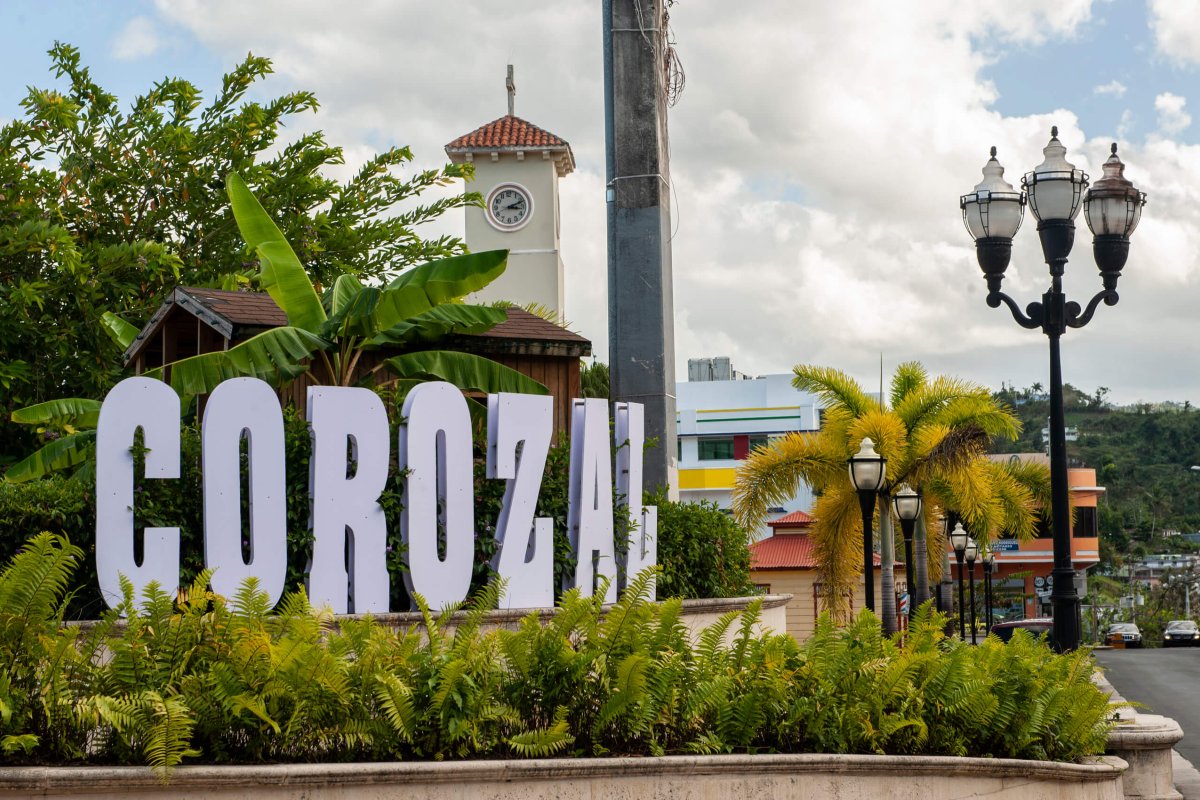 Outdoor Fun
For off-road hiking and biking trails, head to Monte Choca State Forest, where the staff at the visitor's center can help orient you to the area. The 244-acre refuge is home to more than 140 types of plants and trees, along with a variety of avian species and other wildlife.
Río El Muñeco, Río Corozal, and Río Mavillas are among the rivers that run through the municipality, creating natural formations like waterfalls and pools. To explore like a true corozaleño, check out stunning tiered waterfalls like El Congo and El Finito, where local kids make jumping from the high stones into the natural swimming holes below look easy.
If you prefer a more relaxing excursion, El Rancho is a family-friendly recreation area with pools, waterslides, sports facilities, and an on-site restaurant.
Preserving Corozal's History
Sites throughout the municipality honor Corozal's rich past.
Casa Loydi, a restored home built in 1914, now serves as a cultural center with historic objects, art exhibitions, and community activities. The Creole-style structure is particularly important, as it belonged to the wealthy and prominent Bou family, three of whom served as mayor of Corozal.
If you're hungry, stop at El Yagrumo, a combination of restaurant and museum that displays a variety of everyday-objects-turned-relics like musical instruments and housewares. Here, you can enjoy typical chinchorro fare like mofongo and carne frita, which is served in shells made from the fruit of higuera trees. Or sit down for a meal of guinea (hen) fricassee at Restaurante La Guinea, a generations-old family restaurant that's only open on Saturdays and Sundays.
Constructed in 1903, Puente de Mavilla is another noteworthy site. This narrow, Spanish-style stone bridge still only accommodates traffic in one direction at a time, a throwback to a simpler, slower way of life.
A handful of artisans across Corozal keep traditional crafting techniques alive, which means you can take home one-of-a-kind souvenirs. Shop for hand-carved mortars and pestles made from fallen maga trees, buttons and rings made from local corozo nuts, and whistles that mimic the call of coquí frogs.