There's no shortage of LGBTQ+ inclusive events in Puerto Rico.
From creative queer nightlife options to annual Pride events and arts festivals, these are our top events to consider when planning your visit.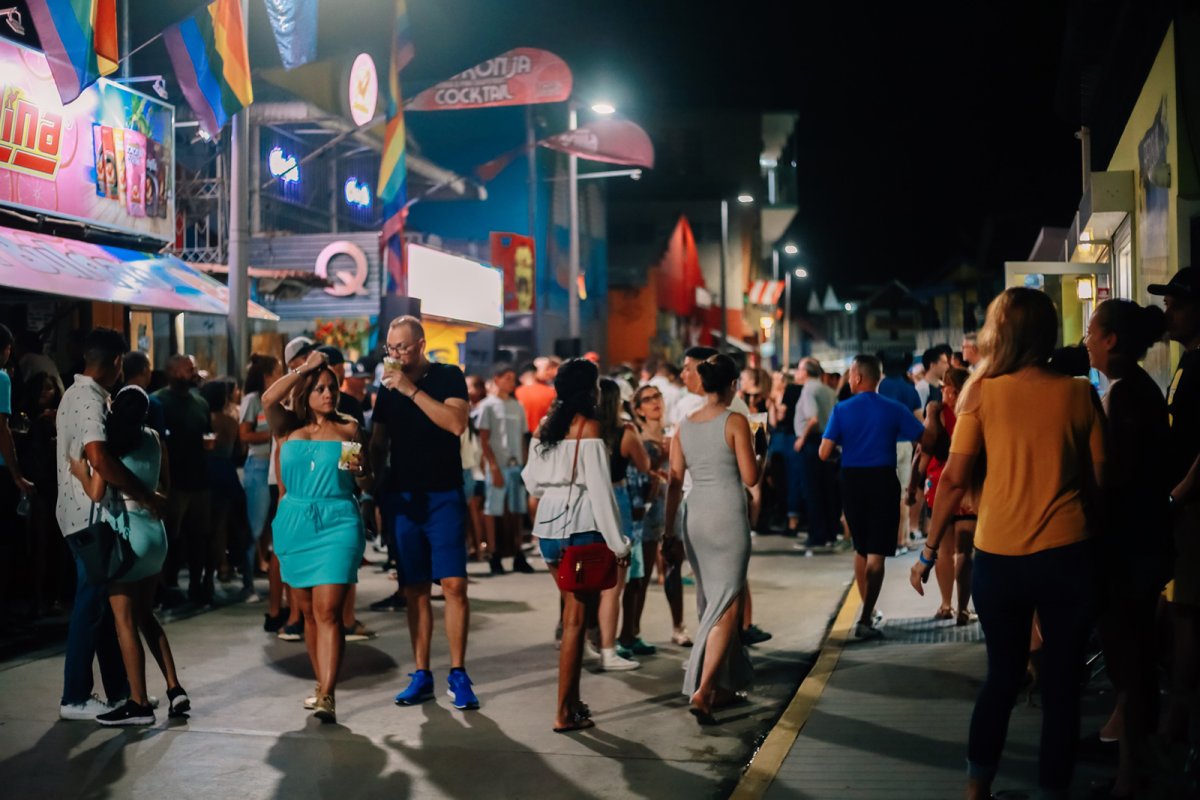 San Juan Pride
When: Early June 

Where: Parque del Indio (Condado) to Parque del Tercer Milenio (entrance of Old San Juan)
Don your favorite hot weather-friendly queer gear and join San Juan's LGBTQ+ community at this major, official Pride Month celebration, which kicks off in the early afternoon with a sizable parade. Find a spot along the route to see rainbow-colored floats, people on stilts and roller skates, go-go dancers, drag personalities, and more. Afterward, head to Escambrón beachside park, where you'll find an expansive green lawn surrounded by vendors and a massive stage for entertainment. 
Be sure to check for pre- and post-Pride parties via the organizing group, Orgullo Arcoiris. Information on the All Out 5K, typically run the day before the parade, will be available there, too.
Orgullo Boquerón (Boquerón Pride)
When: Typically second weekend in June

Where: Downtown Boquerón, Cabo Rojo
Some say this Pride event in southwestern Puerto Rico is even bigger — and wilder — than the one in San Juan. Find out for yourself by jumping right into the weekend-long celebration featuring dance parties, drag shows, and live music. 
Follow the organizing committee to find all the events. Save some energy for the culminating grand parade on Sunday afternoon. 
Festival Claridad
When: Late February

Where: Hiram Bithorn Stadium Parking Lot, San Juan
This multi-day festival organized in support of the longstanding pro-independence newspaper Claridad has been going strong for nearly half a century. On two stages, local artists perform salsa, bomba y plena, Latin jazz, experimental artists, and more, throughout the day and night. There's also a massive outdoor market where local artisans sell authentic crafts and artwork while food vendors offer up delicious Puerto Rican fritters and finger foods. 
For more info, check the festival's Facebook page.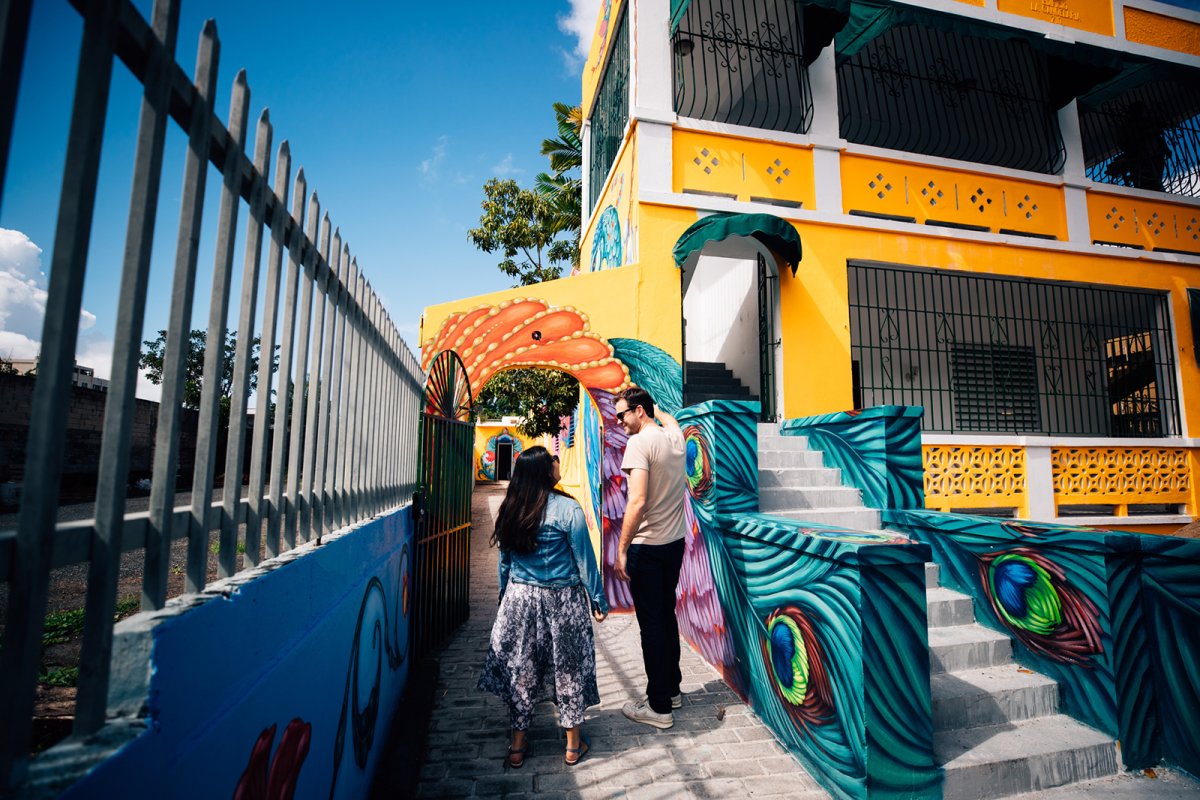 Puerto Rico Queer Film Fest
When: Annually in November

Where: San Juan theaters and cultural venues
The first of its kind in Puerto Rico, this week-long film festival has been running since 2009. Screenings of LGBTQIA+ shorts and full-length films — both local and international — tend to sell out, so plan ahead by checking the website for tickets. 
Mercado Cuir at el Hangar en Santurce
When: (Mostly) monthly, always on a Sunday

Where: El Hangar in Santurce, 706 Calle Hoare, San Juan
El Hangar is a collective-run, indoor/outdoor community space hosting LGTBQ+ events on a regular basis — including its signature Mercado Cuir (Queer Market). This daytime gathering of craftspeople and artisans, from jewelry designers to T-shirt printers to food vendors, is a great way to connect with San Juan's queer community. 
Check El Hangar's Facebook page to find out the date of the next Mercado Cuir. 
Dragas en el Vidy's 
When: Third Tuesday of each month

Where: Vidy's Café, Río Piedras, San Juan
Once a month, local drag queen Anoma Lía transforms the modest venue at this University Avenue restaurant and bar into a safe(r) queer space, delivering a diverse lineup of queens, kings, genderfluid performers, and more, with performances ranging from pageant to dance-heavy to artsy and even political. As Vidy's is very close to the University of Puerto Rico's Río Piedras campus, the crowd is generally young, but the show — which is always free — is open to all queer folks and allies. 
Follow Anoma Lía on Facebook and Instagram for upcoming shows (naturally, she also organizes and participates in events outside this venue). 
Santurce es Ley
When: Annually (month varies but is announced in advance)

Where: Calle Cerra, Santurce, San Juan
During this widely celebrated three-day street art festival, giant murals are painted throughout the area by local and international artists, and temporary works (interactive installations, sculptures, and experimental pieces) are installed on-site. Neighborhood galleries and restaurants host special events, independent vendors are set up all along the streets, and local bands and musicians perform on a big outdoor stage. 
For more info, follow Santurce es Ley on Facebook.
Timbiriche Design 
Tons of local painters, illustrators, sculptors, and designers of all kinds convene inside the museum (known locally as the MAC) and on its front lawn at this annual holiday market. Stop by to see firsthand the breadth of creativity in Puerto Rico's independent arts scene. 
Be sure to check the schedule for special events, like contemporary dance performances, happening throughout the weekend-long event. 
Carnaval Ponceño 
Dating back to 1858, the Carnaval Ponceño is considered the oldest festival in Puerto Rico and is often compared to Mardi Gras or Rio de Janeiro's Carnival. It's a huge multi-day celebration in the downtown area of the southern town of Ponce, taking place a week before Ash Wednesday each year. Festivities begin Friday with the Entrance of King Momo, continue on Saturday with the parade of carnival queens, on Sunday there's another parade, on Monday there's the dance of the folkloric vejigantes, and the festivities end on Tuesday with the sacred rituals including a mock funeral and Burial of the Sardine, the Burning of Juá, and the Unveiling of King Momo. Throughout the carnival, there's live music, artisans, food vendors, and street parties. 
For up-to-date information -and to learn more about the history of this event- see the Ponce tourism page.
Adi Love and Friends 
Organized by prominent local trans drag queen Adi Love, this show is notorious as one of the drag scene's dirtiest (and funniest). Adi is endearingly referred to as "la Puelka" -basically, she's the queen of raunch. The rotating lineup showcases performers of all styles and genders, and a queer DJ or two for the pre- and post-show dance party. Plus, the hosting bar offers games (billiards, big-screen video games, ping pong) and a tasty menu of light bites. 
To find out more about the next show, follow Adi Love on Facebook and Instagram. 
Riviera Realness
The young, emerging House of Riviera is behind this monthly show at Urbe Apie, a nonprofit arts and culture center in downtown Caguas (just outside of San Juan). Looking at Puerto Rico's drag scene overall, this event feels like a creative hub for its future, but it's also very much the community's present. Riviera Realness, like the rest of the queer drag scene, is inclusive to all performers, but expect this show to be particularly attuned to the pop culture of today (and tomorrow, too). 
Follow Riviera Realness on Instagram for show info.