Kara Keefe has many titles.
At MangiaMi, the Rincón-based restaurant she shares with her wife Rebecca, she's known as the head Wine-O (think sommelier with an edge!) 
Kara and Rebecca met in Key West. Their journey to Rincón and the west coast of Puerto Rico began with a weekend jaunt during their courting phase. Rebecca wanted to surprise Kara with a surprise getaway and chose Rincón for its laid-back, surf-town vibes. Once there, while floating in the bright-blue Caribbean water, they shared a look. That look. The one that says: we're in love.
The rest was history. They packed up their lives in America and headed to Rincón, where they live and run two of the hottest restaurants in town.
In this interview, Kara chats about food, being queer in Rincón, and how the LGBTQ community has impacted one of Puerto Rico's best-hidden gems.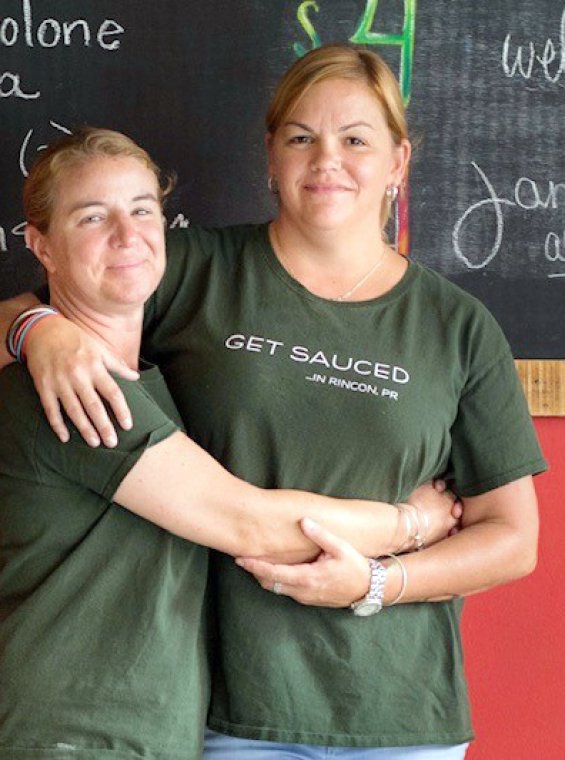 What impact has the LGBTQ+ community had on the culinary world in Rincón and Puerto Rico?
It's crazy! We never intended to open a "gay restaurant" or "gay pub" but it's become who we are now. I've heard the term "those crazy lesbians" thrown around, it cracks me up! In all seriousness, we've always been impressed with how Rincón embraces the LGBTQ+ community. We've always felt welcome and always want to share our space(s) in welcoming others.
Where do you like to eat in Rincón when you're not working?
We actually don't get out much but if we do we love The English Rose, Casa Isleña, Copa Llena, Shipwreck, and a good date night at Vacas Gauchas. A very odd tip (just trust us!) is to take a bottle of our finest red and pair it with a Whopper. Please don't judge, it's amazing!
Do you have any tips for people coming to eat in Rincón for the first time?
Be open! Rincón has become a mecca of culinary experiences! Open up your mind and mouth and enjoy!
What is one dish every visitor has to try at your MangiaMi?
We have to pick only one?! My go to is Momma's Meatballs and I think everyone should try them at least once!