History, charm, and laid-back pace: gay couples or friends will love relaxing in Culebra. 
Culebra, a beautiful and undeveloped island that's part of Puerto Rico's archipelago, sits halfway between Puerto Rico to the west and St. Thomas to the east and just north of the better-known and more gay-popular getaway of Vieques. Culebra provides history, charm, and super-friendly locals at an incredibly laid-back pace. It is just the spot for gay couples or friends to relax and escape the modern world or combine with a visit to more party-forward San Juan for a best-of-both-worlds vacation.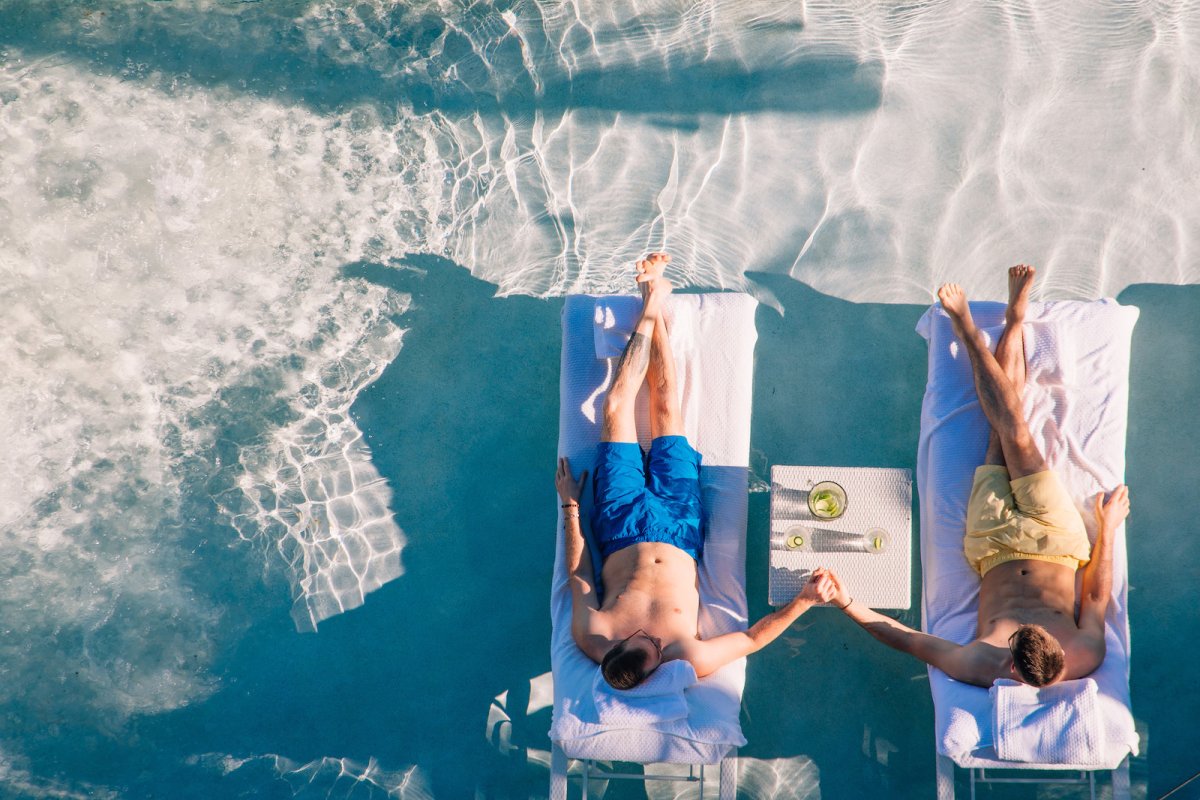 Hilly and green and surrounded by beautiful turquoise water, Culebra is best known for natural splendors, notably several beautiful beaches, and natural reserves. At the world-renowned sugar-white sand beach Flamenco, you'll find changing stations, bathroom facilities, food stands, and bars. Snorkeling fans will enjoy Playa Tamarindo, beautiful, serene, and carpeted with bits of coral and wave-smoothed stones (pack your water slippers). The rougher and wild area of Zoni beach offers none of the amenities you'll find at Flamenco and which is best accessed by Jeep.
Across from Zoni beach you'll find limpid waters lapping the small islet of Culebrita, which offers the quintessential remote Caribbean beach experience and access to giant sea turtles. Finally, head to the super pristine Cayo Luis Peña Natural Reserve for walks, swims, and an exploration of coral reefs — accessible via private water taxi.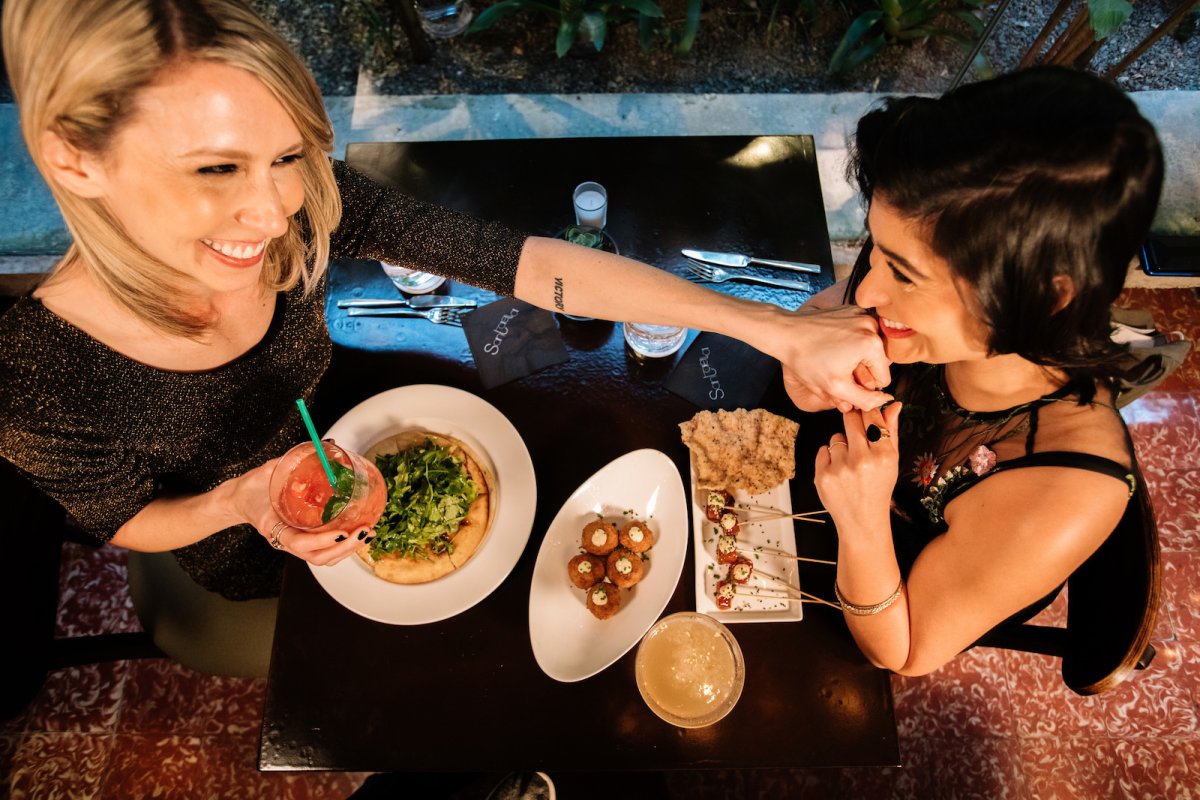 Culebra Bites
You'll find a few good restaurants in the main town of Dewey (or Culebra Town), including Zaco's Tacos for tacos and other Mexican and Caribbean specialties; Restaurant Caracoles for some of the best seafood on the island; and a favorite spot for breakfast or a quick lunch, the family-run bakery Pandeli, which offers fresh-baked goodies starting early in the morning until they run out, and panini-style sandwiches.
Although there are no official gay bars in Culebra, Club Seabourne's bar offers a super fun environment for gay locals and visitors. If you tend to rely on apps to meet other people of the LGBTQ community, know that you might see a few gay men within a few miles, but the vast majority tend to go to Vieques and Puerto Rico's mainland. During high season (during winter in the north), you'll find more gays concentrated in town and on the apps but never with the density you'll find on San Juan. In any event, you go to Culebra for a beach day or to get away; and you'll be happier if you bring a partner or small group of friends.
Culebra Sleeps
The Club Seaborne is a modern, well-run villa-style property with great service and a made-to-order, filling breakfast included. Local Puerto Rico gay experts also recommended Villa Tampico as a favorite rental property with pool, two private docks, and easy access to Flamenco. This guesthouse has the added benefit of having one of the best restaurants, with outdoor dining overlooking a canal.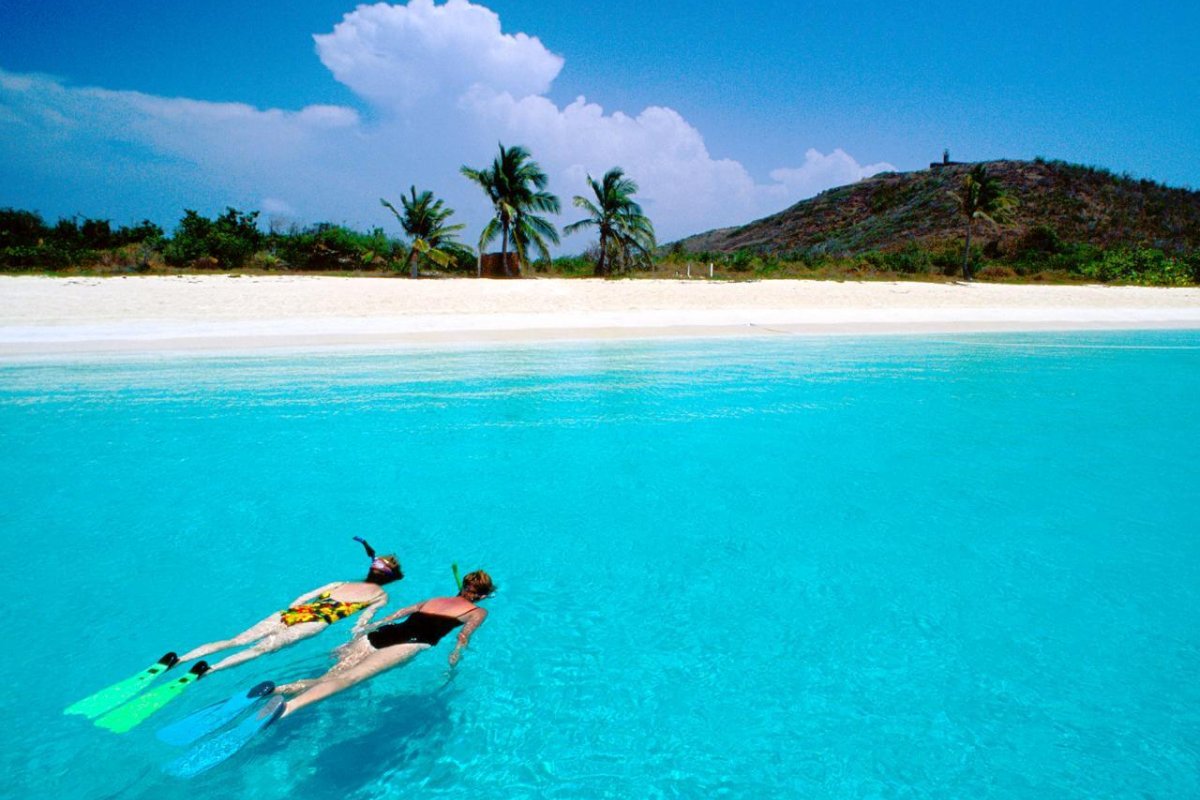 Day Trip or Overnight?
If you just want a taste of the beach and to do a little snorkeling and possibly even check out the handful of good restaurants, a day-trip should suffice. If you'd like to include a half-day of snorkeling the gorgeous waters around Culebrita or plan on visiting the more remote area of Zoni beach, you'll want to stay a night or two. If you take the ferry, you should be able to do everything and only spend one night. Due to flight schedules (arriving and departing mid-afternoon) you're probably better off planning on two nights if you decide to fly.
An added bonus: flying affords you views of the entire island including the lush green hills, beautiful scallops of beaches seemingly carved out of cream-colored sand, and a dramatic (but soft) landing that requires a steep vertical drop down over a high hill located near the landing strip.
Practicalities
Be sure to stock necessities like mouthwash, dental floss, sunscreen, lube, etc. before arriving. You'll also need cash since not everyplace accepts plastic. You can find some of these sundries as well as bottled water, beer, liquor at Colmado Milka Grocery Store, but note the early closing time.
Brush up on your Spanish. Most customer-facing staff speaks some English but you won't find the level of fluidity you'll find in San Juan.
Culebra is easily accessible via daily small six- or eight-seater propeller-driven planes flown by Seaborne Airlines and now by a reliable, 45-minute ferry ride from Ceiba.
If you fly into San Juan airport and proceeding directly to Culebra: it's best to check luggage. If you don't, you have to leave security to retrieve your luggage then re-enter security for your onward flight. The airline doesn't offer TSA Pre-check and security tends to be stricter about liquids.
You won't find Uber there. There are taxis and they're inexpensive, but they are not plentiful, with fewer at night. It's best to rent a car or golf cart to get around. Bigger cars allow access to more remote destinations like Zoni beach, whose access roads include some steep hills and rough spots. For most other visitors a golf cart is cheaper but slower. Be sure to reserve ahead of time in high season.