The food truck scene in Puerto Rico changed everything.
With more than 100 hundred trucks popping up in almost every major city over the last five years, this foodie phenomenon has become another way queer millennials choose to eat, meet, and express themselves. Eating at a food truck park in Puerto Rico not only opens your culinary options to include global cuisine and local classics, but it also supports LGBTQ+ entrepreneurs.  
Below are some of our favorite lots — some queer-owned, others queer-popular — plus a few individual stand-out trucks. 
Pro tip: For more info on Puerto Rico's food truck culture, follow Food Truck Republic on Facebook. 
The scene here is bursting with live music and young hipsters crowding wooden picnic benches under sparkly, string lights. The cluster of trucks at this San Juan hotspot has several unique offerings: the cotton-candy topped teas at Dr. Bizarro's Bubble Tea Shop are as delicious as they are Instagrammable.
But for heartier meals, the artisanal tortillas and super-stuffed tacos at Las Cucharas Comida Mexicana, are a winner! Chef Javier Seañez – the truck's openly gay, Mexico-born owner – has seen a major influx in clients, too, after cooking his way into the finals of MasterChef Latino.
There's also The Meatball Company's cheesesteaks and chorizo sliders, Que Tostón's creative Caribbean and Puerto Rican eats , and scrumptious bites at Yummy Dumplings. 
West coast travelers should make sure to hit up the Aguadilla Food Truck Park – a 45-minute drive north from Rincon — where they'll find cultural cuisines as varied as Japanese street food, Mediterranean cuisine, and Peruvian dishes. More traditional quick eats like burgers, coffee, and ice cream are in the mix, too. You can also make your own best-of-the-west international buffet here - a great way to refuel after a long day at the beach. If you're up for a night out, check out the popular gay bar Nova Ley in nearby Mayagüez.
This isn't a food truck park, per se, but rather an avenue that's full of them. Sample everything from arepas to tripletas (Puerto Rican version of a meat lover's sandwich) or El Churry's signature churrasco sandwiches to healthy and tasty açai bowls. Peruse the multiple options in the early evening (most are open nightly) then cross the street for a beachside stroll.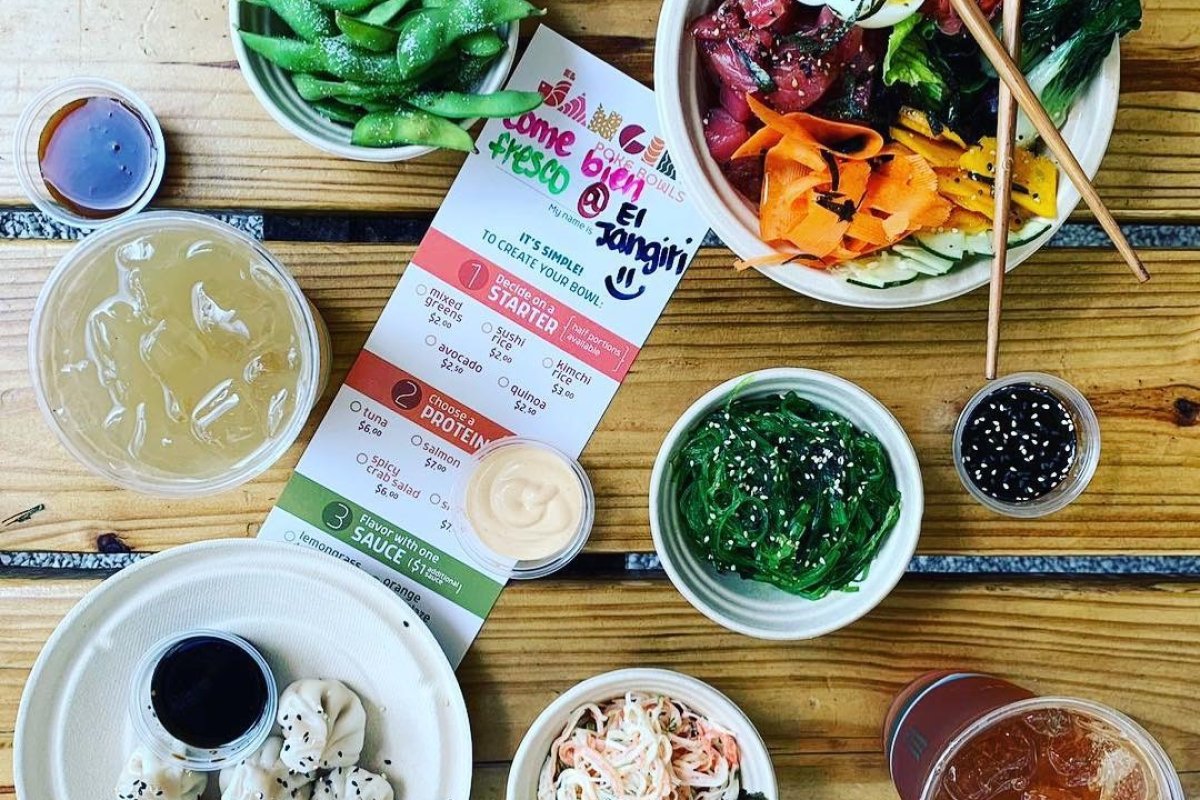 Less than 10 minutes from downtown Ponce is this newly opened food truck park that's quickly gathered up several stellar options: Eatcétera Vagón Gastronómico serves comida criolla alongside a rotating menu of pasta dishes, burgers, and even ribeye steaks; La Mexicana offers tacos al pastor and more; and La Cañita Azul Tropical makes frituras, loaded fries, and nachos supreme. Expect to find even more by the time your trip rolls around, as this lot is continuously recruiting new vendors. 
Lote 23 is a great spot for starting a night out in Santurce: LGBTQ club Toxic, which features DJs and nightly drag shows, is close by on Avenida Condado. But the culinary allure of this sprawling gravel park is its mix of emerging chefs and established foodie superstars. You'll find gourmet pizza and poke bowls, delectable burgers, and platters of piled-high nachos, and perfectly executed Puerto Rican frituras (fried finger foods.)
Tip for meat lovers: Don't sleep on the creative pernil (pork) sandwiches at Pernilería Los Próceres. 
Artisan beers are available across vendors (plus cocktails by Caneca, a venture run by two co-founders of the award-winning Old San Juan bar, La Factoría.)
The lot also doubles as a venue, regularly hosting events like yoga, film screenings, live music, salsa lessons, and more. Check socials to see what's happening during your trip.
Can't-miss individual trucks:
For vegans looking to try traditional Puerto Rican grub, Freshco is an especially tasty blessing. Located in the Placita San Miguel in Trujillo Alto (about 20 minutes southeast of San Juan by car) Freshco offers house-made takes on classics from empanadillas to soy meat-filled mofongo and arroz mamaposteao (stewed rice and beans.)
Burgers get the star treatment here. Locals travel from all over the island for these monster-sized meat patties. The various styles of loaded fries are much beloved, too. Veggie options are also available -just ask. While it's not located in a lot alongside other trucks, this one's worth a special trip. 
As if ice-cold, homemade popsicles weren't enough, Friend's has brought the dessert-on-a-stick concept to another level. Try waffles and cheesecake on a stick, decked out with toppings like chocolate syrup, marshmallows, crushed Oreos, or almonds. Friend's moves around often, usually parking at festivals and special events, so follow them on Facebook or Instagram to find out where they'll be next.
Argentinian empanadas get the spotlight at this newly inaugurated truck in Arecibo, a northwest coastal municipality.  Married (and openly gay) co-founders Carlos Marina Vega and Gustavo Broada Pérez's oversized oven-baked empanadas come in several styles -- like the vegan option, stuffed with eggplant, and their 4-meat specialty, which includes chorizo, churrasco, ground beef, and chicken. New, limited-run creations are often available, too, but no matter which you opt for, any one of them will live up to the truck's tagline: "The only Argentinian empanadas that don't fit in your hand!"