The beaches in Puerto Rico are frequently mentioned among the best in world, right alongside hotspots circling the Mediterranean or the Hawaiian islands. For LGBTQ travelers looking to escape to beautiful beaches and serene turquoise waves, there's no place better in the Caribbean than Puerto Rico: The beaches here are as LGBTQ-friendly as they are Instagram-ready.
Puerto Rico's beaches have a special kind of magic, so which beach is right for you? In Condado, the beach is part of the San Juan scene, where you can sip mojitos and people watch with queer locals and fellow travelers. On the west coast of Rincón, the beaches belong to surfers, or find secluded beauty on Vieques or Culebra, where gorgeous strands beckon sun-worshiping lovers.
Here are some of the best beaches Puerto Rico has to offer LGBTQ travelers.
Condado Beach, San Juan
If any beach were to be named the de-facto gay beach of San Juan, this would be it. When you stay in Condado — be it at the Condado Ocean Club for a long weekend, or the AC Marriott for business — Condado will become one of your favorite beaches to stroll at dusk before a night out at the gay bars. For first-timers, the traditional gay beach is found in front of The Tryst Beachfront Hotel. Pack a picnic lunch and your drink of choice, rent a couple lounge chairs, and people watch all day.
La Playuela, Cabo Rojo
In Cabo Rojo, arguably the most LGBTQ-friendly area in all of Puerto Rico, you'll find La Playuela, an off-the-beaten path gem of a beach. The beach is down a long, bumpy path, so drive slow and be patient — it's worth the trek. Once you arrive, you'll be stunned by crystal-clear, turquoise water, soothing serenity, and gorgeous views of the Instagrammable Cabo Rojo Lighthouse.
Beach day, safely! 
Learn all about Puerto Rico's climate, get real-time weather updates, and find resources to help you enjoy our natural wonders safely.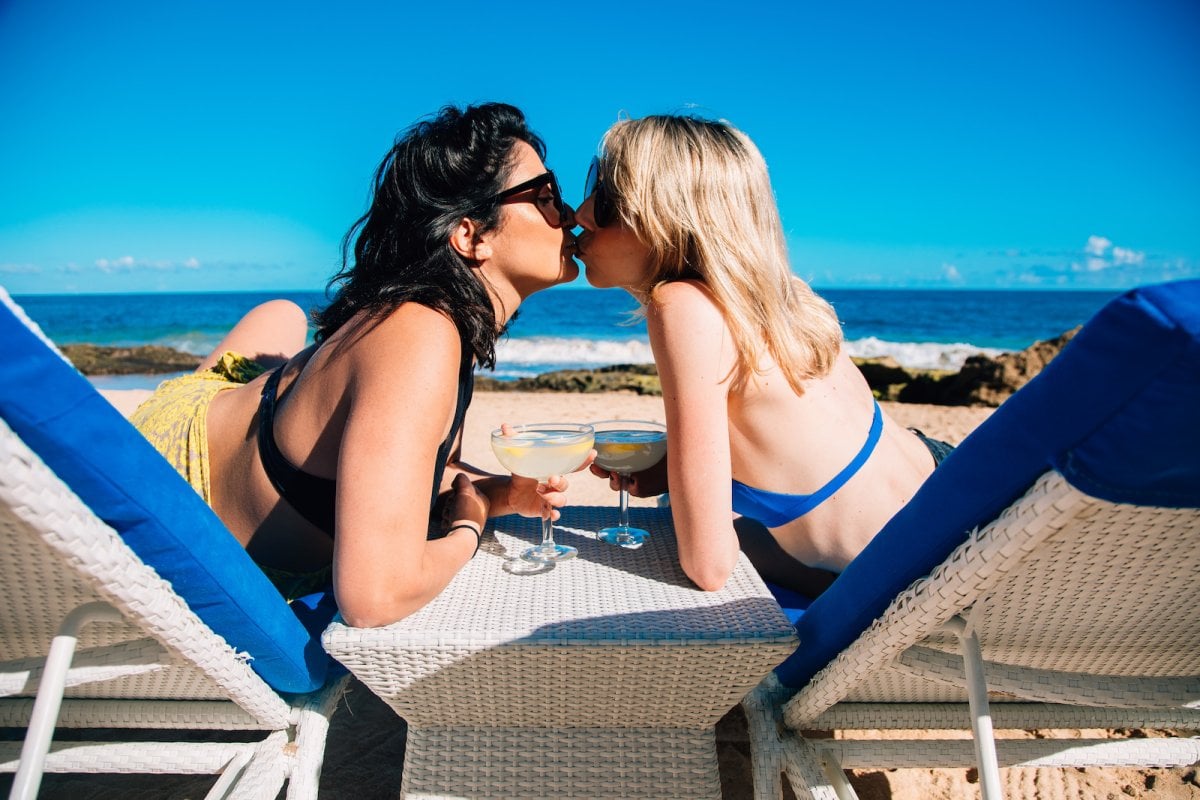 Sandy Beach, Rincón
For queer surfers out there, this will be your must-go beach. The west coast of Puerto Rico is a surfer's paradise, and Rincón is the heart of the culture. Sandy beach is a sparsely populated stretch of white sand, with plenty of waves (especially during winter months), and shade trees for those who just want to relax. You can rent a surfboard for $20 and spend the day catching waves, or stroll with your partner and take in the fun, beach town experience.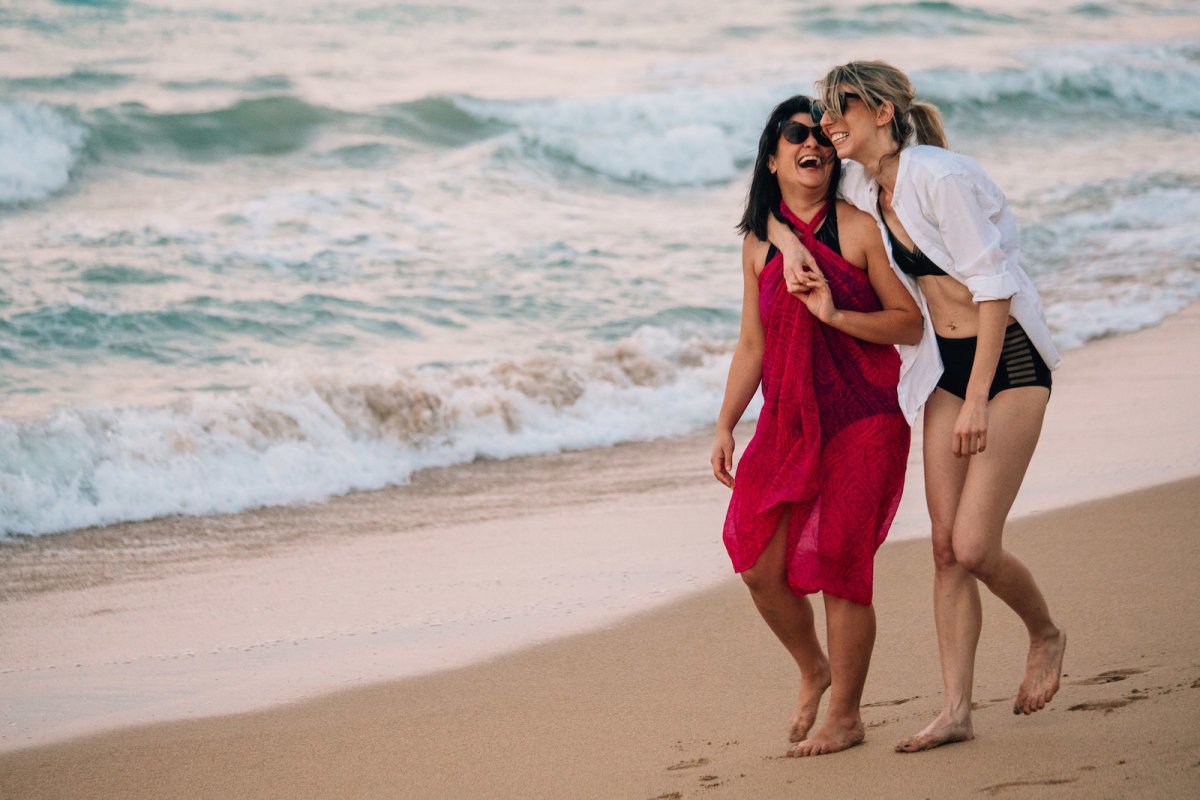 Playa Navío, Vieques
Another gorgeous beach in Vieques. The turquoise water and soft sand make this a local favorite. It's pretty remote, and the gravel road to get here is a bit rocky, but chances are you'll have rented a Jeep which can easily handle the terrain. You can rent gear and surfboards from Blackbeard Sports, a lesbian-owned shop on the island.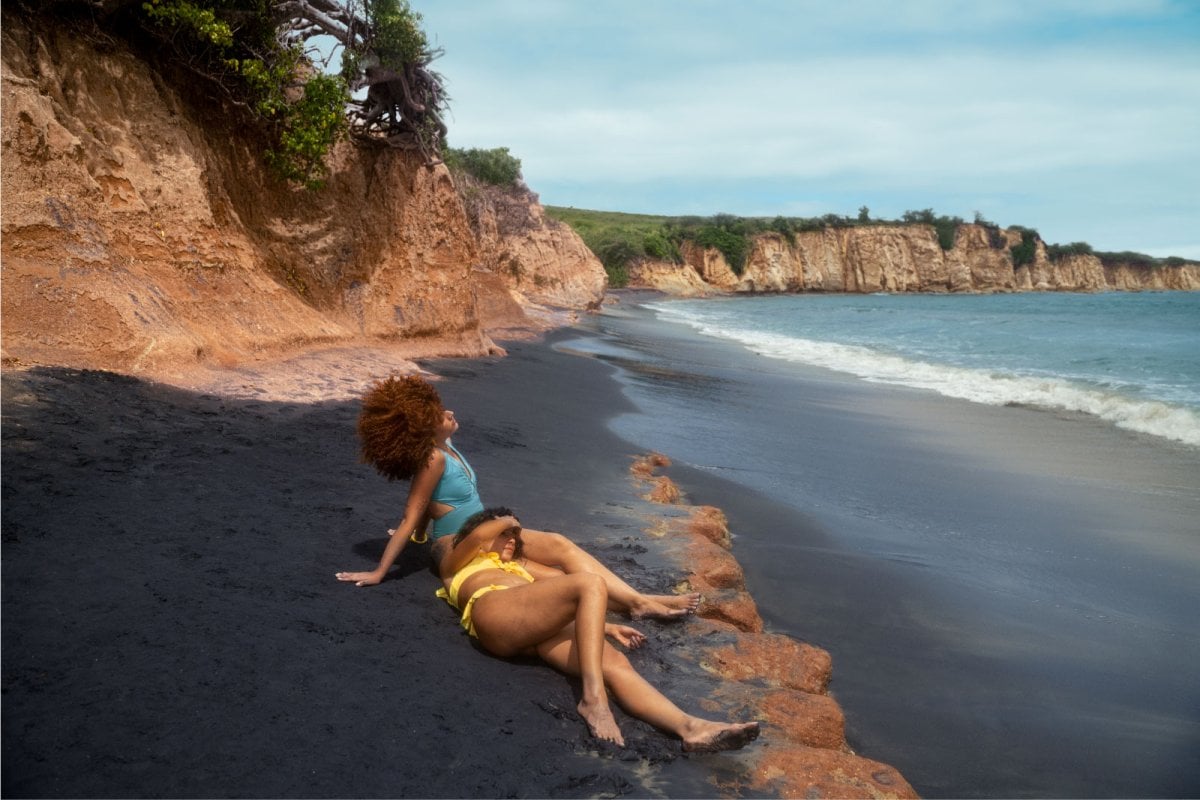 Playa Negra, Vieques
Is anything so beautiful ever easy to get to? The iconic "Black Sand beach" in Vieques is worth every second of the journey it takes to experience it. On foot, the trail down to the beach represents about fifteen minutes of feral, muddy wetland wildlife. Upon arrival you'll find a gorgeous stretch of beach that is otherworldly — as in, you'll think you've crossed over into Narnia. Set up some lounges and relax, or come late at night and make your own queer beach party.
Playa Flamenco, Culebra
Playa Flamenco may be one of the most postcard-perfect, picturesque, beaches in the world. The world-renowned beach has sugar-white sand, Caribbean blue water, and miles of unblemished beauty for you and your partner to stroll on. It's also practical: the beach has changing stations, bathroom facilities, snack stands and lifeguard towers for queer moms and dads who may be traveling with little ones. Culebra provides a lovely getaway for LGBTQ couples, and this beach is your sanctuary.
View Places Mentioned on a Map