Your trip to Puerto Rico won't be complete until you spend some time in at least one laid-back surf town along the island's northwest coast.
There's a unique openness to these surf towns, with the atmosphere palpably inviting. You'll easily make friends chatting about the latest swells and getting tips on everything from tricky currents to the best local bands. Imagine a full, glorious day of surfing and swimming, followed by dinner, music, and conversation with friends old and new — these beach towns are where you can make that dream come true. 
To make the most of your time there, get your surfing done in the morning — there's something magical about early surfing when the air is cooler, the sun much friendlier, and the waves are ready to welcome you. Use the afternoon for resting with a poolside nap at your hotel or a snooze in a colorful, woven hamaca — the Taíno word from which hammock derives.
Once the sun goes down, you'll be refreshed and ready to experience the other treasures each town has to offer.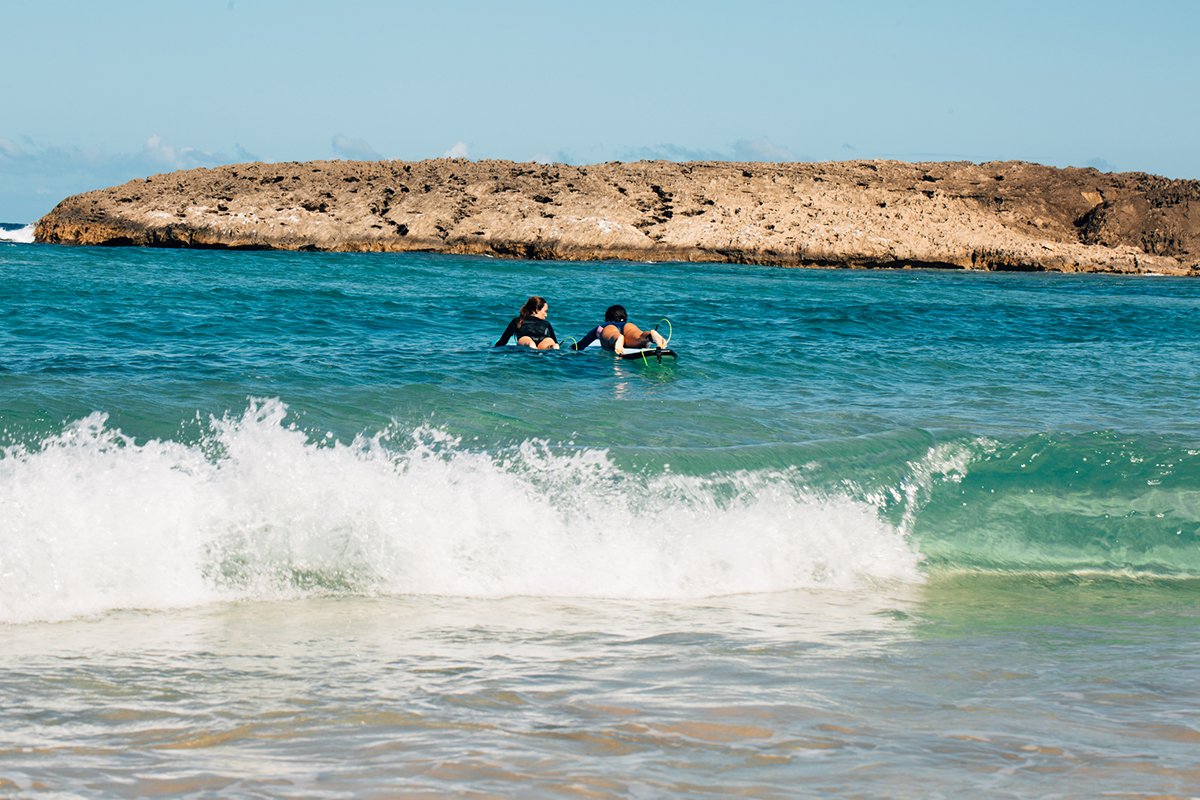 Isabela
In Isabela, an hour and forty minutes west of San Juan, make Jobos beach your first stop. This surf beach offers a swell that is consistent but not extreme, making it a good choice for both beginner and intermediate surfers. This sun-kissed beach is not a bustling tourist stop, so you'll rarely find a crowd — except on summer weekends, when locals flock to enjoy its surfing and volleyball opportunities. To watch professional surfing, visit Middles beach, which frequently hosts pro surfing competitions.
After a day in the surf, you'll need refreshments and sustenance. You'll find plenty of fresh seafood and local criollo offerings at Ocean Front Hotel Restaurant, which is right on Jobos beach. Down the coastal highway, you'll also find restaurants and even a food-truck park. Watching the sunset from this point of view is magnificent, so why not order a drink and relax a while? There's simply no better way to end a day on Puerto Rico's surfing coast than by watching the sun dip below the horizon as a live band serenades you through a fresh and delicious dinner.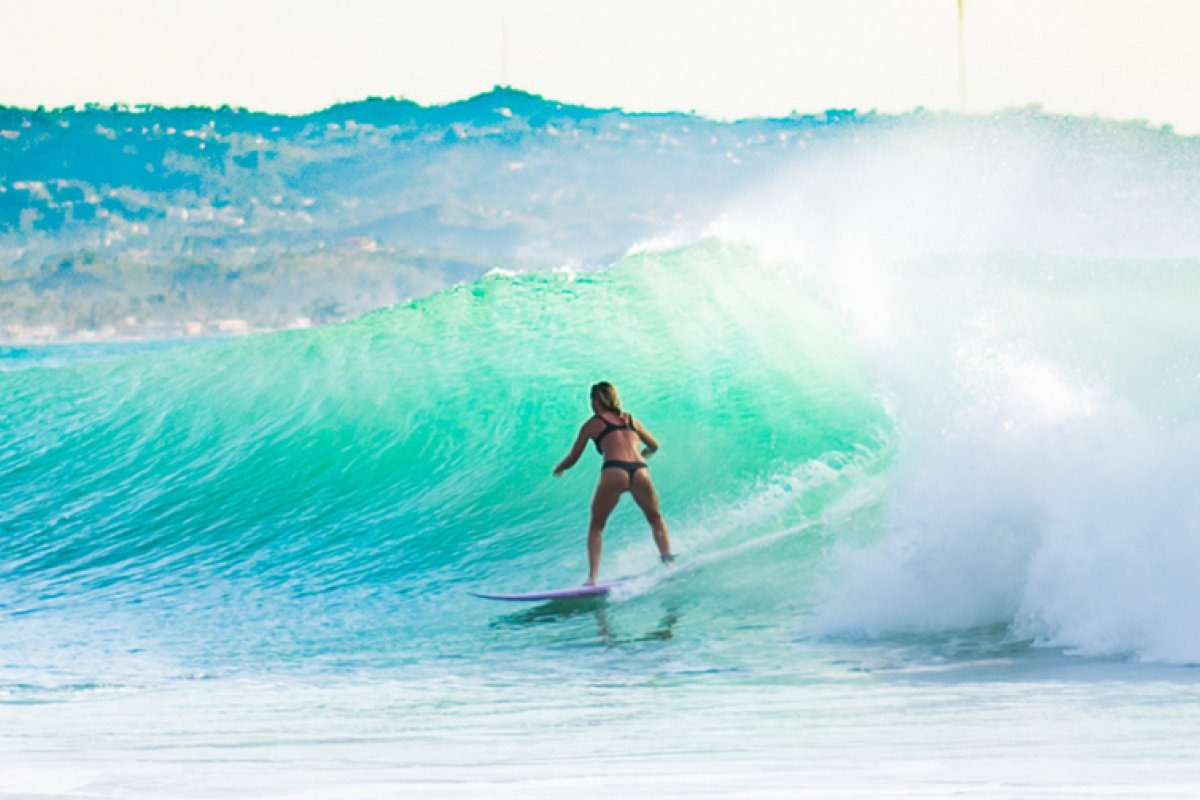 Aguadilla
Aguadilla is a 30-minute drive southwest of Isabela, but you can also fly directly into Aguadilla through Rafael Hernández International Airport (BQN). Most flights arrive late at night or early in the morning, but taxi service is never a problem. And since the town is compact, it will be a quick ride to your accommodation.
If you're in town for the surf, you'll find a number of options in this west coast town. Aptly named Surfer's beach (located near the airport) and Bridges beach (located downtown) are good options for beginners, while more experienced surfers might want to head straight to Wilderness beach or Gas Chambers beach. The waves at Gas Chambers rarely break, but when they do, they break hard, making it an exciting challenge for veteran surfers to tick off their to-do list. 
When you're done with the waves for the day, Zazones is a great choice for upscale Caribbean dining. It offers a refreshing sangria to enjoy as the sun goes down, and you'll find everything from fresh, local snapper to duck breast to creole-seasoned grouper on the menu.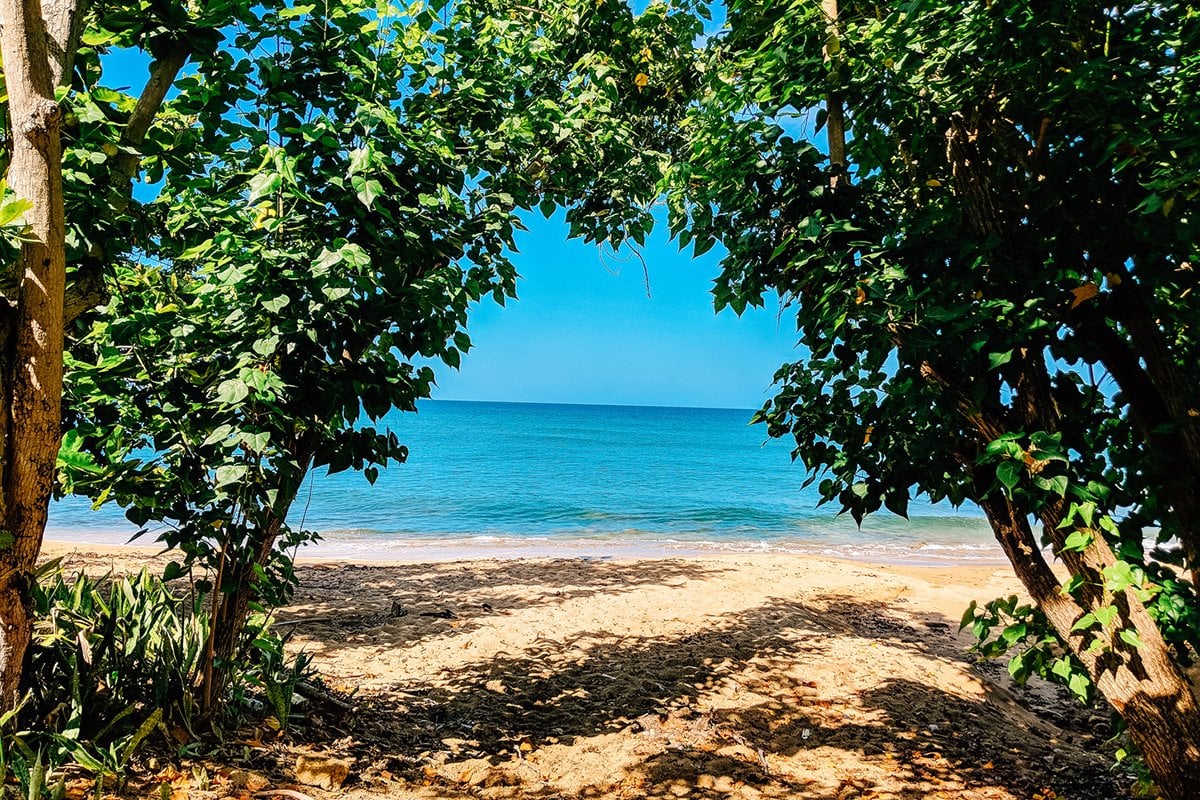 Rincón
Continue another 20 minutes south from Aguada and you'll reach Rincón, a town often called the surf capital of Puerto Rico. You'll understand why once you arrive. You can start at María's beach, home to many surfing competitions, and work your way to Indicators and Domes beach, then around the north corner to Pools beach and Sandy beach. If you are an experienced surfer lucky to be in the right place at the right time, Tres Palmas beach offers a world-class wave known as one of the best in the world. 
There's much more than a day's worth of surfing here, and fortunately, there are great places to stay a mere walk away from any surf spot. Rincón has an array of intimate inns, hotels and beachfront properties, including Casa Verde Hotel, just down the street from Sandy Beach. 
Plan dinners in the neighborhood at restaurants like Tamboo Bar and Seaside Grill, voted best beach bar by USA Today. There, you'll experience live music and energetic vibe, as well as great burgers and local seafood. Or wind up the hill to The Pool Bar, where there is, of course, a pool and a bar, but also some of the most delicious sushi on the island. If you're around on Thursday, you can enjoy the "Rincón Art Walk," which is a showcase of artisans, art, and music. 
Surf season on the west coast is typically at its peak from December to April, so plan your trip during those months to catch the best waves. However, if you're new to surfing and want to get started in a low-key way, plan your trip a bit before or after the official season. You'll find waves the perfect size for learning and a laid-back, friendly community year-round. 
Aguada, a smaller and quieter town about 25 minutes south of Aguadilla, often gets overlooked. But that's a mistake, as you can enjoy great surfing and dining here, often with no crowds and more budget-friendly options. Table Rock beach is great for experienced surfers during the season, while Pico de Piedras offers year-round breakers and a stunning stretch of sandy beach. 
There are plenty of food stands along PR-115, the main road that runs from Aguada to Rincón. For lunch, try La Papa, a local favorite that serves enormous baked potatoes smothered in your choice of toppings. If you're not ravenous from surfing, plan to split one (seriously, they're enormous!).
View Places Mentioned on a Map
Discover Puerto Rico's E-Newsletter
Paradise for Your Inbox
Get travel inspiration, news, tips and more delivered monthly.