You can find safety and fun in the same place.  
Sunny skies above your head, warm sand between your toes, and an endless blue horizon. Doesn't it sound like the perfect day out? Your family might think so too. With nearly 300 miles of coastline, Puerto Rico has a seafront spot for everyone but, where's the best place to splash around with your loved ones? 
When it comes to traveling with kids, safety comes first. So, where do you take your family for a fun day in the water? From toddlers, who'll be building sandcastles, to teens who want to snap that Insta-worthy picture and enjoy a surfing lesson, all your loved ones will have an incredible day under the sun. 
Here are some recommended locations with high water quality standards, easy access to restrooms, shade, parking, and even food vendors to make your vacation more enjoyable. 
Beach day, safely! 
Learn all about Puerto Rico's climate, get real-time weather updates, and find resources to help you enjoy our natural wonders safely.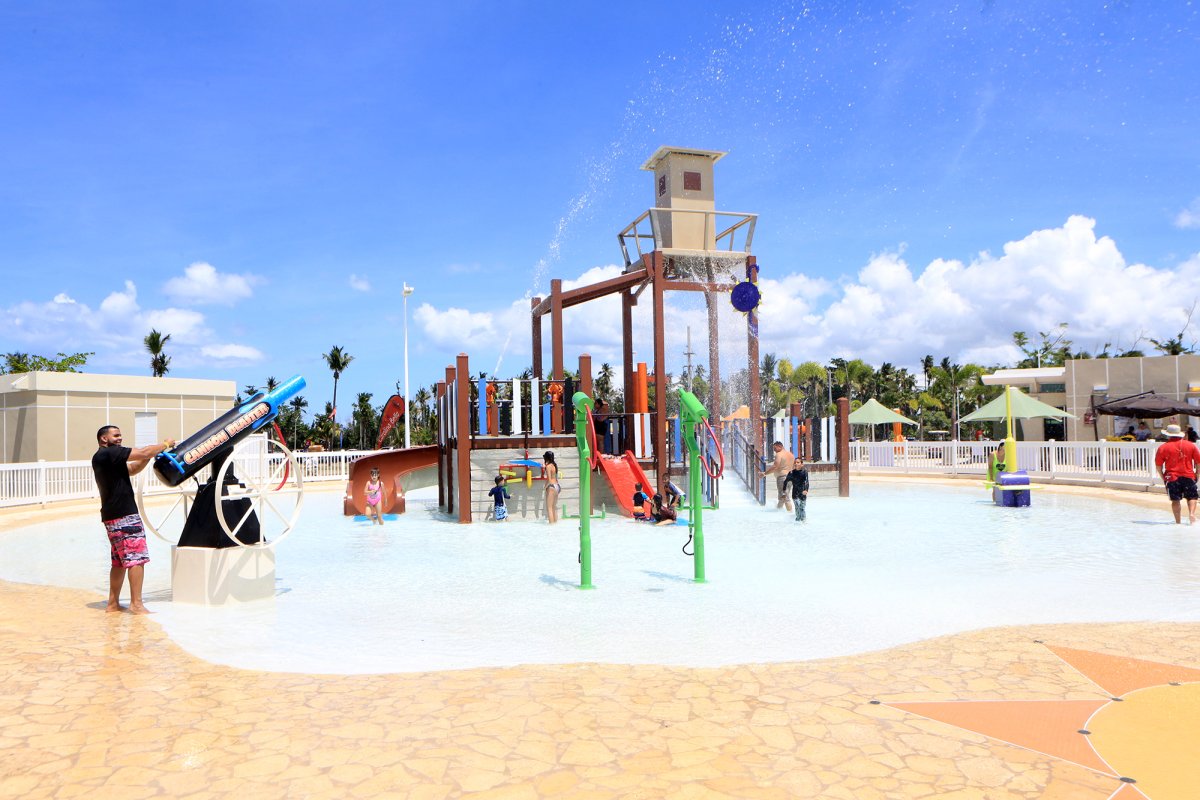 La Monserrate, Luquillo
With El Yunque as a backdrop, this balneario is known for its shallow waters and golden sand. Best for swimming, kayaking, and paddle boarding, this crescent-shaped beach is lined with lifeguards, local vendors, and lounge-chair rentals for your convenience. There's a camping area with showers and gazebos – practical for a BBQ day with kids, and it is constantly categorized as a Blue Flag destination. You can also go to fly-boarding. How cool is that? This beach is located near the famous Luquillo Kiosks, where you'll find an array of menus to satisfy the whole family. 
Balneario de Carolina
Another Blue Flag awarded beach is found just outside the city. Balneario de Carolina is one of the most popular and visited beaches because of its cleanliness and convenient facilities. From a beach volleyball court to a small waterpark for children and a microbrewery on-site for adults, there is something for everyone in the group, regardless of their age. Rent a gazebo, pull out an umbrella, or work on your tan lines; it is entirely up to you. There are lifeguards and paramedics on-site, so you can relax and unwind in a safe environment. 
Puerto Nuevo (Marbella), Vega Baja
The landscape at Marbella (or Puerto Nuevo) is as stunning as it is protective. The waters at this beach remain calm even when there are active waves because they are surrounded by huge limestone rocks that serve as a barrier between the northern beach swells. The rock formations act as wave breakers, but it's also an extraordinary photo opportunity for your family-vacation scrapbook. One side of Puerto Nuevo you'll find a calm natural pool that regularly flushes, perfect for smaller children, and on the other hand, you'll encounter an open-water style beach with more active waves for your teens to go boogie-boarding. There are picnic tables, showers, on-duty lifeguards, and food kiosks to ease your day.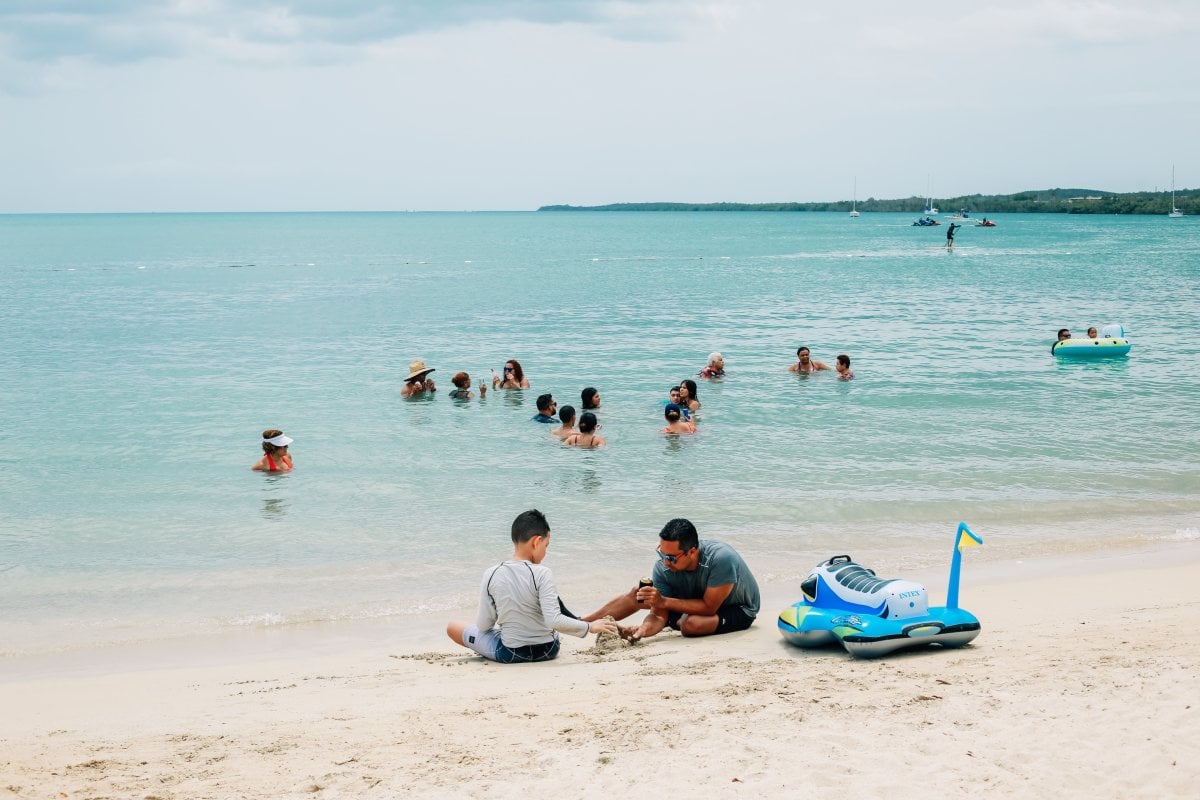 Popular, but never crowded, Flamenco beach is one of the top beaches globally, and there is a reason for that. The spacious beach makes it easy to find a peaceful spot to relish in the crystal-clear waters and diamond dust sand framed in by luscious mountains. It is a postcard-picture ready scenery. This spot, ideal for swimming, has several facilities that range from fresh-water showers to bathrooms and camping areas. You'll find an assortment of food stands and "cold-coconut" vendors and friendly locals you can mingle with. There are also lifeguards and paramedics on site. 
Some of the best panoramic views you'll find on the small island of Vieques are located in Sun Bay. This half-moon-shaped beach has all the amenities you could hope for a full day out with the kids. The waves are gentle, and the two-mile-long shore makes it feel almost secluded, so even on its busiest day, it will not feel crowded. There are palm trees and uvas de playa that provide shade all day long, and many schools of fish like to swim around, so be sure to bring your goggles! 
Balneario de Boquerón, Cabo Rojo
On the southwestern coast of Puerto Rico, you can enjoy a fun-filled family day at Boquerón, a golden-sand beach surrounded by almond, flamboyant, and palm trees that provide shade and shelter. You can bring a chair (or a hammock) for a lazy day under the sun or carry a beach chair and rent an umbrella to cover up from the sunrays. There are basketball courts, playgrounds, and gazebos to play around, but most importantly, the water is almost waveless, making it safe for toddlers and kids to swim and paddle around. You'll have a lot of fun searching for seashells that wash ashore and admiring the small fishes around the shallow ends.