Explore Puerto Rico from the mountains to the sea.
From rainforest hikes to surf lessons, get a dose of outdoor adventure, history, and culture during your trip.
While preteens (aka tweens) and teenagers can be a challenge, having kids get older means being able to do more fun things on a family vacation. This suggested itinerary balances exciting outdoor activities with some educational experiences that everyone can enjoy.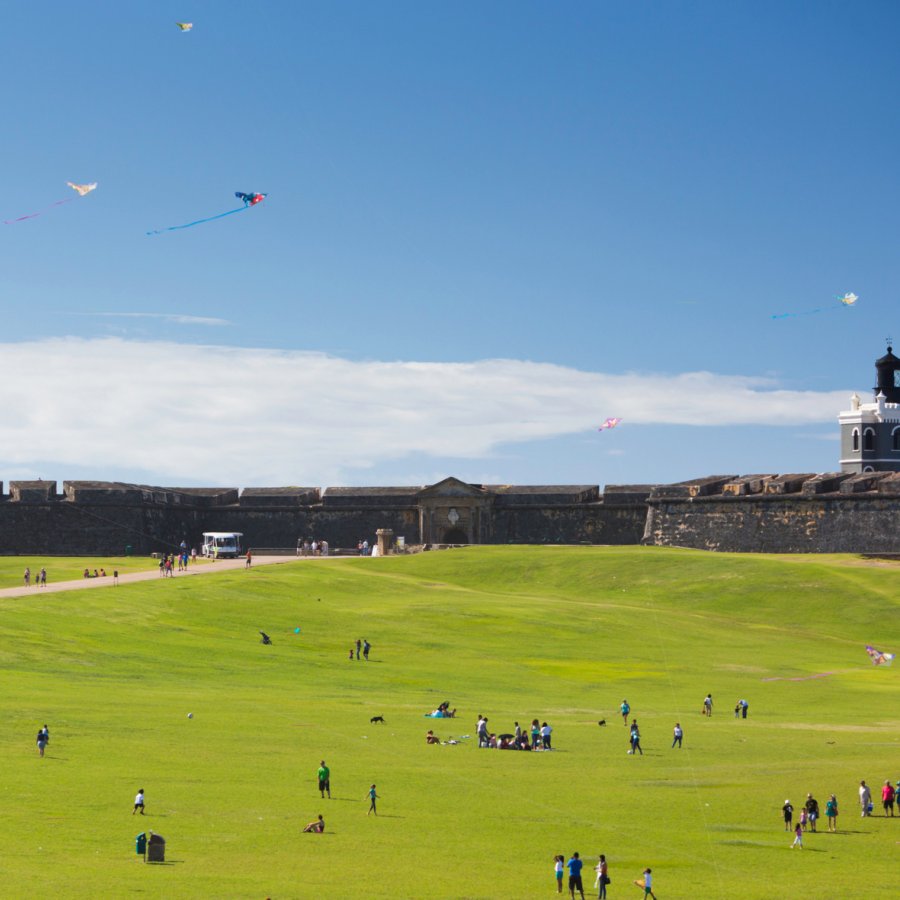 Day 1: Old San Juan
Start your vacation off with a day in Old San Juan where the whole family can get a taste of Puerto Rican history and culture. For breakfast, visit a bakery like La Tortuga or La Mallorca and try local pastries like quesitos (puff pastry stuffed with sweet cream cheese) and mallorcas (a sweet roll served with powdered sugar or with ham and cheese), along with a savory breakfast like eggs or a sandwich. Next, take a ride on the old city's free Garita Cart to scout out the landmarks. 
Tweens and teens will enjoy visiting the Spanish fortifications, Castillo San Felipe del Morro and Castillo San Cristóbal, where they can learn about the military history of San Juan, the many battles fought for control of the city, and, of course, the dungeons. Parents will love that the entry fee for one fort gets the whole family into the other for free. 
For lunch indulge your sweet tooth once again and head to Chocobar Cortés, a restaurant specializing in all things chocolate. Along with chocolate-centric creations like their grilled cheese with chocolate or Chocobar Club Sandwich made with chocolate brioche, there are also more grown-up options such as the chicken breast au gratin with quinoa and beans or the classic Cuban sandwich. Finish the meal with some hot chocolate served with a side of cheddar cheese, a generations-old tradition. If you're there from Thursday to Sunday, you can also visit the second-floor art gallery.
Walk off lunch by visiting some of the Old San Juan landmarks you saw earlier on the Garita Cart, like the San Juan Cathedral, the Gate of San Juan, La Rogativa statue, La Fortaleza (the governor's mansion), the Christ Chapel, and the Pigeon Park. Or let the kids play on their phones while you indulge in some shopping along Calle Fortaleza.
You can also take in Old San Juan from a different vantage point by booking a harbor tour on the Amazing Grace, a traditional topsail schooner replica, complete with a pirate flag.
The 90- to 120-minute sail includes beverages and refreshments on board and can be scheduled as a day or sunset trip.
For dinner, go full criollo (the Puerto Rican creole) by visiting one of the many family-friendly traditional restaurants like Café El Punto, Cayo Caribe, Raíces, or El Patio de Sam. Picky eaters will have more traditional options like burgers and chicken strips available, while the more adventurous can enjoy a stuffed mofongo, rice and beans, and other Puerto Rican delicacies.
Day 2: ATVs and Surfing Lessons
Head east to the town of Luquillo where a day of adventure awaits. If you decide to stay on the east coast rather than San Juan (check out the Lodging Tips section at the bottom of the page for more info) schedule excursions and lessons around your hotel's check-in time. These activities can be also inverted to do one in the morning and one in the afternoon.
Carabalí Rainforest Adventure Park, a 600-acre ranch on the foothills of El Yunque National Forest, could actually take up a whole day. There, you can book an ATV ride through the rainforest, horseback riding along the beach or the Mameyes river, get your thrills on a 1000-foot go-kart track, or take in the scenery from the El Yunque Hayride. Enjoy lunch at Carabalí Bar and Grill or even plan your overnight stay at one of the Carabalí Estates.
In the afternoon, you'll visit an off-the-beaten-path beach known as La Pared for surfing lessons with Surfing Puerto Rico. Taught by certified professional surfers, these classes are great for beginners, covering basic surfing techniques first on land and then on the waves. They include a soft-top surfboard as well as refreshments and snacks.
After such an active day, grab dinner at Boardriders Surf Bar and Grill right in front of La Pared, or for more variety, you can plan a visit to the famous Luquillo Kiosks, where you'll find dozens of food stands adjacent to the beach.
Day 3: El Yunque

 
After breakfast, head up the mountain to El Yunque National Forest, the only rainforest in the US National Forest System. Pro-tip: Pack lunch, snacks, and plenty of water to extend your time on the trails. 
Obligatory stops include La Coca Falls for a photo-op and the Yokahú Tower to get your first view from above stretching out to the coast and surrounding mountain peaks. For an easy hike, make your way to Puente Roto and the Angelito Trail, which ends in the natural pool called Las Damas in the Mameyes River. On a sunny day, it's a nice place to cool off and relax along the rocks. (Very important: if it has been raining, DO NOT go into the water since the river can swell and become dangerous in a matter of minutes due to water rushing down the mountain.)
If the family is looking for a more challenging hike, start at the Mount Britton trail which leads up to Mount Britton Tower. From there, get on the El Yunque Peak trail which leads both to the Picachos trail and to El Yunque Peak for one of the most beautiful views of the rainforest and the easternmost coast of Puerto Rico. 
When driving back down the mountain you'll find El Portal, the US Forest Service information center, where they offer rainforest-related activities and workshops, as well as the occasional pop-up market organized by Vitrina Solidaria. There are also many souvenir shops in the area, including Caribbean Trading Company, and restaurants such as Mi Vida Café, Lluvia Deli Bar, and Degree 18 Juice Bar which offers a vegan food menu.
If you're still in the mood for adventure, nearby there are two parks offering ziplining over the rainforest canopy: Rainforest Zipline Park and Junglequi Zipline Park.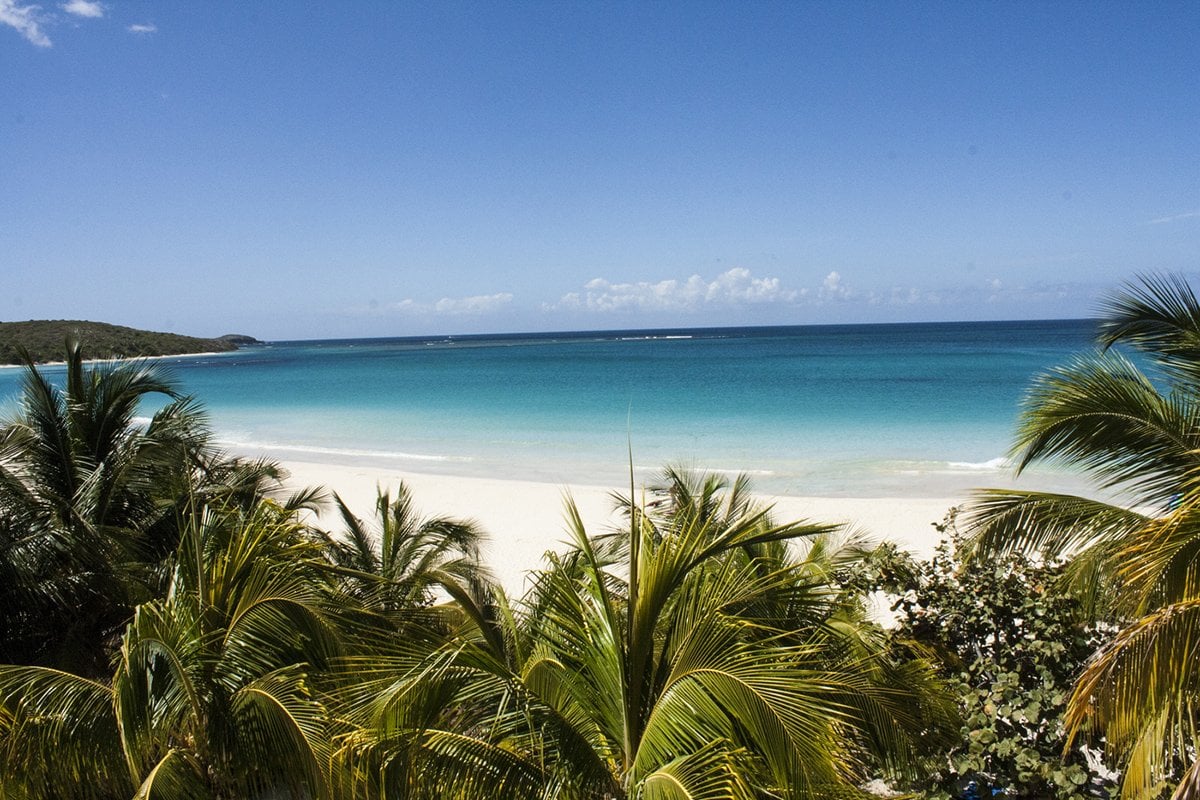 Day 4: Catamaran and the Bio Bay
After a day up in the mountains, enjoy a day out at sea. Several companies operate catamaran excursions from the marinas in the towns of Fajardo and Ceiba. If your focus is snorkeling, you can opt for a day trip to the island municipality of Culebra, famous for its prime snorkeling and scuba diving spots. Some operators will even include a stop at Flamenco Beach, one of the most beautiful beaches in the world. Other operators also offer snorkeling and beach tours to the other island municipality, Vieques.
Most catamarans will do stops at Icacos Island and some of the other cays near the Fajardo coast. These are generally more laid back. Snorkeling gear and a short demo are included, then guests can snorkel at their leisure around the boat while it's docked. The boats are usually close enough that you can swim to the beach on Icacos and some even have a water slide.
All tours include beverages, lunch, snacks, and snorkeling gear and many are usually back on the main island by mid-afternoon.
After the catamaran, unwind at Seven Seas beach in Fajardo or enjoy some drinks and fritters in Las Croabas. When the sun starts to set, go for a Bio Bay Kayaking Tour. There are three bioluminescent bays in Puerto Rico, one in Vieques called Mosquito Bay, one in La Parguera on the south of the island, and one in Fajardo known as Laguna Grande. You'll take a two-person kayak through an opening in the mangroves until you reach a hidden lagoon where the water glows if you run your hand through it. During the tour, you'll learn all about the microorganisms that produce this phenomenon and the impact of light contamination on the environment.
For dinner visit one of the many seafood restaurants in Fajardo, some of which also have a tropical barbecue element, among them Pasión por El Fogón, La Estación, Kasavista, and El Pescador.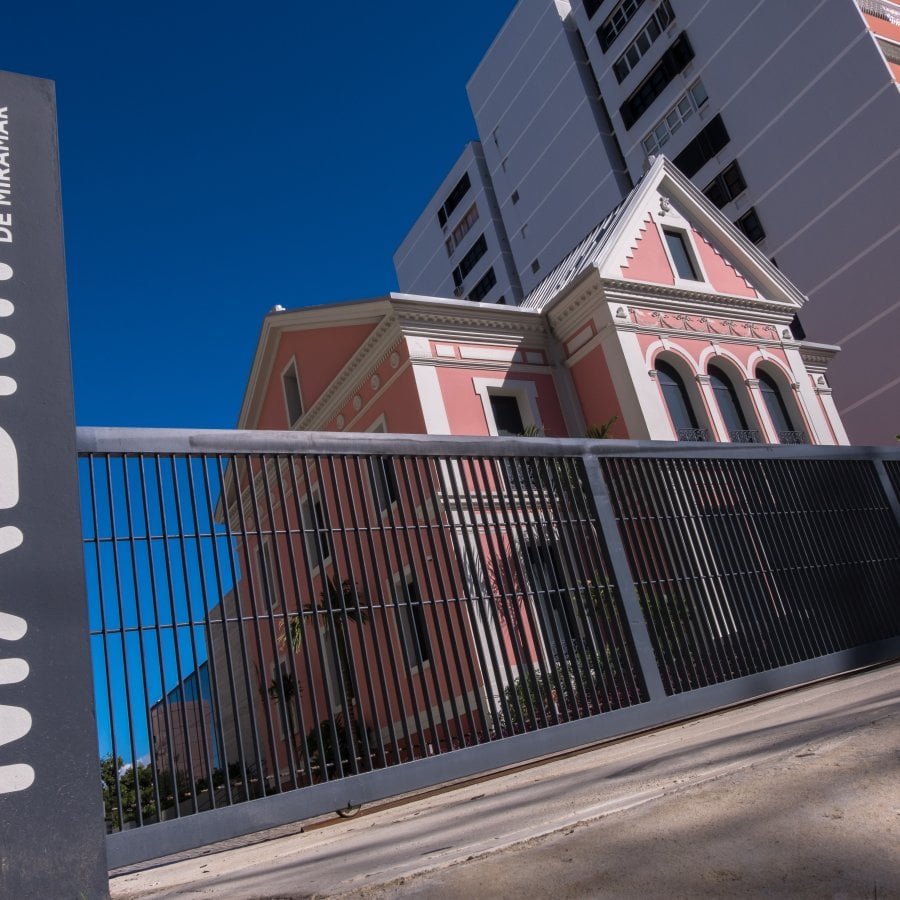 Day 5: Return to San Juan
Time to go back to San Juan. Take the day to recover at the hotel pool or by the beach in Ocean Park or the Balneario de Carolina. If your teen or tween fell in love with snorkeling, you can hook them up with a scuba diving lesson at Scuba Dogs in El Escambrón while you enjoy the beach.
If you'd rather stay dry, take the family to the Museum of Art of Puerto Rico and browse the galleries full of over 500 years of Puerto Rican art history. Stroll through the sculpture garden and get some last-minute souvenirs at the museum's gift shop. Nearby you can also visit the Museum of Contemporary Art of Puerto Rico and the Museum of Art and Design in Miramar. For some outdoor urban art, visit Calle Cerra where you can take in the impressive murals of the street art festival Santurce es Ley and enjoy some decadent cookies at Mr. Kukis.
At night, your tween or teen can enjoy a favorite local pastime and hang out at Plaza Las Américas, the largest mall in the Caribbean. You can browse the shops, grab dinner, or go see a movie.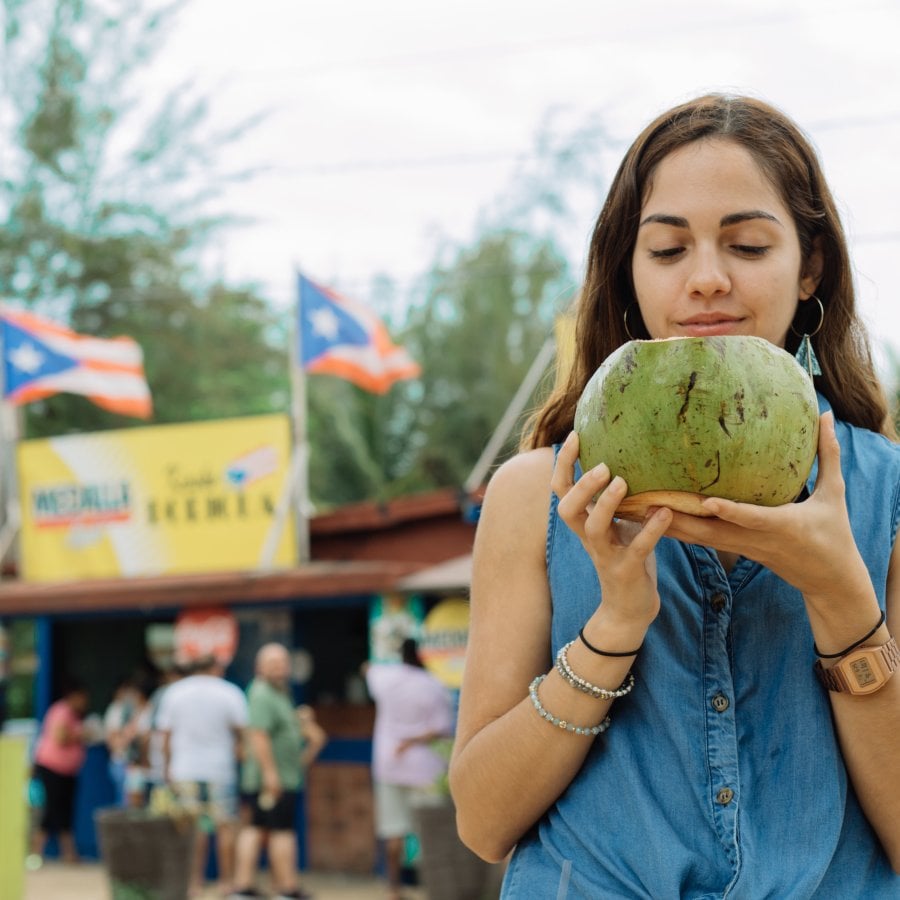 Day 6: Piñones
If you still have time to squeeze in another activity on the last day, explore the town of Loíza.
The first stop for many who visit Loíza is Piñones. This community is comprised mostly of businesses selling frituras (fritters and fried turnovers), as well as chicken and pork skewers, fresh seafood, and fruit frappes. Two of the most famous are El Boricua and El Burén de Lula (just outside Piñones), both of which make their fritters as they're ordered, guaranteeing freshness and bold flavors, not to mention the portions are enormous! 
You can bike, walk, or run the 11 kilometers of trail and boardwalk through the Piñones State Forest, a mangrove forest that spans most of the Loíza coast. COPI, a cultural and ecotourism center in Piñones, has bikes and kayaks for rent.
Venture deeper into Loíza and you'll reach the María de la Cruz Cave Historic Park, an archeological site discovered in 1948. In 2018 the municipal government built an education center, an art gallery, an artisan market, a playground for children, and a campsite around the cave. Guides offer tours of the cave and workshops about beekeeping since the area is also a bee sanctuary. Grab some honey for the road and your next stop is the airport.
Lodging Tips
Since the suggested activities are both on the east coast of the island and in San Juan, it may be easier to book a hotel in Río Grande or Luquillo which can serve as a middle point between the two. Some popular options include the Wyndham Grand Río Mar Puerto Rico Golf & Beach Resort, the St. Regis Bahía Beach Resort, or The Resort at Coco Beach, a Hyatt Affiliated Hotel. For more budget-friendly accommodations, the east region also has small inns such as the Rainforest Inn, Hotel Yunque Mar, or Luquillo Sunrise Beach Inn. Alternatively, you arrange for a hotel in San Juan for your first night, a hotel in Río Grande for the next three nights, and a hotel in San Juan again for the final night. It's also recommended to rent a car to have the most mobility while exploring the island.