Experience the Island's coastline at your pace. 
Puerto Rico is a beach-lovers playground. The year-round "summer-like" conditions, crystal clear waters, and varied marine life make it the ideal setting for a day (or night) of paddling around in the ocean. 
With a seemingly endless selection of pristine beaches, guided trips, and plenty of equipment rentals all over the Island, you can have unforgettable experiences out in the water. Pick your preferred vessel and practice some paddleboarding or kayaking. The "class zero" slow currents in various spots around the Island make these activities manageable for beginners and younger family members. There is no excuse not to get out there!
Whether you are taking a guided journey into the mangroves of a lagoon, a leisurely paddle through turquoise seaways, or a relaxing cruise along the city's coastline, these recommendations are as fun-filled as they are unforgettable. 
Leave your cares behind and paddle your way through the Caribbean's natural beauty.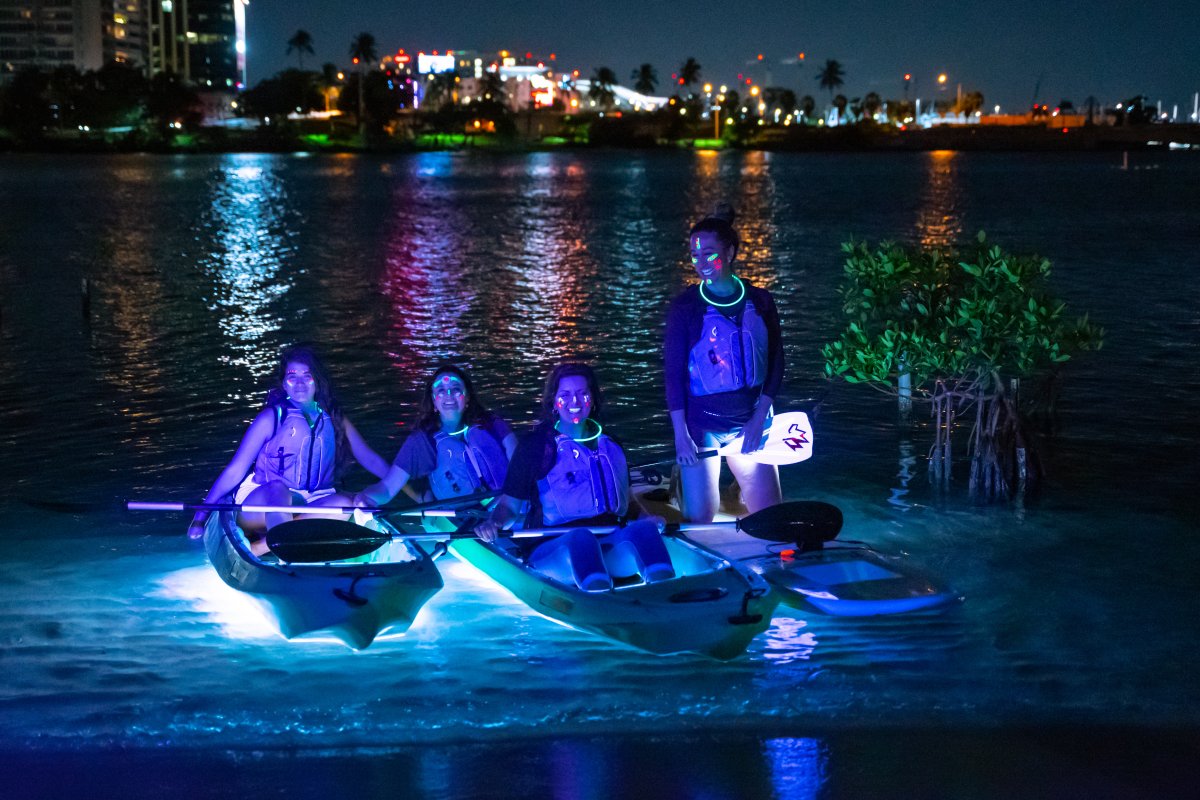 In the city
The capital city's kayaking and paddle boarding opportunities are mostly concentrated in the Condado and Isla Verde neighborhoods. One popular spot for these splashy activities is the Laguna del Condado (the lagoon), where you can enjoy the peaceful environment. Work on your tan lines and paddle under sunny skies during the day or paint your face with neon colors and paddle guided by the stars on a night excursion. At this well-maintained bayou, you can spot fishes, turtles, and even manatees that roam the lagoon while you venture in a glass-bottom raft. 
At Isla Verde, the seaside backdrop of the hotel strip (near the Fairmont El San Juan Hotel) is another ideal place to sharpen your skills. You will find many kayak and paddleboard rentals suited for the peaceful swells. Companies like San Juan Paddleboarding and Castillo Tours offer a variety of options to accommodate your schedule.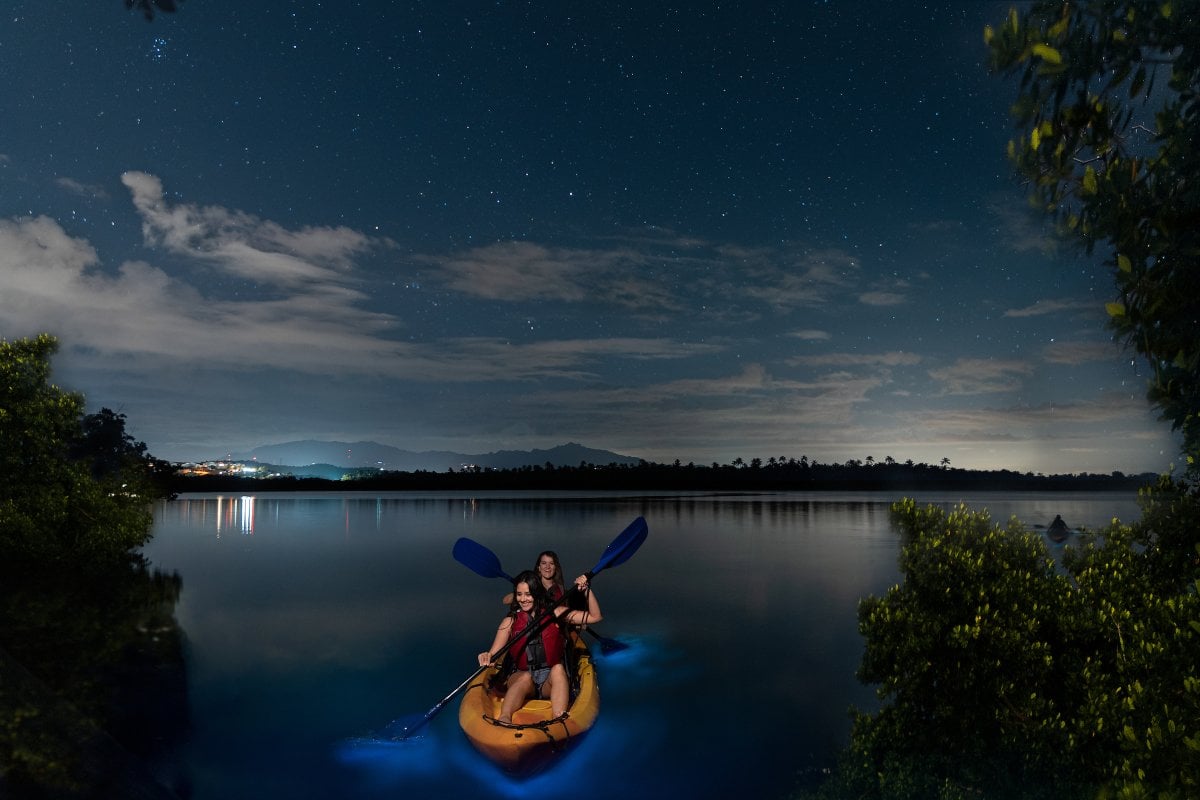 Bioluminescent Bays
Does glowing, neon-colored water sound fun? Be ready to embark on a surreal experience at the bioluminescent bays Mosquito Bay, La Parguera, and Laguna Grande. Located in Vieques, Lajas, and Fajardo respectively, these magical marine habitats are best enjoyed at night, preferably during a new moon. Navigate across the mangroves and, as you paddle, notice the glow-in-the-dark effect that happens in the water when millions of microorganisms are agitated. It is an experience like no other!  
Keep in mind that the roundtrips into the bio bays span for several miles, and swimming is not permitted to protect these unique ecosystems. You can paddleboard and practice other watersports in nearby beaches like Sun Bay and Mosquito Bay beach in Vieques, and Seven Seas in Fajardo. 
You can book trips and rent equipment from Eco Adventure Kayaks, Eco Action Tours Inc, Island Kayaking Adventures, Pure Adventures, and many more in Fajardo; Black Beard Sports, Bieque Eco Trips, and Jak's Adventures on the island of Vieques; and Caribbean Chili Boats, Parguera Watersports, and Kayaking Parguera Tours in Lajas.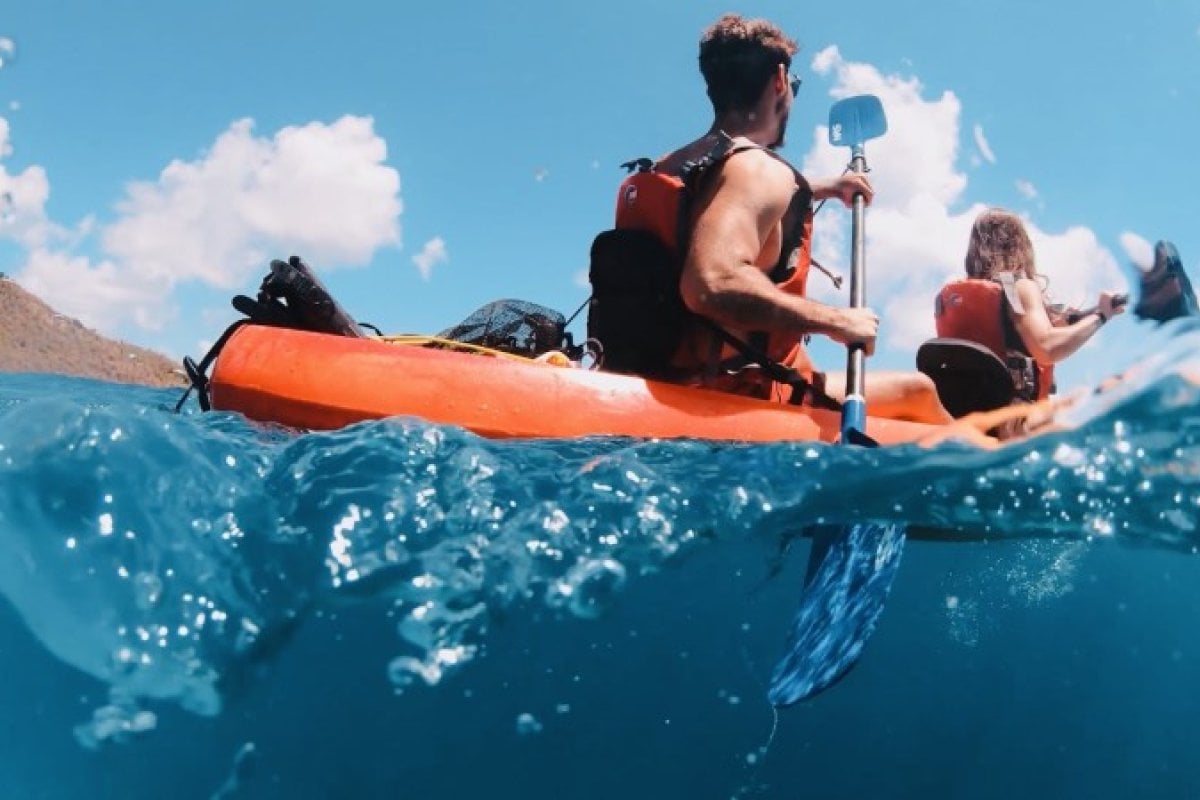 Luis Peña Reserve
Culebra is all about reaching secluded reefs, cays, and islets in the Luis Peña Reserve, the place with the highest coral cover on the island. You will paddle through crystal-clear waters with imposing mountains in the background and colorful schools of tropical fish underneath. 
Pristine beaches like Tamarindo, Playa Melones, and Carlos Rosario – not to mention Flamenco – have stunning panoramic views to relish in and impeccably soft waves for those inexperienced paddlers. If you happen to bring snorkeling gear with you, be sure to step off your vessel for a swim to make the most of a day under the sun. 
Isla Ratones
Just off the coast of Cabo Rojo is the secluded, family-friendly reserve Isla Ratones. You can only get there by boat (and should bring all the supplies you need), but it is a trip worth taking. Be astounded by the white-sand beach and clear waters with soft waves that will make your activities a pleasure. Although the marine life is not as active as some other locations near Cabo Rojo, there are some mangroves and coral reefs around, so you'll surely see small fishes swimming around your boat. 
Isla Ratones is ideal for a full-day getaway, and there are roofed picnic stations with BBQ pits, restrooms, and showers. Adventures Tourmarine has a boat that goes back and forth to this little islet and rents out kayaking equipment for the day.