From Columbus to Earthships.
If you want to get off the beaten path on Puerto Rico's west coast check out Aguada, a small town tucked between surfer havens Rincón and Aguadilla. There you'll find beautiful beaches, an eclectic restaurant scene, and less buzz than its more publicized neighbors. Curiously, there's also a Mayan-style pyramid, a 16th-century chapel, and modern, eco-friendly Earthships being built.
Here are a few things to see while you're visiting:
Discovered by Columbus
Aguada is known as la Ciudad del Descubrimiento, or "City of the Discovery," since many believe this is where Christopher Columbus landed when he arrived in Puerto Rico during his second voyage to the Caribbean. It became an important stopover port for Spanish ships heading to the rest of the Americas; the name of the town actually comes from the phrase hacer aguada, which means to restock a ship with fresh water. To come into close contact with a remnant of these times, visit Parroquia Santuario Protomártires Inmaculada Concepción, a modern church that houses the ruins of Ermita del Espinar, a 16th-century Franciscan chapel constructed of stones and decorated with ancient religious artifacts.
Balneario Pico de Piedra
Since Aguada shares a coastline with Aguadilla and Rincón, the beaches in this town are equally stunning. The most famous is Balneario Pico de Piedra, a stretch of sandy beach that's ideal for swimming and hanging out with the family. There are lifeguards as well as parking, food kiosks, showers, and gazebos. At different times of the year, music festivals are held on the beach.
Most of the other beaches in Aguada, including Playa Aguada, Playa Mameyito, Playa Espinar, and Playa Río Grande are equally as gorgeous with crystalline waters and smooth white sand but don't have the same facilities as Pico de Piedra.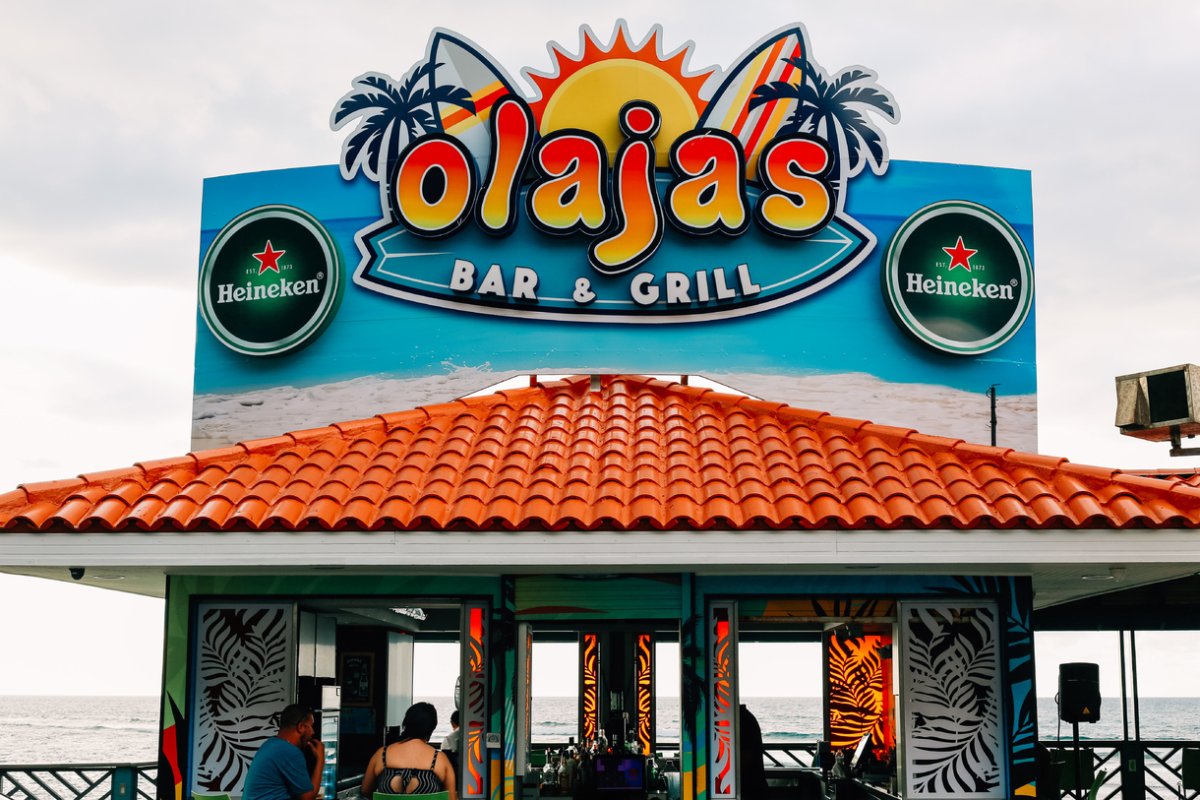 Restaurants on the Coast
The PR-115 road leads right to Pico de Piedra beach where it forks: one way heads to the town of Rincón, the other continues along the Aguada coast. In both directions, there are dozens of different restaurants and bars to choose from, many of them right on the oceanfront. The most famous eatery on this stretch is Ode, a Thai restaurant with a fantastic cocktail bar. To get there just follow the elephants (you can't miss them). For traditional Puerto Rican cuisine, cold drinks, and front row seats to the best sunsets on the Island, visit any of the chinchorros (open-air bar-restaurants) and food trailers along the coastal road such as Olajas Bar, Fogata Beach Grill, Spiaggia Wood-Fire Pizza, Waves Seafood, The Island Bar & Restaurant, and many more.
Following this road will also take you to La Cruz de Colón, a picturesque plaza with a white cross in the center marking where Columbus disembarked in 1493.
Pyramid
Aguada resident Nelson Ruiz was inspired by a trip to Chichén Itzá in Mexico to recreate a Mayan-style pyramid on his property. The pyramid is visible from the PR-411 road and is currently not open to the public since it was built to eventually serve as a mausoleum for Ruiz and his wife, which, to be fair, is what pyramids were originally used for.
Earthships
In Aguada, several more modern but equally novel structures are now being built in stages: Puerto Rico's first Earthships. These sustainable and hurricane-resistant buildings, created by New Mexico-based nonprofit Biotecture Planet Earth, are constructed out of natural and recycled materials, including dirt, tires, glass bottles, and other things. The site in Aguada is called Villabonuco and will serve as an education and community center.
Discover Puerto Rico's E-Newsletter
Paradise for Your Inbox
Get travel inspiration, news, tips and more delivered monthly.