About a 40-minute flight or ferry ride from San Juan exists a little piece of paradise. Vieques is sleepy island where wild horses roam, tiny tree frogs sing, and warm, friendly locals join visitors in sharing the beauty of black- and white-sand beaches. 
The laid-back, welcoming atmosphere of Vieques makes it one of the best destinations in Puerto Rico for LGBTQ+ travelers. Discover a variety of activities — from snorkeling at Playa La Chiva to paddling through the world's brightest bioluminescent bay — and a host of gay-friendly hotels, restaurants, bars, and tour companies ready to show you the amazing beauty of the island.
Getting to Vieques
The trip to Vieques is half the fun. From San Juan, you can take an eight-seater Cape Air flight that soars over the verdant El Yunque National Forest — a magnificent, unforgettable experience. Once you land, pick up a bright red Jeep 4X4 to get around the island (you'll want to book your rental ahead of time).
Your other option is to take a 30-minute ferry from Ceiba, though there are only a few ferries per day and wait times can be long during the busy season.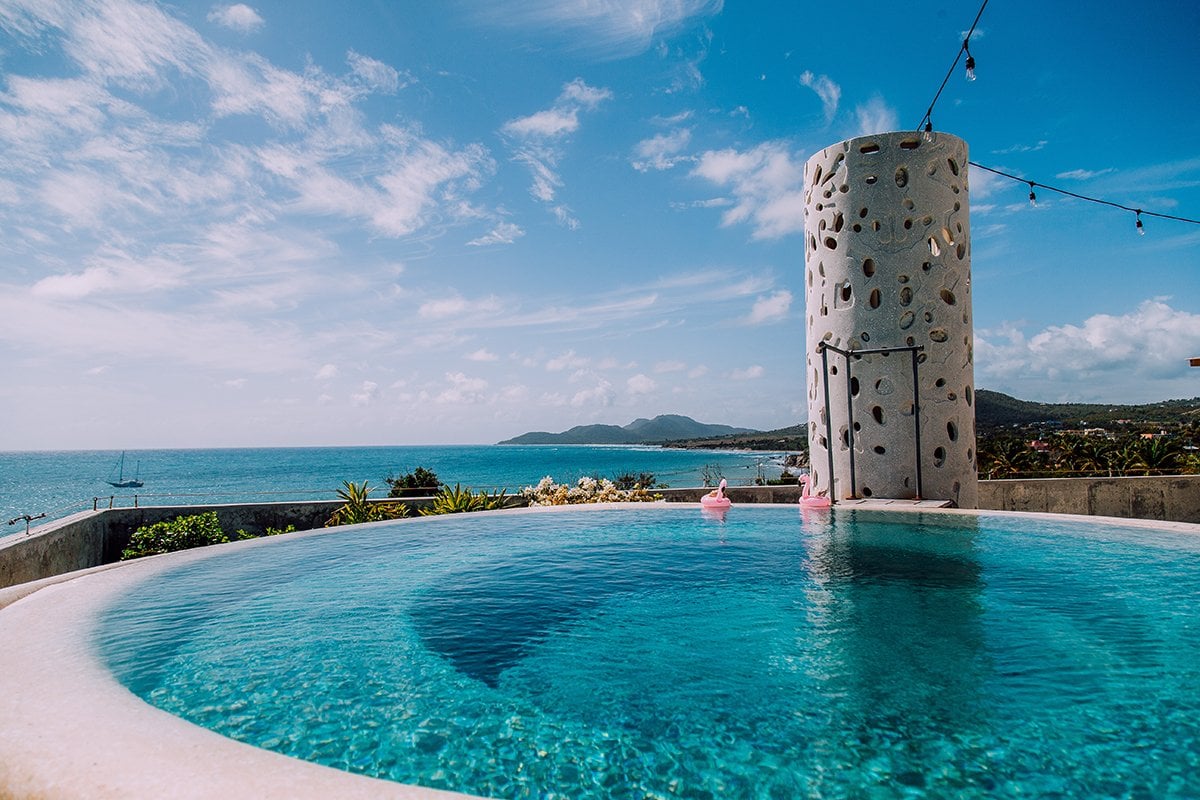 Where to Stay
Vieques provides several unique, LGBTQ-friendly accommodations. Each embodies the spirit of Vieques in its own special way.
This charming, gay-owned guest house offers cozy intimacy with a personal touch. The eight-room Casa de Amistad has a full kitchen, its own pool, quiet spaces to read and work, and a rooftop to take in the sunset views. Whimsically decorated with shabby chic knick-knacks, pink guitars, and tasteful art, and boasting a terrific location in Isabel II close to nightlife and restaurants, Casa de Amistad is one of the best choices for LGBTQ travelers in Vieques.
The aptly named El Blok, a 22-room hotel built from cinder blocks, is located in Esperanza, the island's main seaside village on the southwest coast. This distinctive inn boasts an incredibly hospitable staff and a hipster aesthetic. The rooms are minimalist, with locally crafted furniture and concrete walls adorned with sexy, colorful art. Head to the rooftop (maybe the island's best!) for cocktails and Instagram photos.
At night, the fire pits blaze, live music thrums, and queer slam poets give voice to current political topics. The restaurant, Placita, is among the best on the island, with an emphasis on local cuisine. All this, plus you're a stone's throw from Esperanza Beach!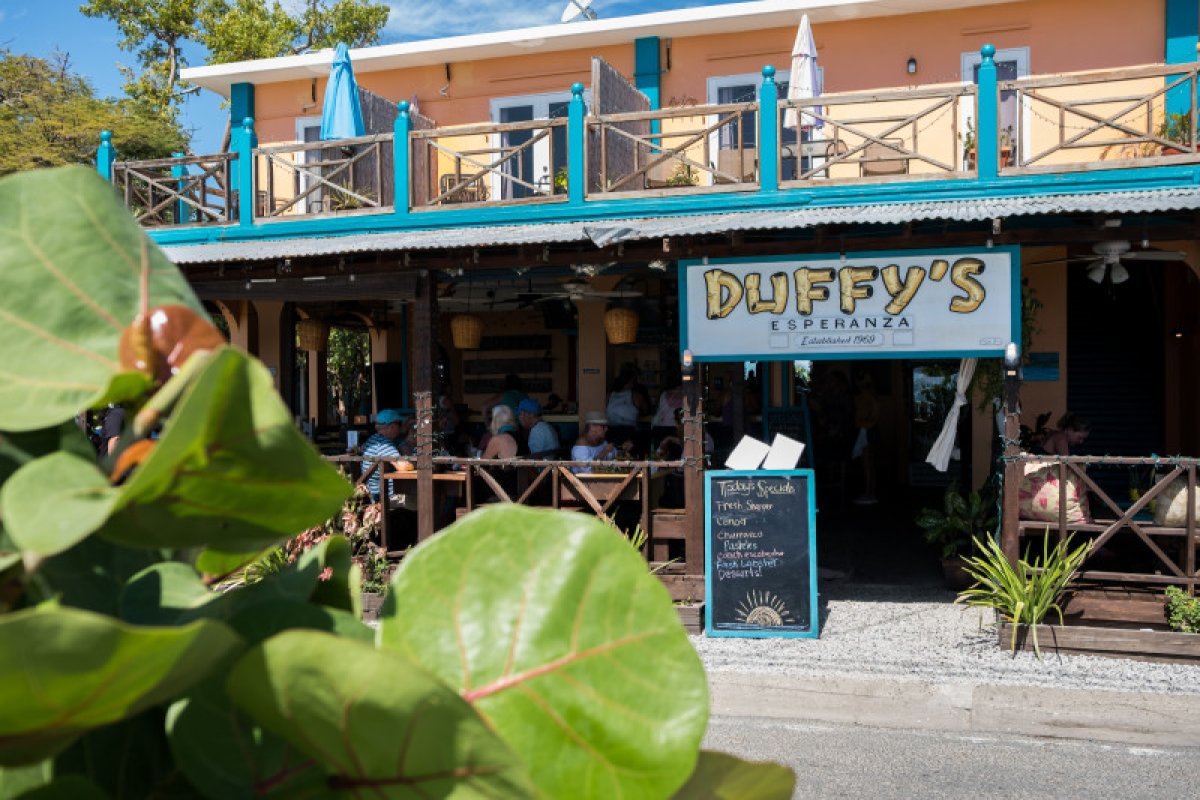 Restaurants & Bars
The restaurants in Vieques are quaint and unpretentious, helmed by locals cooking a Creole-style blend of American, Spanish, and African cuisine. The mofongo is legendary, but the island has become a foodie haven for those in the know, from food trucks to fine dining. You'll also find an impressive selection of dive bars, rooftop bars, and sexy lounges with a fun, relaxed atmosphere where you can sip local cocktails and feel truly transported.
Isabel II (North Side)
Biekes Bistro
Local favorite Biekes Bistro serves up authentic, freshly prepared, inexpensive Puerto Rican comfort food. Prepared in sauce with a kick, the rice and red beans are addictive, as are the arepas stuffed with shrimp. The shrimp is cooked to perfection in red criollo sauce. They also serve plantains, chicken, octopus, churrasco, mofongo, and have other vegetarian options as well. Parking is limited — say, three or four spots — so plan accordingly.
Coquí Fire
Ooh, this place is cuteness! At Coquí Fire, the best date-night spot on the island, you'll find a charming, intimate ambiance at one of the top-rated restaurants in all of Puerto Rico. Start with spicy margaritas and finish with some of the tastiest pork you'll ever try. If you come with friends, do it on Taco Tuesday and make an afternoon out of it. 
Mama Mía
Mama Mía is renowned for its authentic Italian food, local vibes, and rotating roster of bands and DJs. Joel, the owner, is a queer ally and all-around awesome, welcoming host. On the second floor, you'll find a lovely open-air deck where you can sit with a cocktail and take in the views. For a thriving, buzzy spot serving fresh pizza and pasta, this is the best choice on the island.
Saint Voodoo's Mar Azul
Saint Voodoo's Mar Azul is the quintessential Caribbean dive bar, packed with locals and tourists, gay and straight — everyone together, eating cubano sandwiches and eagerly accepting shots from the super handsome Oklahoman bartender. Come for an afternoon of day-drinking, order a Panty Dropper, and play darts until it's time to saunter upstairs to the roof to watch the sunset. (Note: Views are best experienced on the back deck with a rum punch.)
Vieques Food Park
Just west of Isabel II, this food truck park strewn with lights and picnic tables is one of the absolute best places to visit in Vieques. You can grab coffee and breakfast as early as 6 a.m., or local eats for lunch and dinner. You'll find a friendly atmosphere, authentic local specialties, and hospitable vendors sharing their homemade food with you. Parking is limited.
Esperanza (South Side)
Placita
Placita is the restaurant inside the El Blok hotel. Helmed by executive chef Alex Espinal, this open-air restaurant has a wood-fired grill, sleek surroundings, and live music at night. Go on a weekend night for an especially dreamy atmosphere.
Duffy's
Duffy's is a cute open-air shack serving homemade mofongo, cocktails, and desserts right on the water. Eat dinner at sunset while roosters roam around for a unique Vieques experience. Just down the street from El Blok, it's a reliable lunch and dinner spot.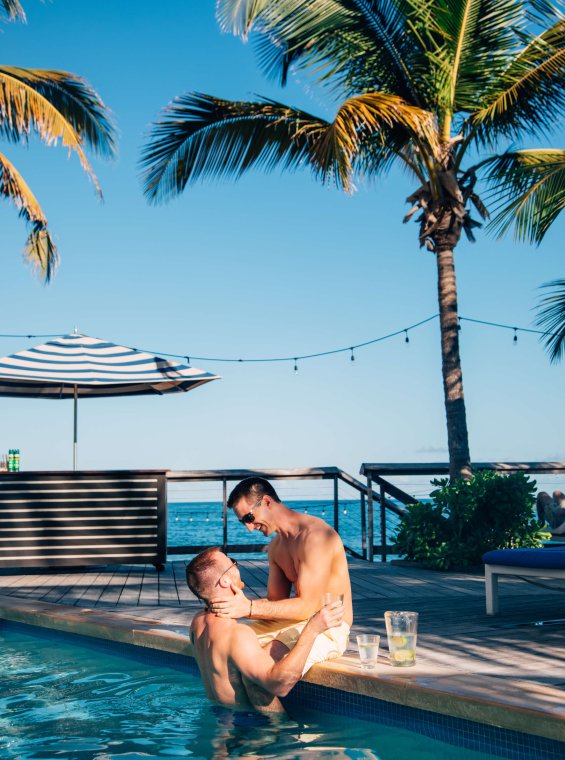 Things to Do
Yes, the beaches are swoon-worthy, but there are endless adventures to be found in Vieques, including hiking to famous landmarks, snorkeling, paddling the bio bay, and exploring the coral reef. For outdoorsy folks, Vieques is pure bliss.
This lesbian-owned sporting goods outfitter specializes in diving and other adventure options throughout the island — including sites with seasonal humpback whale sightings. They also rent mountain bikes, kayaks, SUP boards, surfboards, and camping equipment, as well as snorkeling and scuba gear.
On the south coast of the island, you'll find the ruins of an old lighthouse where the Camp García Naval Training area used to be. On the hike there you see signs warning of explosive hazards. You won't see any unexploded ordnance: just gorgeous cliffs, surging whitecaps, wild horses, and the lighthouse itself.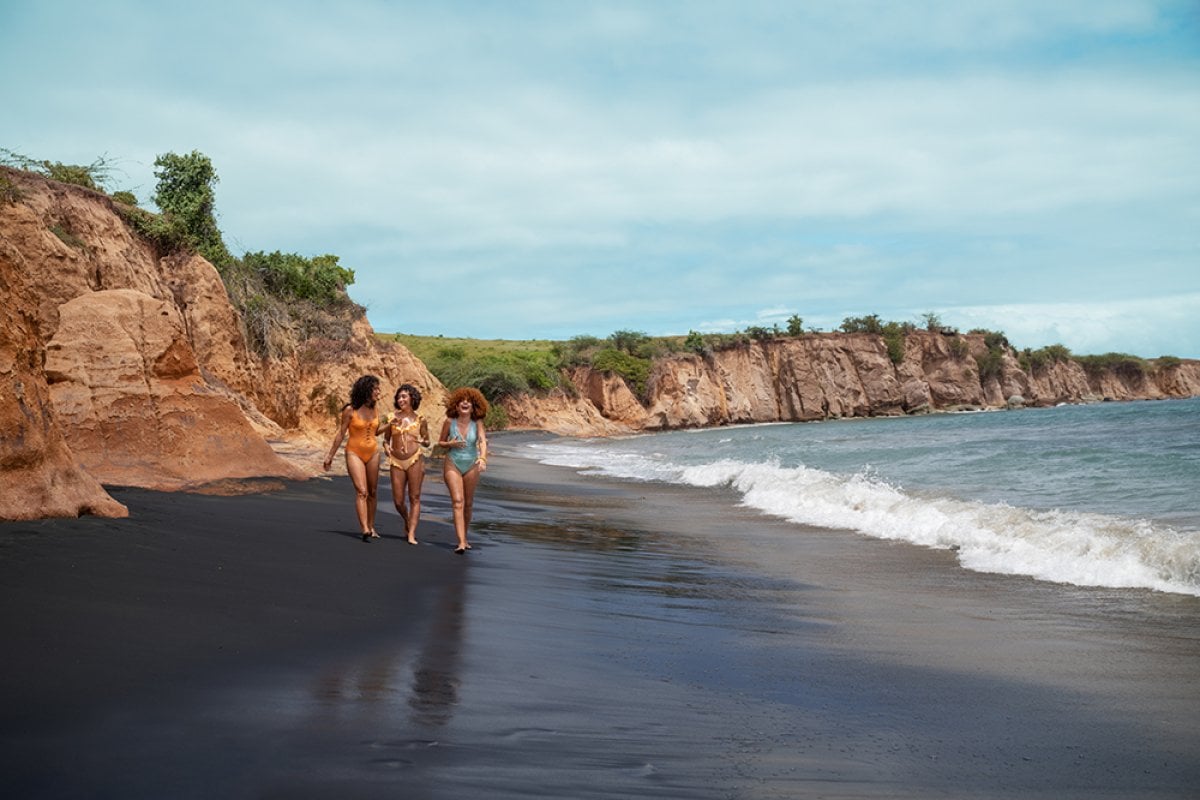 A favorite of the wild horses, Playa Negra is a must when visiting Vieques. With its striking volcanic sand, Playa Negra remains one of the best beaches in the Caribbean, maybe the world. We recommend you rent a 4x4 to explore this iconic beach, which is located right in the seaside town of Esperanza.
A gorgeous postcard beach of turquoise water and soft sand make Playa Navío a local favorite. It's pretty remote, and the gravel road to get there is a bit rocky, which is part of the reason we recommend renting a Jeep, which can easily handle the terrain. To find it, enter Sun Bay beach and continue down the road to the left until you see signs for Navío.
Other stunning beaches to visit are Playa Caracas (also known as Red Beach), Playa Media Luna, and Pata Prieta (Secret Beach).
See more of the best beaches in Vieques
Mosquito Bay shines brighter than any other bioluminescent bay in the world. A variety of tour operators provide clear-bottom kayaks to fully experience the bay as it glows a magical neon blue. Go on the darkest possible night when the moon is gone — the less light above, the more light you'll see below.