Fifteen years ago, John Holden and Mike Leonardo discovered Puerto Rico. They were New Yorkers and avid travelers who'd spent years traversing the globe. In an effort to always discover new places, cultures, and friends, they had one rule when traveling: never return to the same destination twice. That was until they found Vieques.
During their visits, the couple would stay at a charming guesthouse in the charming town village of Isabel II (pronounced Isabel Segunda) called Casa de Amistad. Then owned by a gay couple, Dan and Owen, the guesthouse captured their hearts and continued to draw them back. They visited regularly until last year, when Dan and Owen retired and John and Mike decided to make Vieques and Casa de Amistad their permanent and only home.
Casa de Amistad is a cozy guesthouse that has been gay-owned and -operated for almost 20 years. Isabel II is an authentic Puerto Rican pueblo with wonderful local culture and food that is located only minutes from Vieques' renowned, world-ranked beaches, and famous bioluminescent bay.
We caught up with John and Mike to talk to them about LGBTQ life on the island and their secrets for discovering Vieques.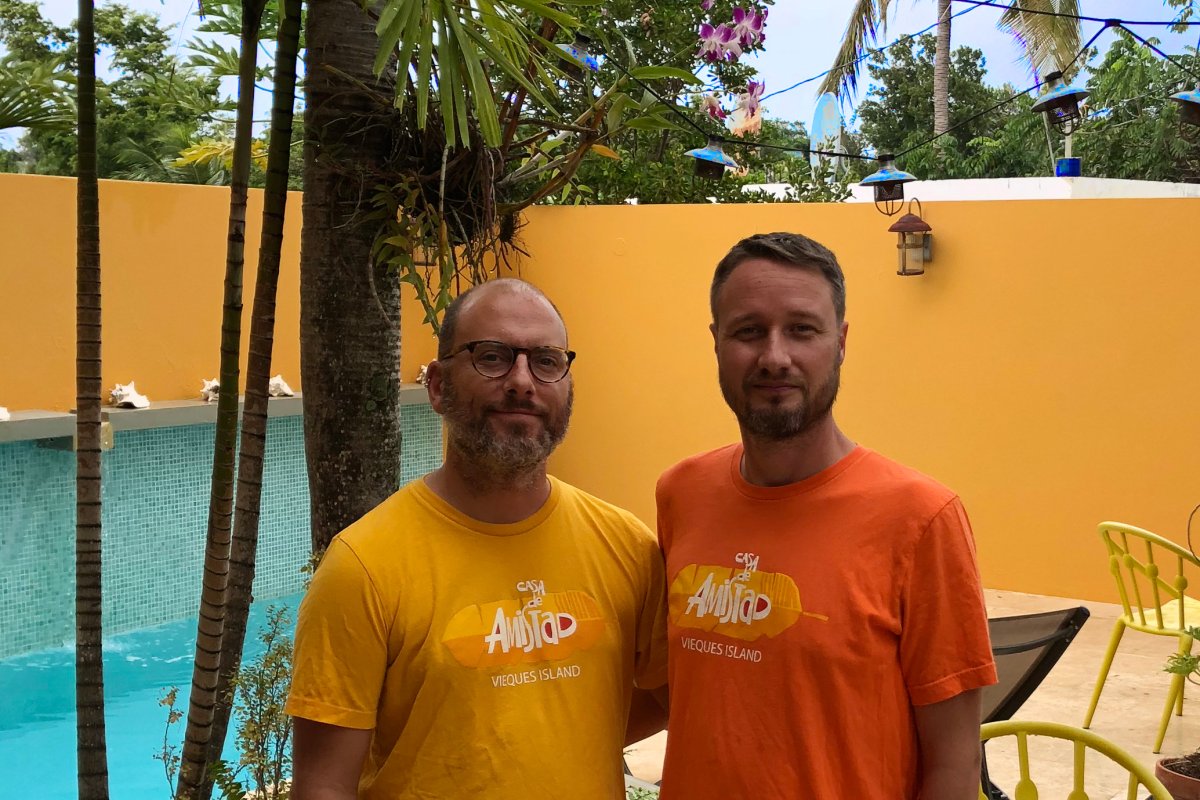 How is Vieques different from other places you've lived?
So much of the Caribbean is dominated by mega-resorts and generic attractions that can be found in almost every tropical cruise port. We found Vieques to be one of the last authentic destinations left in the region. When you visit Vieques, you get to truly experience Puerto Rico — an island with undeveloped beaches and lush countryside. Tourists and residents experience life side-by-side and exchange ideas, food, music, and culture.
Describe the impact the LGBTQ community has had on Vieques over the years you've been coming here?
Vieques has been an LGBTQ destination for many years, and the LGBTQ community is woven into the island. When you visit, you will find that Vieques is driven by small, owner-operated businesses in every sector — from independent guesthouses like Casa de Amistad to small bakeries, restaurants, bars, car rental shops, dive shops, tour operators, and so much more. And you will quickly find that an outsized proportion of LGBTQ businesses and guests are seamlessly woven into every aspect of life here and have been for many years. We are a vibrant and valued part of what makes Vieques so unique.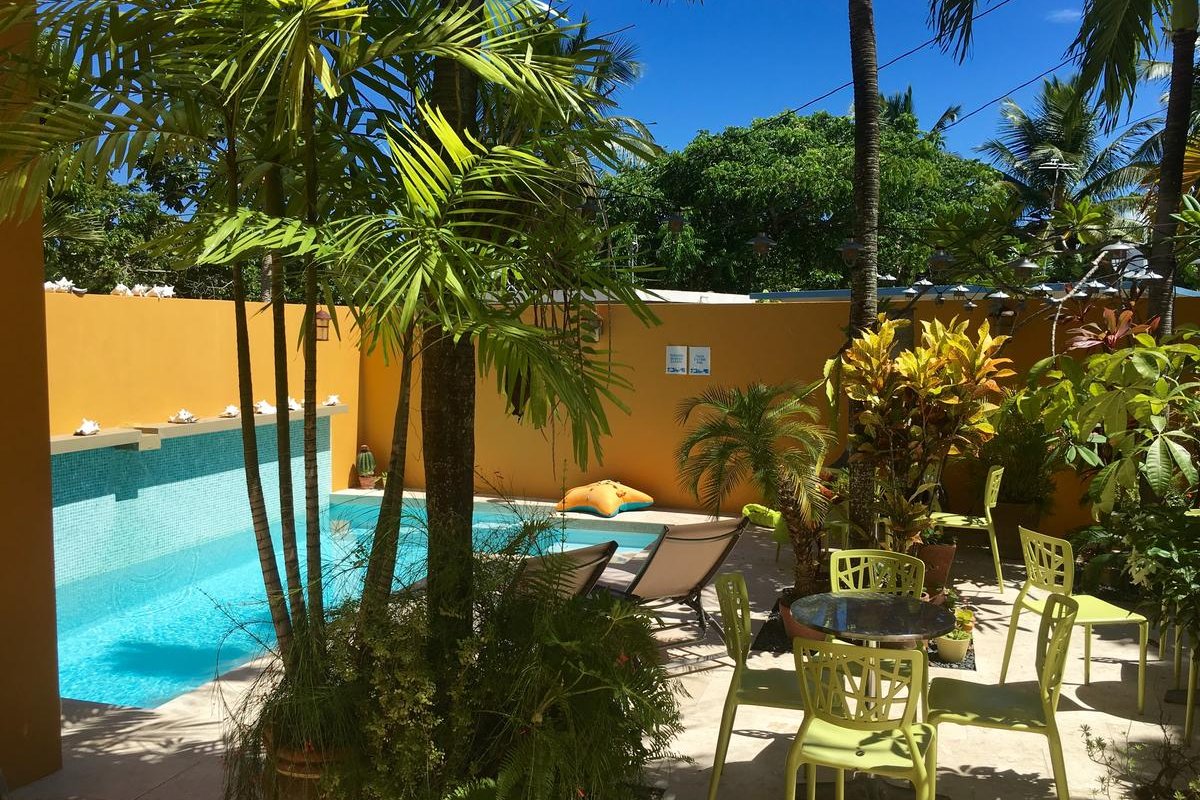 What are some places in Vieques that inspire you?
Vieques is a spectacular destination with an incredible list of world-class attractions. The variety of beaches for such a small island is remarkable, and two of our beaches, Caracas and Sun Bay, are consistently ranked among the top 10 anywhere in the Caribbean and the world. Our black sand beach, Playa Negra, is also a stunning destination for some of the most beautiful views in Vieques, with soft black sand, many of Vieques' trademark wild horses playing on the beach, and typically very few other guests. The bioluminescent bay is also a world treasure, and by far the brightest on the globe. Any movement in the bay from you or the marine life activates a bright glow, and watching a school of fish swim underneath you in a clear kayak at night is truly a once-in-a-lifetime experience.
How can LGBTQ travelers support LGBTQ community here and the island in general?
It is quite simple: show up! Vieques is a community of extraordinary people ready to personally welcome you to our spectacular island and offer you a unique, customized experience that you won't find anywhere else.
Do you have any tips for people coming to Vieques for the first time?
Do a little research. For such a small island, Vieques offers a wide variety of activities. There are countless beaches for sunbathing, photography, swimming, running, or just relaxing. We have the brightest bioluminescent bay in the world. There are hiking trails meandering through tropical forest. Fishing. Horseback riding. Diving. Snorkeling. Sailing. Top-ranked restaurants. Or, one of my personal favorites, simply spending a day reading a book by the pool.
We'd suggest you rent a vehicle to get the most out of your visit and explore all the wonderful, hidden corners of Vieques. It is worth the investment. Vieques' best beaches are located within the blissfully undeveloped National Wildlife Refuge, and having your own transportation will let you get to the most secluded areas of the park. Many of our guests frequently get a whole beach to themselves for a day. Imagine that almost anywhere else in the Caribbean!
We strongly recommend flying here instead of taking the ferry. Not only are flights more reliable than the ferry and allow you to make the most of your limited vacation time, they also offer a wonderful air-tour of Vieques and the main island that is a magical beginning or close to your experience.
What are a couple of your personal hidden gems on the island?
When you head out to Vieques' spectacular, undeveloped beaches for the day, you need to bring all your own food, drink, and beach gear. But that doesn't mean you have to rough it! At Casa de Amistad, we offer our guests all the beach gear you need for free, including beach chairs, towels, and even coolers with ice. One of our own pro tips is to swing by Robin's Bar on Route 996 for an extra-large 32oz mojito "to-go" on your way to the beach to sip on all day. Robin and his team make flavorful mojitos with local, tropical fruit flavors that provide plenty of fuel for an incredible day in paradise.
Discover Puerto Rico's E-Newsletter
Paradise for Your Inbox
Get travel inspiration, news, tips and more delivered monthly.