A native of Mayagüez, a mid-sized city on the west side of the island, Paxx Caraballo Moll is an openly trans queer chef who runs a kitchen of inclusivity and love. Paxx started cooking almost twenty years ago when Chef Roberto Treviño gave them a chance at DragonFly in Old San Juan. DragonFly closed in 2017, but everything they learned stayed with them. Here is a look at Puerto Rico through the eyes of a queer native.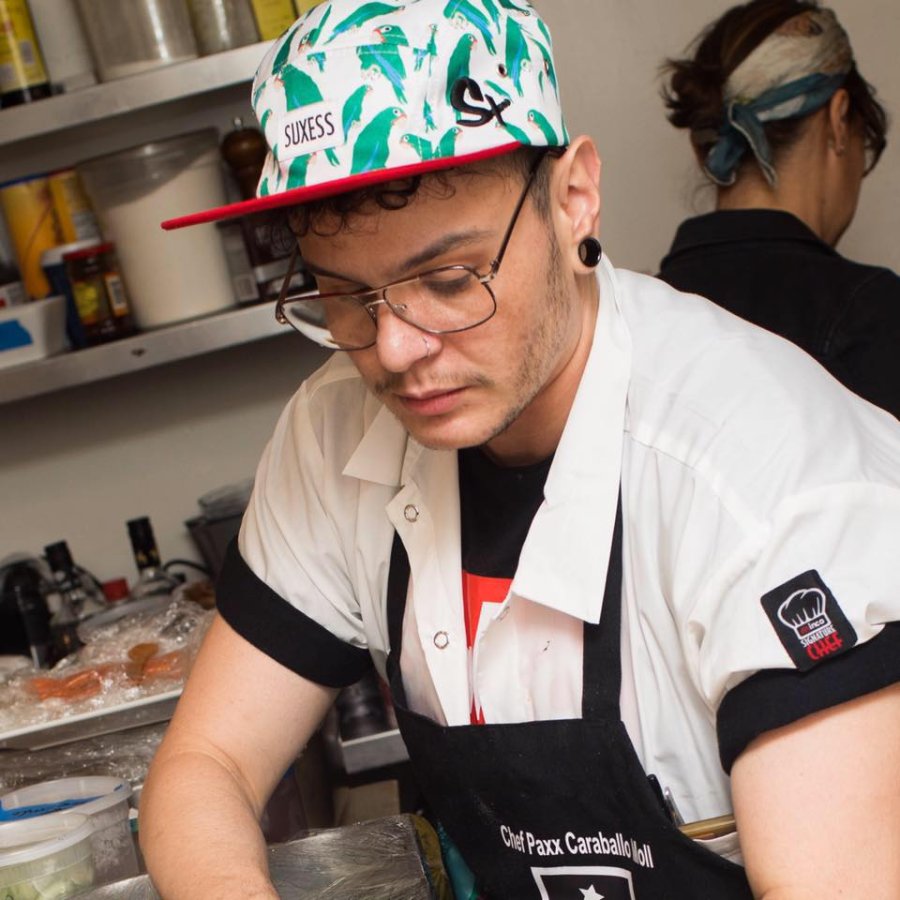 Tell us about your first job cooking in Puerto Rico?
I cooked under Chef Treviño for 7 years. He's my mentor and a key figure that helped me develop as a cook. His passion and love for cooking were palpable, and it stuck with me.
How is San Juan different from other places you've cooked?
I have to say that I haven't cooked in other places except for a pop-up in Brooklyn, the dinner at the James Beard House last November and PDX a couple of years ago. It's really not that different except for the weather. All of the places I've cooked I have found camaraderie, hard workers and cooks that want to do better everyday.
What are some places in Puerto Rico that inspire you as a chef?
I have to say Piñones and the fabulous fritters on the beach, seeing the ladies do like a zillion alcapurrias super fast. Kiosko la Comay has the best! My friend Francis Guzmán at his restaurant Vianda, beautiful stuff. Biking around Santurce, just to think and take it all in. Road tripping to Cayey, Luquillo and Rincón.
What impact has the LGBTQ community had on the culinary world in San Juan?
Slowly but surely there is more respect towards queer cooks now. That machismo bravado that used to permeate in kitchens is dying. There are more female cooks taking over, which I love. Before transitioning I presented as a lesbian and I would not get the promotions so for me to see powerful badass women killing it in the kitchen makes me proud.
How did you get the idea for Asian-Rican fusion?
My first restaurant, DragonFly was a Latin-Asian fusion, and I was fascinated with the ease with which the two cultures came together through food. I just can't get enough!
Do you have any tips for people coming to eat in Puerto Rico for the first time?
Eat at all the local places, ditch all the touristy stuff. Ask around, also get out of San Juan and visit the island. There's great food all over.
What is one dish every visitor has to try at Jungle BaoBao?
When you come to JungleBaoBao you really have to try our crack eggplant.
Discover Puerto Rico's E-Newsletter
Paradise for Your Inbox
Get travel inspiration, news, tips and more delivered monthly.