Recreate staple Island dishes from some of Puerto Rico's fine-dining cooks.
As masters of their craft, these fine-dining chefs and connoisseurs of local cuisine highlight the diversity and creativity of Puerto Rico's gastronomy. From Michelin-rated chefs like Juan José Cuevas and Juliana González to foodie experts like Spoon™, these cooks combine their techniques and love for Puerto Rico to bring the flavors of the Island to you.
With these easy-to-make dishes, you can feel the abrazos of the Island's top chefs in your kitchen as you follow along with their creations. Enjoy the Island's varied cuisine, fusion, and sabor!  Until you plan your next trip here, let a few of Puerto Rico's top chefs teach you a few new dishes to try.  
Note: Most of the recipes will include a staple Puerto Rican ingredient called sofrito. You can make this flavorful condiment by blending onions, cubanelle pepper or green bell peppers, garlic cloves, coriander, and culantro leaves.
Arroz con Pollo 
Rice, beans, chicken… how about you mixed them all? Another family favorite is brought to you by Chef Juliana González, the executive chef at Caña restaurant at luxurious Fairmont El San Juan Hotel. Combine these ingredients with these easy to follow steps for a delicious meal.
Ingredients
½ cup of sofrito
2 cups of uncooked white rice, medium grain 
5 chicken thighs (you can substitute with drums, wings, breast, or a mix of all)  
1 chicken bouillon cube
3 cups of water (water and bouillon cube can be substituted by chicken stock)  
1 packet of sazón (can be substituted with a combination of species like turmeric, paprika, cumin, salt, oregano or coriander seeds, achiote, ground black pepper, garlic powder) 
½ cup of sofrito (see recipe above)
Salt to taste 
 
Garnish:  
4 slices of roasted red pepper (canned or freshly charred at home) 
½ cup of green peas 
Season the chicken (with adobo preferably) and cook it through in a pan. Take the chicken off the pan and reserve.  In the same, add the sofrito and cook until translucent at medium heat. Add the bouillon cube, sazón, and rice. Mix everything and sear the rice. Add the precooked chicken and water and turn the heat to high. Let the water evaporate until the rice is almost dry and turn the heat to low. Cover and let it cook for about 20 to 30 minutes.  Top the rice with the roasted red peppers and green peas. 
Serve the rice with beans and a slice of avocado.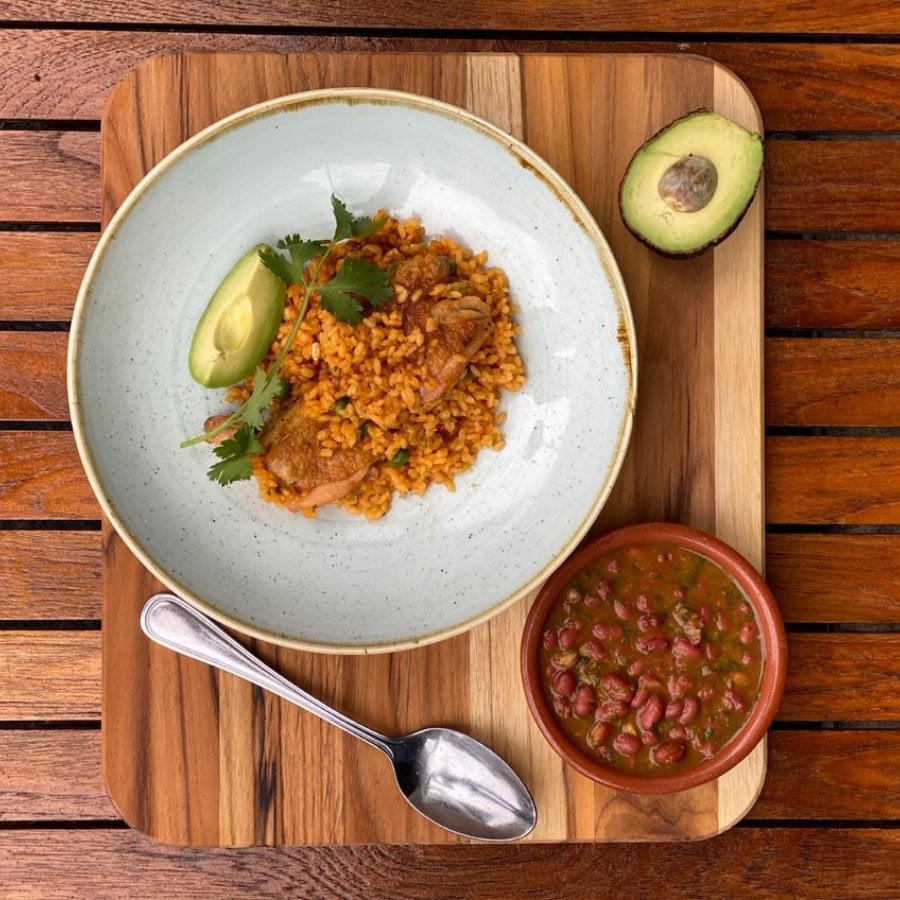 Puerto Rican style beans
Ingredients:  
1 can of red beans (can be substituted for pink beans) 
1 ounce of smoked cooking ham (can be substituted for hickory-smoked ham) 
4 tablespoons of sofrito 
½ packet sazón 
1 cup of pumpkin, cut into medium-sized cubes (can substitute or add potatoes)
1 leave of fresh culantro 
¼ of fresh coriander, chopped 
Salt to taste 
 In a saucepan, at medium-high heat, cook the ham for one minute.  Add the sofrito and cook until translucent, then add the sazón, beans, pumpkin, and salt. Cook for 15 minutes at medium heat. Add the chopped coriander before serving.  
"Salchicha" Stir Fried Mamposteao' Rice
Learn how to make rice with Vienna sausages, an abuelita favorite recreated by Chef Wilo Benet, one of the island's top chefs. This hearty dish is enjoyed by both kids and adults and is a perfect option for a quick family dinner.
Ingredients:  
4 tablespoons of sofrito (or pesto) 
2 tablespoons of olive oil  
1 tablespoon of annatto oil  
½ cup of Spanish tomato sauce  
1 tablespoon of small capers 
1 can of Vienna sausage (or substitute Spam or scrapple) 
2 tablespoons of adobo (onion powder, garlic powder, cumin, coriander, and kosher salt) 
4 cups of cooked white rice (or cauliflower rice, long grain rice, or orzo) 
1 cup of sweet peas  
½ cup chopped green onions 
In a medium heat "cauldron" or large pot add olive oil, sofrito, annatto oil, tomato sauce, and capers. Cook stirring for 15 minutes.  Once the ingredients are cooked through, add the sausages link (sliced ½ inch thick) and the adobo. Cook for an additional 10 minutes.  Add the cooked rice and thoroughly mix with the sausage links, and the sofrito and tomato sauce mix. Scrape the bottom of the pan constantly. Correct seasoning with salt to taste and add the peas and scallions. Serve hot with two fried eggs on top. 
Onion Soup by Chef Wilo Benet
Chef Wilo Benet presents a Puerto Rican twist on a classic savory soup that promises to warm your heart.
Ingredients:
2 large onions
2 tablespoons of adobo (onion powder, garlic powder, cumin, coriander, and kosher salt)
6 slices of stale French bread (or any kind you have available)
2 cups of sherry wine (can be replaced by white wine, dry vermouth, or a lager beer)
½ cup of Puerto Rican Rum
4 cups of beef broth (can be replaced by chicken broth)
6 slices of Edam cheese
On a pot over medium to high heat, pour olive oil to sauté and caramelize the onions. Add the onions to cook, stirring for 25-40 minutes. Add the rum and sherry wine and cook for an additional five to 10 minutes to release the alcohol. Add the hot broth and cook for an additional 30 minutes. To serve, place onions and broth in a croq, top with bread and cheese, and heat under the broiler or in the microwave to melt the cheese. Be careful, as it will be hot!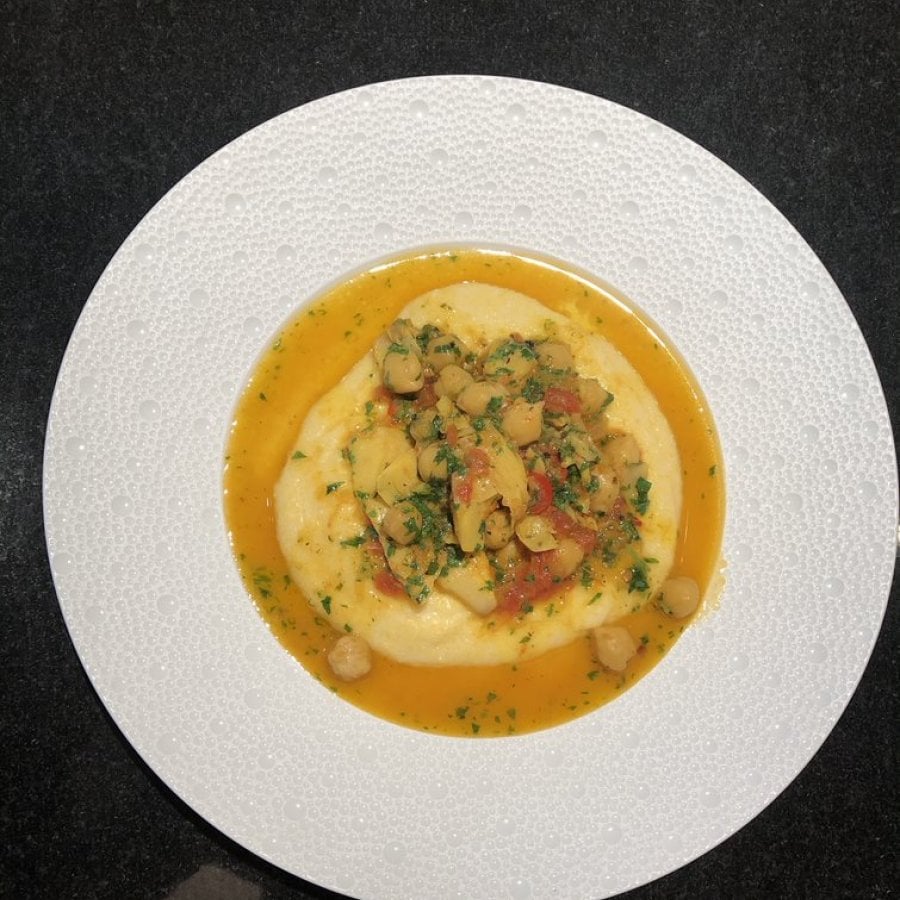 Funche with Chickpeas and Salted Cod
Chef Juan José Cuevas leads the kitchen at the upscale Restaurant 1919, but with his recipe for Puerto Rican polenta, you can be a fine-dining chef as well. Be sure to have your mise en place ready before you start.
Chickpeas 
Ingredients:  
9 ounces of dried chickpeas 
½ an onion each portion
½ a cubanelle pepper each portion
5 ajíes dulces (perennial sweet peppers) 
1 garlic clove 
1 celery stick each 
½ a carrot each portion 
½ a tomato each portion
2 culantro leaves 
2 ½ quarts of water
A pinch of salt 
Chickpeas prep
Allow the chickpeas to soak in cold water overnight, drain, and rinse. In a large saucepan, combine the chickpeas with 2 1/2 quarts of water and bring to a boil, then add the rest of the ingredients. Reduce the heat to low and let simmer for about two hours, until chickpeas are tender. Remove from the heat and remove the vegetables but leave the chickpeas with the liquid and set saucepan aside.  
Chickpeas and salted cod stew
Ingredients: 
1 pound of salted cod  
9 ounces of cooked chickpeas
¼ cup extra virgin olive oil 
2 ounces of onion 
2 ounces of cubanelle pepper 
4 ajíes dulces, red if possible (perennial sweet peppers) 
3 garlic cloves 
10 ounces of crushed tomatoes 
1 pinch of chili flakes 
1 pinch of Spanish saffron thread 
1 spring or large leave of fresh oregano 
1 teaspoon of ground cumin 
Additional ingredients:  
1 garlic clove 
Coriander 
Black pepper 
2 tablespoons of sherry or red wine vinegar 
Sea salt to taste 
In a large bowl, cover the cod with water and refrigerate for 36 hours, changing the water at least three times to remove the salt. When changing the water, save about 1/3 of the soaking liquid so the fish will keep some of the salty flavor. Drain the cod and cover with water, bring to a boil and let simmer for about 15 min, set aside.
Note: The soaking time may vary depending on the thickness of the fish.
In a small sauté pan, heat olive oil over medium-low heat. Add the onions and cook for five minutes or until they are softened. Add the peppers, ajíes dulces, and cook for about two more minutes, then add garlic, chili flakes, cumin, saffron, and let simmer for another five minutes.  Add the tomatoes and let them cook for a few minutes. If fresh oregano is available, add one sprig or large leave. Let all the ingredients cook for about 20 minutes. 
In a mortar, crush garlic, coriander, and black pepper into a thick garlic paste. Return the chickpeas to the stove and bring to a boil over medium-high heat. Reduce the heat to low and stir in the pimentón mixture and the garlic paste. The liquid should become a thick, stew sauce. Simmer for five minutes.  Slice the cod into one-inch-thick pieces and add them to the stew. Simmer for about six minutes or until cod is cooked through. Season to taste with salt and pepper and add the two tablespoons of sherry or red wine vinegar, proceed to serve immediately.  
Funche 
Ingredients:
1 cup of coarse cornmeal 
3 cups of coconut milk 
2 cups of water 
1 teaspoon of sea salt 
Olive oil 
1 cup of capaez cheese (can be substituted with Gruyère cheese) 
3 tablespoons of butter 
In a saucepan, bring water, coconut milk, and salt to a boil; pour the coarse cornmeal slowly into the boiling liquid, whisking constantly until all polenta is mixed in. Reduce heat to low and simmer, whisking often until polenta starts to thicken (about five minutes). Cover and cook for 25 minutes, whisking every five to six minutes. You'll know the polenta is done when the texture is creamy, and the individual grains are tender. Turn off heat and gently stir butter into polenta, mix the cheese into the polenta until it melts. Cover it and let it sit for five minutes until it thickens; stir and taste for salt before transferring to a serving bowl.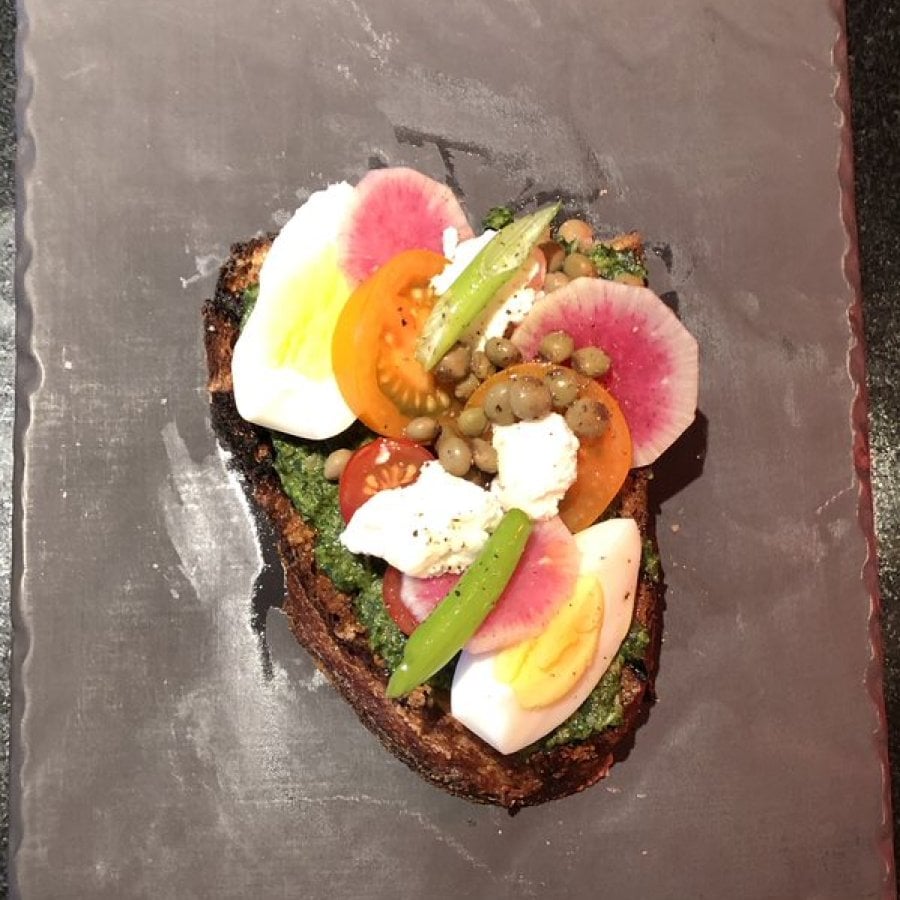 Tartine Toast by Chef Juan José Cuevas
Looking for an easy-but-fancy brunch recipe to impress? Juan José Cuevas teaches you one of his go-to breakfasts (or lunch) dishes just like at the restaurant at the Condado Vanderbilt Hotel.
Ingredients
4 eggs, boiled for six minutes
4 slices of country bread  
100 grams of fresh goat cheese, semi crumble 
200 grams of cooked pigeon peas
8 round radishes  
4 slices of avocado 
1 scallion  
8 cherry tomatoes 
Olive oil for drizzling  
Salt and pepper   
Ingredients for arugula pesto: 
1 garlic clove 
1 anchovy fillet 
2 cups of arugula leaves 
½ cup of parmesan cheese 
1 teaspoon of salt  
1 cup of extra virgin olive oil  
In a food processor, combine the anchovy, garlic, arugula, parmesan, and salt and pulse to blend. With the machine running, pour in the olive oil through the food tube in a slow, steady stream and process until smooth, stopping to scrape down the sides of the bowl as needed. Taste and adjust the seasonings. 
Lightly oil the slices of bread and place them under the grill or the toaster. While the bread is toasting, wash and cut the tomatoes in four. Coarsely spread the slices of bread with arugula pesto.  Marinate the pigeon peas with the scallion and a touch of vinegar. Cut the radishes into thin strips and spread them over the bread. Add the quartered boiled and seasoned eggs, the tomatoes, avocado, and the marinated pigeon peas to each toast. Drizzle with olive oil and add salt and pepper on top. 
Chef's tip: make a garden salad to go with the sandwiches to complement your meal.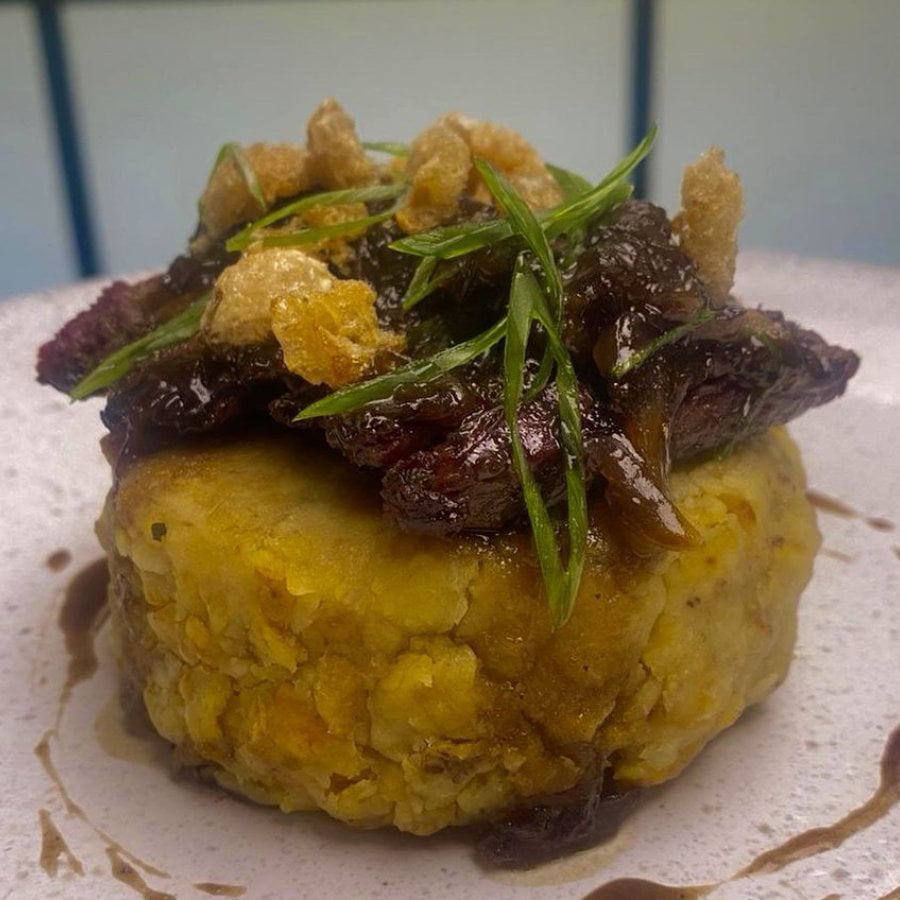 Green plantain mofongo and skirt steak encebollado in malt glaze
A visit to Puerto Rico is never complete without trying mofongo and chef Mario Pagán knows that. With his recipe, this traditional dish takes a lavish turn worthy of any fine-dining restaurant. The best part, you can recreate it at home.   
Ingredients:  
3 green plantains for each mofongo
3 to 6 ounces of skirt steak cut in strips  
 3 peeled garlic cloves each
1/5 cup of chicken stock 
5 ounces of extra virgin olive oil 
1 bag of pork rinds or bacon  
4 ounces of malt or dark beer 
2 tablespoons of brown sugar 
1 teaspoon of adobo 
1 tablespoon of minced coriander  
1 green onion cut into ½ inch pieces 
½ medium yellow onion (julienned)  
2 cups of soybean or vegetable oil for frying  
Kosher salt to taste  
Peel the plantains, cut them into 1 ½ -inch slices, soak them in salty water for 30 minutes, drain them and dry them before putting them on the hot skillet with oil at 350°F.  Fry the plantain for about 12 minutes until they turn into a light golden color. Make sure to turn them if in skillet. Do not brown them too much, so they are easy to mash. You can stick a fork in them to check if they are soft enough. With a pinch of salt, mash the garlic well in a mortar to create a paste-like consistency. Add the fried plantains and keep mashing, adding slowly the chicken stock and two ounces of the olive oil, the minced cilantro, and salt to taste.  Once you have mashed all the plantains, mold them into the shape of half sphere using your hands or a container and set aside. 
Making the skirt steak
Season the skirt steak strips with the adobo and marinate adding one ounce of the olive oil.  In a pan over medium heat add the remaining two ounces of olive oil, add the yellow onions and cook until translucent, then add the malt and brown sugar stirring it well in the liquid and reduce.  Once reaching a glaze-like consistency, add the green onions and remove from the heat. Taste the sauce and adjust with salt if necessary. 
 Place the skirt steak on top of the mofongo and finish with small pieces of the pork rinds or the bacon. ¡Buen provecho!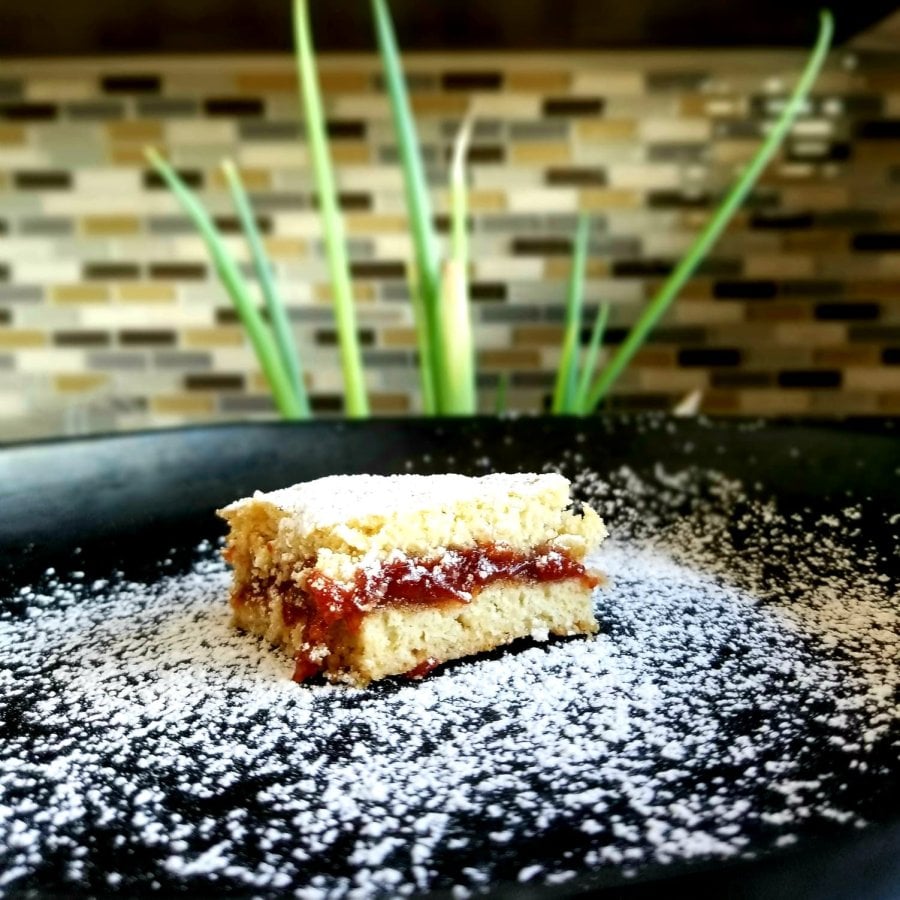 Guava and bacon panatela
Doesn't everything with guava come straight from heaven? This cloud-fluffy, sugary treat is always a crowd pleaser and Spoon puts a savory twist to make it, even more, brunch friendly. Get a taste of this panadería favorite.
Ingredients
1 stick of unsalted, melted butter (add a little extra for greasing the pan)
1 cup of sugar
2 eggs
1 tablespoon of vanilla
2 tablespoons of coconut oil
2 tablespoons of aged rum
2 teaspoons of baking powder
1 teaspoon of kosher salt
2 cups of all-purpose flour
1 ½ teaspoon of ground cinnamon (optional)
1 pound of crispy bacon, chopped finely
18 ounces of guava paste, chopped into small pieces
Confectioner's sugar for dusting
Preheat the oven to 350°F. By hand, combine the melted butter with the sugar. Incorporate the eggs, vanilla, aged rum, and coconut oil and whisk until you achieve a creamy texture. Add the baking powder, salt and stir using a wooden spoon. Then, add the flour and stir until combined. Divide the mixture in two. Butter your pan (preferably a 11"x 8" baking mold) and spread half the dough, pressing down with your fingers to make it even.
Over medium-high heat, set a pot with two tablespoons of water. Melt the guava, stirring until it reaches a jam-like consistency. Remove for the heat and incorporate the chopped bacon and cinnamon. Spread the bacon-guava jam in an even layer on top and top with the remaining dough. Bake for 30 minutes and wait for it to cool down, cut into squares and dust it with confectioner's sugar.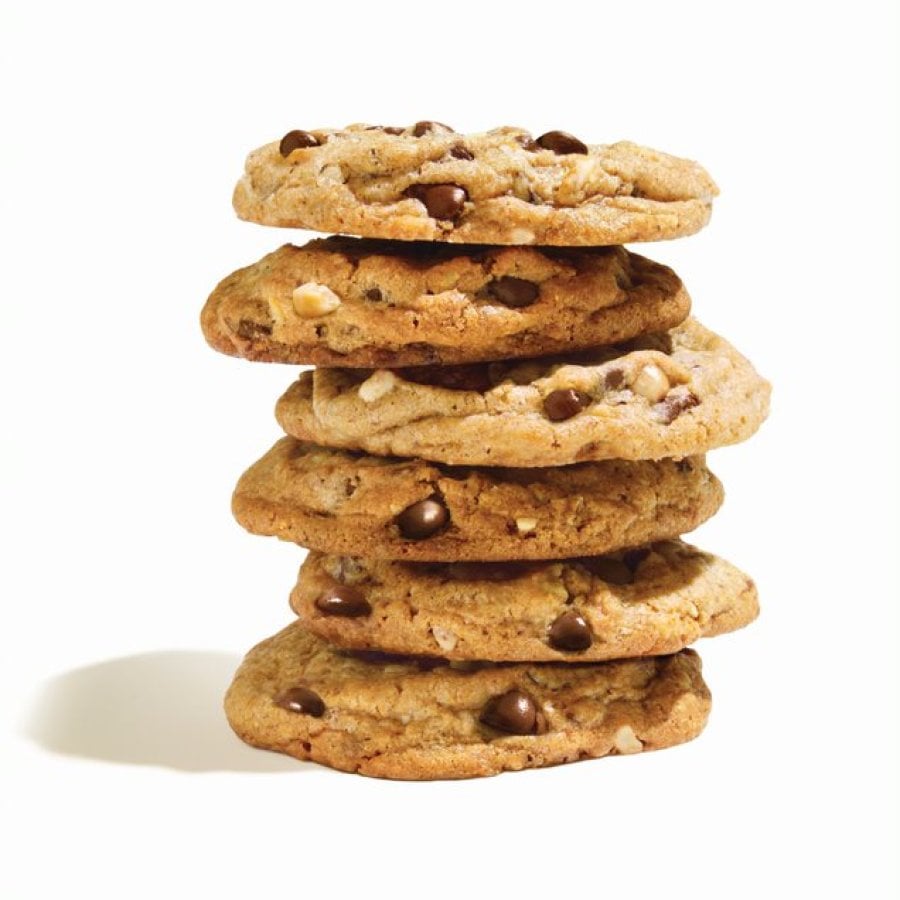 DoubleTree by Hilton Cookie Recipe 
The DoubleTree by Hilton is known for their chocolate chip cookies, and their property in San Juan is not the exception. Follow along to bake these signature cookies that pair perfectly with a cup of Puerto Rican coffee.
Ingredients:  
½ a pound of softened butter (2 sticks) 
¾ cup + 1 tablespoon of granulated sugar 
¾ cup of packed light brown sugar 
2 large eggs 
1 ¼ teaspoons of vanilla extract 
¼ teaspoon of freshly squeezed lemon juice 
2 ¼ cups of flour 
½ cup of rolled oats 
1 teaspoon of baking soda 
1 teaspoon of salt 
A pinch of cinnamon 
2 2/3 cups of semi-sweet chocolate chips 
1 ¾ cups of chopped walnuts  
Cream the butter, sugar, and brown sugar in a bowl and mix on medium speed for about two minutes. Add the eggs, vanilla, and lemon juice, blending with mixer on low speed for 30 seconds. Then, up the speed to medium for about two minutes, or until light and fluffy, scraping down the bowl. With a mixer on low speed, add flower, oats, baking soda, salt, and cinnamon, blending for about 45 seconds. Don't overmix! Remove the bowl from mixer and stir in chocolate and walnuts. Portion dough with a scoop (about three tablespoons) onto a baking sheet lined with parchment paper about two inches apart.  Preheat oven to 300°F and bake for 20 to 23 minutes, or until edges are golden brown and center is still soft.  Remove from oven and cool on baking sheet for about one hour. 
Cook's note: You can freeze the unbaked cookies, and there's no need to thaw. Preheat oven to 300°F and place frozen cookies on parchment paper-lined baking sheet about 2 inches apart. Bake until edges are golden brown, and center is still soft.