It's always al fresco season in Puerto Rico.
Oh, but that view!
Puerto Rico is home to incredible restaurants, food trucks, and kiosks that showcase the explosion of flavors that make up the Island's cuisine. But wouldn't it be better if it had a view?
The option is yours: on a pier staring at the sunset or on a patio mostly lit by the moon, with an oceanfront or a mountain backdrop. Puerto Rico's fantastic landscape offers a myriad of al fresco dining experiences across the Island.  
From upscale beachfront restaurants to charming terraces nestled in the mountains and food trucks in an urban-yet-relaxed setting, you'll want to make a note of these spots: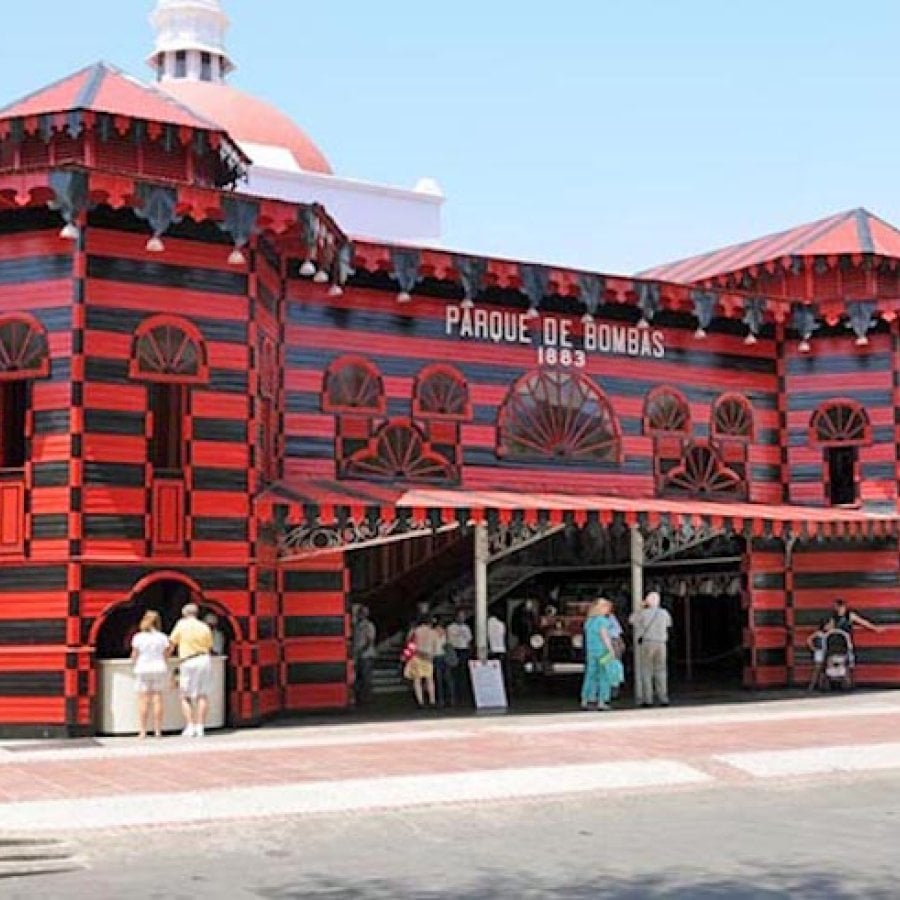 A historical dinner 
The name says it all! Vistas is a double-terrace outdoor restaurant in the heart of Ponce. The chic patio overlooks the historic town's iconic red and black Parque de Bombas and the emblematic Catedral Nuestra Señora de la Guadalupe — talk about dinner with a historic view! Savor some fricasé de langosta (lobster stew) or a shrimp-stuffed mofongo while relishing in the sun setting behind the Cruceta del Vigía, a 100-feet tall cross that sits atop a hill.  You can also enjoy some tapas and wine at the mezzanine terrace, overlooking the La Perla Theater – the second oldest theater on the Island, and Caja de Muertos, a beautiful secluded beach just a boat ride away. This is truly the place where gastronomy, history, and architecture come together.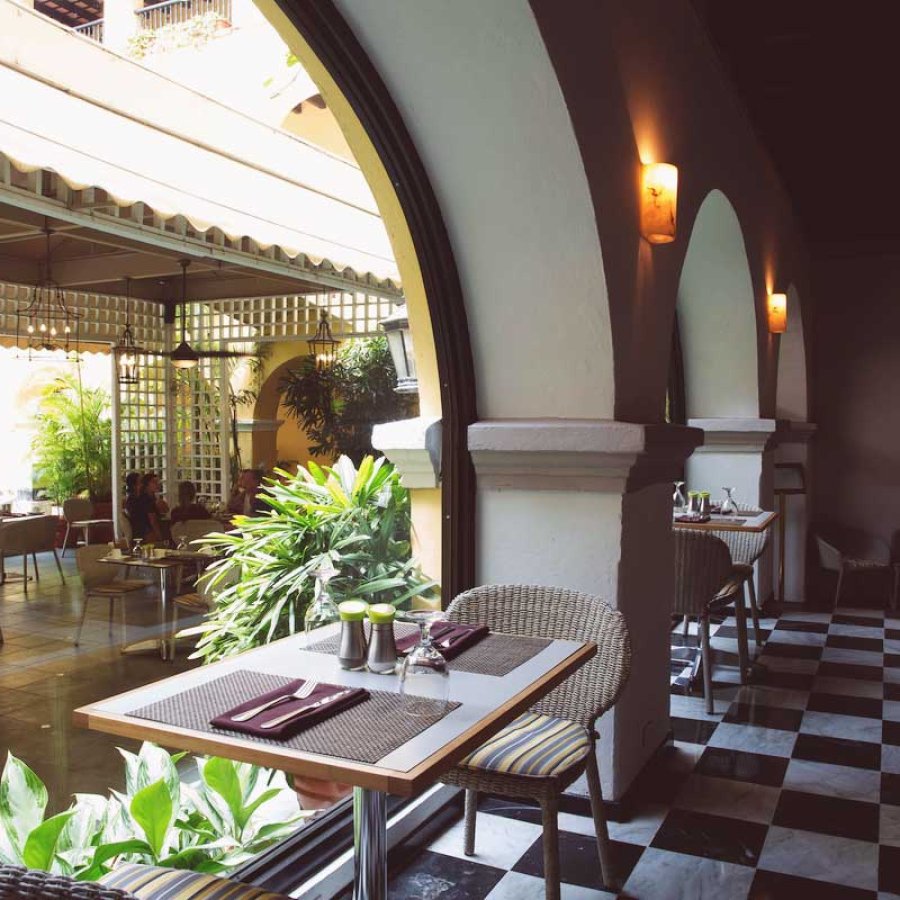 Alfresco dinner inside a hotel 
Frequently acclaimed as one of the finest restaurants in Old San Juan, El Patio del Níspero offers an indoor-outdoor experience within the walled-city. After sightseeing all around the blue cobblestone streets, set out to eat al fresco at the historic El Convento Hotel's courtyard. From breakfast to lunch and dinner, you can find elevated local cuisine at any time of day. Savor some burgers or go fancier with a filet mignon, kurobuta pork chops, and arroz mamposteao, sip on a ginger-mojito or a passion fruit tropical cocktail. And, if you go during the week, you might find some jazzy musicians serenading you in the courtyard.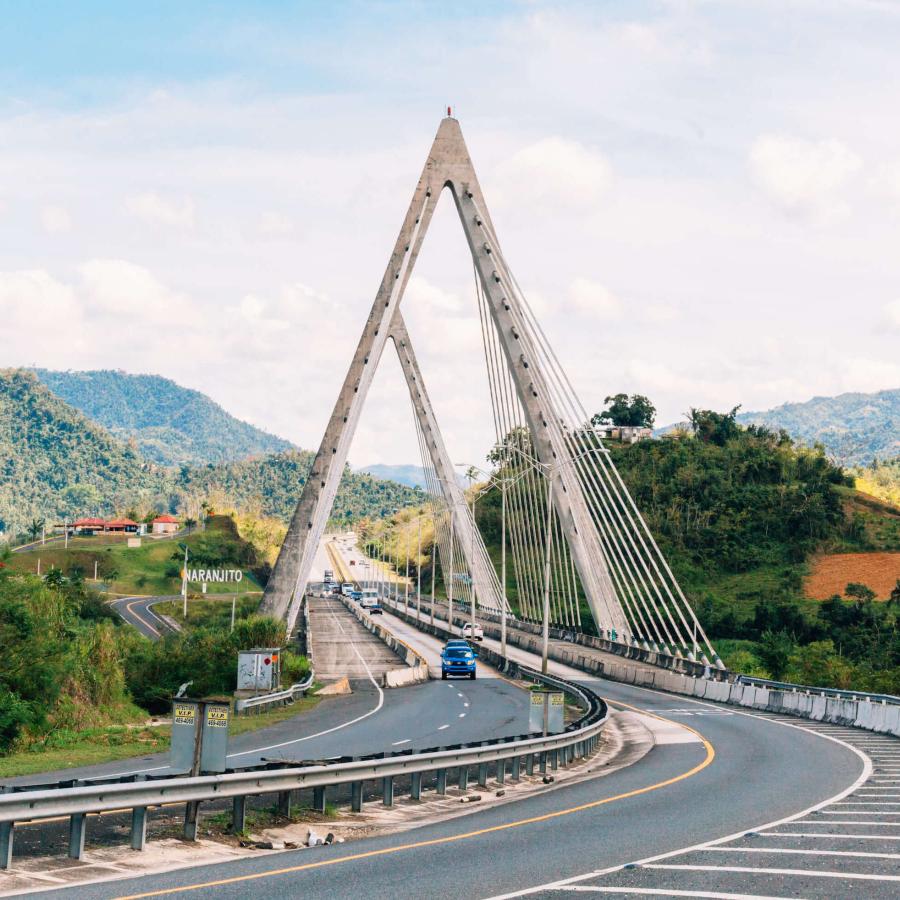 Meat me in the mountains
A smokehouse in the mountains, Asador San Miguel, delivers the rural-countryside of Puerto Rico through its food and setting. Although it offers indoor seating, you'll want to opt for the patio option; trust us! The panoramic views, the fresh mountain air, and the service's familiarity will make your visit to this lauded restaurant in Naranjito worth the trip. The relaxed-yet-lively ambiance will make you feel as if you were at your neighbor's house having a barbecue. Their specialty is meat cuts, so be sure to try their assortment of rib-eye, skirt steak, ribs, and some longaniza (local sausage).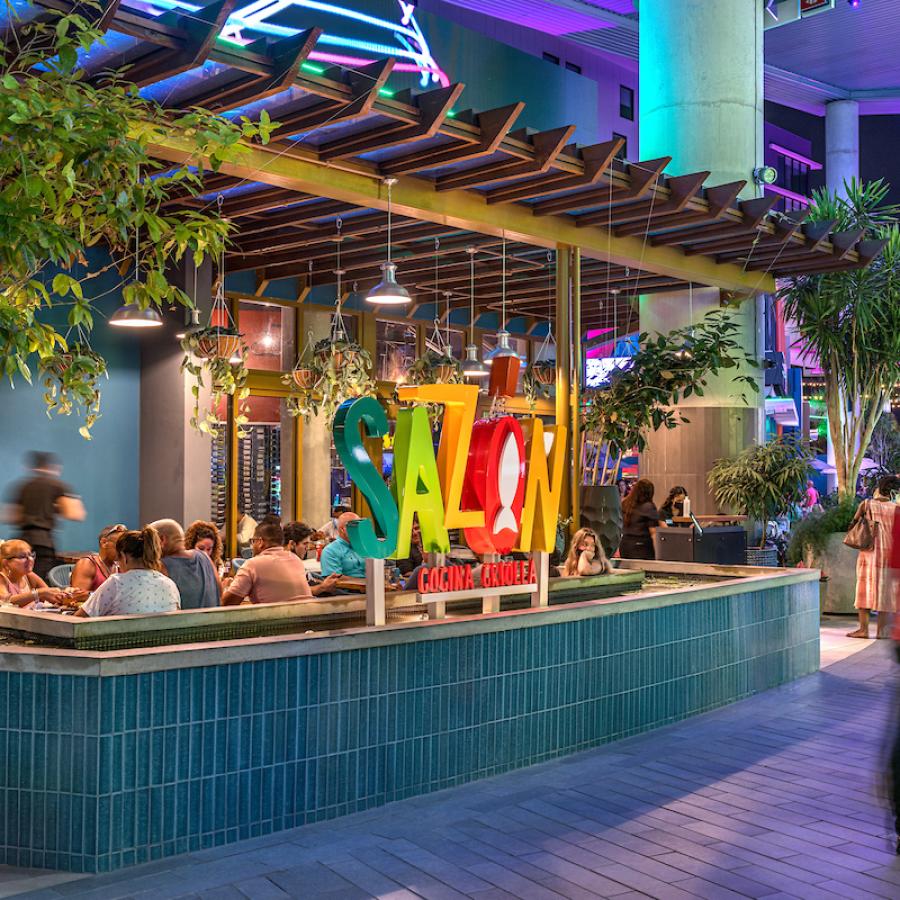 So many options 
What makes Distrito T-Mobile in San Juan stand out is that it doesn't just offer one al fresco dining option, but several. Enjoy the evening breeze and watch the sunset over the gorgeous dancing fountain while enjoying Spanish tapas and a glass of wine at Barullo Taberna Española. Split a few sushi rolls and a bottle of sake at Denko, just a few yards from the Toro Verde Urban Park. If you're craving authentic Puerto Rican cuisine, grab an outdoor table at Sazón Comida Criolla.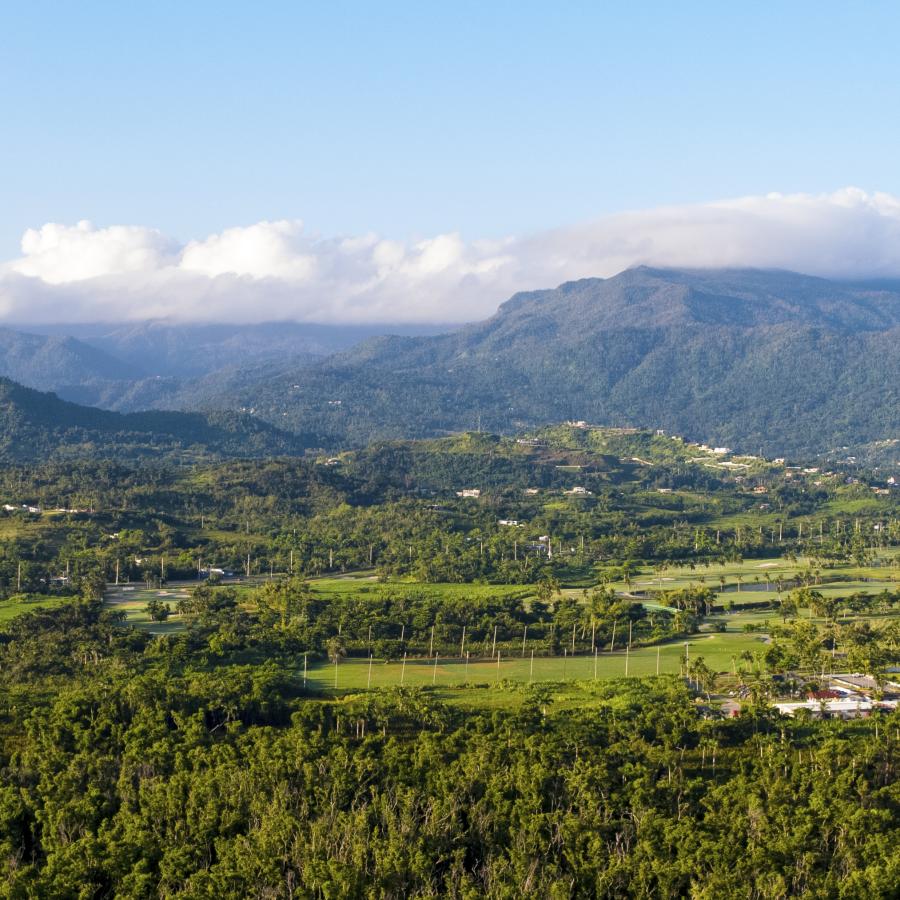 The best of both worlds 
How about a place where you can see both the mountains and the beach? Yes, that is possible! Richie's Café is perched near of El Yunque National Rainforest. It sits atop a hill with astonishing views of Río Grande and the east coast, where you can enjoy the tropical sea breeze and listen to the sound of the turquoise-blue waves. Just minutes away from the Wyndham Grand Rio Mar Puerto Rico Golf & Beach Resort, this open-space restaurant offers a very criollo menu in a festive atmosphere. You can catch a sports game playing on one of their big screens or a local band jamming during the weekend. Enjoy their mofongo stuffed with conch or octopus, or ask for the whole red snapper with some rice; you won't regret it.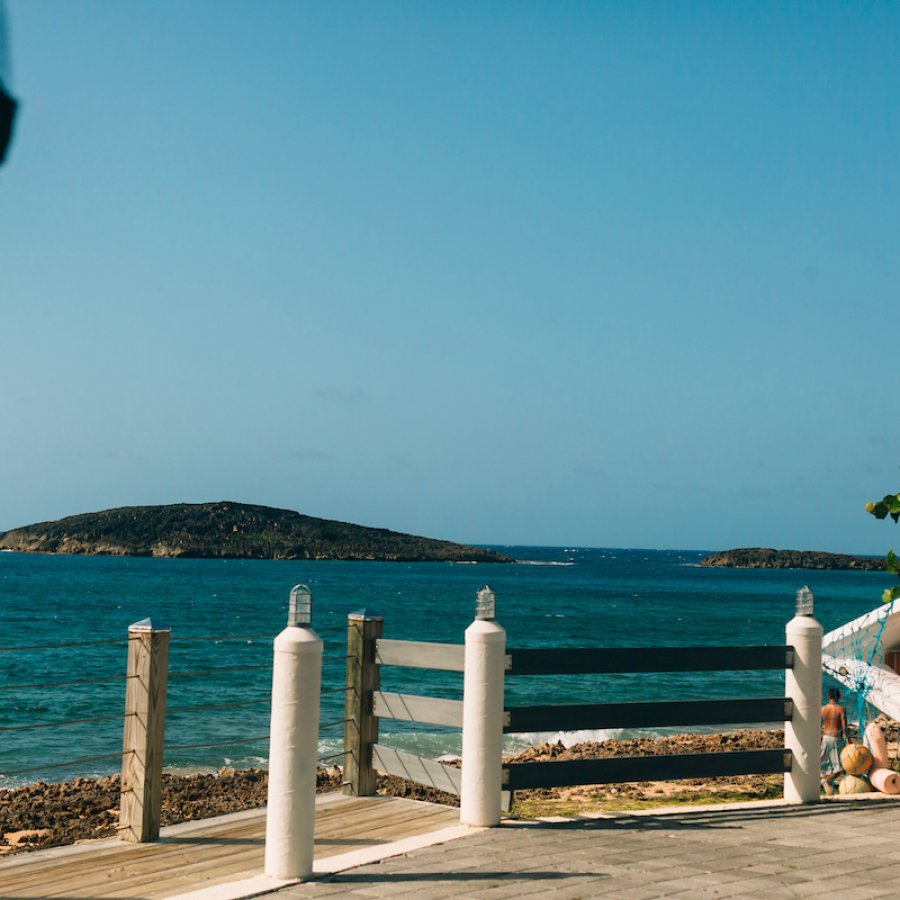 The ocean at your feet
Dine with the ocean at your feet! At Salitre Mesón Costero is a beachfront restaurant in Arecibo specializing in local, fresh seafood and prime meats. While the restaurant has a salon with AC ready to accommodate you, you'll find the best view of the sun hiding behind the waves at their outdoor terrace. Their menu is best described as from-sea-to-table and showcases an array of tapas like their tostones rellenos de jueyes, grilled octopus, and calamari rings. If you're there early enough, you can see local vendors bring in their catch of the day.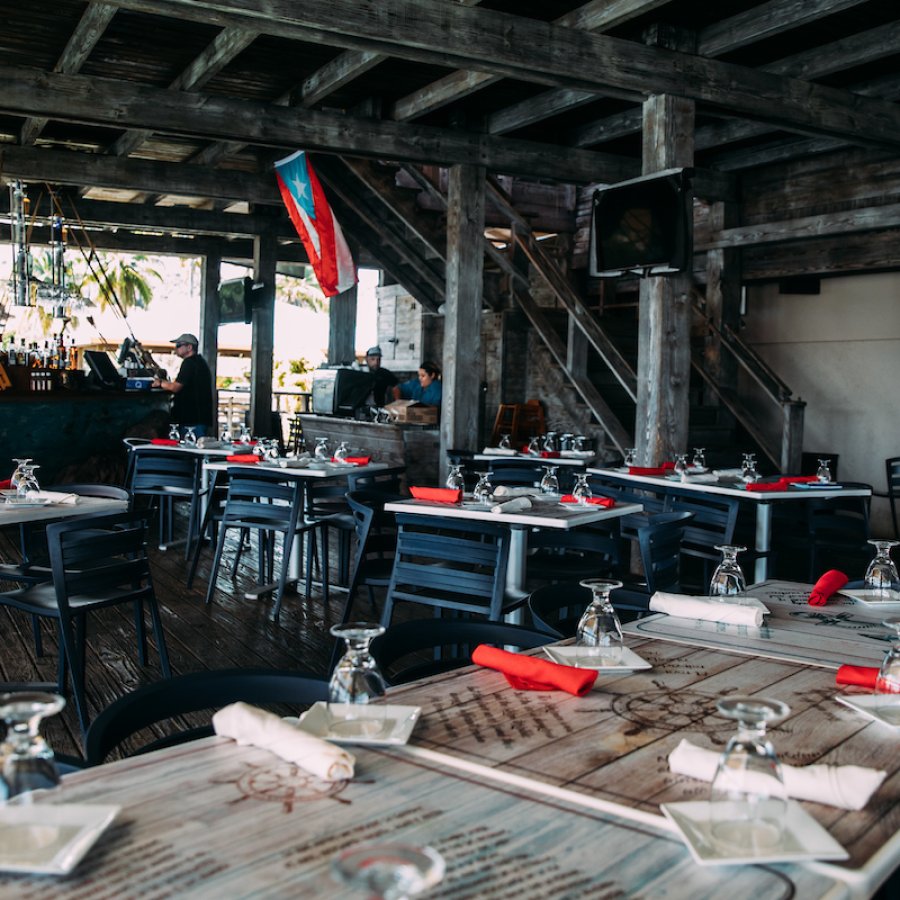 Romantic dinner on deck 
A beautiful open-space terrace right in front of the docks in the Puerto Chico Marina in Fajardo, Cinco Nudos invites you to try upscale cuisine in a relaxed yet elegant setting. The wooden pier and structure make the place rustic-chic and serves as a backdrop for spectacular pictures on a special occasion or vacation. The dim lights and view of the marina give Cinco Nudos a more intimate approach than other restaurants. Order the risotto, a house specialty, and a glass of wine or a seafood paella to delight in authentic Caribbean flavors. 
Family farm with a drive-in
Cinema included! Technically in the coastline but nestled in a mountain 500 feet above sea level is La Finca, a farm-like restaurant that is more than just a dining experience in Naguabo. La Finca provides a pet-friendly, family-welcome atmosphere with views of the old Roosevelt Roads Naval Base in Ceiba and Vieques' coastline. The restaurant, which serves anything and everything from fritters, tapas to mofongo, seafood-stuffed skirt steak, spicy crab tacos, and more, features traditional techniques and bold flavors. To make you feel at home, La Finca has an outdoor park for kids to run around and play and hosts a drive-in cinema on the weekends. 
Discover Puerto Rico's E-Newsletter
Paradise for Your Inbox
Get travel inspiration, news, tips and more delivered monthly.