From easy to more challenging, you can find a trail to explore.
How about a vacation powered by you? Literally!
Whether you seek an active getaway or just a weekend stroll, pedaling across the Island's multiple trails and landscapes is one of the best ways to experience Puerto Rico. From jungle paths to ocean views, forests, and urban settings, discover epic single tracks away from the crowds and connect with the most astonishing sceneries at your own pace.
To make your "bike plans" more comfortable, you can rent all the necessary gear once you get to paradise. You can always opt for planning a self-supported tour.
Learn more about biking in Puerto Rico
Note: Before heading out, pack a light backpack with water, snacks, and personal items like sunglasses, insect repellant, sunscreen, and toiletries. Since biking is an active, physical activity, always carry your medical information or emergency contact.
Here are a few trails you shouldn't miss: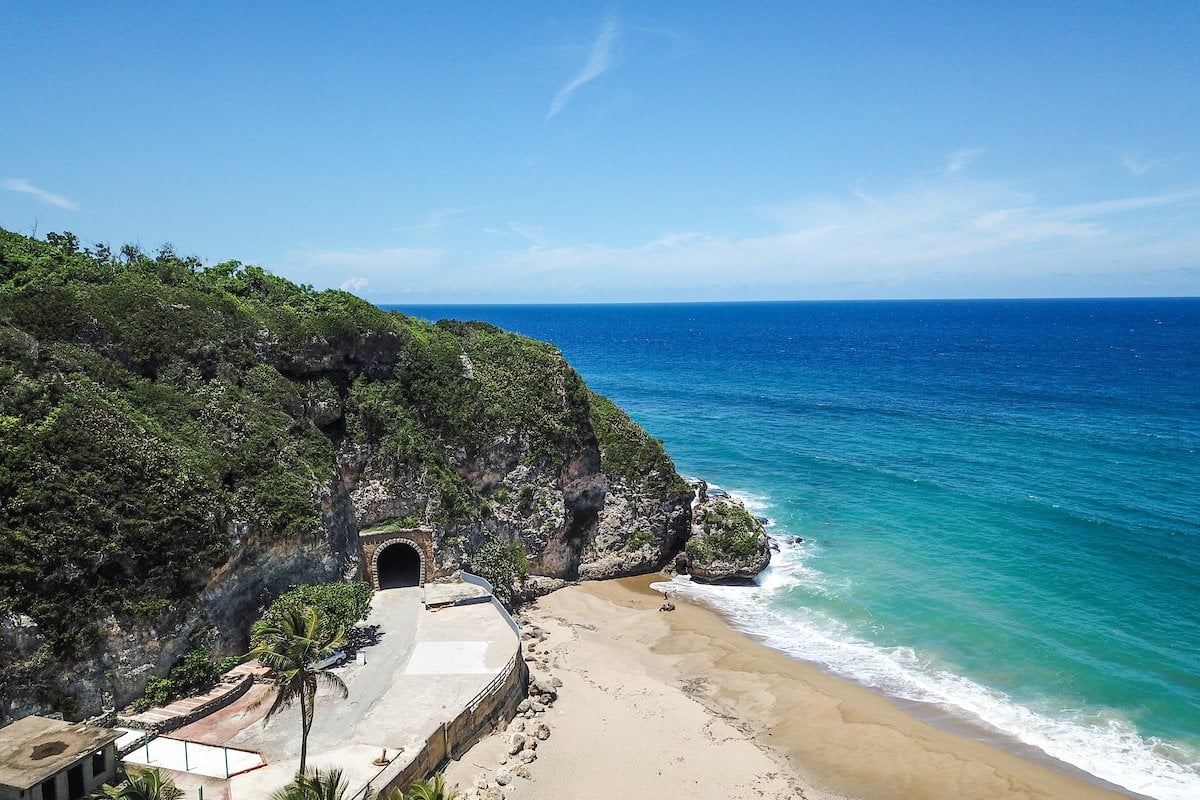 Paseo Tablado de Piñones  
A solo unos minutos de Isla Verde se encuentra el Paseo Tablado de Piñones, un sendero amado tanto por lugareños como por los turistas que recorre las vistas al mar hacia el bosque de manglares. El camino está rodeado de árboles de uva de playa y otros manglares, proporcionando múltiples oportunidades de fotografías en el camino. Es en su mayoría plano y se extiende por aproximadamente 6 millas en el Bosque Estatal de Piñones, donde solo pueden ingresar vehículos no motorizados. Puedes alquilar tu bicicleta y equipo de ciclismo a lo largo del sendero desde lugares como CicloNatura, Lula's Bike Rent, Rent the Bicycle y COPI (Centro Cultural y Ecoturístico de Piñones). 
El sendero es fácil y puede ser disfrutado por todos. 
Consejo: Durante tu visita, reserva algo de tiempo para chapotear en la playa y comer en los numerosos restaurantes y chinchorros cerca del paseo marítimo. 
Paseo lineal de Isabela 
Conocido por ser un pueblo surfero, no pensarías en andar en bicicleta por Isabela. Aun así, el municipio tiene un sendero exclusivo para los entusiastas del ciclismo y los caminantes en el área. Es el Paseo Lineal de Isabela, donde se puede pasear en cualquier nivel de habilidad. Rodeado de flores silvestres, la ruta en bicicleta se extiende por más de 4 millas con fascinantes vistas al mar de Jobos y la playa Middles. Encontrarás gazebos de descanso, letreros informativos e incluso detenerte en la playa a lo largo de la pista. Puedes alquilar tu equipo en la tienda cercana Pedalea Isabela. 
Consejo: Termina tu día con un refrescante chapuzón en la playa de Jobos y un cóctel en La Central. Dependiendo de tu alojamiento, puedes planificar un recorrido al día siguiente por el Bosque Estatal Guajataca, donde encontrarás varios senderos y una torre de observación.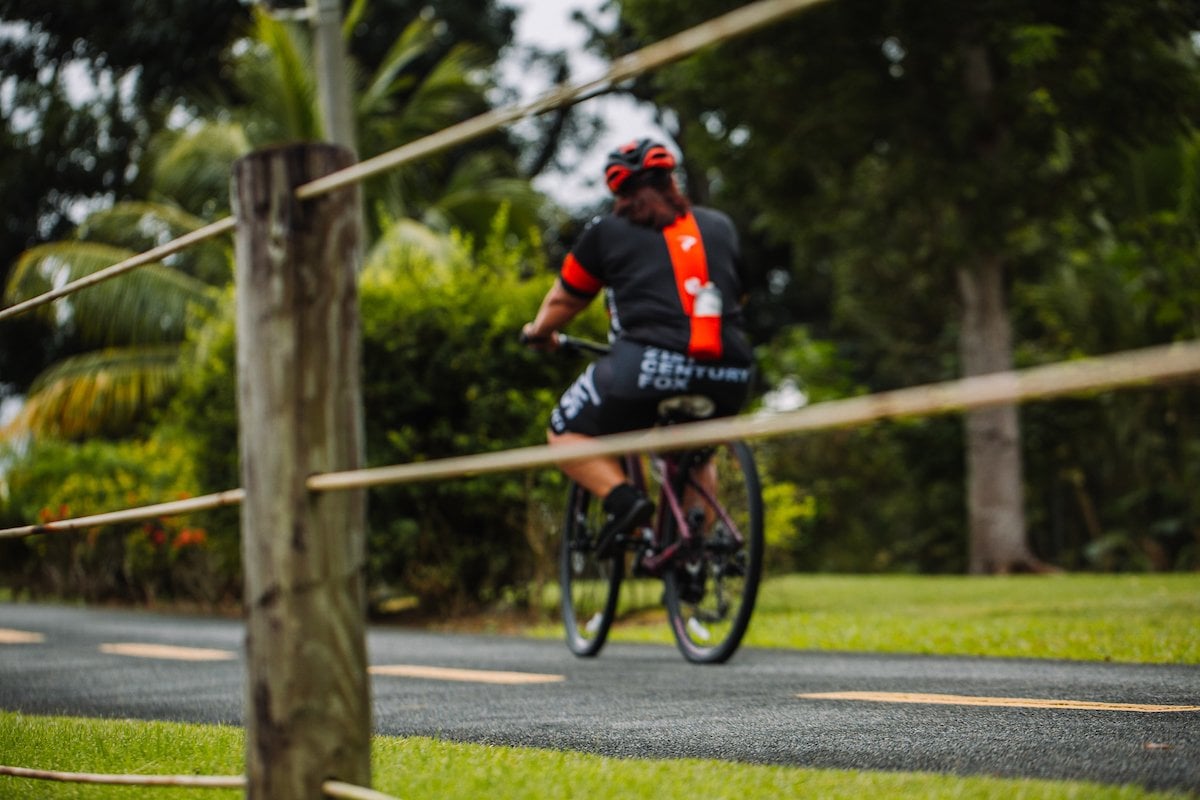 Sendero de la Reserva Natural de Humacao 
¡Una aventura te espera en Punta Santiago, Humacao! Los senderos de la Reserva Natural de Humacao van desde fáciles hasta desafiantes, con nueve pistas diferentes para descubrir en el lugar. Tendrás muchos puntos de salida para acceder a la playa con vistas a Monkey Island y letreros informativos a lo largo del camino. Los gazebos tienen vistas a la laguna, donde también puedes practicar kayak si lo deseas, y muelles de pesca donde podrás relajarte. Puedes alquilar todo tu equipo en Morillo Cycle en la entrada a tu llegada o reservar con anticipación. 
Consejo: Combina el recorrido en bicicleta con observación de aves y senderismo para una experiencia inolvidable de "recarga y reconexión". 
Monte Brujo 
Una prueba para el ciclista más hábil, Monte Brujo en Guayama cuenta con algunas subidas y bajadas geniales. En su mayoría montado como una sola pista de campo traviesa, este lugar tiene casi 25 senderos perfectos para ciclismo de montaña, correr y hacer senderismo. Prepárate para atracar lejos de algunas ramas de árboles mientras pedaleas por un camino rígido libre de obstáculos como raíces y rocas. Puedes alquilar tu equipo de MTB en Papa's Cycles o Vives Rental Equipment cercano. Ten en cuenta que no hay quioscos de comida alrededor, así que asegúrate de llevar mucha agua y bocadillos para el día. 
Consejo: Termina tu circuito en La Casa de los Pastelillos, donde degustarás algunos de las frituras más famosas de Puerto Rico con vista al mar. 
Sendero de bicicleta de montaña en Domes 
Rincón también es conocido por ser un paraíso para los surfistas en Puerto Rico. Aun así, la mayoría de los aficionados a las bicicletas de montañas visitan este pueblo de la costa oeste debido a su desafiante ruta. Ubicado cerca del Lighthouse Park, el Sendero Domes es un patio de recreo en la jungla con recorridos de estilo cross-country, senderos cuesta abajo y algunas de las mejores vistas que este municipio surfista tiene para ofrecer. Termina tu viaje con la puesta de sol más espectacular que puedas presenciar en la Isla y date un chapuzón para refrescarte después de haber pedaleado todo el día. Puedes conseguir tu equipo en Rincón Mountain Bike Pro Shop. 
Consejo: Cuando estés en Rincón, asegúrate de ver la puesta de sol más épica que verás en Puerto Rico.