A coastal destination with beaches, wildlife, and Puerto Rico's largest resort.
With a mix of laid-back beach vibes, a protected natural reserve, and a sprawling luxury resort, there's something for every type of traveler in Humacao (a name of Taíno origin). The municipality spans 44 square miles (117 square kilometers) on Puerto Rico's Atlantic coast, with Naguabo to the north, Yabucoa to the south, and Las Piedras to the west. It's about an hour's drive from San Juan and 30 minutes from the airport and ferry terminal in Ceiba.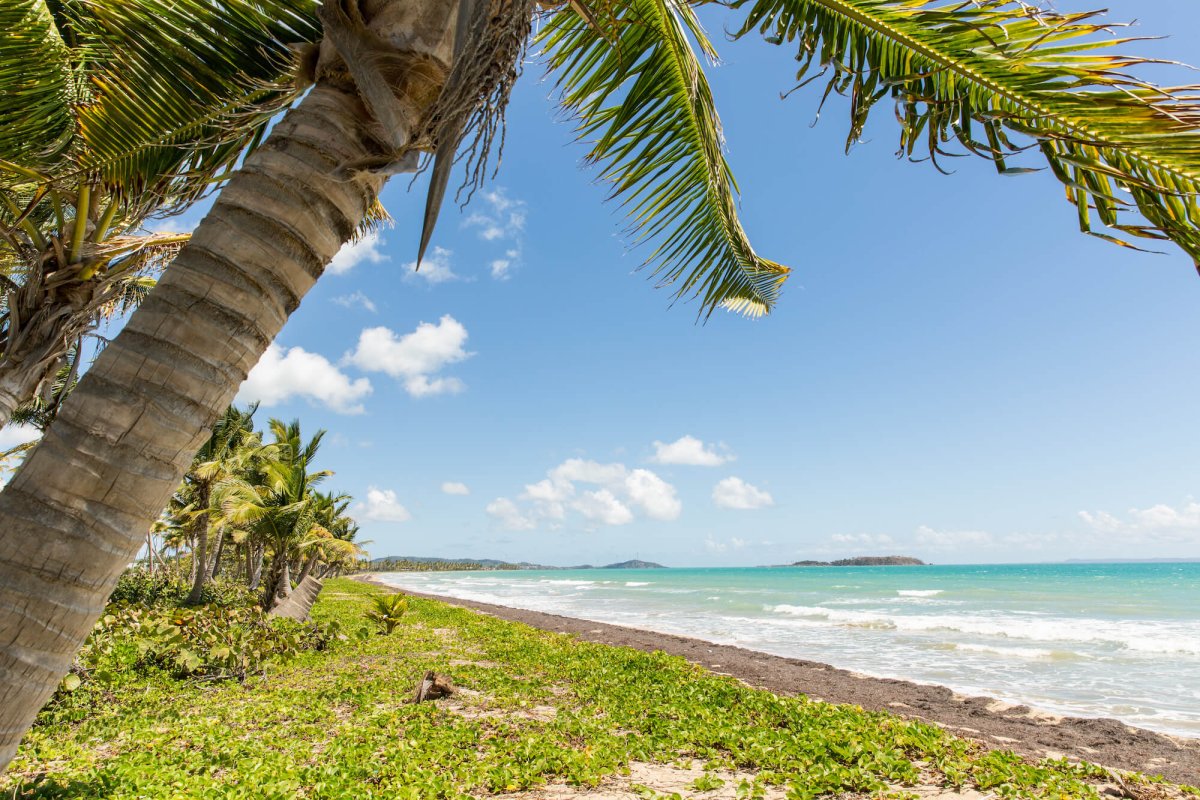 The Land, Sea, and Stars
Enjoy the environment at its purest in the Humacao Nature Reserve. This 3,000-acre protected area is not just visited by outdoor enthusiasts, it's a haven for a variety of birds, fish, and wildlife. A network of swamps, bogs, lagoons, and beaches crisscrosses the reserve, and hiking and cycling trails make it easy to explore. You can rent bikes by the hour from Morillo Cycle, or if you're in the mood for an aquatic adventure, stop by Water Sports and Eco-Tours to rent kayaks, paddleboards, and paddleboats.
For a fun-in-the-sun day at the beach, plant yourself at Punta Santiago beach, a conveniently located spot that offers plenty of parking and is walkable to nearby restaurants and bars.
Cayo Santiago, a cay located roughly half a mile offshore from Punta Santiago, is part of the municipality of Humacao. While the small island is uninhabited by humans, it is home to more than 1,000 free-roaming Rhesus monkeys. The animals were first brought to Isla de Mona from India in 1938 for scientific research purposes; they have since lived here for generations and are still studied today. While the island is off-limits to visitors, you can schedule a guided excursion with Kayak Monkey Island to view the primates frolicking, fighting, and playing from the water.
If you're an astronomy buff, check the schedule at the University of Puerto Rico's Astronomical Observatory. The research facility opens its doors to the public during lunar eclipses and other notable night-sky events.
Accommodations for All
Palmas del Mar, Puerto Rico's largest resort, is set on 2,750 acres in Humacao. The gated beachfront getaway caters to a mix of both visitors and Puerto Rican residents, with state-of-the-art facilities including two 18-hole golf courses, a 20-court tennis center, an equestrian center, a beach club, a marina, and more than a dozen restaurants. In addition to Wyndham Palmas Beach and Golf Resort, a 107-room hotel, the complex encompasses stately residential houses and modern apartments that owners often rent to travelers by the night or by the week.
If oceanfront luxury isn't in your budget, small, no-frills guesthouses like Barefoot Travelers Rooms and Tropical Island Escape offer affordable alternatives that are within walking distance of the beach and the reserve.