Immerse yourself in nature and adventure while exploring the trails of El Yunque National Forest, from easy walks to serious hikes.
Refresh your soul as you discover the diverse ecosystems and breathtaking views found throughout El Yunque, the only rainforest in the U.S. National Forest System. Along the way, you'll encounter many endemic flora, rare fauna, refreshing rivers, and cascading waterfalls. Get out your hiking boots and athleisure wear (and maybe a raincoat) to explore one of these popular trails.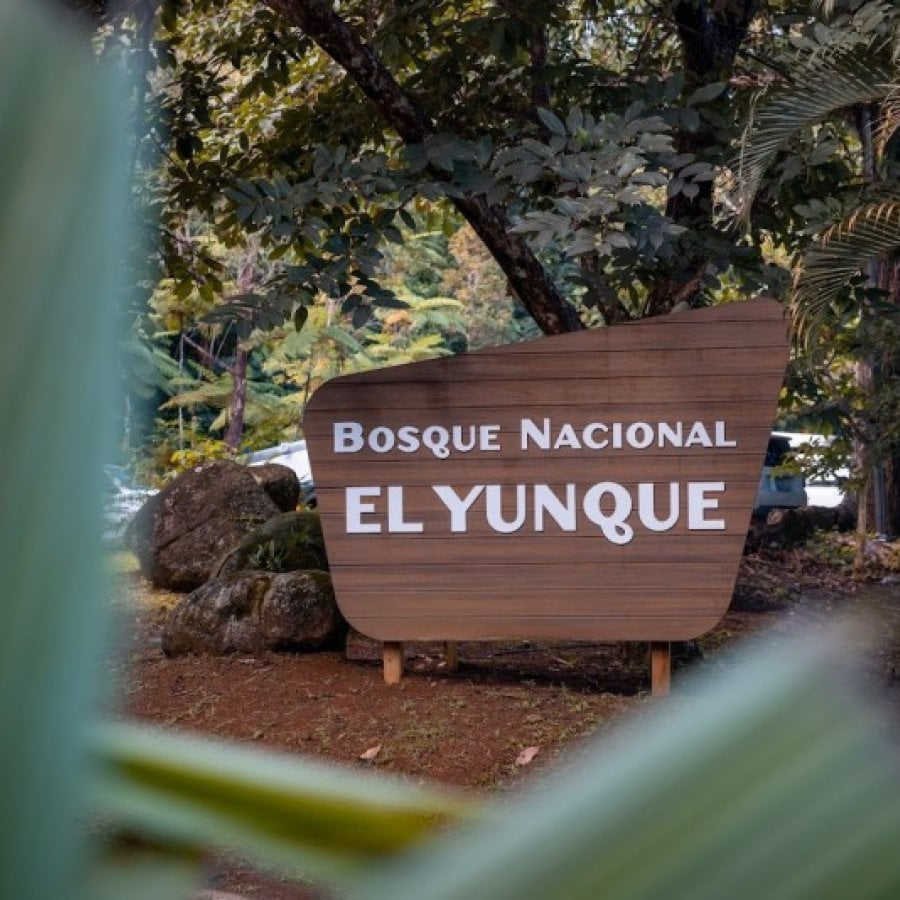 Reserve Your Spot!
El Yunque is a very popular place to visit. To guarantee your entry, reserve your visit in advance through www.recreation.gov. Only one reservation per vehicle is required, and it can be booked up to one month before your visit. Tickets for your car are free, but the booking engine charges a small fee payable by credit or debit card. A limited number of reservations may be released 24 hours prior to opening to accommodate those spontaneous travelers.
Before your visit, check the El Yunque website for the latest info about weather, park closures, and health and safety protocols.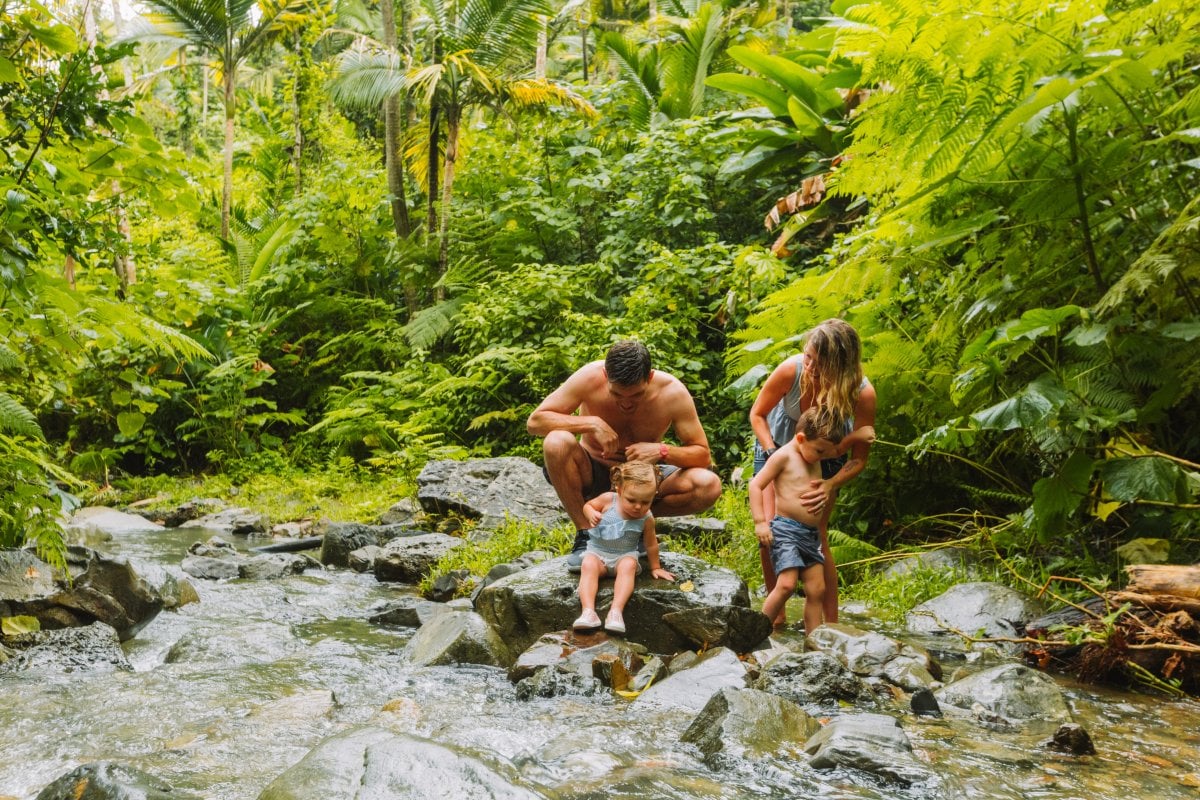 Caimitillo Trail
One of the easiest hikes in El Yunque is just 100 feet south of the Sierra Palm Visitor Center on Road 191. This short 0.4 to 0.6-mile walk is ideal for those who want to enjoy what the rainforest has to offer but are not ready to take on a more challenging trail. It is excellent if you're going to exercise with young ones or pets. Along the trail, you'll find many picnic spots with tables and barbecue pits, giant fern trees, beautiful wildflowers, and streams. This trail is the best opportunity for a "quick" nature trip and birdwatching. 
Angelito Trail 
This popular and easy hike ends with a refreshing natural pool at the Mameyes River. Located on Road 988, El Angelito trail is about a half-mile long and takes around 20 minutes to complete one way, making it ideal for families with children. The path is primarily used for walking and nature trips and is accessible year-round. It tends to be less crowded and shows a different type of vegetation than what you'll find on the upper side of the rainforest. Although it starts packed with gravel, the pathway is uneven and becomes muddy after rain — nothing you can't wash off later in the river.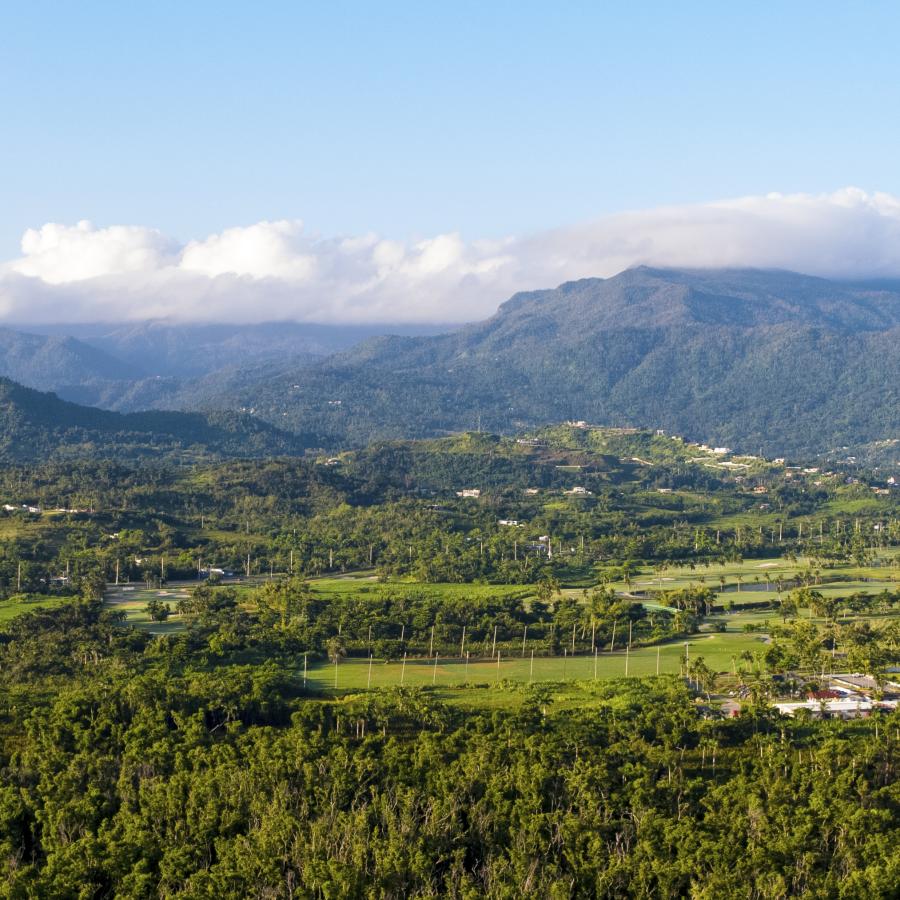 Mount Britton and El Yunque Peak
Once you reach the top, you'll be surrounded by clouds! This 0.8-mile, out-and-back trail starts just off of Road 191 heading toward the Mount Britton lookout tower. The hike is around 45-minutes long, climbing up on paved pathways through the Sierra Palm and into the cloud forest. The narrow trail is labeled "challenging" by the U.S. Forest System. While it's not as difficult as the label might suggest, keep in mind that it is steep in some places, and the humidity and rain can make the trail slippery at times. 
The path has three covered rest stations on the way up and connects to the El Yunque trail, which leads to the peak (about another hour uphill). The observation tower was built in the 1930s by the Conservation Corps and is named after famous botanist Nathaniel Britton. It has an elevation of 2,493 feet and climbs 594 feet in less than a mile. The scenic views from the tower span across the forest all the way to the Atlantic Ocean and the Caribbean Sea. 
Los Picachos 
Although it is an easy 0.2-mile hike, to reach this trail, you'll need to travel about two miles up El Yunque Trail, which is more challenging. The path, which leads to a panoramic view of the Island's east coast, includes a section of steep stairs and may be muddy and slippery, but the scenery in the cloud forest makes up for all the effort. It is recommended to stop here before continuing to El Yunque Peak.
La Coca Trail
Prepare to get muddy! Near La Coca waterfall along Road 191 is a very challenging path that posts an elevation change of 656 feet. This trail offers a walk in the lower part of the tabonuco forest. It runs for 1.8 miles one way and requires some effort, so be sure to pack extra water for the uphill return. The natural surface trail has very steep slopes and difficult parts with various streams and river crossings. The trail ends at the Mameyes River, which is a designated Wild and Scenic river. Be sure to stay on the designated path and follow the markers placed along the way. 
El Toro Wilderness Trail
Hike to the highest point of the rainforest along a challenging and steep trail. The 4.9-mile pathway known as El Toro is uneven and requires you to climb over rocks and fallen trees, which means you'll get a full workout and be somewhat muddy. During the hike, you'll be able to enjoy the varied flora of the forest, changing from tabonuco to fern trees and sierra palms the higher up you get. El Toro is more secluded than the other trails in El Yunque, so it is recommended not to wander off the designated path in order to protect the natural environment and prevent accidentally getting lost.