Life moves slower when you are enjoying the Island life in Puerto Rico.
Need a breather from the daily hustle and bustle? Immerse yourself in Puerto Rico's restorative outdoor environments and let nature do her magic. From soaking in thermal pools and nighttime swims at a bioluminescent bay to absorbing the sights and sounds of a tropical rainforest, here are 10 ways to unplug from the noisy world, connect with your surroundings, and let your tension slip away...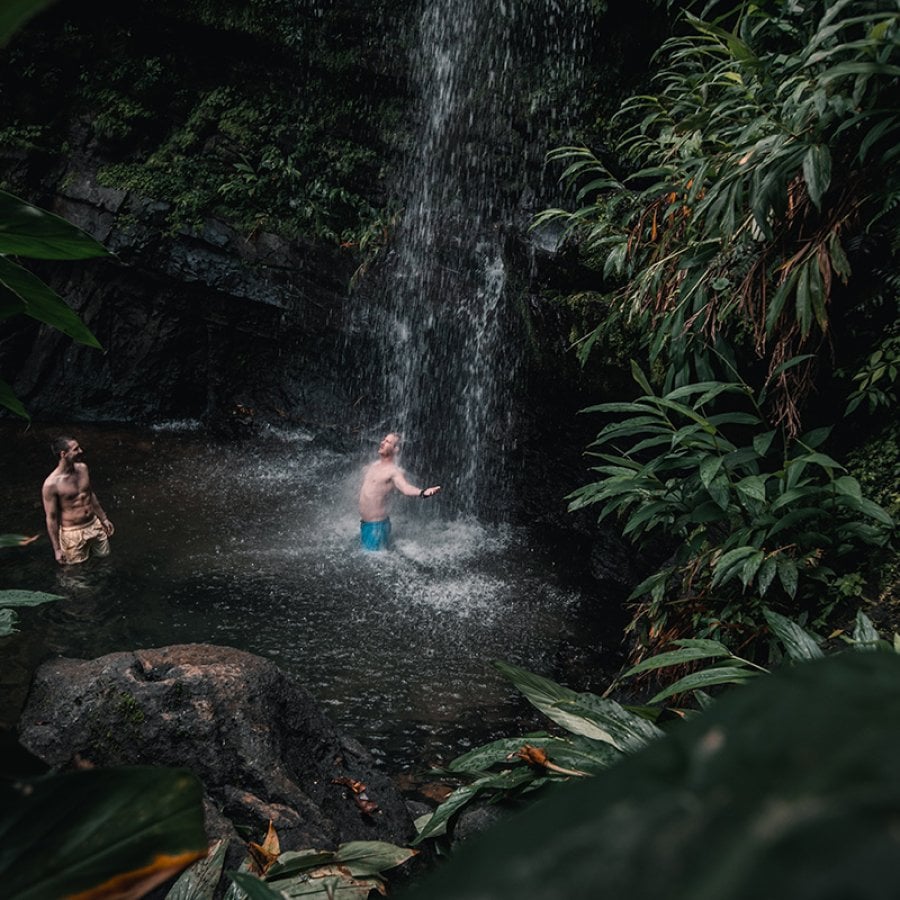 Explore El Yunque National Forest
It's a fact that spending time in green environments reduces stress and can improve your well-being. So, take a soul-refreshing trip to the only tropical rainforest in the U.S., El Yunque National Forest. Breathe in the fresh air, take in the verdant array of endemic flora, dive into the refreshing clear waters of natural pools, and listen to the sounds of birds and coquí frogs. Let yourself be present in a land considered sacred by the Taíno ancestors and which holds great significance in Puerto Rican culture. You can explore many hiking trails that vary in difficulty, enjoy a bird's-eye perspective when you zipline through the green canopies, or learn about the forest's ecosystem on a guided tour.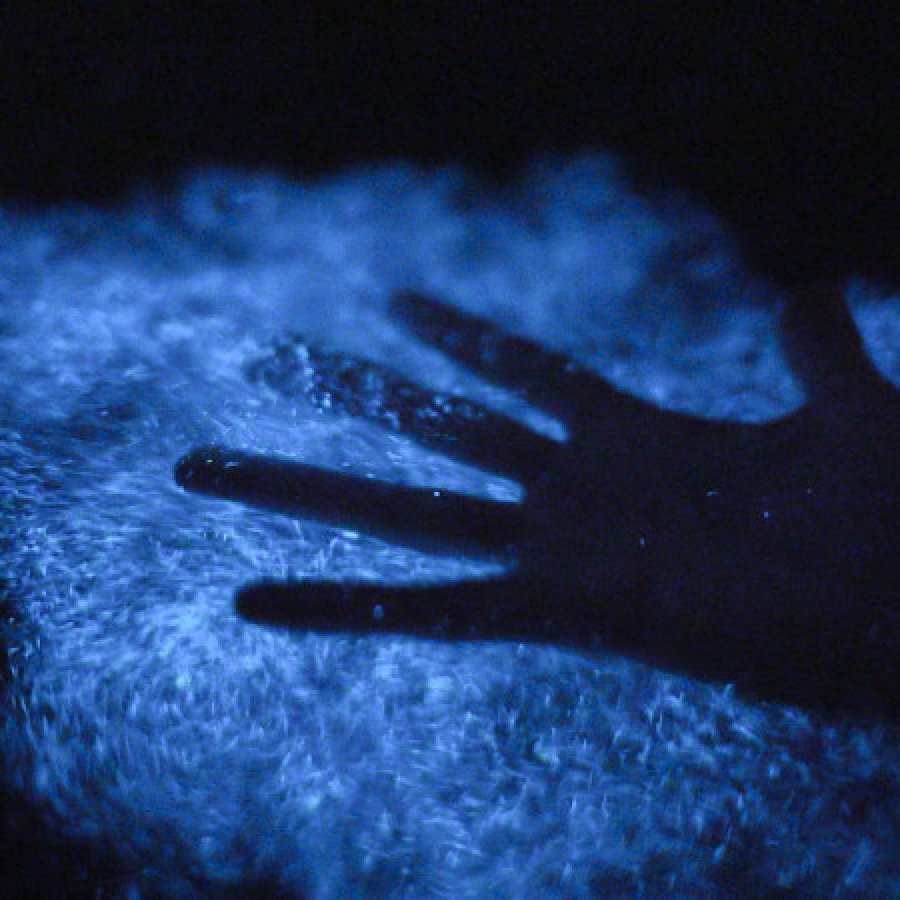 Discover Bioluminescent Bays
Swimming in a galaxy seems like the disconnection you deserve! Under the night sky, preferably during a new moon, have a one-of-a-kind experience in one of the three bioluminescent bays in Puerto Rico. Make unforgettable memories as you run your hands through dark water that glimmers with tiny greenish-blue sparkles as you agitate it. Each bio bay experience is unique. For example, you can kayak through Mosquito Bay in Vieques in a clear-bottom boat—creating a sense that you're floating in a sea full of fairies—or dive into the sparkling waters of La Parguera, the only bio bay in Puerto Rico where swimming is permitted.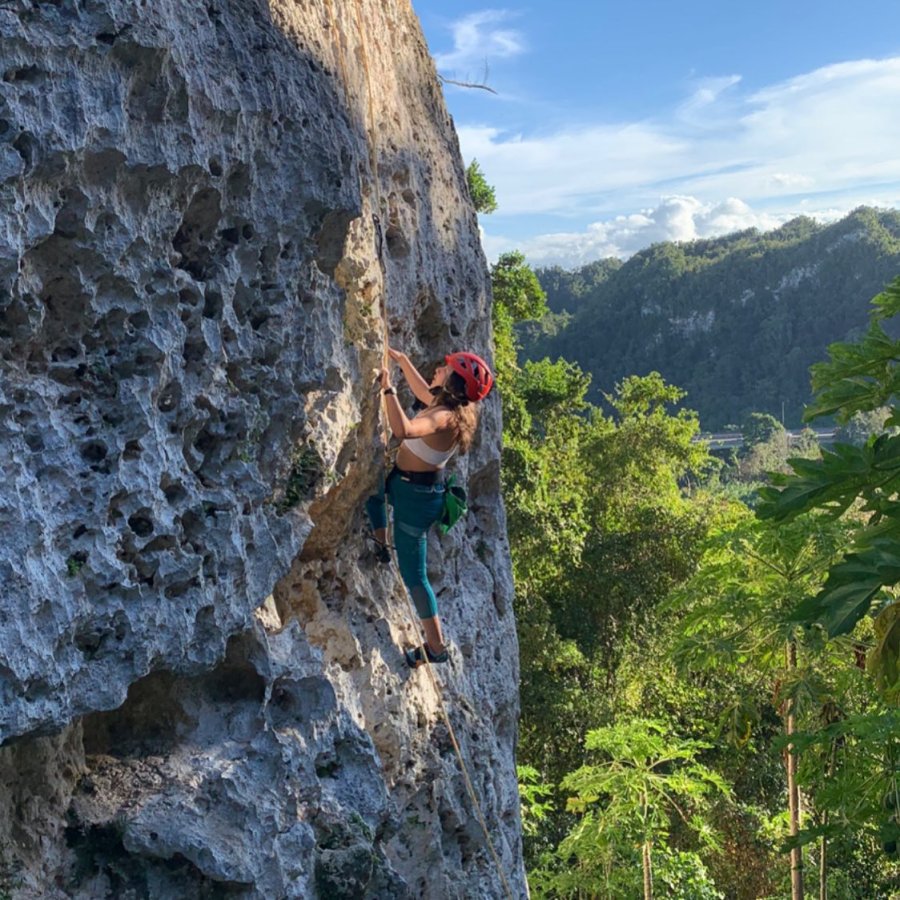 Climb a Karstic Mountain
Did you know Puerto Rico's rich topography includes karstic mountains? They are formed from the dissolution of limestone and can be found in the north and south parts of the Island, as well as some scattered regions. Ponder where to place your hands and feet as you climb and experience the majestic beauty of the porous formations and landscape in Roca Norte Outdoor Climbing Gym. (Do not miss out on the stunning view that awaits you at the top!)
This outdoor recreational area, located in the town of Vega Baja, offers more than 30 climbing routes perfect for beginners and experienced climbers alike. Roca Norte also provides guided climbing, climbing gear rental, yoga sessions, a camping area, and educational activities such as geology workshops and bird watching.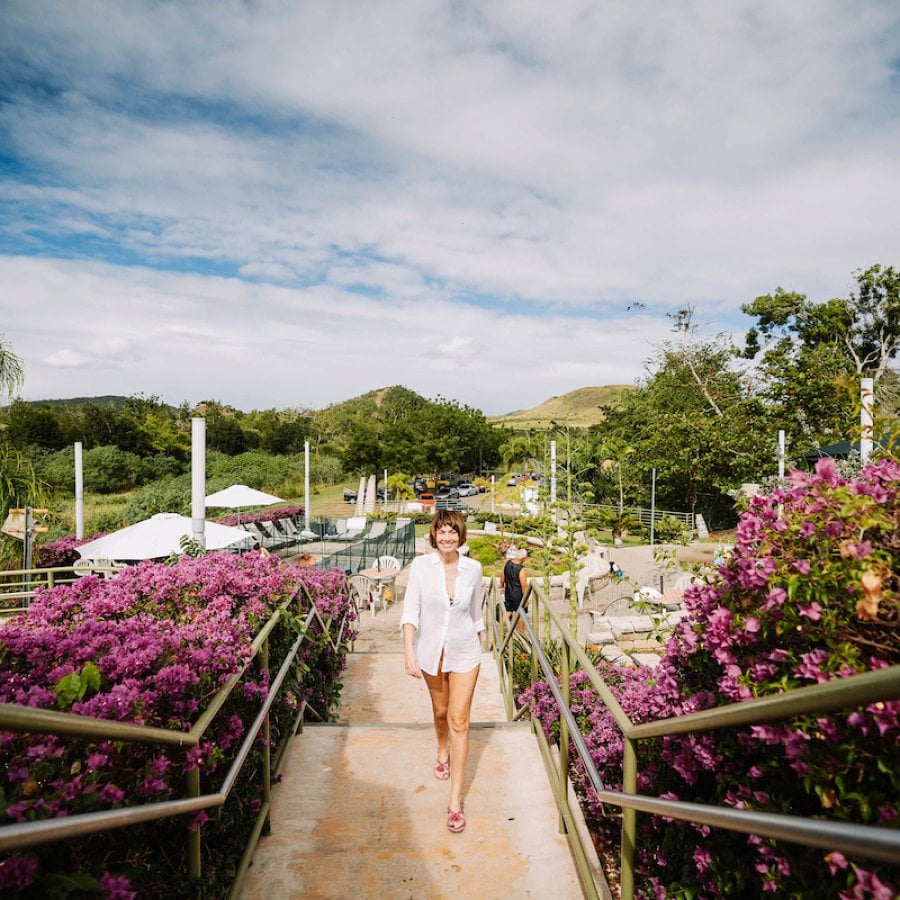 Relax at Coamo Hot Springs
Relax deeply, rejuvenate, and pamper yourself in the only thermal pools on the Island, the Coamo Hot Springs, located in the south-central mountainous town of Coamo. They were first discovered by the Taínos, who shared their find with the Spanish colonists. Many locals believed these waters were the elusive fountain of youth that Juan Ponce de León, famous conquistador and Puerto Rico's first governor, was searching for in the "New World." And perhaps they were right! A plunge in the hot springs will leave you feeling rejuvenated. Let the curative mineral waters seep into your skin and aid physical conditions such as diabetes, circulation problems, respiratory issues, and joint pain.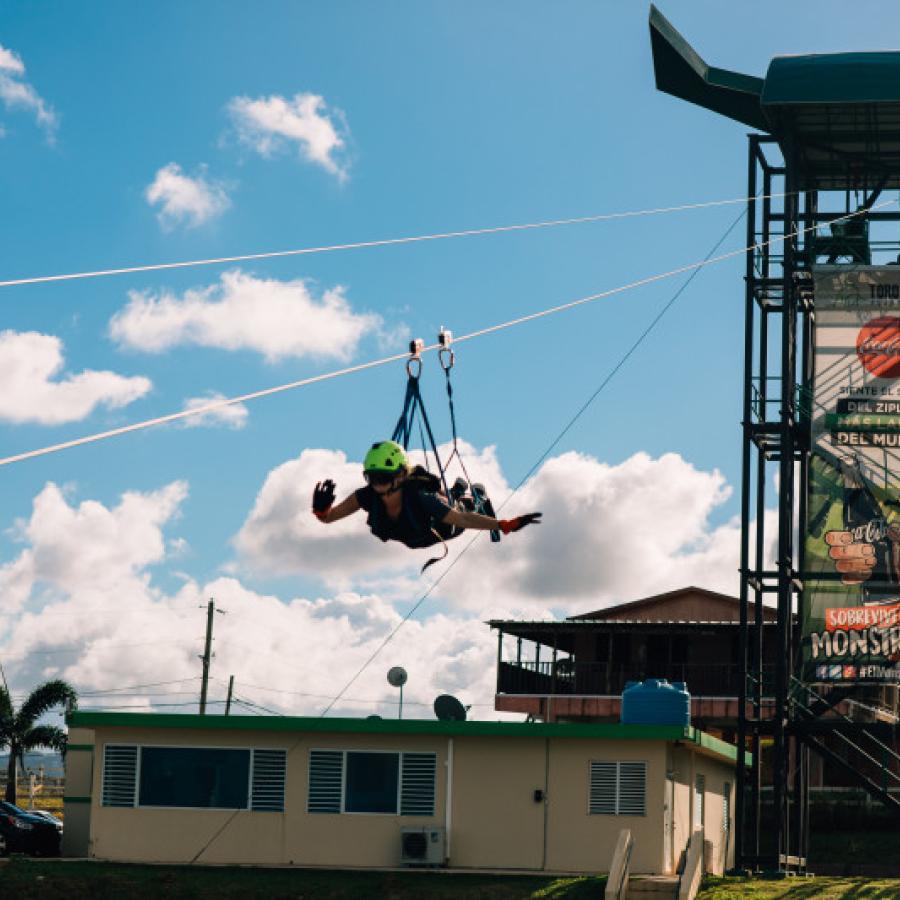 Zipline Above Mountain Forests
Distract your mind and body with a rush of adrenaline as you admire some of the best views of the Island from above. Yes, it's a zipline adventure where you can soar like a bird and inhale the crisp mountain air while listening to the melodic sounds of endemic birds. Glide over treetops and observe the uppermost peaks of Puerto Rico's mountains in places like Toro Verde Nature Adventure Park in Orocovis (with the second-longest zipline in the world and the world's largest cable bikes) or Toro Negro in Jayuya – home to the highest mountain on the Island.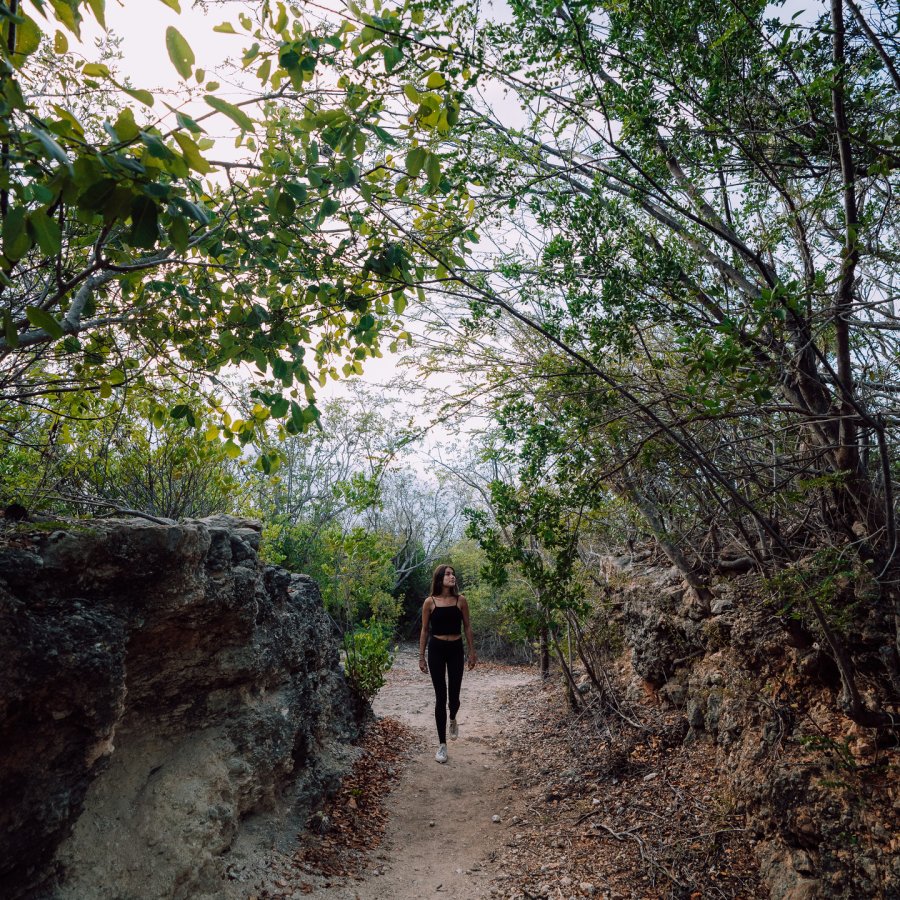 Take a Hike at Guánica's Dry Forest
Nature can look very different depending on the region of Puerto Rico you visit. For example, a world apart from El Yunque rainforest (but only a short drive away) is one of the most extensive dry coastal forests in the world. Bosque Seco de Guánica (Guánica's Dry Forest) is an arid land home to hundreds of species of flora and fauna – ideal for bird watching! Hike any trail to appreciate centennial trees, spiky plants (like cacti), greenery, and rare flowers that will stimulate your senses, especially sight and smell. The forest features 12 different pathways to choose from, each with varying degrees of difficulty and length. Tackle the longest (six miles) and one of the most popular trails to reach the historic fort of Fuerte Caprón, or enjoy a short stroll through the Ballena Trail to take in the stunning landscape views. You can also reach spectacular secluded beaches and Guánica Bay.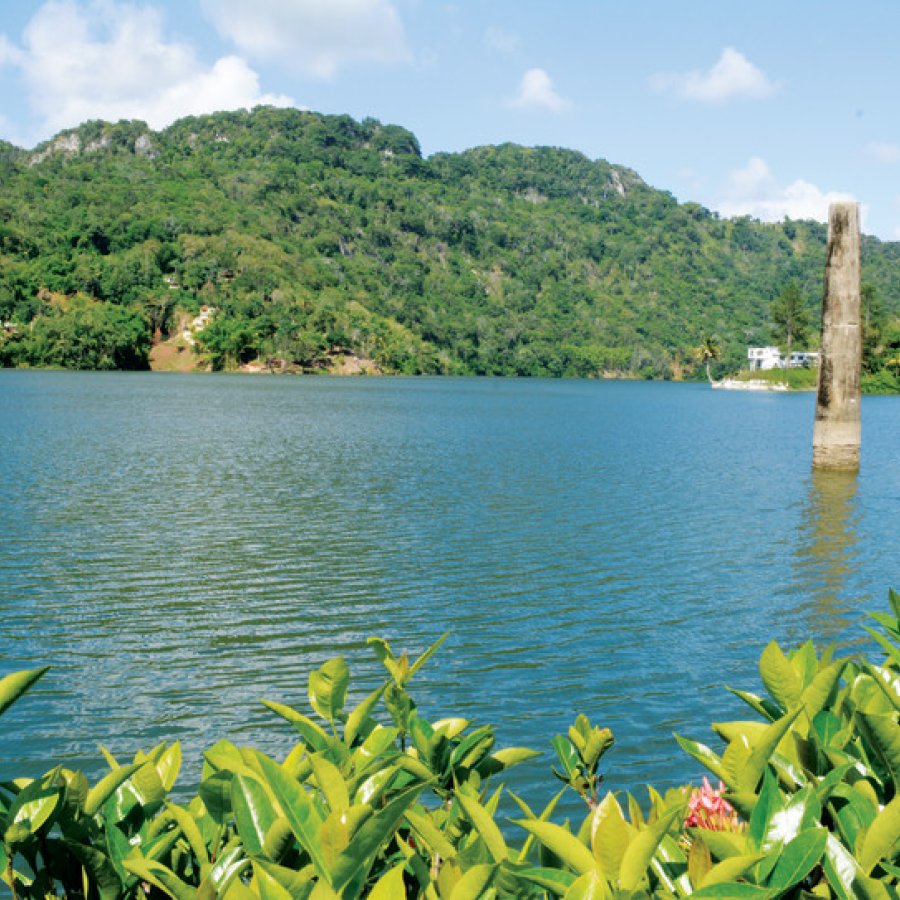 Find Balance at Lago Dos Bocas
Lose yourself in a tranquil escape with breathtaking scenery where nature perfectly blends with structure at Lago Dos Bocas. Located between Arecibo and Utuado, this man-made lake is a hidden gem on the Island. Here, you can unplug your mind and meditate with the blissful sounds of the birds rustling in the towering mountains as you breathe in fresh, unspoiled air while contemplating the lake. Rent a kayak to explore the area or jump aboard one of the available boats for a quick tour.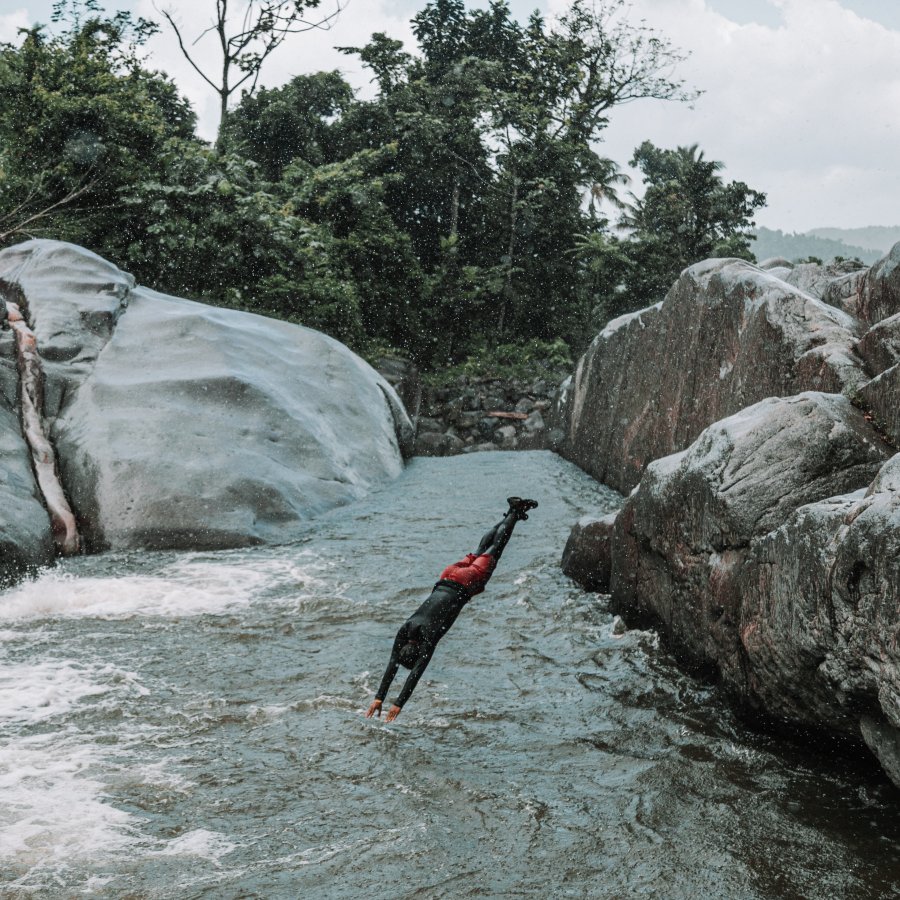 Rock Climb at Cañón Blanco
While in Utuado, you can also feel the recharging energy—one that dates back centuries—at the majestic Cañón Blanco. This monumental rock formation shapes the river and provides the ideal setting for complete and utter disconnection. Feel recharged and rejuvenated when you revel in the deep calmness surrounding you.
Find natural benches and boulders etched with indigenous petroglyphs that emerge from the Río Caonillas and contrast its turquoise waters. While you're there, remember that some of Puerto Rico's native Taíno tribes used to live and hold their religious rituals in this mystical location. Practice some yoga poses atop a rock or breathe in the vitality of your surroundings. Then, let the stress slip away by plunging into the ice-cold river waters. You'll leave feeling brand new.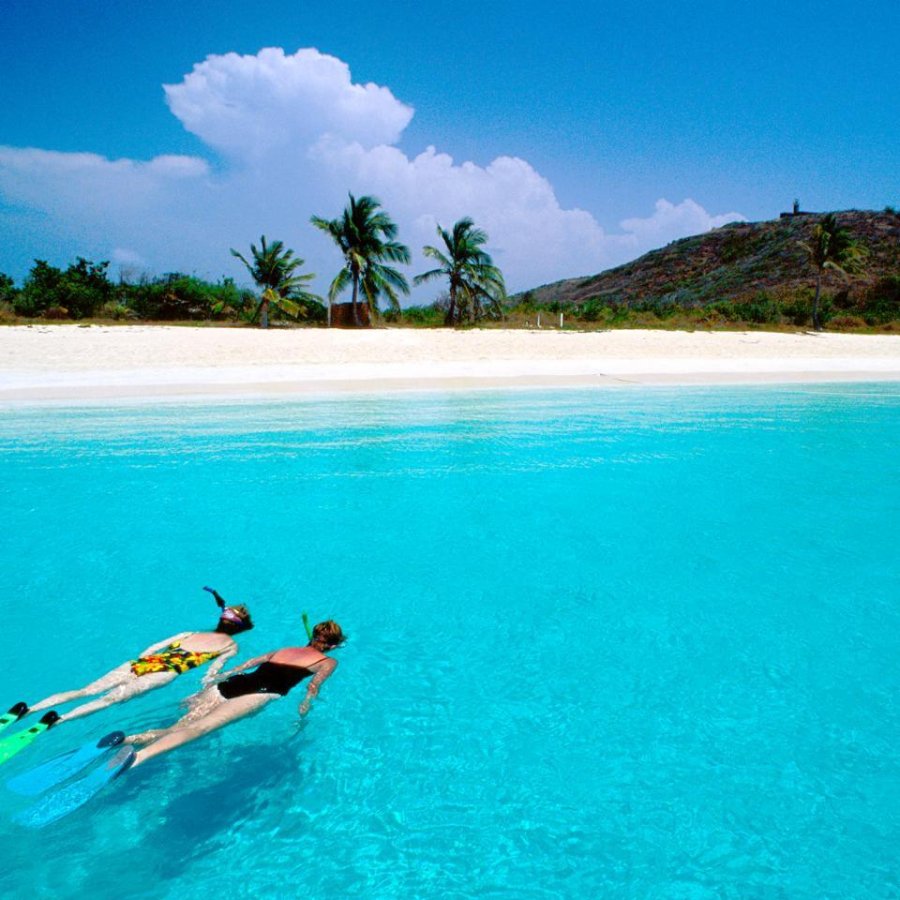 Snorkel Around the Island
There is grounding, but then there is submerging. Get some physical activity and marvel at the world beneath the surface as you swim and snorkel in the blue Caribbean waters. Appreciate the beauty of unique ecosystems and connect with the most primal element in its purest form. Choose any beach you like, but for unparalleled experiences, float at La Chiva – a secluded beach in the off-shore island of Vieques – or venture to Icacos – a cay near Fajardo with bountiful colorful fishes and sea turtles. And forget about carrying your own gear – many nearby rentals and shops have you covered.  
Go Glamping Under the Stars
Being one with nature doesn't mean you have to rough it; glamping is the ideal alternative when you want to enjoy the outdoors without sacrificing comforts like plumbing or electricity. Take in the greenery of tropical flora or relax and re-energize under a star-kissed night. Then, at the end of the day, rest in a private lodging with a comfortable bed and a functional kitchen. There are many places where you can indulge in this glamorous version of camping, like Pitahaya Glamping Eco-Retreat, which is surrounded by Cabo Rojo's nature reserve, or nearby Hacienda Verde Tahití, nestled on a secluded farm. Another great glam camp is Finca Victoria, located on the island of Vieques. Most of these places have little to no light pollution, so you can enjoy a star-studded sky any night.