Don't miss the best photo opportunities on the Island.
Wheater you bring a camera or just your smartphone on vacation, it's safe to say you'll be taking hundreds – to say the least, of pictures while you're away from home. Especially if you travel to a sexy, hot, Caribbean paradise like Puerto Rico… how can you resist?
Think about it! Beautiful beaches, lush mountains, historic sites, dramatic coastlines, and more serve as the backdrop of unforgettable memories. Naturally, it would be nearly impossible to set your camera down, and we don't blame you. Even locals take advantage of their surroundings to pose for the lens!
And, although nature itself delivers the most astonishing scenery on the Island, there are some trendy spots you shouldn't miss. These locations are perfectly placed and set explicitly for that cool snapshot that'll give your friends and family back home major FOMO (that's fear of missing out in social lingo… LOL). 
Note: It is essential to take care of these locations for others to enjoy, so be sure to leave the area as you found it, or even better. 
La Curva del Árbol Renace
Set in the mountains of Salinas, this swing is located at Cerro las Tetas. Find yourself swinging from a Flamboyán tree and right next to a Puerto Rican Flag overlooking Puerto Rico's mountainous region. From this viewpoint, you can see the south coastline – like Caja de Muertos, to one side; and the Tetas de Cayey on the other side. There is a small parking area and a ramp for easy access. There are a few rails and fenced to keep you safe, but remember to be careful near the edge!
Silla Grande de Camuy
Just as the name establishes, this giant chair set in Peñón Brusi beach is a hidden gem in the town of Camuy. The scenic views of the calm Atlantic Ocean are minutes away from the known Peñón Amador beach, known for having a huge cross atop a rock in the middle of the beach. The giant blue chair is adorned with a pink flamingo in honor of Pinky, the famously lonely bird in the town. The words Enamórate de Camuy or "Fall in love with Camuy" are allusive to the years-long search for a pair for Pinky. If you do some hiking on the same beach, you will find a second chair with a Taíno sun painted on it.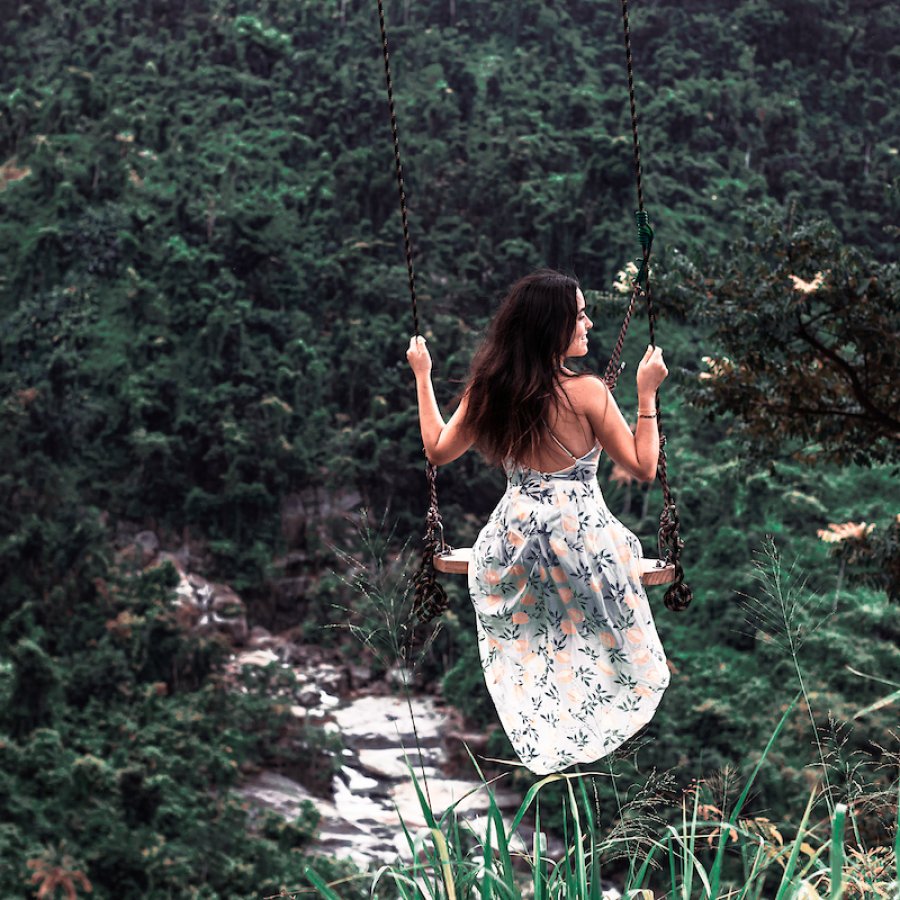 Columpio de los Suspiros
Overlooking El Yunque from the town of Naguabo, you can find a swing at the edge of the mountain, spectacular for pictures that will leave everyone sighing. And that's precisely what the name entails! The Columpio de los Suspiros, which sits near the Río Blanco in Naguabo, literally translates to "The Swing of Sighs," implying that it will take your breath away. The swing is set 1,000 feet above sea level, making it an extreme experience that will surely leave you breathless. It is only available through Montaña Explora, guided experts that will overlook your safety.
Silla Grande de Piñones
You'll probably be around Piñones tasting some alcapurrias and pastellillos, so why not make it a photo-op at the giant chairs plastered with the Puerto Rican Flag! These are two of the most visited oversized chairs on the Island, and you'll see why! The brightness of the flag mix perfectly with the blue waves in the backdrop and the green and lush palm trees surrounding them. Perfect for that swimsuit, beach bum snapshot!
Top Places to see in Puerto Rico
Pride chair in Combate
Cabo Rojo is known for its pride parade and festivities, and you'll be very proud to know you can find a rainbow-colored giant chair in Combate. Visit Fogata del Mar in Combate beach and make the most of their new photobooth and giant pride chair at the restaurant entrance. Love in paradise… does it get better than that?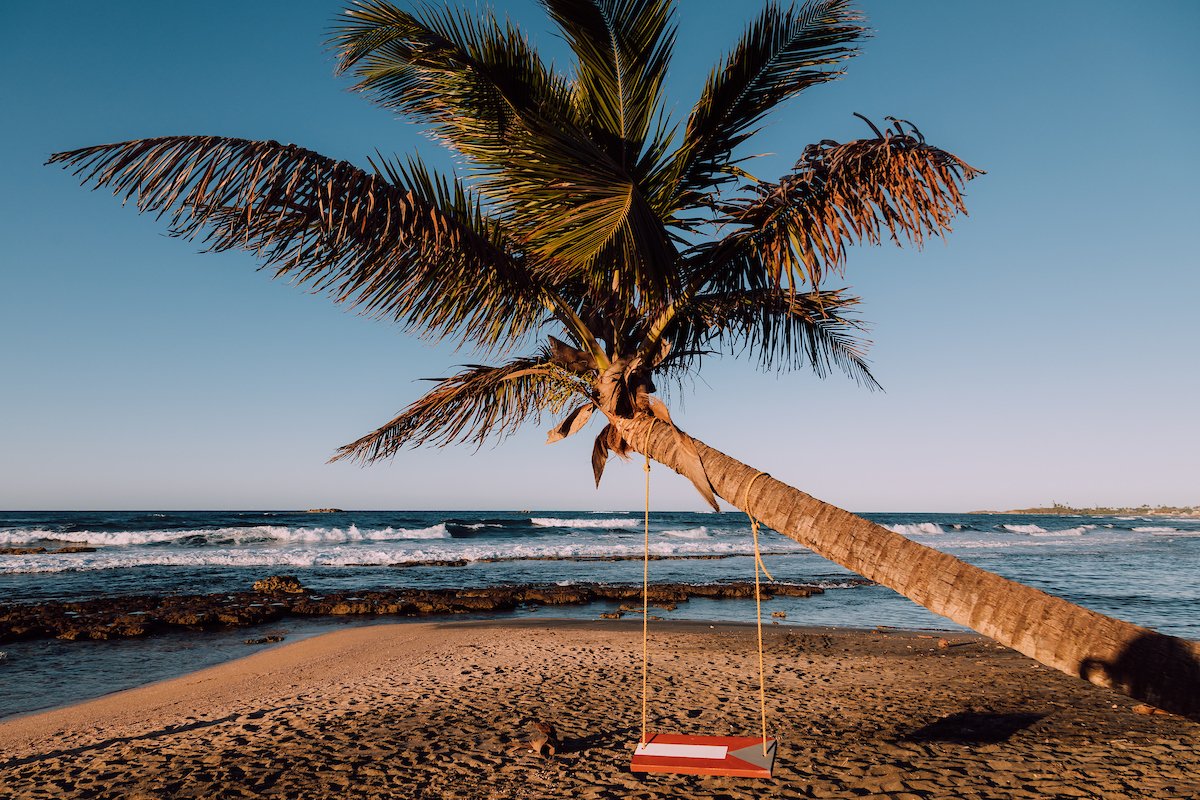 A growing trend in the Island
You can find other swings and giant chairs in towns like Ceiba, Fajardo, Rincón, Maunabo, Corozal, Lares, Aibonito, Añasco, Guaynabo, and more. Please, share your swing or chair experience tagging us @discoverpuertorico on Instagram and using the #DiscoverPuertoRico.